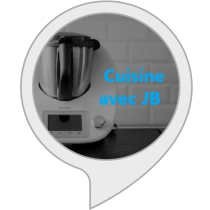 At the table the Alexiens, Alexiennes !!
Ah yes, but before launching the slogan on all our devices Alexa, it is necessary to prepare the meal well. Logic.
This week we are offering you the skill of an Alexien: Jean-Baptiste CMI. These are recipes to be prepared with the Thermomix (food processor).
Jean-Baptiste has simulated a skill for us - for the moment vocal only - very complete with 7 themes which are proposed: starters, main courses, desserts, breads, accompaniments, sauces and aperitif recipes. Note that the number of dessert recipes is significant. The sweet tooth will appreciate.
After choosing the theme, you will get the list of available recipes. Once the recipe is defined, Alexa will tell you the list of ingredients, then step by step the progress of this one. You will have to say "next" to access the next step.
Doesn't that whet your appetite ?? I do! Come on… At the table, the Alexians !!
Note 4 out of 5 - while waiting for the possibility of seeing the list of ingredients on a screen (Spot… or one day Show).
Activate the skill on Amazon. Fr