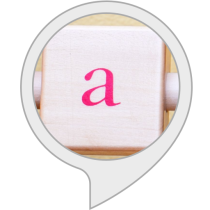 Hmm, do you have any Alexians old enough to learn the alphabet?
So maybe this skill will help you make him recognize our 26 letters. It is intended for Echo Spot ou Echo Show 2 because the letter thatAlexa will ask to repeat is displayed on its screen. But it is a bit unfortunate that it is not more identifiable for my taste because a stylized image illustrating the letter partly obscures it.
I admit that you have to be persistent with this skill. Indeed, my pronunciation was not recognized the first time ... It was not until the third attempt that I "won". Alexa is severe… For a child in the learning phase, that can be problematic.
Score: 2,5 / 5.

The idea is laudable, but voice recognition should be improved and the image better organized and then there will be potential.