You are not unaware that takes place, Sunday, March 15 2020, first round of municipal elections - the second round being scheduled for the following week on March 22. Amazon Alexa, our favorite voice assistant, gets in the mood with a new skill: municipal election results 2020.
This skill, offered by the Lagardère Active group for Europe 1, is already available on the skill store ofAmazon. Multimodal, it is ideal for your appliances Amazon Echo with screens.
The title can be confusing, because if the results will be available in due time, this skill offers much more and already allows us, since March 2, to consult all the lists of municipal candidates for practically all the municipalities in France. Lists that we can take the time to consult thanks to the screens of Echo Show 2, Echo Show 5, or the latest arrival and already very popular Echo Show 8. Thanks to Alexa, so you do not need to wait to receive the ballots accompanying the professions of faith!
« Alexa opens municipal results »
To open the skill, nothing could be simpler, three invocations are possible: « Alexa starts municipal results », « Alexa opens municipal results » or even longer « Alexa asks municipal results who is the mayor of…. ". The latter is mainly intended to show you the identity card of the municipality and of its current chief magistrate.
« Alexa ask municipal results who is the mayor of Paris "

By simply asking Alexa " started " ou "Opens municipal results", we are asked to indicate for which municipality we wish to display the list of candidates.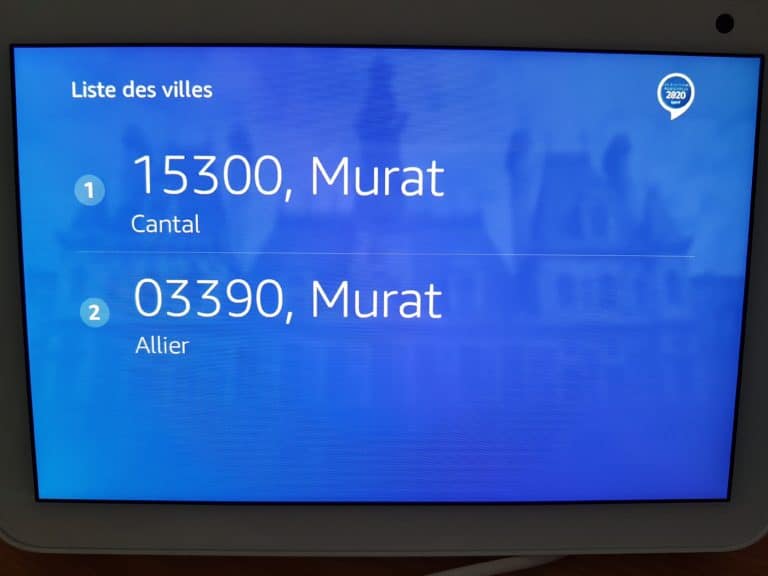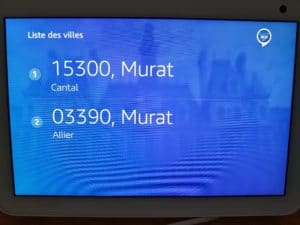 If there is more than one name, Alexa then invites us to indicate which number corresponds to the choice. Be careful, you should only give the number and not "choice number" because, in this case, it does not include the request.
Also pay attention to the pronunciation, we noted some difficulties in recognizing the names of the municipalities listed, but with nearly 35 municipalities in France, we can forgive him.
Once the municipality has been chosen, it is then possible to display the different candidates running while listening Alexa we list them. Here is an example for the 8th arrondissement of the capital.
Once the municipality has been consulted, Alexa suggests that we consult a new municipality, and so on until we tell him "Stop" to end the query.
Here is a skill which, although ephemeral, is at the same time useful, informative, and especially topical. The presentation is neat and clear, reading is easy. A very small flat on the pronunciations of certain words, but this remains understandable and remains the fact ofAlexa. Congratulations to Europe 1 for this skill that we will test again on Sunday March 15th!