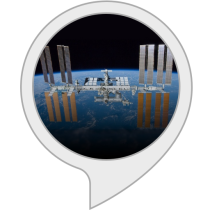 Alexiens, Alexiennes, this time it's your head in the clouds that we're taking you! Ready to board? No ? That's good, because we suggest you lift your head rather than lift yourself into the air.
After the visual skill "Space Shuttle" presented by Jean-Christophe last September, allowing you to go around the Earth as if you were aboard the shuttle, this time we offer you to have information on the International Space Station: the composition of the crew , a rather long summary of the previous day but and above all: the next 2 (up to 5) passages of the shuttle above you.
Respect the request toAlexa to get a response: " Alexa , ask Space Station when is the next passage over (Paris for example) ".
NB: it is necessary to indicate the name of a sufficiently important city, so that it is recognized. You also have the option of receiving an alert 5 minutes before the passage so as not to miss it. Well, believe me, the alert works perfectly at 5:10 am on my spot!
Good observation the Alexiens and Alexiennes, hoping that the weather is favorable.
Note: 3 out of 5 (the wording must be respected to know when the next observation will be, otherwise it is the composition of the crew that is given).