Because bipeds do not have a monopoly on technology, our four-legged friends also benefit from innovations in home automation and now even have their own connected objects: for power, surveillance, comfort, or simply for playing. . Let's see how to make your little (or big) companion as connected as his masters thanks to these still unusual products ...
1 - SureFlat: the connected cat flap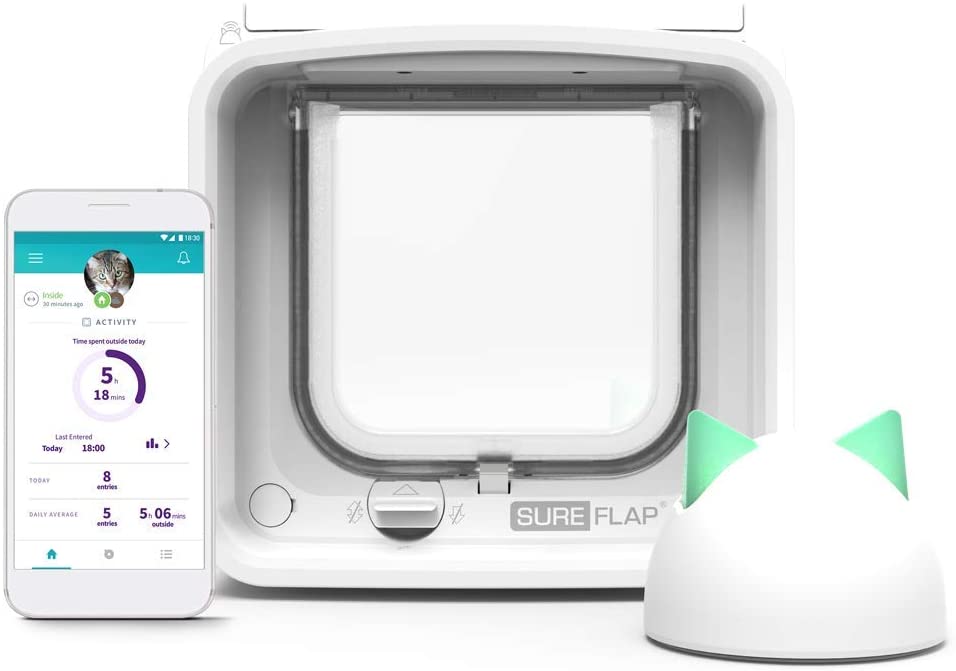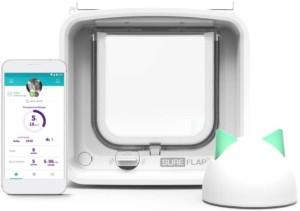 A cat flap is good, but connected is even better for monitoring Mistigri's comings and goings. A real door connected to the dimensions of your faithful companion, thanks to this connected cat flap you will no longer have to get up from your chair or get out of your bed when Mr. or Mrs. decides to go home or absolutely wants to go out.
Able to read the chip of your cat (or small dog) and him alone, its hub allows you to connect it to the Internet and receive a notification as soon as it passes the door, but also to manage entry and exit authorizations with a simple gesture, wherever you are. If you have several companions, you can of course register their different chips.
2 - QR4G.COM: Smart GPS identification card for animals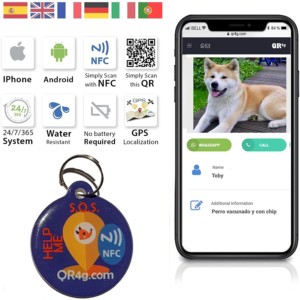 Your dog or cat is a licensed runaway… .You fear his prolonged absences and that he will one day get lost for good? Here is a small medallion as simple as it is clever that you can place around the neck of the mover in order to track him thanks to thethem NFC and GPS chips.
Operating without an app, this pet ID tag is very easy to use since you just have to fill in the information of your choice on the site QR4g.com like their name and phone number. TAnyone who finds Médor lost will be able to contact you by simply scanning the QR Code affixed to the medallion with his smartphone.
You can also enrich the sheet with many other information such as the code of the microchip, census number of the animal as well as its vaccination record, its possible allergies, and even the contact details of its veterinarian.

3 - PETKIT Smart Cozy: the " home Sweet Home »Of our pets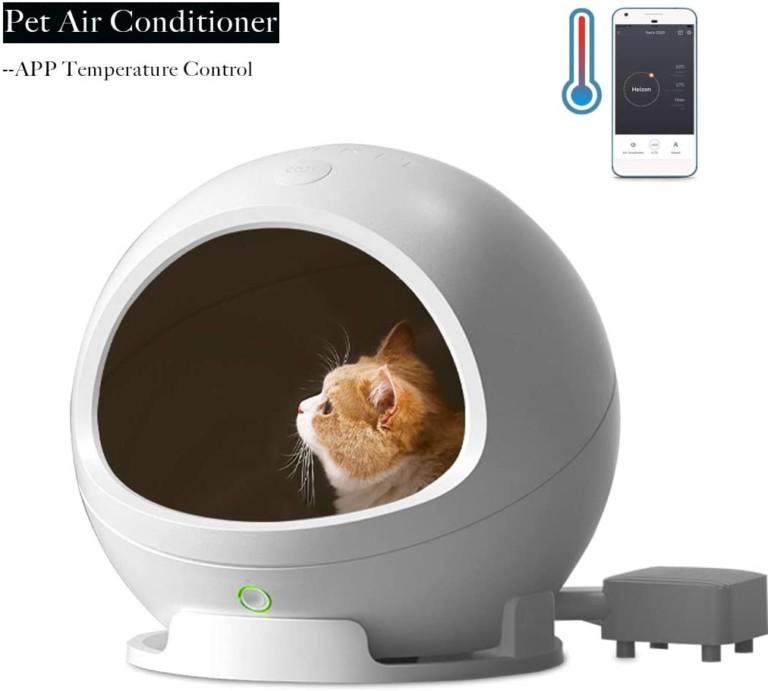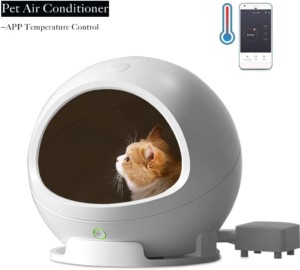 We presented to you, a few months ago, our PETKIT test Smart Cozy, a sort of small house for cat or small dog that offers all the comforts of a large one.
Approved by the felines of the editorial staff, this cozy connected has a temperature regulation system with reversible air conditioning, lighting ... It is even able to know who occupies it!
Thanks to its application, you can control all the parameters for the well-being of your pets and, even, schedule automations and soon routines Alexa. If we are waiting for the French version of the skill, it should not be long in coming to believe the brand which is actively working on the subject!
4 - SKYMEE Owl Robot: a food dispenser robot to play and monitor your dogs and cats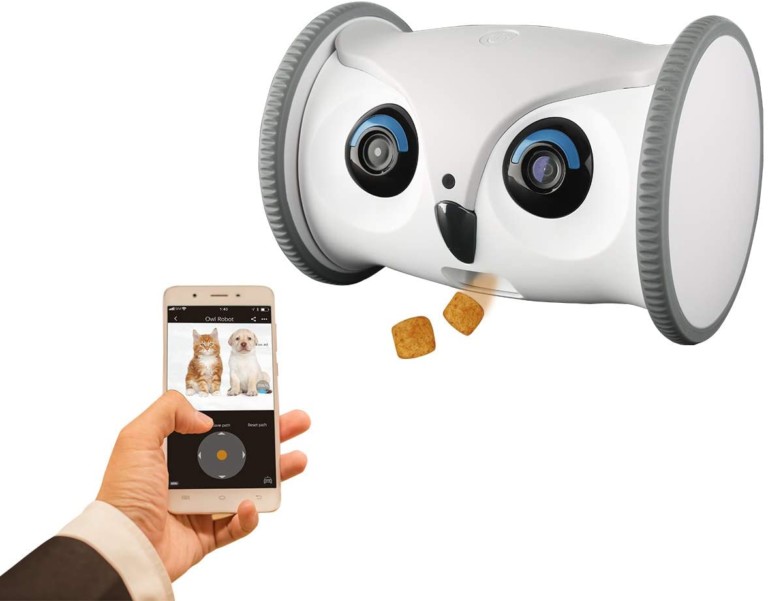 To keep your pets occupied while you are away, here is a last connected object as surprising as it is fun: the kibble dispenser SKYMEE Owl Robot ! Surprisingly, this little robot with an owl look will allow you to monitor Pongo while you are away ...
Equipped with a full HD 1080p camera with night vision and x4 zoom, it is not only able to see if everything is going well at home, but also offers you the possibility of interacting with your dog thanks to its microphones and speakers. Thanks to its movement detection, it is a real mobile camera capable of tracking your dog or cat ... And even distributing treats to this sacred Pongo to occupy him or reward him if he has scared an unwanted visitor away. . Indeed,
5 - PETKIT Automatic Food Dispenser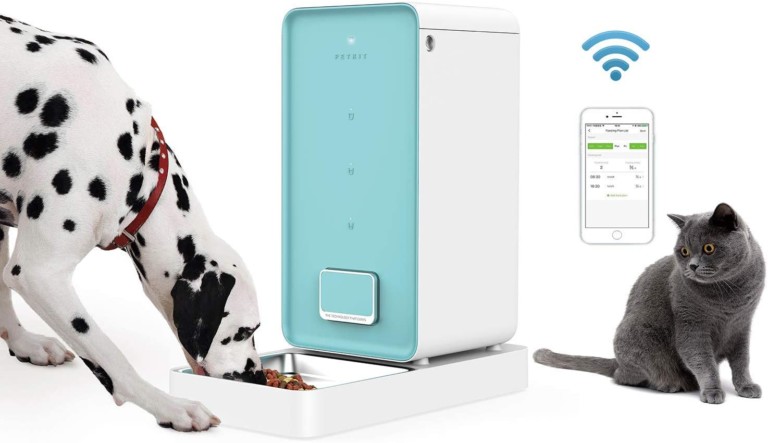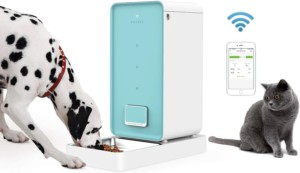 It is one of the flagship products of PETKIT! As everyday users, we could only recommend it to you: the kibble dispenser PETKIT Fresh Element P512.
Dog or cat, small or large, alone or with the family, Its careful and detailed application allows you to program the quantity of food required without it remaining in the open air, becoming humid and risk of no longer being favored by your demanding cat or, worse, attracts flies!
Bonus
As a bonus, you can also turn to the vending machine PETKIT Feedet Cat & Dog : a little less bulky, it certainly offers a little less features than the P512 but is nonetheless an excellent product that you can get around 100 € on Amazon. Fr.