Update 18 / 07 / 2020: addition of our opinion following the Echo Auto test when it is released in France!
you are now using Alexa daily ? From the bedroom with Echo Spot to the living room with your Fire TV Stick - and soon maybe your Fire TV Cube - through the kitchen where you have placed your 2nd generation Echo Show to have music and use Marmiton, Alexa do not leave you anymore. You may even use it on the go on your smartphone, and in particular on the road via its application. But, in addition to being very dangerous (yes, using the phone while driving now kills more than alcohol!), Manipulating your smartphone while driving exposes you to a heavy fine and a withdrawal of points (135 € and 3 points, note) which probably dissuade you from using Alexa by car. It's a shame, especially if you have taken out a subscription to the music streaming service. Amazon Music Unlimited. So how do you take advantage ofAlexa even on the road? What are the compatible vehicles? The Alexiens take stock for you ...
Alexa Auto: many cars already compatible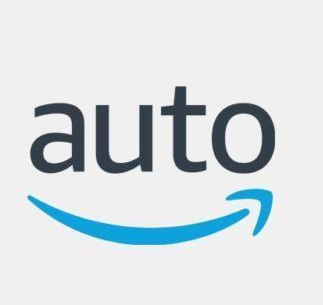 Miriam Daniel, Echo Product Manager at Amazon recently repeated « there is no better place for voice control than in a car ". Indeed, if there's one place we can't afford to focus on using a screen, it's on the road.
Since a few months, partnerships between Amazon and more and more car manufacturers. It must be said that, faced with the democratization of voice assistants, they have a great interest in offering them in their vehicles. And rather than creating one, you might as well allow drivers to use the one that already follows them on a daily basis in their home. After first conclusive tests at Ford and Mercedes, Amazon has just launched a SDK Alexa Auto downloadable on GitHub .
It's a safe bet that, if there are no skills in French yet, we should not delay in seeing them appear. Regarding the French manufacturers, we still have no information on possible future compatibilities. Hopefully the invasion of France by the Echo smart speakers change the game and the program Alexa Everywhere also includes France!
Waiting, waiting here is a list of manufacturers already offering the functionality across the Atlantic:
Audi (e-Tron from 2019),

Ford (from 2016 via update),

Lexus (from 2019),

Lincoln (from 2016),

Seat (2017 for Ateca and Leon, 2019 for Ibiza / Arona and Tarraco),

Toyota (from 2019),

BMW (almost the entire range from 2014 via update),

Buick,

Cadillac,

Chevy,

Chrysler,

Dodge,

Genesis,

GMC,

Hyundai,

Infiniti,

jeep,

KIA,

lexus,

Lincoln,

Mercedes (from 2017),

Mitsubishi,

Nissan,

RAM,

skoda,

Toyota,

Volvo.
Awesome, isn't it? Note that the French manufacturers are conspicuous by their absence ...
Echo Auto: the Echo device in your car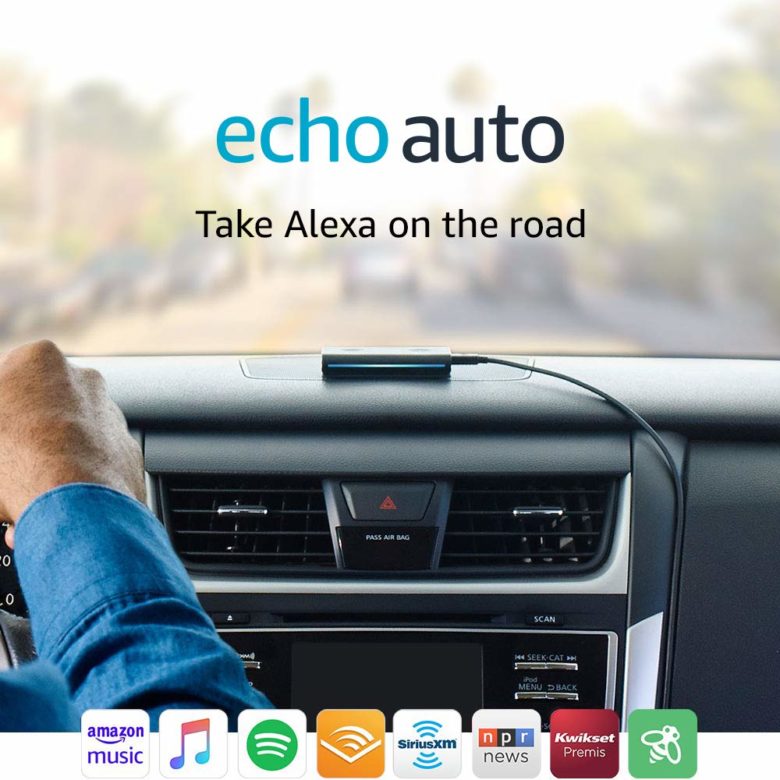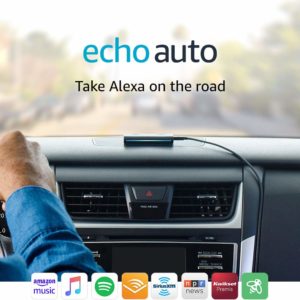 Announced with great fanfare during theAmazon Devices Event September 2018, the first Echo device dedicated to vehicles is still in testing in the United States.
Shipping is small format (85 mm x 47 mm x 13.28 mm) and its 45 grams allow it to be easily placed on the dashboard. Provided with eight microphones, two buttons ("Action" and "mute"), it is powered via a Micro-USB port and also offers an output in 3.5 mm mini-jack format.
In terms of functionality, we find almost all those of a device in the Echo range. Allowing to take full advantage ofAlexa without taking your eyes off the road, Echo Auto has many advantages that we have largely developed in its test (see below).
Available by invitation only at the moment with a 50% discount, it should be competitively priced at $ 49.99.
It is THE ideal solution for users who want Alexa by car. It wins our preference because it belongs to the Echo range and allows you to use Alexa even with the phone on standby. Find
our opinion on Echo Auto
here.
Alexa in your car: alternative solutions
But what if your car isn't on the list, doesn't have a navigation system, or is just too old? Well, you just have to change it! Trade-in offers are rather interesting if you buy an ecological vehicle… More seriously, there are fortunately some nice alternatives and much more practical than your smartphone. And the icing on the cake, these solutions are still significantly less expensive than changing vehicles…! Let's do a check in.
Roav Viva by Anker:
The first solution, probably the most used across the Atlantic, is undoubtedly the famous Roav Viva of the American company Anchor. From a distance it looks like a cigarette lighter charger, which is quite logical since it fulfills just this functionality thanks to Anker's PowerIQ fast charging technology. Ok, you will say to me, but what comes to do Alexa in there?
Well, it's on board there, as evidenced by its blue LED lighting? As on Echo, you will also find a mute button to deactivate, if necessary, the two integrated microphones.
Thanks to Alexa, you will be able to access the main functions of your smartphone while driving: make a call, play music, find an address or GPS coordinates, etc. All for a really reasonable price, then it will cost you about 45 € on Amazon. Fr.
Our opinion on the Roav Viva: it is the solution offering the best quality / price ratio to date. Several members of our community have adopted it and are fully satisfied with it.
Muse Auto: Alexa Voice Assistant for Cars

It is smallest system available. Its circular shape is reminiscent of the Echo range. Equipped with three buttons, one for activating the microphone, the other two for navigating your music, the system is simple but effective and can be used via a 3.5 mm mini-jack. As with the Roav Viva, you will need to use your smartphone in Bluetooth to provide it with a connection and power it via a 12V socket.
Marketed € 79.99 in the United States, it remains however still difficult to obtain at a decent price in France since it is currently only found on the marketplace ofAmazon at a rate of 113.89 €. If you wait a bit, however, it's a safe bet that the latter will settle noticeably in the coming months, as was the case with the Angler device.
Logitech ZeroTouch: support for smartphone with Alexa
Le Logitech Zero Touch is not just a simple car holder since it allows you to use Alexa in a simple and above all inexpensive way. Thanks to technology Snap & Go, once your smartphone magnet to the support, the Logitech application of the same name will launch automatically and allow you to control Alexa and your phone without even having to touch it, including disabling your lock screen. Practice!
Firmly attached to your dashboard or screen thanks to its suction cup, this system has the big advantage of being very accessible sinceit only costs 22 € on Amazon. Fr.
Product now unavailable
Roboqi 2.0: a charger support for smartphone boarding Alexa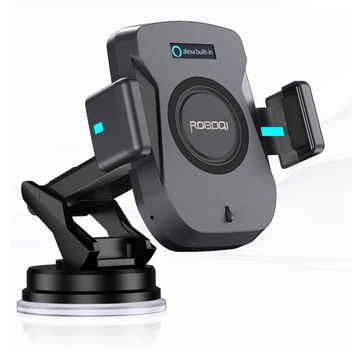 Spotted by Alexiens on the Kickstarter crowdfunding platform a few months ago, the Roboqi 2.0 project is now funded and the product should be released from September 2019. Equipped with technology "Snap & Go" which sees the device automatically enclose your smartphone to maintain it properly, the device will share your connection via the Bluetooth and will even be able to quickly recharge your smartphone by induction (15W).
A pleasant system that we can not wait to see arrive on the market in the absence of an announcement of the marketing in Europe of the Echo Auto solution fromAmazon. The latter should be marketed at around $ 79.