Amazon just announced on his blog the launch of Build it, a program of crowdfunding intended to test the expectations of consumers around new products compatible with Alexa, his voice assistant. Three connected objects are already available, including an astonishing cuckoo clock ...
Amazon Build It: participate in the launch of your favorite products
The principle is simple: Amazon will periodically present new concepts and consumers will be able to pre-order them at a preferential price if they find them attractive. After 30 days, if the product reaches its pre-order goal, the e-commerce giant will start production. If so, the project will simply be abandoned. Obviously, the customer will not be billed, and Amazon even promises that payment will only be made upon actual shipment of the product.
Launched today in the United States, Amazon Build it begins by offering three more or less surprising products that all have in common that they are connected to Alexa… Build It is a continuation of the Day One program which saw the birth of Auto Echo, Echo Loop connected ring or the Echo Frames glasses ...
Three new compatible products Alexa
Amazon offers three "Build It" products from today until March 19, 2021. If these reach the pre-order objectives, they will be delivered to buyers between July and September 2021. Unfortunately, and as was always the case for Day One products, these are reserved for American customers for the moment ... If some products will sometimes be available in limited edition, everything suggests that most devices will not ultimately be marketed in a sustainable way ...
Smart Sticky Note: a note printer Alexa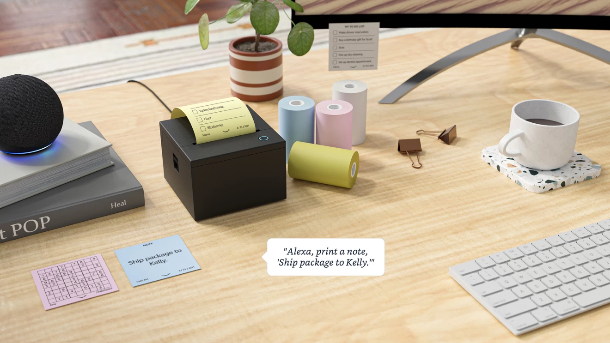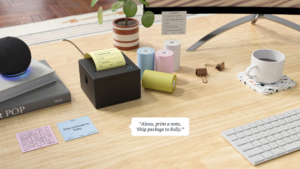 The first product is a smart little sticky note printer. Kind of Post-it 2.0, the Smart Sticky Note builds on the Voice-to-Print technology and allows ask Alexa print shopping lists and tasks, reminders and events from our calendars, or fun items like jigsaw puzzles. Using thermal printing, it will not require ink or toner and is reminiscent of merchant receipt printers. Convenient, isn't it?
The printer Smart Sticky note is available for pre-order at 89,99 dollars and has already reached 50% of required pre-orders. It should therefore see the light of day very soon.

Smart Nutrition Scale: a connected food scale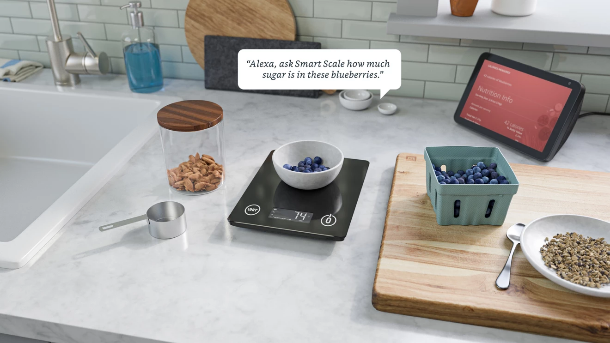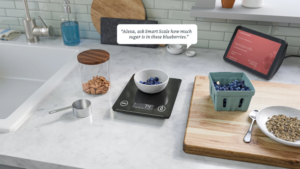 The second product is reminiscent of the Squikit scale that we had just presented to you on the occasion of its crowdfunding.
The Smart Nutrition Scale ", or intelligent nutrition scale, indeed works with Alexa and Echo Show connected screens and allows food to be weighed for instant nutritional information.
It will suffice for example to say « Alexa, ask Smart Scale how much sugar there is in these blueberries » ou « Alexa, ask Smart Scale to weigh 200 calories of blueberries' and your favorite voice assistant will help you keep the line!
The connected scale Smart Nutrition Scale is available for pre-order at price of 34,99 dollars. Will this reasonable price appeal to enough people for the concept to emerge?
Smart Cuckoo Clock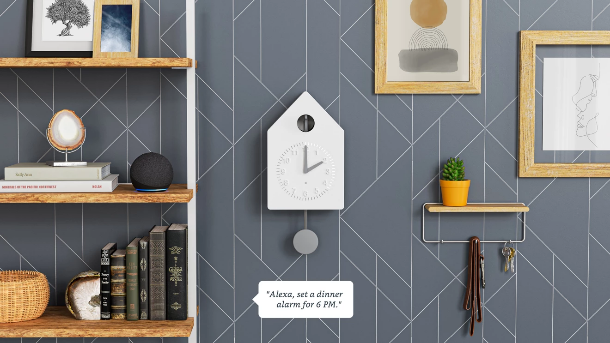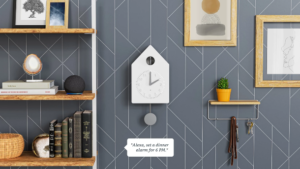 It is without a doubt the most surprising and fun product offered by Amazon during this first "Build It": the Smart Cuckoo Clock !
No, you are not dreaming, it is indeed a cuckoo clock… Compatible Alexa of course, it has 60 LEDs, a mechanical opening cuckoo and built-in speakers for timers and alarms. It is possible to configure it so that it rings every hour during the day but not at night, to program the movement of the cuckoo, and of course to request Alexa "Set a 20 minute timer" or even "Set an alarm for dinner at 20 p.m.".
The connected clock Smart Cuckoo Clock is available for pre-order at 79.99 dollars. If it is not without recalling Echo Wall Clock, in particular because of its necessary Bluetooth pairing with an Echo speaker; we hope that its finishes will be more elegant and its consumption more reasonable ...