Whether you use connected speakers Amazon Echo or whether you are simply a music lover, this offer should interest you: Amazon Music Unlimited is completely free for 3 months and without obligation! A good opportunity to discover the best music streaming service for Alexa.
Amazon Music Unlimited: over 60 million unlimited tracks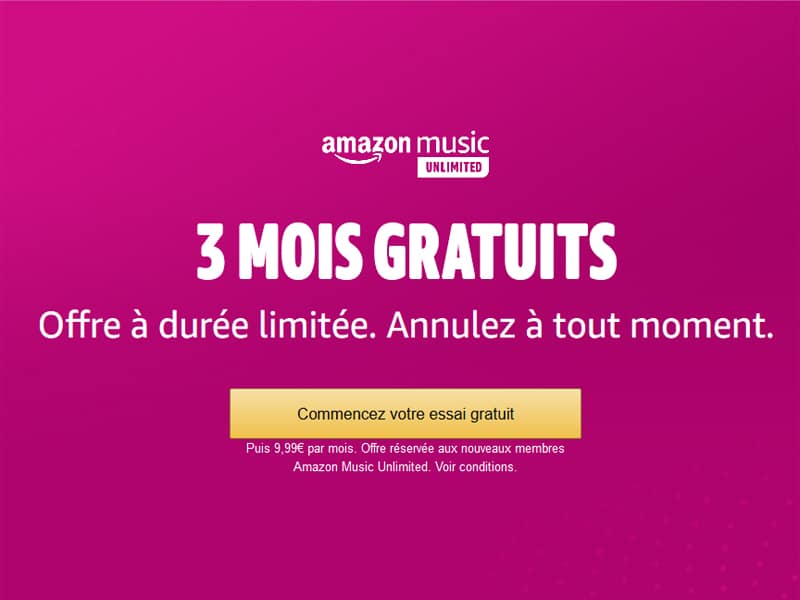 Comprising more than 60 million tracks of all kinds, Amazon Music Unlimited is available on all media : Android, iOS, Windows, Fire OS, and much more ...
Without advertising, of course, the offer is completely unlimited and allows you to download your favorite tracks to listen to them offline when you travel, for example, or if you do not have an Internet connection. It is therefore an ideal formula for the holidays!
The service is of course the reference for Alexa and your devices Amazon Echo ou Fire TV Stick. Operating hands-free, Alexa saves you from tedious or even dangerous research since you just have to ask him what you want! You will also find here all the orders Alexa for Amazon Music...
The offer is valid until July 21, 2020 at 23:59 p.m. and reserved for new customers Amazon Music Unlimited residing in metropolitan France.
With Amazon Echo, it's even better !
To make the most of this offer, the range Amazon Echo open its arms to you! Small but essential EchoDot 3 up to the high fidelity sound of theAmazon Echo Studio, there is something for all tastes and all budgets ...
199,99€
In stock
August 14, 2022 10:52 a.m.