Today, dear Alexiens and Alexiennes, we have chosen to present to you not a skill but a feature ofAlexa. Note thatAmazon offers to all 1 month free trial for Audible and 3 months of free trials for Prime customers.
Audible, the world leader in audiobooks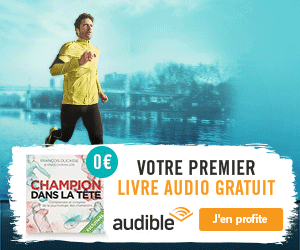 As you may know, Audible is a company that is part of the empire Amazon which allows you to access it with your identifiers of the sales site, for a subscription. It is the world's largest audiobook service with over 250000 titles.
What about Alexa and the Echos? Well from this follows the fact that the Audible software is now directly included in Alexa natively and therefore to echo devices. Much like with the Kindle which can be read by Alexa directly.
But unlike the latter where the books will be read directly by the synthetic but nonetheless soft voice ofAlexa, in the case of Audible, it is the audiobook that will be streamed directly to your echo without your phone having to launch the application. It is therefore an excellent system to be able to listen to your books while working or cooking without having to wear headphones or drain your cell phone battery.
How it works ?
To use it, nothing could be simpler. Suffice it to say " Alexa opens Audible ". In this case it will retrieve the last location of the book you are listening to. You can also directly ask him to open a particular book on audible to choose a specific book if you have several readings at the same time.
For information, by signing up to Audible, you have three free months with one free book per month plus one upon registration. It works in tokens. One token = one free book. After your trial period, you have the option of having three new months at 50% with always one token per month. There are also regular promotions and free books. But you are free to buy additional books if you are a heavy consumer. And frankly, having Zola's "L'Assommoir" read is much better than reading these 570 pages that bear their name well…
So audible on Echo, is that a good idea? Yes, because if you are already an Audible customer, you have already adopted the audiobook. Very practical reading format on the move or at home when you want to know the rest of the book that captivates you but that you did not have time to link (work, cooking,…). If you are not a fan, it's free to test, you might as well take advantage of it, right? At the writing of the Alexiens, we tested, and we are fans!