After a first experiment in early 2017, Aviva has just launched a skill on Alexa which allows its clients to consult the amount of their retirement savings pension.
The Alexiens tell you all about this atypical skill which probably prefigures the services of tomorrow.
A skill Alexa to view the amount of your retirement savings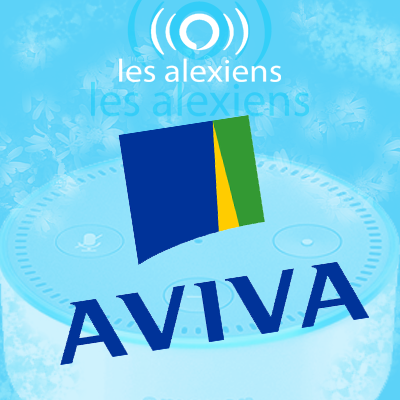 Aviva's skill has a unique feature: the return of their account balance. To do this, it suffices to ask: " Alexa, ask Aviva for the amount of my pension "then state the PIN code defined when subscribing to the offer or on the insurance company's online service platform. While this is clearly not the skill of the year, the insurer's strategy seems interesting because it offers a practical functionality to its clients, who according to it are only 34% to consult at least one. times a year the balance of their retirement savings and even 21% to do so even less often. It is therefore a question of combating the growing disinterest of consumers in insurance and savings products, but also of improving its image by giving it an innovative character. It hopes to meet their expectations on the one hand, 33% of its customers affirming that they will do so more regularly thanks to our preferred voice assistance, but also to strengthen their commitment to their insurer.
Focus on online shopping Amazon Alexa
The company also shows a certain ambition to go further in its use of the voice service ofAmazon in the future. It has thus launched across the Atlantic, in the United States and Canada, a skill intended to answer more general questions.
This skill can thus answer practical questions such as:
"What is a franchise? "
"Does leasing or financing my vehicle affect my insurance policy? "
"What does personal accident insurance consist of?" "
"Should I inform my insurer of my recent move?" "
"What does personal accident insurance consist of?" "
"What is All Risks insurance"?
But Aviva is also thinking about customer acquisition and you can even ask Alexa to find you an insurance broker, or even more interesting for the insurer, to carry out an auto insurance quote directly.
« Alexa, asks Aviva to prepare an auto insurance quote. "
In the province of Ontario, Canada, you can finally directly use Alexa to subscribe to insurance, or more precisely to prepare this subscription. After answering questions fromAlexa, you receive the preliminary submission by email in order to complete it online or by phone. Indeed, it is impossible to sign the documents or negotiate a potential discount with Alexa.