We mentioned it a few weeks ago: the connected garden. A logical extension of our connected homes, the garden is in turn the target of technology enthusiasts like us and is logically being gradually invaded by connected objects. From the automatic mower to connected pool probes, everything goes there, even the cooking of our meats with the connected barbecue !
While there are a few models that allow you to rely entirely on an application to manage your barbecue, today we have preferred to look at small help accessories, in particular connected cooking probes, which have the merit of coming to our aid without taking away from the barbecue its convivial aspect.
1 - Meater +: a compatible cooking thermometer Alexa !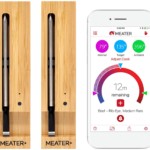 Very simply monitor your cooking from a phone, tablet, computer, via Bluetooth or WiFi, it is possible! Thanks to its Meater Cloud, the Meater + cooking thermometer guides you through all the stages of the cooking process and guarantees you a perfect result!
While waiting for his skill Alexa on the French store, which should soon arrive, you can very simply use it via its iOS / Android application which allows you to configure alerts and notifications, but also to control at any time the internal and external temperature of the meat to cooking with small onions.
Available from 119 € on Amazon. Fr, it is the most connected of the barbecue cooking probes that we have unearthed and we will be sure to take a closer look at it in the near future.
2 - Weber iGrill 3: grill to perfection!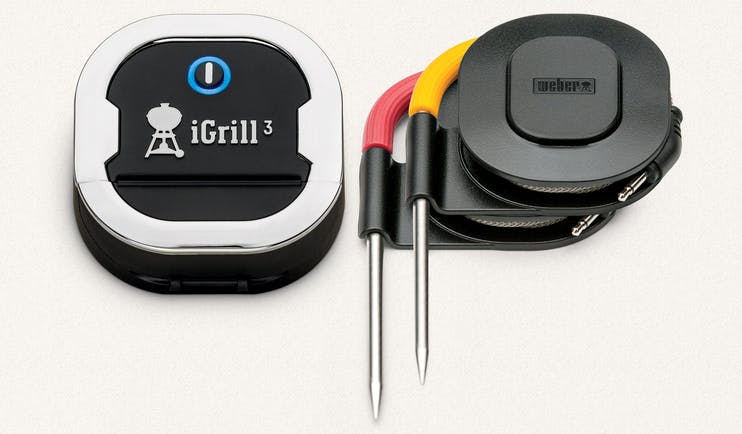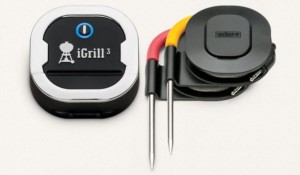 Here is an innovation from the barbecue specialist: Weaver. Whether electric, gas or charcoal, the brand's barbecues are always acclaimed and the American has made a specialty of innovating each year with new accessories such as the Weber iGrill 3. Designed to be attached to the Genesis II or Spirit II models, it is nonetheless usable on any model since it is simply a connected cooking thermometer.
Allowing the simultaneous monitoring of the cooking of four pieces of meat, it relies on the Bluetooth 4.0 andWeber iGrill app. Available on most Android phones (excluding Huawei) and iOS 9 or later, the iGrill 3 Connected Cooking Thermometer offers 250 hours of autonomy and a range of up to 45 meters in an open area. Comes with two probes to monitor the cooking of two meats with a very simple color code, it alerts you when your food has reached the desired degree of doneness, avoiding you to interrupt the cooking process by lifting the lid of your barbecue or smokehouse.
Le Weber iGrill 3 is available from € 99 on Amazon. Fr with two probes. Count around 20 € for an additional probe.
3 - Weber iGrill Mini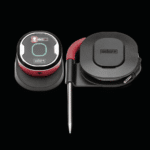 It is the little brother of the previous model. If it only allows you to follow a single cooking, the cooking thermometer Weber iGrill Mini will notify you in the same way when your meat is at the desired temperature. Integrating technology Smart LED, sound very simple color coding lets you know where you are in the blink of an eye: green means you can start, yellow means you are 15 ° C from target temperature, orange you are below 5 ° C of the target temperature and the red that the meat is ready!
Communicating via Bluetooth with the brand's iOS or Android application, it offers 150 hours of battery life. The cooking probe Weber iGrill Mini is proposed from 69.99 € on Amazon. Fr.
4 - Mastrad: a wireless cooking probe!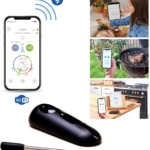 Skip the wires with the connected cooking probe from the French company Mastrad! Operating in Bluetooth, it is placed directly on your meat to monitor its internal temperature and cooking speed. If you can control everything through its app, it will also let you know that the perfect temperature has been reached with a sound signal.
Easy to use, you can acquire several and operate them simultaneously. Rechargeable via a micro-USB cable provided, it offers up to 24 hours of autonomy and can be easily placed on its station once the cooking is finished.
The Mastrad connected cooking probe is available at the attractive price of € 52.99 on Amazon. Fr.
5 - Morpilot: tcheap bluetooth kitchen hermometer!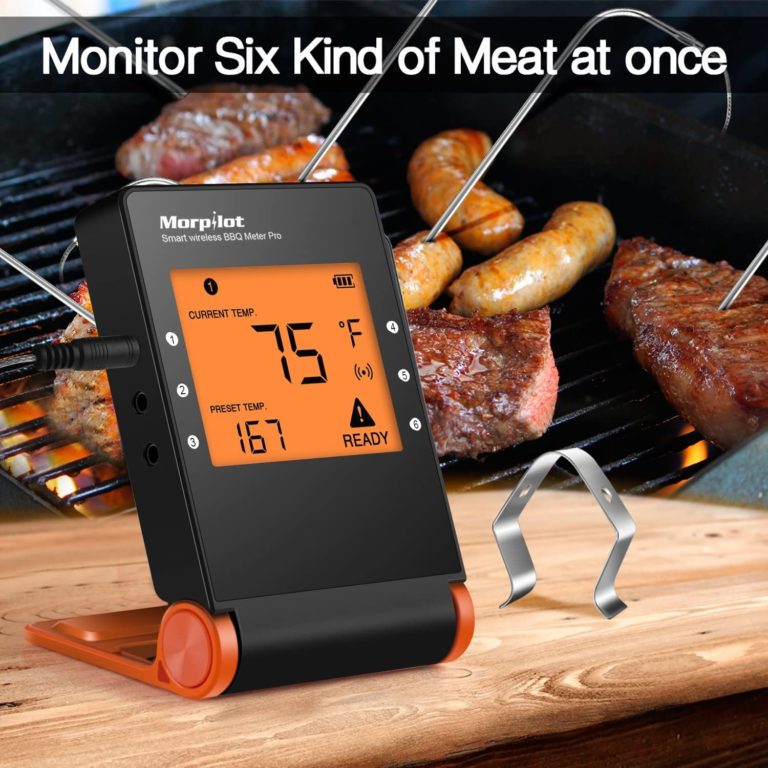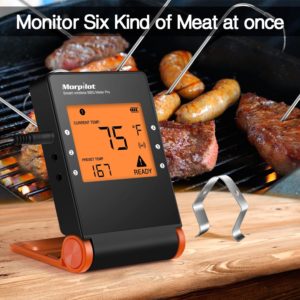 No need to keep moving back and forth between the house and the barbecue, just keep an eye on your smartphone or listen ... Prepare other parts of the meal or chat with guests stress-free while cooking, cooking. Morpilot connected cooking thermometer will warn you thanks to its alarms!
Directly on the device and up to 50 meters in Bluetooth with the application Smart BBQ Meter, the four Morpilot probes allow you to monitor several cookings simultaneously and even display all the parameters on its LCD screen!
Offered at € 36.99 on Amazon. Fr with 4 cooking probes, it is by far the most accessible product of our selection!