At the end of March, the good home automation plans spring are back, with specials on connected speakers in particular Amazon Echo up to -50% ! In short, you will have understood it, it is now or never to fall for the new generation or to afford a lower price a device from the previous generation ...
Echo Dot 4 at 29.99 € or -50%
It is the latest addition to the range: Echo Dot 4 is on sale at -50% ! With its spherical look, the most compact speaker Alexa looks devastating and sounds even better than before as we explained in our test Amazon Echo Dot 4.
€59,99
In stock
July 4, 2022 18:52 a.m.
Echo Dot 3 at 19.99 € or -50%
Perfect to discover the voice assistant at a low price or to add it everywhere in the house, Echo Dot 3 allows you to spend orders Alexa in voice, listen to your music streaming favorite or any radio station thanks to the hundreds of thousands offered by TuneIn, or simply control your automation with his many skills!
Find our opinion on Amazon Echo Dot 3 here.
€49,99
In stock
July 4, 2022 18:52 a.m.
Echo Flex at 14.99 € or -50%
It is convenient, it is not expensive and you can easily place it on any outlet: Echo Flex allows you to use your voice assistant anywhere in your connected home. In the bathroom, in the kitchen or even in a garage, he knows how to be discreet but is nonetheless effective in placing voice commands.
Check out our test on Amazon Echo Flex here.
Echo Studio at -15%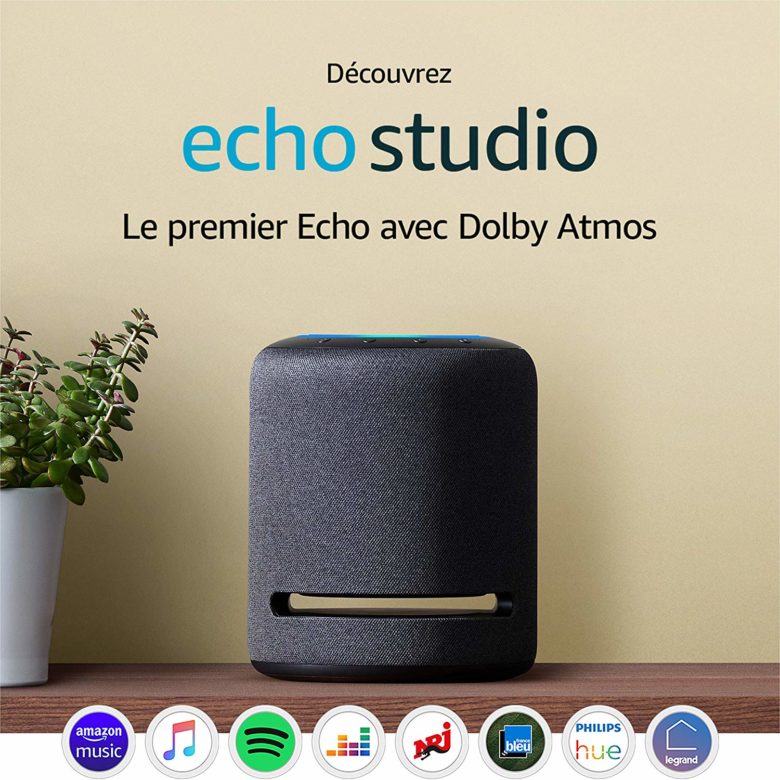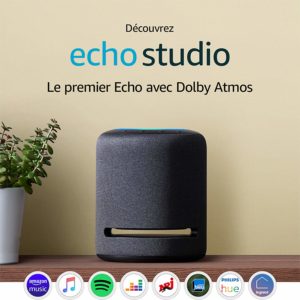 With a undeniable quality / price ratio for a connected speaker, undermining most of its competitors and offering the best possible integration into the ecosystem Alexa, Echo Studio is equipped with 5 speakers producing powerful bass, dynamic mids and crisp highs. The Dolby Atmos technology fills the space and adds clarity, as well as depth.
In pair, it is a high resolution system more than nice, especially if you offer quality sources. But where Amazon is even stronger, is that you just need to add a streaming key Fire TV Stick 4K to make it an even more efficient and versatile product. For a user ofAlexa, it is in any case the best offer available on the market today.
€199,99
In stock
July 4, 2022 18:52 a.m.
Echo Auto at 39.99 € or -33%
Alexa in your car for cheap? This is what offers Auto Echo, the device dedicated to our vehicles which allows you to use Alexa hands-free while driving!
Find our opinion on Amazon Echo Auto here.
€59,99
In stock
July 4, 2022 18:52 a.m.
Echo Show 5 at 49.99 € or -44%
It's small, it's cute, and it's especially perfect on a bedside! Echo Show 5 is indeed the ideal connected alarm clock for users ofAlexa. With his 5.5 inch screen, it allows you to easily read the time, adjust your clock and manage your home automation, but also to display photos and even watch videos. In short, it is the ideal device in a bedroom ...
Echo Show 8 at 79.99 € or -38%
Since the arrival of the Molotov and Netflix streaming services on Echo Show, it has gained more and more followers! I have to say that Echo Show 8 offers the best quality / price ratio of the un range surprising sound in a compact size with an 8-inch screen comfortable enough to watch your favorite programs, browse the Internet, control your home automation, and much more ... In addition, you can now use the Echo Show remote cameras to monitor your home by viewing the images directly from the application Alexa.
€99,99
€109,99
In stock
July 4, 2022 18:52 a.m.
Range Amazon Fire TV is also on sale!
The famous key and box of streaming fire tv are also in the game today with 25% off the excellent Fire TV Stick 4k et -42% on the awesome Fire TV Cube !
€119,99
In stock
July 4, 2022 18:52 a.m.