Whether you are using connected speakers with Alexa integrated or whether you are simply a music lover with a superb Hi-Fi at home, this offer should interest you: Amazon Music HD is completely free for 3 months and, of course, without commitment beyond this period! A good opportunity to discover the best music streaming service for Alexa in its high-resolution audio version ...
Amazon Music Unlimited: over 60 million unlimited tracks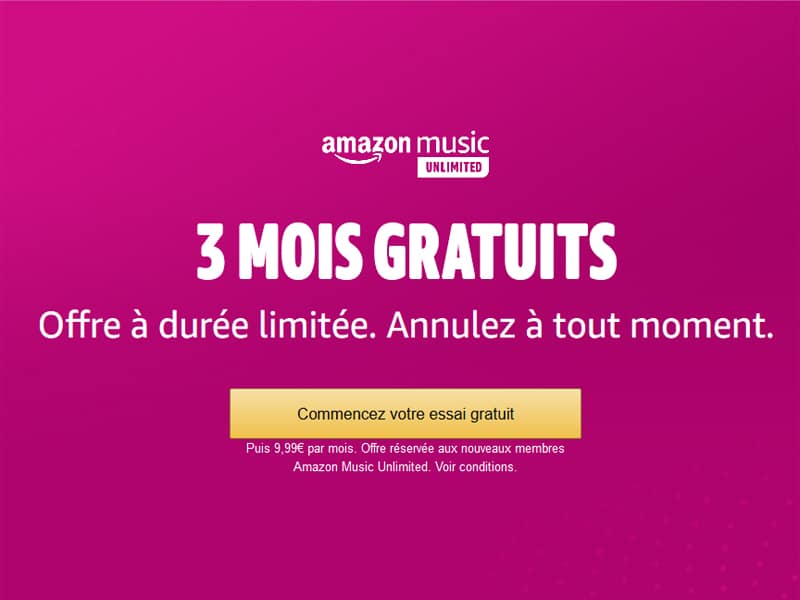 Comprising more than 70 million tracks now encoded in Hi-Res, understand in high resolution audio, Amazon Music HD is available on all media : Android, iOS, Windows, Fire OS, and much more ...
Without advertising, of course, the offer is completely unlimited and allows you to download your favorite tracks to listen to them offline when traveling, for example, or if you don't have an Internet connection. It is therefore an ideal formula for the winter holidays!
The service is of course the reference for Alexa and your devices Amazon Echo ou Fire TV Stick, especially for the Fire TV Cube. In addition to the HD now available on more than 70 million titles, you will also have the possibility to enjoy the3d audio on Amazon HD Music, a new, even more immersive sound format that immerses you in your music like never before, as if you were on stage.
The offer is valid from February 15, 2021 to March 1, 2021 inclusive and reserved for new customers Amazon Music Unlimited residing in metropolitan France. At the end of the free trial period, your subscription to Amazon Music HD will automatically renew at the monthly rate of € 14,99 until terminated.
With Alexa and Fire TV is even better!
To make the most of this offer, Amazon also offers promotions!
€49,99
In stock
July 5, 2022 0:13 a.m.
€59,99
In stock
July 5, 2022 0:13 a.m.
€69,99
In stock
July 5, 2022 0:13 a.m.
€88,99
€99,99
In stock
July 5, 2022 0:13 a.m.