If the days are getting longer, the nights are still long. So why not be done a nice but discreet atmosphere thanks to connected LED strips. Placed along a plinth in a hallway, they will be able to accompany you at night, placed under a ceiling they will illuminate your room. For a movie night, why not place it around the bench or behind your screen? Available in Wi-Fi or ZigBee, there is something for everyone.
Wi-Fi LED strips: up to -32%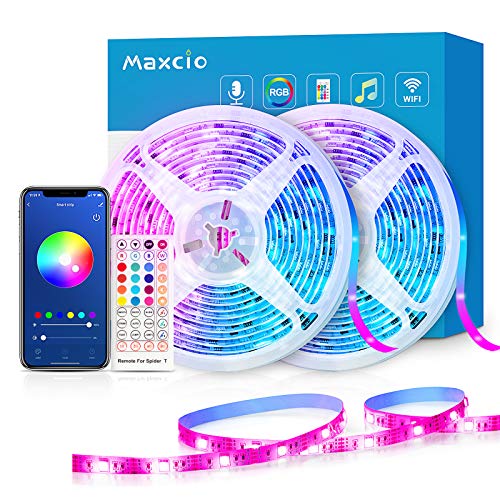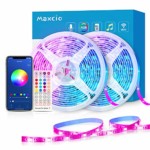 Well known to users of Tuya / Smart Life, Maxcio brand offers us today a 10 meter Wi-Fi LED strip, the ideal size to place it under a bench for a warm environment by asking your voice assistant to put your favorite scenario and thus have a good time. And thanks to its "music" mode , you can even turn your living room into a real dance floor.
Use the 5% discount coupon
Shorter, LE 5M Wi-Fi ribbon offers a fairly comfortable length of 5 meters that allows you to easily place it wherever you want. Offering 16 million colors controllable from its remote control or sound smartphone on the app Smart Life, this Wi-Fi LED strip is obviously controllable by voice thanks to Amazon Alexa or Google Assistant.
With its 20 meters in length (2X10 meters) it is a beautiful surface that the LEDs of this ribbon will illuminate. Supplied with a 40-key remote control if you do not wish to control it by voice with one of the compatible voice assistants: Amazon Alexa et Google Assistant.
ZigBee Ledvance LED strips: up to -15%
The LEDVANCE LED strips, a brand more famous under the unnamed Osram, use the ZigBee protocol and pair either with a device Amazon Echo embedding a connected home hub, ie the famous Philips Hue bridge, the brand is "friendly" in order to offer a more elaborate configuration panel. You can also use them via Conbee et cie keys ...
2 extension strips of 60 cm each for the LEDVANCE tape Smart+ Flex, just what it takes to get the perfect size ...