The robot vacuum cleaners, Alexians like it and are always looking for good deals to offer you. Here is one with the latest model of the Xiaomi Home family: the Viomi s9.
Viomi S9 at 14%: a really high-end Xiaomi Home robot!
On the suction side, the Viomi S9 delivers no less than 2700 Pa, enough to take off the dust whatever the surface, which it is also able to recognize in order to adapt its power.
The S9 is equipped with plethora of sensors allowing him to recognize the nature of the ground, not to run down the stairs or to find himself suspended, and even to spare your walls and furniture that he will avoid knocking at all costs ... His progression in S or Y is done according to the current function. Three modes are available : tile, carpet or hard floor. The amplitude of its wheels certainly does not allow it to climb the steps of a staircase, but it can cross without difficulty up to 2 cm of height difference ... Enough to overcome most obstacles and easily climb on a thick carpet, for example.
Indeed, this latest generation robot is also equipped with a Laser rangefinder. Also called LDS or Lidar, this system allows the device to map your accommodation and draw up really accurate maps. You can therefore send it to the room of your choice, occasionally on demand via, or on a regular basis thanks to the programming. If you have several floors, no worries, it also manages the multi-level cards.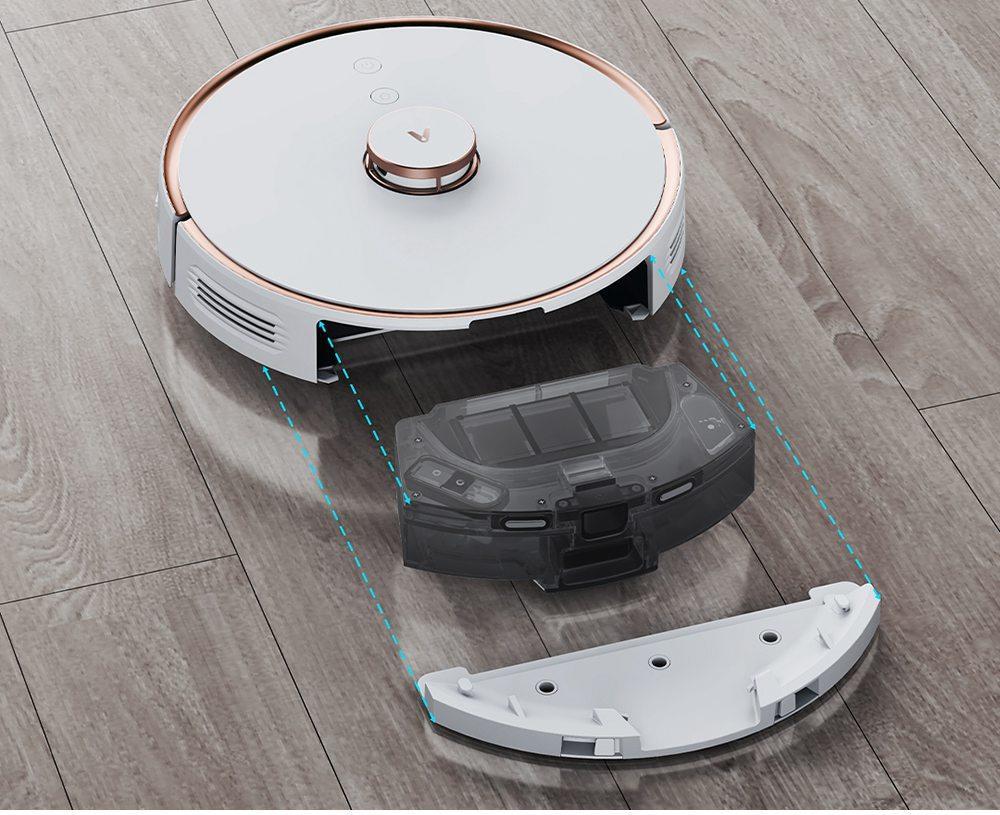 But the Viomi S9 is also a 2-in-1 vacuum cleaner, namely that he also knows how to wash floors with his mop. Its water tank of a capacity of 250 ml is electronic, this means that one can choose one of the 3 water flows proposed. Comes with 10 microfiber wipes, it is also suitable for vitrified parquet and other laminates.
All this is already very good, of course, but it does not stop there because the Viomi S9 is also an autonomous robot. If you are already the owner of a robot, you will be aware that once it has passed, it must be emptied regularly. It is sometimes painful, do we agree? Well, with him no, since the Xiaomi viomi s9 is one of those devices of the latest generation which offer, in addition, a automatic dump station. Concretely, once the cleaning session is over, he will unload his dust bin on his own in his waste collector, gradually filling a bag with a capacity of 3 liters that you will just have to throw away ... It may not seem like much, but in fact it translates into a battery life of 4 to 8 weeks depending on the size and state of cleanliness of your accommodation.
In short, if you add to all this a autonomy not insignificant of 3 hours Thanks to its 5200mAh battery, and its support by the excellent Xiaomi Home application, the Viomi S9 really ticks all the boxes and really plays in the big leagues!