This is the big trend of this year: stay at home ! We are not going to explain to you why it is important but, rather, how to better live it thanks to the automation. Indeed, a connected home has many advantages, first and foremost is the comfort, but not only…
1 - Home automation is comfort!
"A connected home is a comfortable home. "
Comfortable because practical, the connected home automates small everyday actions: turn on the light when you enter a room with a movement detector, automatically close windows when night falls with connected roller shutters, trigger your alarm if you move away from your house or open the garage door when you get home.
With voice assistants such as Google Assistant ou Amazon Alexa, it has never been so easy and you can also control your house by voice. For example, you just have to say « Alexa, switch to comfort mode » and artificial intelligence will increase the heating temperature by 2 ° C on your connected thermostat, will turn off your LED ceiling lights and turn on your favorite mood lamps by dimming the light for a very "cozy" atmosphere. A simple "OK Google, I'm going to take a shower" can also turn on the bathroom heating and turn on the light before your arrival ... the possibilities are limitless and almost only have our imagination as a limit.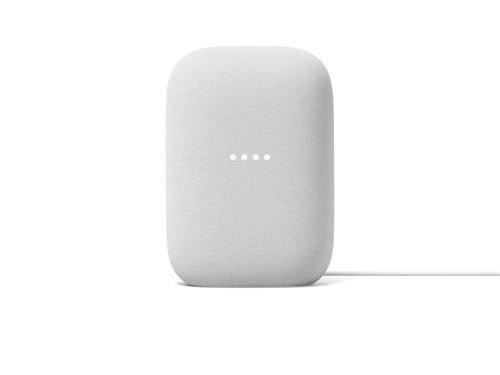 89,99€
99,99€
Not available
August 13, 2022 11:57 a.m.
2 - Home automation is trendy!
"Connected objects are trendy! "
If you imagine big electrical panels, a cabinet with a big server and cables everywhere, you are on the wrong track! The 80s are a long way behind us, luckily, home automation has become devilishly simplified and miniaturized in recent years. Discreet, today it fits perfectly into a trendy decoration, like the new speakers Amazon Echo 4 or even the Athom Homey home automation box.
Better yet, connected objects can participate in this decoration as do the connected filament bulbs that give your home a neo-retro style that will crack more than a vintage lover. The opening sensors are themselves also discreet, the thermostats signed by big names like the Netatmo designed by Starck, the vacuum cleaner turns into a robot with a high-tech design and a well-placed LED strip is the most beautiful effect!
19,89€
21,99€
In stock
20 new from € 19,89
August 13, 2022 11:57 a.m.
79,29€
In stock
August 13, 2022 11:57 a.m.
Not available
August 13, 2022 11:57 a.m.
3 - A connected home for your safety!
"The connected home is also security! "
La home security, it is everyone's business and, first and foremost, one of the main assets of the connected home. Home automation provides us with a host of connected objects dedicated to security. From CCTV cameras our connected alarms, through detectors of all kinds or smart locks, la smart home brings security on all floors.
Gone are the days of overpriced alarms, you can now build yourself a tailor-made system according to your budget. Security does not stop with anti-intrusion systems, you can also be alerted at any time on your smartphone by your smoke detector Or your water leak sensor.
4 - Save money!
"Home automation means savings! "
Comfort is good, but save money it's even better ! In this, home automation is fantastic because, although it necessarily consumes a little electricity, it ultimately allows you to get better. control your energy consumption and really lower your bills electricity, gas, but also water… Indeed, thanks to home automation, it is possible to analyze and improve energy management by easily identifying the most consuming stations and then equipping them with 'automation if necessary.
A connected power strip for example will allow you to cut your audiovisual equipment in the evening, a simple plug with consumption monitoring as the AWOW EU3S plug less than 10 € will help you become aware of your possible excesses, a Tado ° thermostat or a controller for your electric heaters will allow you to make furious heating savings ! A simple module watering connected via Wi-Fi will also help you not to water your plants unnecessarily. connected garden… And much more !
Our advice: start by investing in a connected thermostat! In less than a year, it will be amortized, it is promised. For the rest, each stone will contribute to the building and each saving will allow you to invest more to always do more!
5 - Home automation is a long-term investment
"Home automation is an added value! "
You are going to tell us, and rightly so, that all this has a price! Obviously we are not going to lie to you, this comfort at a significant cost and it can quickly amount to hundreds of euros, or even thousands for die-hards! But, deep down, when it comes to our homes, where we spend more time than ever before, don't we? the best of investments? Yes, probably, and in several ways.
Firstly you enjoy it every day. We come back to the first point: home automation is above all comfort ! Comfort that you will be able to enjoy for years to come because obsolescence is only due to the novelties for which you may fall for it, a LED smart bulb of quality that can indeed last more than 20 years at a rate of 3 hours of use per day!
Also, if you own and sell your house, home automation is a real added value. On equivalent goods, it is not uncommon to see price differences of up to more than 20 euros more for a connected home worthy of the name (or even much more in reality)… Why? Quite simply because the buyer will have in front of him a house offering all possible comfort and the impression of having no work to do!
In short, the home automation investment that you will make in your connected home will be a real added value on resale and will undoubtedly allow you to differentiate yourself in the real estate market. In addition to having taken advantage of it yourself several years before selling your property, home automation will therefore be a long-term investment !