Security is a major concern of the French since almostone in two feels insecure (45%) et one in ten has recently experienced a theft or burglary according to a BVA survey carried out for Orange. We can also see it on our Facebook community where the subject of connected alarms, motion detectors or opening sensors et CCTV cameras comes back often. But there is another device that can be interesting: the connected lock.
Indeed, you may not know it, but in most cases, thefts are carried out without breaking and entering. 251 French households were victims in 000 according to the investigation report " Living environment and security »2019 of the Ministry of the Interior, which specifies that in 57% of cases thieves entered through an unlocked door. If many fear that smart locks are not secure enough, we will see that this is far from the case and that they present many benefits including that of avoiding us an oversight which can prove to be all the more unfortunate as your insurer will not fail to take advantage of it ...
Connected locks: what's the point?
First advantage: comfort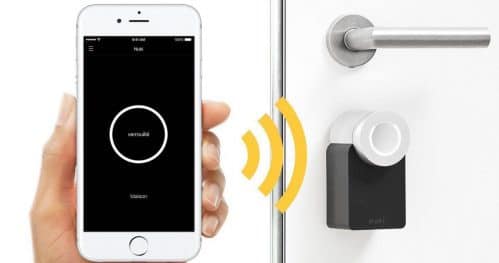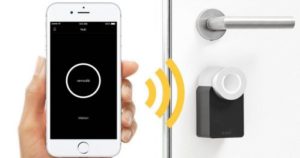 Who among us has never lost their keys? Who has not searched for hours at the bottom of his bag without ever finding them? Who has never doubted that they left without locking the house or wondered if the children had made it home?
With the connected lock, you do not have to no need to have a key anymore on you to lock or unlock your door! This device is therefore in the first place an element of comfort since it saves you having to dig deep in your bag or your pockets in search of a key, while still turning back to check if you have properly closed your door when leaving. You can also open the door to someone remotely if necessary ...
"Note that the vast majority of connected locks use end-to-end encryption for increased security. " The Alexians
Second advantage: security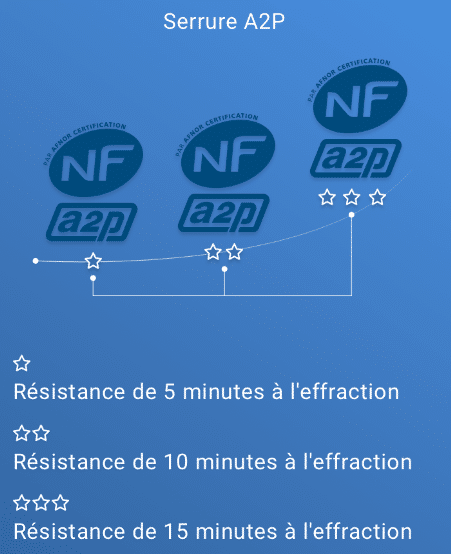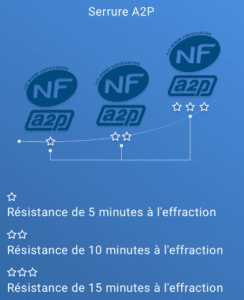 Although many have concerns about the security of smart locks or various fantasies about how easy it is to hack them, they are actually much more secure than they appear and can even be a plus to alert you in the event of an intrusion. If zero risk does not exist, there is indeed little chance that the burglar who attacks your home is a computer genius and most have NF and / or A2P certifications.
So a lock A2P * will resist at least 5 minutes at the break-in, a A2P ** more than 10 minutes and A2P *** will last more than 15 minutes. It is considered that a burglar is very often discouraged within 5 to 10 minutes, hence the importance of such security.
In addition, most connected locks have a alert system in the event of an attempted forcing door and / or cylinder. You will then receive a notification on your smartphone. The same goes for any disconnections that could be generated by a jammer: in the event of a break in the connection to the server, you will also be notified!
Finally, when it comes to an electronic product, you can imagine that manufacturers have thought of encrypting the communications between their locks and their servers. Their credibility and their survival depend on it! As Nuki points out on its website, the media often foster fear and like to fantasize about systems that are however much more secure than our conventional devices. Note that the vast majority of connected locks use end-to-end encryption for increased security.
"You give access to your home, not the keys! " The Alexians
Third advantage: practicality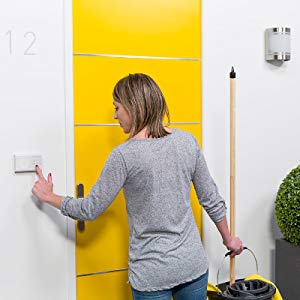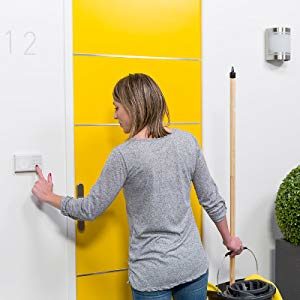 With connected lock, you lock and unlock your door remotely with your smartphone to the delivery man during the day.
You can also manage the comings and goings during your absences by creating permanent or temporary access to the babysitter on weekends, to friends visiting for a few days, to neighbors who have come to feed your cat during your vacation in the Caribbean, or even to the person in charge of maintaining your home ...
In short, you give access to your home, not the keys! And without moving. And that changes everyday life ...
"Being reassured is the key to peace of mind! " The Alexians
Fourth advantage: serenity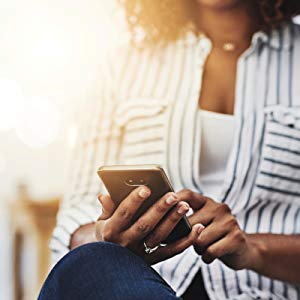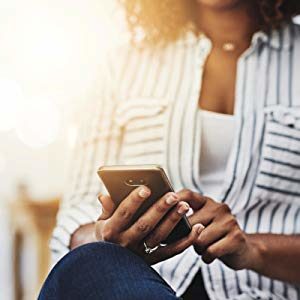 The last advantage that we will mention is ultimately a mix of the first three: the connected lock makes it possible to remotely monitor the activity of your home. It lets you know who entered or left… and at what time. Useful if you have children to make sure they have started well for school.
Wherever you are, receive them notifications on your smartphone and be warned the return of the children to the home or departure of your guests. No more anxiety about lost keys recovered by unknown people ...If a badge is missing, you can deactivate it with 1 click.
Being reassured is the key to peace of mind!
The best smart locks in 2020
Now that you no longer have the slightest doubt about the usefulness of a smart lock, let's take a look at what the market has to offer.
Nuki Smart Lock 2.0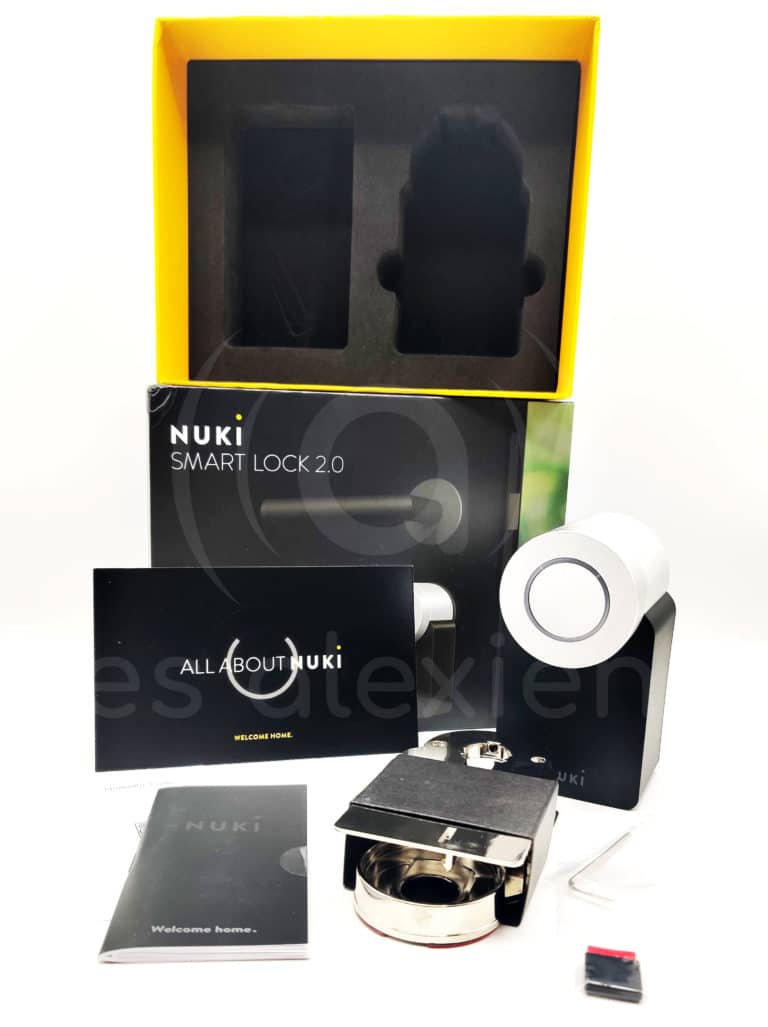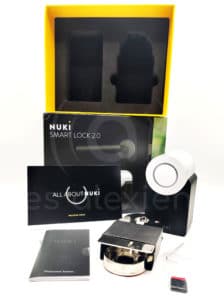 It is the most popular lock by our Facebook community, many members who have already fallen for this model which has many advantages, including that of being compatible with a large number of locks, but also to have a skill Alexa.
Thanks to a sensor, Nuki Smart Lock 2.0 displays not only thelock cylinder condition, but also if the door is actually closed or not. On the practical side, its features "Auto unlock" et "Lock'n'go" respectively allow you to see the door open when you approach and lock when you walk away.
Nuki Smart Lock 2.0 is what we call a "Key turner", you just have to 5 minutes to install it on your current lock and you won't need to change the cylinder. Practical, fast and reliable, it is compatible with the vast majority of existing systems in Europe.
Nuki also offers a whole range of very interesting products, including a remote control, for an digital code and even a system for intercoms ! If it relies on the bluetooth technology for the locking step by step, it requires a bridge called Nuki Bridge to connect to the Internet. You can therefore use it in several ways. And, good news, we will present to you very soon a Nuki test Smart Lock 2.0 and its Bridge !
34,20€
39,00€
In stock
13 new from € 34,20
August 11, 2022 7:28 a.m.
69,99€
79,00€
In stock
5 new from € 69,99
August 11, 2022 7:28 a.m.
Cow Entrance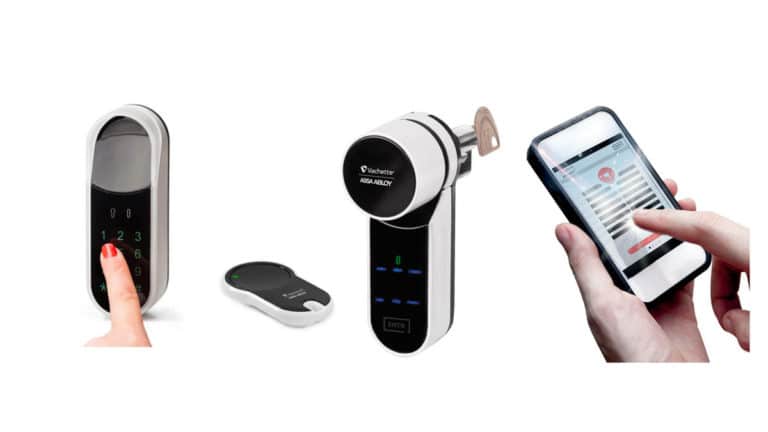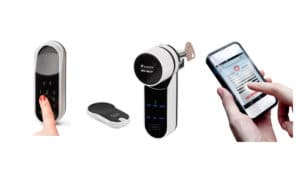 Yes, there are indeed three brands that market the same model: the connected lock Entr ! Why three brands? Because its name, its compatibility with your cylinders and its place of sale will depend on your country of residence. But, in the age of e-commerce, know that these different models are in reality the same or almost. And, in good French, we are going to present the Vachette model to you!
Offering four opening systems (smartphone, remote control, fingerprint or code), the Entr smart lock is a complete model which gives each member of the family the opportunity to use the solution that suits them best. If Madame prefers to use her good old key, it is possible. Monsieur will be able to control it with his smartphone and children use their remote control. Better yet, if you forget one of the devices, you can still open it with your fingertips thanks to the biometrics !
Entr is installed in place of a European mechanical cylinder since it offers one of high security with A2P certification 1 *. Its pins anti-drilling, to resistance to picking and twistingAnd its ASSA ABLOY proprietary encryption make it particularly safe and will reassure the most fearful!
It exists several models using different protocols: Bluetooth Low Energy (BLE), Z-Wave or ZigBee.
TheKeys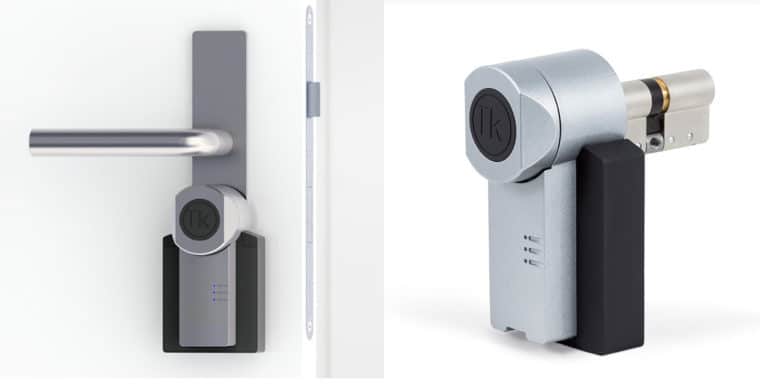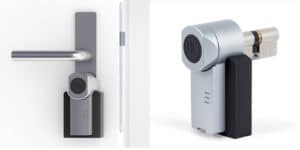 Another model Made in France ! Very easy to implement, the TheKeys smart lock can be installed in 5 minutes flat and on most doors with its European profile cylinder and 16 barrel references!
You can open it with your smartphone, remote control, keypad, key… And even with your connected watch! Suffice to say that you have almost no chance of remaining sheepish in front of your door. Its gateway, or bridge, allows it to communicate on the Internet and even with your voice assistant Google Assistant or, better yet, Amazon Alexa of course !
Somfy Keys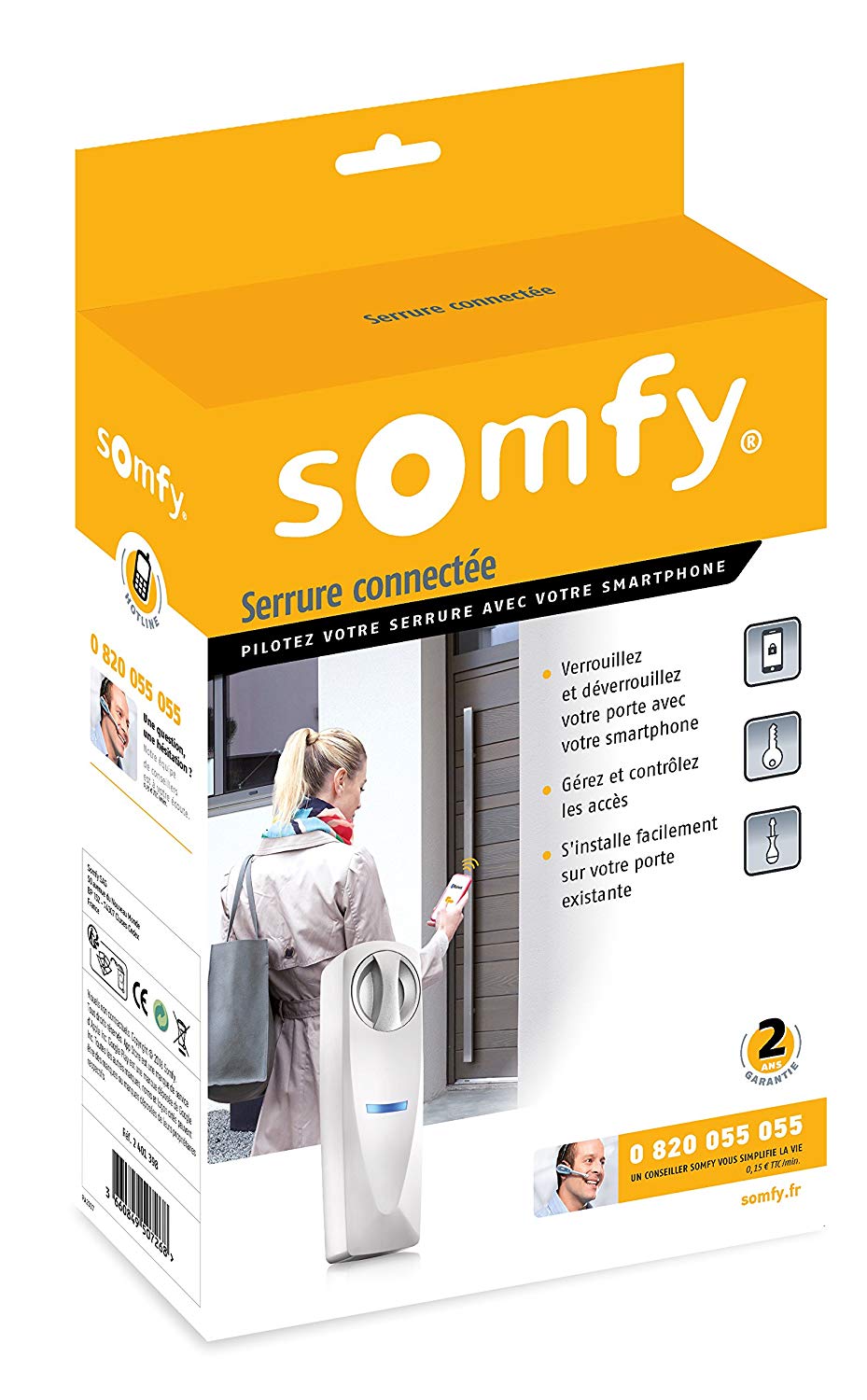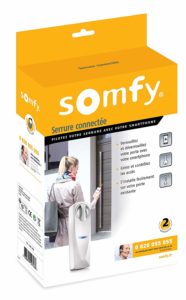 Who said that France was not a country of innovation? Once again, here is a model of connected lock from a well-known brand in France: Somfy.
Thanks to the connected lock and the Somfy Keys application, create permanent and temporary access to your home with just a few clicks to the people you want. Badge, smartphone, code keypad, key : It's up to you!
Installation on your existing door is very simple, without drilling or wiring and in just 20 minutes. In the case of a "Key turner", this device does not require you to change your door or your lock. The Somfy connected lock is supplied with a anti-breakage cylinder, anti-tear et anti-drill certified, and offers a AES-256 encryption especially used for banking security.
Operating with four batteries, you will be alerted when the batteries are low and can communicate remotely with your lock through the Internet gateway. The icing on the cake, if you have the TaHoma home automation box, you will even have the possibility of creating a program combining lock, shutters, alarm and gate. Imagine being able to close your shutters, activate your alarm and lock your door with a single click or thanks to Alexa : how beautiful is connected life?