Update of 15/07/2020: here is our opinion and test Echo Auto in French!
It's official, Amazon announced at CES 2020, currently being held in Las Vegas, that its Auto Echo would be soon is now available worldwide in France. It is therefore this year that we should see the arrival of the small device allowing to embark Alexa in our cars. In addition to partnerships with BMW, Fiat Chrysler, Rivian and Lamborghini, the Seattle giant has again this year proven its willingness to continue to promote strong development to its voice assistant.
59,99€
In stock
August 14, 2022 12:29 a.m.
Updated: August 14, 2022 12:29 a.m.
Auto Echo: Alexa in all cars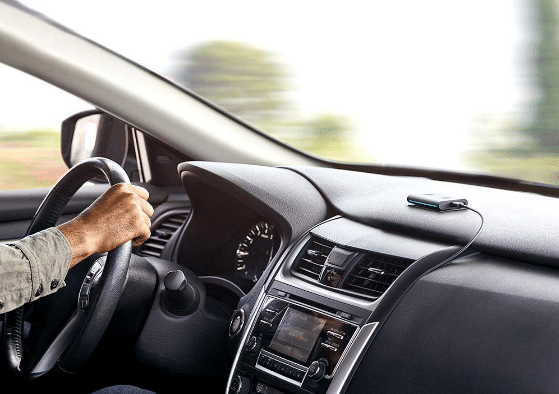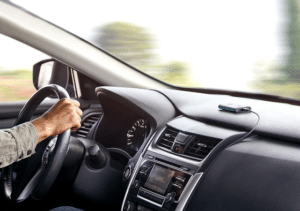 Connected to the app Alexa of your smartphone, Auto Echo can stream music and other information from your voice assistant through the Bluetooth or 3.5 mm jack auxiliary socket of your audio system. a simple and efficient system which has visibly proven itself in its tests in the United States and thatAmazon is now ready to deploy in all countries where Alexa is present. Because, this is the good news of the day: Echo Auto will be available in France in the course of 2020 !
A compact Echo device for the car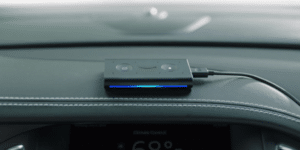 Measuring 8.5 4.7 cm x cm for only 1.33 cm thick, Echo Auto is the most compact device in the range, but also the lightest with its 45 grams. Equipped with a Mediatek MT7697 processor with Intel Dual-DSP, it feeds via a micro-USB socket (1 meter cable supplied) and connects to your vehicle's audio system via a cable 3.5 mm mini-jack or via Bluetooth via your smartphone.
Equipped with two buttons, one button "Action" and button "Mute", Echo Auto integrates 8 microphones who benefit from a audio processing designed to eliminate surrounding noise inherent in any car. A seemingly very efficient system that will allow you to use it as comfortably as the others appliances Amazon Echo and spend all kinds of voice commands to Alexa.
You will be able to:
Listen to your favorite music: " Alexa, play music on Amazon Music ",
Make or receive calls via Alexa to skype calls,
Listen to your favorite podcasts on TuneIn,
Read your daily flash,
Launch your routines Alexa,
Open or close the door of your garage or your connected gate,
Find the nearest gas station or an electric charging station,
Listen to the route information or ask for the weather forecast,
Note appointments in your diary,
And much more…
In short, it is no more and no less than an Echo device intended for the car and you will find all the functions that you are used to using at home, without limitations unlike the devices available today.
Echo Auto, Add Alexa to your car
August 14, 2022 12:29 a.m.
Functionalities
add Alexa to your car: Echo Auto connects to the app Alexa on your phone and use your car speakers through the AUX input or your Bluetooth connection smartphone. Support for ventilation grid included.
DESIGNED FOR THE ROAD: With 8 microphones and long range technology, Echo Auto hears you even when there's music playing, when the air conditioning is on and when the road is noisy.
Much more than your car's radio: control Echo Auto with a simple voice command via the app Alexa to listen to streaming content on Audible, Amazon Music, Apple Music, Spotify, Deezer or radio stations from around the world with TuneIn.
Just ask: use your voice to listen to music, check news, make calls, add to your to-do list, set reminders, check gas prices and more.
Do more with Auto Mode: Turn your phone into a driving-optimized display that complements Echo Auto. See what you're playing and save time with convenient touch-sensitive shortcuts to your favorite places, contacts, and content.