Like its predecessor Echo Show 2, the brand new connected screen Amazon Echo show 10 is eagerly awaited in France as evidenced by the many questions regarding its release date on our Facebook group. It must be said that, as so often, the parent company ofAlexa has not been stingy with innovations in its new product. And, although some French media have recently advanced a release date to November 21, then to December 21, it is ultimately not this year that the release of the new Echo Show 10 will take place but obviously around March 17, 2021 in the United States. Unfortunately, we do not have a date for France yet, but it seems pretty obvious that it will not intervene before.
€249,99
In stock
May 18, 2022 20:06 a.m.
Echo Show 10: a release date leaked on Amazon.com
No, the new Echo Show 10 will not arrive just before Christmas as some French sites have announced, but more likely at the end of first quarter 2021. A date has indeed leaked on Amazon.com where, during a quick visit to the pages of the e-commerce giant, we noticed the launch of pre-orders of a "Bundle" including the eagerly awaited « smart display ". While the main product sheet is still blank, it is indeed already possible to reserve the device in batch with a CCTV camera, for a delivery date set for March 17, 2021.
What will happen in France? We don't know for the moment, but there is no doubt that it will not be advanced for France - it would be a first - and that we should not be able to discover Echo Show 10 arriving before the end of March. A delay which may seem long to you, but which can undoubtedly be explained by the many innovations of this connected screen which is really out of the ordinary ...
Echo Show 10: the most innovative connected screen on the market
With display 1080 inch 10p HD overlooking a circular enclosure, the new Echo Show 10 break the codes with his rotating screen able to follow the user in his movements. Indeed, thanks to a new in-house processor Amazon AZ1 Neural Edge, the device Alexa will be able to analyze the images coming from his 13 Mpix front camera to detect faces and analyze the sound to determine its origin.
A small engine, thatAmazon promises to be inaudible thanks to the absence of brushes, will then take care of doing rotate screen up to 175 degrees to always stay in front of you. A screen that you can also tilt manually according to your position and your use. Like the latest models in the range, the camera will of course be lockable for more confidentiality.
Sound level, Echo Show 10 will carry a 76mm woofer as well as a pair of 25mm tweeters allowing it to broadcast a 2.1 stereo sound who promises to be rich and powerful. Interesting technical characteristics that will allow users toAlexa to take full advantage of the many new features recently unveiled ...
An end of the year rich in novelties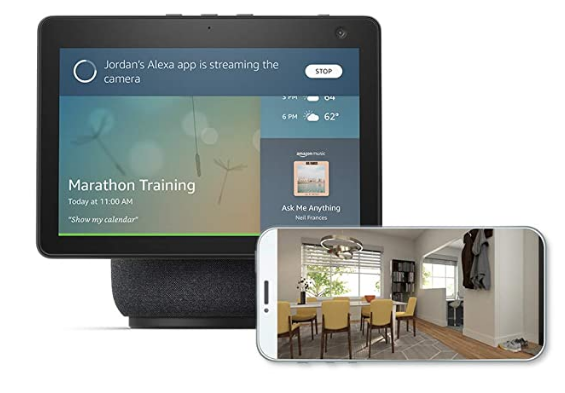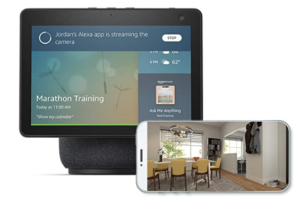 The least we can do is that the teams ofAlexa France have not been idle during this last confinement since the last two months have seen the deployment of the new video interface for Echo Show, the provision of the much requested Alexa Molotov Skill allowing us to watch television on our connected screens and the arrival of the equally awaited streaming service Netflix on Echo Show.
And, as long as it ends in style this gloomy year in many respects, the most popular encrypted channel of the French has also given us a official myCanal app for Fire TV the day before the provision by Amazon of the new Fire TV interface, then the possibility of making group calls for up to 7 people yesterday! NS ! To believe that Mother Christmas is called ... Alexa !
€249,99
In stock
May 18, 2022 20:06 a.m.