Yes, you read that right! We learned, during a developer workshop, that the famous Amazon Echo Show will indeed arrive in France in the fourth quarter of 2018. Enough to satisfy many of us and fill our Christmas lists. A decision that we were impatiently awaiting as this device has no equivalent in the Echo range. Amazon had left in doubt, telling us a few months ago that it was not planned for our country. A choice that is difficult to understand knowing that it is available in Germany, but the success of the current Echo range in France has visibly changed the e-commerce giant's mind.
An Echo with a 7 ″ screen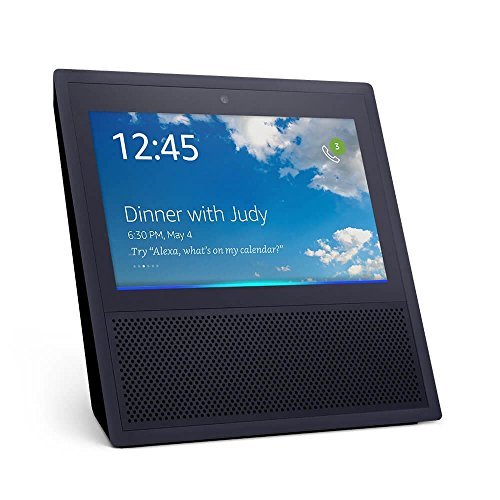 Well known to aficions of the Seattle firm, eagerly awaited by fans ofAlexa, the Echo Show is the only Echo range device to be equipped with a screen comfortable enough to mix voice and visual assistance. The 7-inch touchscreen allows you to Alexa display "cards" or cards from your favorite skills - as it does on the app Alexa - but also videos, the lyrics of your favorite songs, Marmiton's recipes, answers to your questions gleaned from Wikipedia, appointments on your diary, or even information about your parcel deliveries Amazon.
This "Show" mode, named after the device, can be very practical when there is a lot of information and will allow developers to offer ever richer and more interesting skills. Amazon It has been well understood, it is difficult to do without sight and touch, which are deeply rooted in our consumption habits for Internet content with our smartphones and other tablets. However, the specialist in electronic commerce, you cannot ignore it, also aims to make us consume and order any type of good on its site via its formidable voice assistant.
A screen to consume better?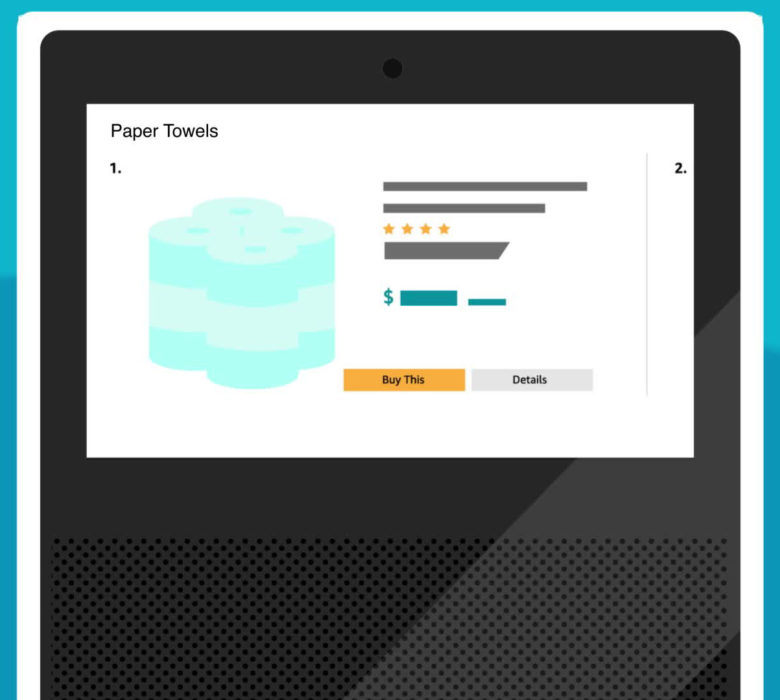 Alexa However, it seems to come up against a fairly logical difficulty: it is difficult to do your shopping on the Internet without seeing a product sheet. For products Amazon Galley, the difficulty is less since these are everyday consumer products, but the enormous catalog of the e-merchant always leaves us afraid of an error and it seems risky to validate an order without going through his smartphone or his computer. A gesture which has the consequence of cutting off the consumer's momentum, hastening their purchasing process and generating more cart abandonment. A buying tunnel that is much too complex for Amazon which has been fighting for years to simplify it, as evidenced by one of its major innovations in terms of e-commerce: one-click purchase. In terms of consumer reinsurance, we have indeed seen better and the conversion rate ofAlexa is probably not the highest ...
The touch screen therefore appears to be an interesting solution, to say the least, in order to further optimize the interactions between Alexa and the customer, reassure him in his purchasing process and, why not, encourage him to consume more while leaving him a feeling of control thanks to the image. Wouldn't this be the renewal of teleshopping?
A trip to France before the end of the year?
It remains to be seen when the Jeff Bezos this famous Echo Show will be released. If some rumors suggest that it could be marketed at the end of the third quarter, a release shortly before Christmas or shortly before the big Black Friday mass seems more likely to us. Will he be accompanied, for the occasion, by Fire HD 8 and Fire HD 10 tablets that recently saw Show mode rollout on their Fire OS? It remains in the order of the possible.
An answer that we will not fail to give you as soon as the officialization of the release in France of theAmazon Echo Show.