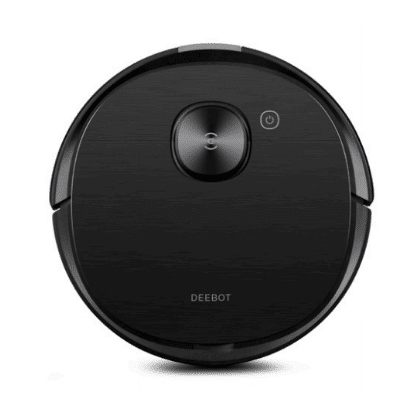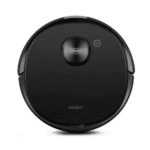 We recently introduced you to the Roborock S6 Max V, first robot vacuum cleaner doped withartificial intelligence to arrive on the European market, but as we had already mentioned in our guide to the best robot vacuum cleaners, Ecovacs Robotics had in fact already been ahead of its competitor and was the first manufacturer to use cameras and artificial intelligence on the Deebot Ozmo 960. A robot that we were a little disappointed to see arriving in Europe, but that the Chinese company was actually already in improving to present us with an even more exciting model: the Deebot Ozmo T8 AIVI.
618,50€
799,00€
In stock
3 new from € 618,50
Refurbished from 124
August 15, 2022 14:41 a.m.
Deebot Ozmo T8 AIVI: a truly intelligent robot
If this new very high-end robot vacuum cleaner from Ecovacs strongly resembles its congeners ozmo 920 and Ozmo 950, one big difference is obvious: its optical camera. Indeed, who says IA, says camera!
One of the first robot vacuum cleaners to integrate real artificial intelligence in Europe, the Deebot Ozmo T8 resumes by improving it AIVI system - for Artificial Intelligence & Visual Interpretation - able to recognize different categories of objects such as shoes, socks or cables. In short, just about anything that can be lying around on the floor with us. A artificial intelligence which, fed by thousands of photos, will allow him to adapt his passages according to the objects that he will be able to recognize thanks to his camera.
Where Roborock has chosen to make the images of his robot unavailable, Ecovacs has decided to give us access to them by offering us the possibility to use your camera for example, to take a look in our houses during our absences. Equipped with a microphone, the camera will also allow you to communicate with your pets, or why not your children!
As with any self-respecting high-end robot, the Deebot Ozmo T8 AIVI is obviously equipped with an LDS or Lidar, but here also benefits from a completely new TrueMapping ™ technology which, thanks to a sensor says DTdV (Direct Time-of-Flight), guarantees us a much higher precision than before.
Able to detect objects twice as far than that of an Ozmo 950, the laser of the Ozmo T8 will allow this new robot to behave as well in the dark as in an intense light, to ignore dark floors or even black or fine carpets, elements that generally pose a few problems with robot vacuums.
Compared to the previous Ozmo 960, Ecovacs promises us as it will be able to avoid obstacles 200% faster and will tangle 60% less often. The T8 AIVI proactively makes recommendations to protect areas where it could easily get stuck. Its autonomy between each recharge goes until noon and he can clean up to 300 m². Knowing that a ozmo 920 was already quite excellent at this game, no doubt the Deebot Ozmo T8 should shine with its navigation capabilities… But not only !
Ozmo Pro: a vastly improved washing system
Belonging to the category of 2-in-1 robot, the new Deebot Ozmo T8 AIVI is obviously capable of vacuuming and washing with water in one pass. A feature often criticized by users for its lack of efficiency and that the manufacturer obviously has of course by offering us a whole new system named Ozmo Pro.
Rather than passing a simple wet wipe, the Ozmo Pro system now simulates a real rubbing movement thanks to a plate with high frequency vibrations. Combined with a large electronic tank 240 mL capacity and a system of pressure maintenance innovative, it would now be able to dislodge stubborn dirt. Suffice to say that we are waiting for him at the turn on this point that we will not fail to test back and forth.
Deebot Ozmo T8: a range of robot vacuum cleaners
If the T8 AIVI is launching a new range, Ecovacs announces at the same time the arrival of two other models in the third quarter of 2020, the Ozmo T8 and Ozmo T8 + joining very soon the top of the range of the brand at prices not yet specified.
They will also be accompanied by an accessory that we more than appreciated on the Proscenic M7 Pro : a automatic dump station. This waste collector will, as an option, no longer have to worry about the Deebot Ozmo T8 for weeks or even months. After months of experimenting with this system, we can assure you that, although this type of accessory may seem a little overdone at first, it is actually a real daily comfort and a real pleasure to finally be able to totally rely on his robot. To be continued!
In short, you will understand, Ecovacs presents today one of the most desirable robots on the market.

Coming soon on Amazon.fr at a rate of 799 €

, the Deebot Ozmo T8 AIVI should undoubtedly be at the top of our rankings and, along with its competitor, symbolizes the start of a new era in the connected household: that of artificial intelligence.
618,50€
799,00€
In stock
3 new from € 618,50
Refurbished from 124
August 15, 2022 14:41 a.m.