Ecovacs, a well-known brand among our home automation tests, announces the release of its new robot vacuum cleaner Deebot T9. A top of the range equipped with ever more advanced features, notably with more precise recognition of objects, but also a surprising air cooler ...
Ecovacs Deebot T9: a robot doped with artificial intelligence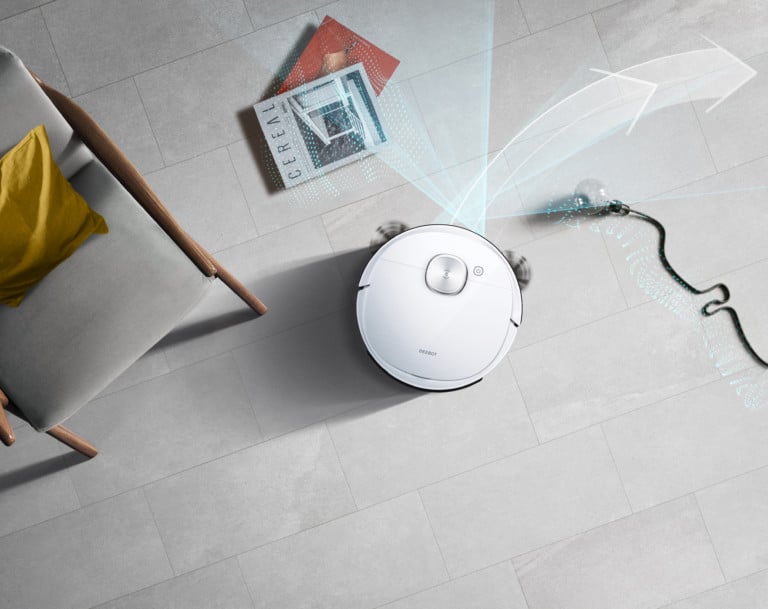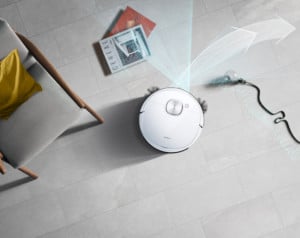 After presenting us earlier this year with the new Deebot N8 Pro family, the Chinese company is back with a second novelty on its top of the range: the Deebot T9.
The result of years of development which have made Ecovacs robot vacuum cleaners more and more efficient, the TrueDetect 3D 2.0 system gives the new Deebot T9 a better object recognition. Smarter thanks to a three-dimensional sweep of space, it promises us that we no longer have to worry about toys, curtain bottoms and other cables that, too often sucked, end up jamming the brushes and blocking our robots. A promise often made but rarely kept, we hope this time will be the right one!
Another improved technology, the laser rangefinder navigation (LDS), who with technology TrueMapping 2.0 allows the Deebot T9 to determine the best path and ignore lighting conditions. In fact, many robots had previously encountered difficulties in the dark or on black floors, again in the event of too much light… It is now a thing of the past!
Aspiration level, the T9 is also on the rise with a power advertised as twice as high to that of its predecessor T8, thus promising us to come to all of all the dirt ...
A refreshing scrubber?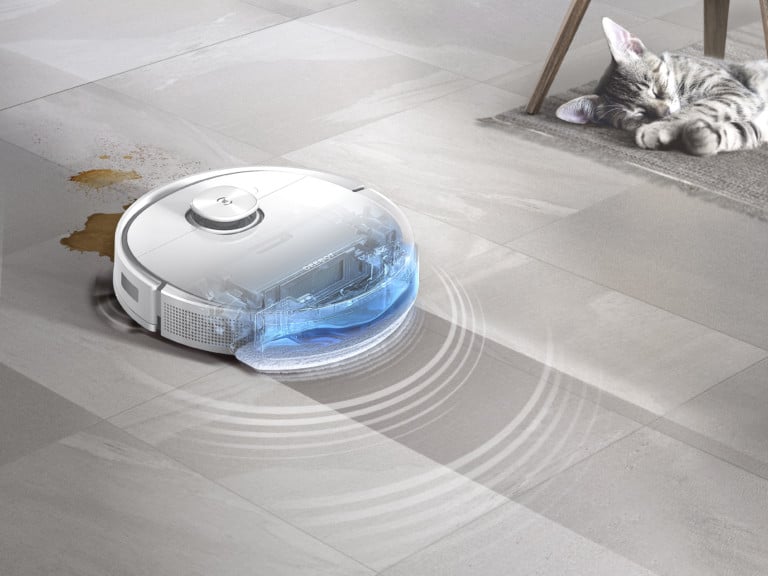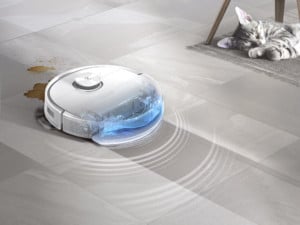 As this is an Ecovacs device, you will not be surprised to learn that the Deebot T9 is a 2-in-1 robot vacuum. As a vacuum cleaner, but also a washer, it finds the very effective cleaning plate OZMO ™ Pro in version 2.0 and therefore here also optimized.
Discovered on the T8 range, this plate has the specificity of using a motor that vibrates the support of the mop at high frequencies. This results in a much more efficient washing with water, which we will not be long in telling you about, but also quieter than before ... Four levels of water flow are still available, we hope that they will be more supported.
In addition, Ecovacs offers on this premium model another major innovation with a surprising deodorant module. Containing a capsule with a durability of 60 days at the rate of one hour of daily use, it is used instead of the water tank OZMO ™ Pro 2.0. and diffuses perfume thanks to a small fan. Three fragrances are available (wild hyacinth, bergamot and lavender, or cucumber and oak bark) to embalm the rooms of your home.A more than surprising innovation that can be easily configured via the in-house application. Ecovacs Home.
An application that also benefits from improvement since it now offers, in addition to recording maps of each floor, a three-dimensional visualization. Thus, your everyday objects will appear on the 3D view of the plan of your home. For those who prefer the good old ways, 2D will also remain available, as will voice control with Amazon Alexa et Google Home.
Finally, the Deebot T9 is accompanied by a dump station (compatible also with the series N8 and T8). This waste collector with a capacity of 2.5 liters ensures the stewardship of the vacuum robot by allowing it to come and unload everything it has collected during its service. When the bag is to be renewed, a message is sent to you on the application.
Available from April 10, 2021 in "space gray" and "pearl white" colors, the new vacuum robot Ecovacs Deebot T9 will be priced at € 699. Count 899 € if you want to acquire it in T9 + version with its automatic dump station offered alone at 299 €.