David limp, the vice president of products and services atAmazon revealed at the beginning of January to The Verge an impressive figure: 100 million. No, it was not his 2018 remuneration, but the number of devices equipped withAlexa sold by the Seattle firm during the last holiday season. To believe his statements, as rare as they are measured, they are downright 747s packed withAmazon Echo Dot 3 who would then have left the tarmac at Hong Kong airport to join the warehouses of the world's number 1 e-commerce company.
But is it for all that, for Amazon, loyal customers? Alexa is it able to retain them? In other words, what about the voice commerce dreamed by Amazon?
Alexa, an efficient shopping assistant?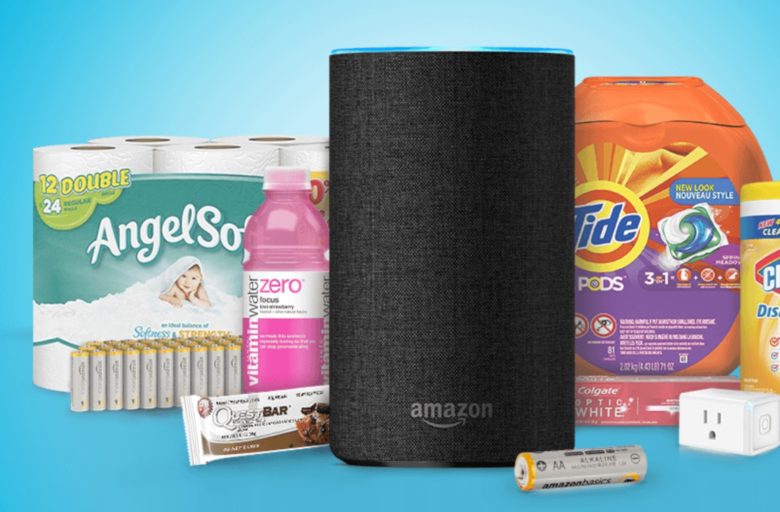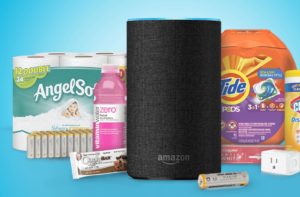 The answer is clearly no. Not at the moment anyway. Between difficulties of understanding and reluctance of users, online sales via Alexa is still far from meeting the objectives ofAmazon. According to The Information, among the millions of users that the assistant counts today, we would in fact only be about 2% to have already made several online purchases via our Echo devices in August 2018. Worse, among people who bought something via Alexa, nearly 90% would not have tried the experience again. A figure well below the company's expectations and which visibly disappoints it ... But which has probably evolved since, some sources even claiming that it would have tripled in the last half of 2018.
These figures differ widely from those put forward by Voicebot.ai in June 2018. A survey showed that 26% of owners of connected speakers had already used them to make their purchases online and that 16% did so every month. . Who is telling the truth? We are tempted to think that The Information is closer to reality.
It must be recognized that browsing the first e-commerce site on the planet can be extremely tedious, as its catalog is rich and our habit of consulting photos and opinions on product sheets. But, as usual, Amazon does not give up and intends to democratize this practice. A growth lever that the company does not despair of activating thanks, in particular, to its Echo Spot et Echo Show whose screens are able to unblock the situation and makeAlexa a perfect online shopping assistant.
"It is clear that voice shopping is not yet at the mass product stage". The Information.
At Les Alexiens, we wouldn't be at all surprised if these screen devices were a game-changer in the near future. Indeed, as we observed during our full Echo Show 2 review, a 10-inch screen is a complete game-changer. It finally becomes pleasant and easy to navigate on Amazon.com.
Echo Show indeed shows us beautiful product sheets, with clearly visible prices and ratings, but also visuals and other details that put us in better shape.
There is the famous one-click purchase, but also the possibility of simply adding the product to your basket. The order tunnel is short, simple and efficient. In terms of customer reassurance, there is also no picture: we feel on familiar ground and much more serene. As a precaution, Alexa Also asks us to confirm the order via a PIN code which can save you some disappointments with your children for example.
A good reason for Amazon to hope that this new use will quickly seduce its loyal customers ...

Amazon don't let go
Despite disappointing figures, far from having boosted sales on Amazon, the American company can nevertheless rejoice in a finding: the owners ofAmazon Echo spend significantly more on the platform than the average customer. A study conducted by Consumer Intelligence Research Partners (CIRP) shows that customers ofAmazon lambdas spend an average of $ 1000 on the site, compared to $ 1300 for customers Amazon Prime, and nearly $ 1700 when equipped with one or more Echo smart speakers.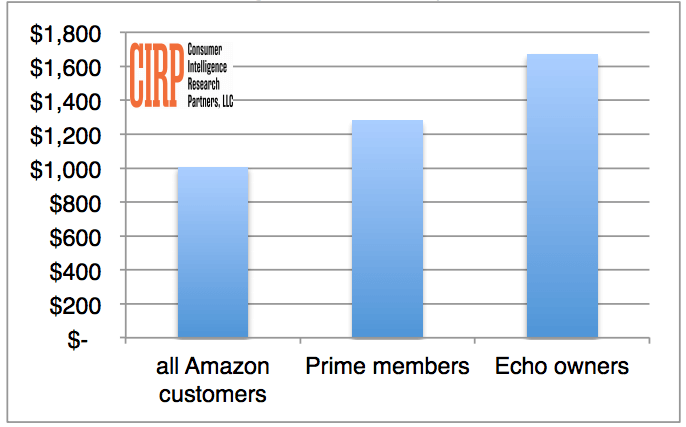 But if the use ofAlexa to order remains confidential, how to explain this difference?
Several ideas come to mind:
Echo customers were already good customers Amazon : this is the case with many of us. We were already buying regularly online and in particular on Amazon.Fr. It is moreover our attachment to the brand that has often made us choose Alexa rather than its competitors. Prime members for many, Alexa ultimately only worsened our natural tendency to compulsive buying on the world's leading e-commerce platform.
Users ofAlexa are rather tech-savvy: this is a finding that we regularly make on our Facebook group. If some are not always very comfortable with new technologies, the vast majority of Alexians are rather technophile, even downright geek. Many are very interested in High-Tech novelties and are part of what are called "early users". Indeed, if you are reading this article, you are probably one of those early adopters.
Alexa induces home automation uses: and, inevitably, that requires to be equipped. As this equipment is generally rather expensive, many of us smooth out our investments over time, by equipping ourselves - more or less - gradually. Amazon.fr is logically our favorite playground, since the platform often gives us an indication of whether the devices will be compatible with the home voice assistant. In addition, many users ofAlexa are also a Prime member and were already fond of the platform before the arrival ofAlexa.
Customers ofAmazon lambdas spend an average of $ 1000 on the site, compared to $ 1300 for customers Amazon Prime, and nearly $ 1700 when equipped with one or more Echo smart speakers.
Reassuring trends for the firm of Jeff Bezos which also regularly tries to give a boost to the practice by offering, for example, discounts to customers passing through Alexa. And the heavyweight of e-commerce is not the only one. Indeed, half of e-merchants surveyed by Voysis affirm that the added value of voice assistants lies in the discovery and research of new products, but then users turn to their smartphones to review them before ordering. It must be recognized that the only voice purchase, without visual control, is somewhat anxiety-provoking. Once again, you will therefore understand all the interest in Alexa to acquire screens and be present on all platforms.
And the others ? Amazon is not the only firm to try to establish itself in this segment. In June 2018, Google also signed a partnership with Carrefour France: "The common goal of the two companies is to allow users to have a simplified and intuitive shopping experience.", Then specified a press release from the company. The idea therefore seems to offer users the possibility of doing their shopping directly from home by ordering via the connected speaker Google Home, the Google assistant on their smartphone or on the web with the Google Shopping interface. However, the Mountain View giant clearly does not have the same experience as its competitor in this area, and even less the adequate logistics. From there to say thatAlexa will impose itself naturally, there is only one step ...