Many of you have a key Fire TV Stick or in the famous box Fire TV Cube, this is why we have, we have concocted a small list of best free apps for Fire TV. Exit the popular Netflix or Prime Video since they require a subscription. Same thing for Canal +, but know that you can easily use it and even enjoy some TV channels by following our tutorial to install MyCanal on Fire TV Stick.
Prerequisites
To benefit from all these services, you must obviously have a Fire TV streaming stick or box. Available from 29.99 € in the version Fire TV Stick Lite, this is an excellent investment that allows any television with an HDMI port to be connected to the Internet.
1 - Molotov: TNT channels… and more!
In addition to the paid platforms, it is THE star service for Fire TV users. Compatible with voice control, just ask « Alexa put Arte on Molotov » to have this TV streaming app open to you in no time. Molotov.tv offers for free 36 live channels including 24 from TNT.
It also allows the live control and offers a number of replays. For the most fanatic of television, the French company also offers two paid plans from 3.99 € / month.
2 - TNT Flash TV: the alternative with 30 French channels
Contrary to what the application announces, which has obviously not updated its list, you will no longer find the major national channels on TNT Flash TV for Fire TV (TF1, M6, France 2/3/4/5 ...), but this application nevertheless offers a good number of local televisions : Azur TV / 8 Mont-Blanc / TV7 Bordeaux / Alsace 20 / TL7 Saint-Étienne / BIP TV / Grand Lille TV / Grand Littoral TV / ViàLMtv / La Chaîne normande / Tébéo / TébéSud / Télénantes TV Nantes / TLC / TV Tours / TV Vendée / TVPI / ViàMirabelle.
3 - YouTube: follow your favorite channels on the big screen
Google's must-have video platform is available on Fire TV!
Follow your favorite channels, browse at will in the huge free catalog of the undisputed leader of streaming using your remote control Alexa. Because, yes, YouTube is compatible with our voice assistant, which makes navigation easier. The icing on the cake, the application is also with the Cast functionality which allows you to launch a video on your Fire TV Stick from your mobile.
Plus, you can even subscribe to our YouTube channel so you don't miss any of our tests and see them on the big screen!
4 - Pluto TV: 40 free thematic channels
Recently landed in France, the Pluto TV service of the American group ViacomCBS intends to go to the fundamentals of television with linear and segmented diffusion in thematic channels, although it also offers video on demand. Completely free, the service is available on Fire TV.

Without registration or paying options, Pluto TV is paid through advertising, but without debauchery since the service only broadcasts a maximum of 8 minutes of advertising per hour, either much less than what our French channels offer or, even worse, the American ones which are for many around 20 minutes.
5 - Dailymotion: the Made in France service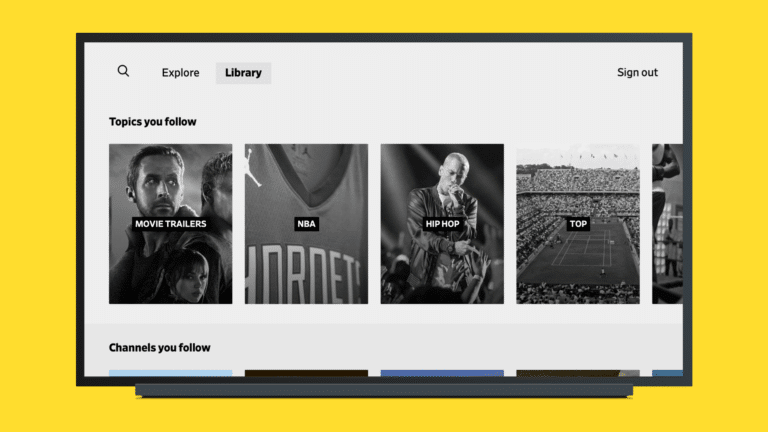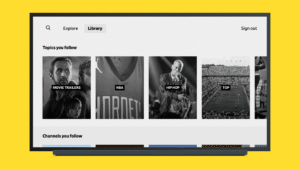 The American platform is taking your eyes out? Opt for "Made in France" with Dailymotion which, we sometimes forget, continues to exist and to offer exclusive content.
Some French media favor this service, so you will find videos available nowhere else. All for free, most of the time.
6 - Vevo: music on video!
Vevo for Fire TV is ideal for relaxing in front of your music videos favorite. The application has been designed to offer you a personalized experience with all the artists you love and tailor-made clips.
Create playlists from the videos you love, watch your favorite clips on repeat, or relax and enjoy your personalized space.
7 - Plex: your personal videos on Fire TV
If you have a media server or NAS, you are probably familiar with this service that allows you to store your favorite content at home. With the Plex for Fire TV app, you can easily enjoy it on your 4K screen!
Plex also gives you access to thousands of movies and TV shows, and even Bollywood ...
8- VLC for Fire: the base!
The essential French open-source reader VLC Media Player is also available on our Fire TV Stick.
Able to read virtually any flow without codecs, it is completely free and does not ship spyware or user tracking, all ad-free.
A must have!
9 - Arte: cultivate yourself!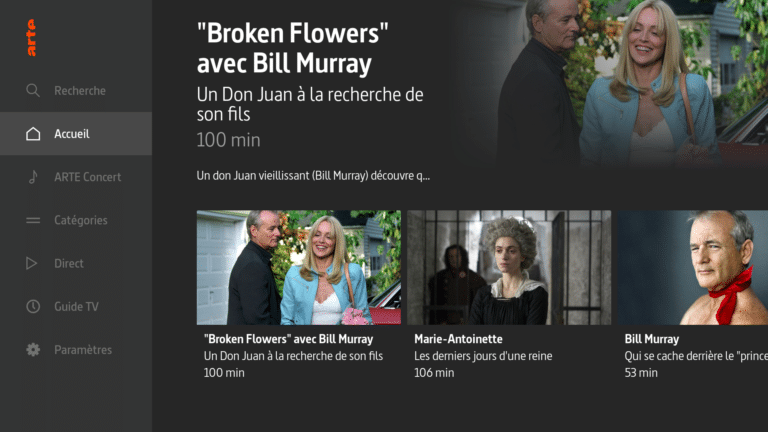 In eighth position, we could obviously only place Arte. The Franco-German channel, not to say European, indeed offers a wide choice of programs, documentaries, films and television series in replay.
A free application and much richer than the replay available on Molotov.tv, where you will find all of the VOD from the best channel in the French-speaking audiovisual landscape. A essential application which will offer you hours of discoveries of all kinds ...
10 - Vimeo: high definition streaming!
We continue with video, but it's basically quite normal when it comes to a system for viewing content on television!
Ad-free, Vimeo is acclaimed by the best videographers on the planet for the quality of its video compression. With this platform, you will be able to benefit from beautiful videos in 1080p or 4K, all for free ... But also on demand with superb "premium" content. A pleasure for the eyes that we highly recommend.
11 - TuneIn: millions of radio stations!
If you use Alexa on the fact Amazon Echo, you necessarily know TuneIn. The streaming radio service founded by Bill Moore in 2002 in Dallas and with more than 120 stations is of course available on Fire TV Stick.
To use it, just ask Alexa your favorite station and this will be executed in the second.
12 - Radio.fr: the radio made in France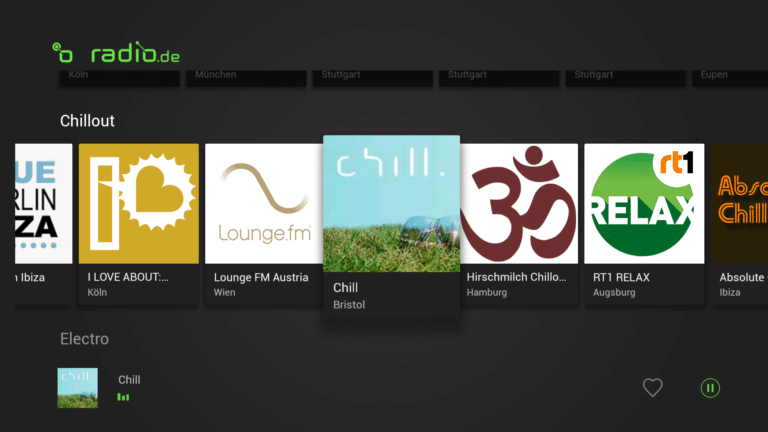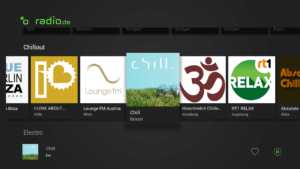 If TuneIn is the reference in terms of broadcasting, a service makes it possible to find the few French-speaking stations missing from the menu of the specialist of Palo Alto. In addition to its 30 radios available, Radio.fr offers more than 3 podcasts. You will also find, every week, the "editorial selection" which will make you discover or rediscover radio stations from France and elsewhere.
13 - Amazon Silk: the web browser designed for Fire TV!
This is the reference Internet browser for Fire TV: Amazon Silk. Developped by Amazon and launched in November 2011 for Kindle Fire and Fire Phone, Silk is available on Fire TV where it was launched in November 2017.
Silk for Fire TV lets you access unlimited web content with a browser designed for the big screen. Watch videos, listen to music, and view photos from your favorite sites. Use the remote control to search and navigate to websites. Easily control web videos and music with the Play / Pause, Fast forward and Rewind buttons on the remote. Silk's address bar can be set to "Safe Search" to filter web content, when Bing, Google or Yahoo is set as the default search engine. You can also set a mandatory PIN code to launch the application.
In short, it is THE essential browser on the Fire TV Stick!
14 - Downloader: download unofficial applications
You may not know it, but Fire TV is an Android based operating system. The fork ofAmazon therefore allows the use of certain applications that are not yet offered in its catalog.
Be careful, some will not be compatible and will be displayed in an anarchic way, but Downloader will allow you to recover a large number of apk as we explained to you in our MyCanal tutorial for Fire TV ! An essential application for hackers of all kinds ...
15- AllCast for Fire TV: the universal cast for Fire TV
No, the Chromecast is not the only solution for caster content on your TV from your mobile devices!
Moreover, the Fire TV Stick is much more interesting than the latter because, unlike Google devices, it is autonomous but also allows caster thanks to the Mira Cast technology developed by the Wi-Fi alliance and allowing the sharing of video / audio signals displayed on a mobile device to a broadcaster, and vice versa, without requiring a wired connection between the two devices and without going through a router.
AllCast Receiver for Fire TV allows you to take advantage of this technology for free and to view practically all the contents of your smartphones and tablets on your streaming stick!