This 9rd kilo of confinement is not easy to live with… It is really the most annoying virus in creation. The sadness of this confinement which regulates our aims around beers and KitKat (or Kit and Kat according to your choices)! The typical and redundant day has something to make us depress:
10am: up and a coffee (with a little booze) + some food.
10:30 am: a snack to wait to start cooking.
11:00 am: we cook. You have to taste the ingredients at the same time.
11:30 am: snack while waiting for it to cook + beer because it's almost the aperitif.
12 noon: meal. Big meal because you have to hold out until the next one.
12:30 p.m. to 15:00 p.m .: kidnapping by the sofa in front of Amazon Premium or Netflix, with stuff at
15:00 p.m .: a snack while waiting for 4 a.m. and a 2rd bottle of cola.
16:00 pm: a 4H !!! in front of the TV. And a beer because when you eat, it's not alcoholism, even with BN.
16:30 pm - 17:30 pm: TV… and we look at the time because at 18 pm, we can drink alcohol, it's a late hour not to be labeled drunk.
17pm-30pm: TV, who cares, we look at the clock so that time flies faster.
18 pm-19pm: Aprérooooooooooo! Beer at 12 °, wine and rum! we have the right !!!!
19:00 p.m. - 19:30 p.m .: we cook again and taste everything, the wine too
19:30 p.m. to 20 p.m .: we can eat, it's to whet our appetite. We also watch Jérôme on TV to scare us: number of deaths, emergency room admissions, thank you all, kisses, kisses ...
20 p.m. - 21 p.m.: A table !!!!! With wine!
21 p.m.-01 a.m .: binge watching, beers, whiskey, cigarettes
01h: sleep
There ... It's long eh? Yes, very… And it's not over…. But strongly the deconfinement. I'm sick of seeing Covid-19 on TV morning, noon, night and night. And the stupid reports that are either on the virus, or on assholes who live abroad because France is too bad. Ben? Is it less stressful to show people who denigrate France than to try to have normal reports? Not sure… Otherwise, there is C8 which has not changed its programs… because it has only one program and one host 7/24.
So I watch government announcements. I believe them when they tell me that a mask is too hard for a nerd to put on for me. That's why it's the doctors who put on the masks. However, I believe them when they tell me that in fact, masks are useful, but only FFP2 and surgical masks. But as there are few, we leave them to hospital staff and others. I also believe them when they tell me that you shouldn't put on masks yourself, that it's like knitting a condom. And then, I believe them when they tell us that our woolen condoms work very well and that we absolutely need them. And better than that even! We can give them to doctors and the state will even knit them to sell them to us!
So good, it's not that I want to disrespect our elites, but a question burns my lips (and since I'm not a woman, it's not cystitis): is it by chance we would not be taken, potentially, for idiots? No, but at this level, we might as well tell us to treat ourselves with UV rays or to give us injections in the toilet…. Ah good ? Did anyone say it? And we believed it? Rhooo… Like what, being a leader is given to anyone it seems…
As I endure less and less the boring of my wife, I wait for the deconfinement to send them back to school. But in fact, well no, it's not that easy. In fact, May 11 is the day that they'll start looking at how to do it. It is true that no one has time at the moment. So where they are big is that in fact people will go back to work, or not (they do not know yet), but that the children not, or at least not together… It is rather clever. How to deconfin by confining? By forcing children to stay at home and not setting up daycare. And presto, 3 weeks won. But in fact, what is not bad is that in fact, the teachers do not want to go to school anymore. However, the government has said it well: children are not vectors, we are the ones who infect them. Yes, okay, when schools had to be closed, it was the other way around. But that was before we sent everyone back to work.
I'm still thinking, but I find it hard to understand why we put plums to people who walk on a beach, alone, and that we do not say anything to 145 people who are queuing up. leu in front of the supermarket or to those who all go out together at 19pm to run while they were throwing up just thinking about moving their big asses before confinement? We have the right to go to the supermarket, but not to the restaurant, we can go to the garden center, but not to the florist ..., In fact, we can go where there are the most people and we avoid where we would be fewer. Still bullshit isn't it? The certificates allow us to get out without fear of the virus, to do 3 hours of shopping with 300 people in a closed store or to take the metro huddling against each other but we can catch it while going for a walk in the forest. if we forget to fill it out? Even Jean-Pierre Pernaut yelled at, and he is not known for his heightened protest spirit.
Before coming out of confinement, the government decided to test everyone to avoid a second vag… ah well no, sorry, that has changed… No in fact, they only have sick people tested by PCR. It's not bad anyway… Huh? Is that already what we're doing? Ah yes… Ah well no actually, because at the moment, people who are not sick enough are not tested. Too expensive ? That's what I said to myself, but no, because otherwise, why would France have injected 7 billion euros for Air France? But I believe them, they are honest and intelligent people. If it is not necessary to test people without immunity or healthy carriers, then it is of no use, that's all. Even Jerome said it. Not at the start, but after. At first he said yes, but afterwards no… As with the masks. It's not easy too, you make me laugh.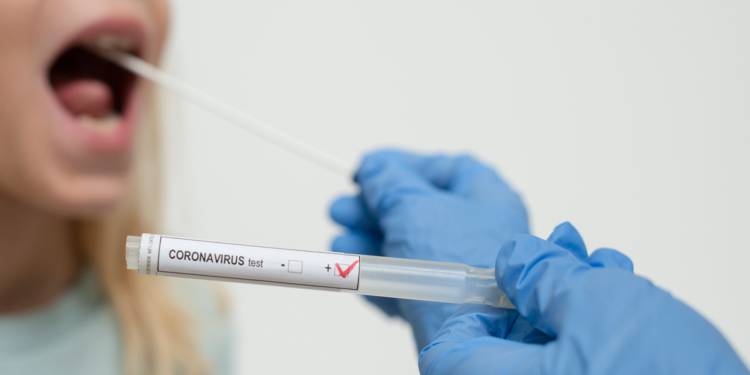 But the government tells us there will be the world before and the world after the lockdown. That everything is going to change, that companies are going to relocate and everything and everything. So it's true that I'm not a politician, not smart enough I think, but I'm skeptical (no, that doesn't mean precocious ejaculator). But just to be sure, are we talking about the same companies that have distributed billions in dividends and who, in order to have even more, will not bother to have products manufactured in France? No, but you can't understand. 10 cents savings on a product, when you sell a million, that's € 100 more dividends, guys. And times are tough. And then in addition, we no longer know how to manufacture here, we have lost the know-how and the factories so anyway ...
And the people, will they change? We are talking about those who all go out together at 19 p.m., who go shopping 3 times a day, of those morons who are ready to make 3 hours of traffic jams to buy a Happy Feast menu at Ronald's drive which has just reopened or more of those assholes who applaud nurses on condition that they live far from home? Well, I don't want to stigmatize anyone, but we have to face the facts that the French are real assholes.
In the meantime, do not sink into psychosis! But me, I go back to sip a beer, it's the best thing to do while waiting for the new idea of ​​the government which says no, that in fact yes, but that it is not worse and that it is surely better than if it was less good.