Hello everyone ! Today the technophiles of Numéramous will present you the Echo Show! Yes, always at the forefront of connected information, we are privileged people very often solicited by brands like Appel (#love #bisoussurlafesse) or less known like Amazon, to test their products.
So we took our precious time to print… unbox the latest gift fromAmazon, what millions of people envy us: the Echo Show 2
What is the Echo Show 2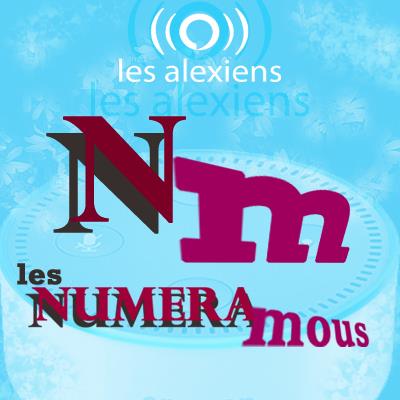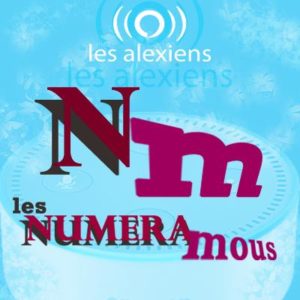 For those who follow the life of connected assistants, you may not be unaware thatAmazon created his own range on November 6, 2014 (at 13:12 p.m., when the global communications manager came back from the bathroom and said to his team: "Ah ... it's getting better! That's who pressed" enter "there ? Nobody?… Well, I'll do it! ").
We first had an Echo speaker looking like a Whiskey bottle box, then the Dot looking like a Hockey puck and the Spot looking like a snowball. Then came out theecho show 1, a kind of improbable mix between a Minitel and a digital tablet. But it worked really well and they released the Echo 2, Dot 2 and 3 and now theEcho Show 2.
In France, however, aficionados ofAmazon are only allowed Echo 2, Dot 3 (more than 2) and Spot. And of Show 1 that nay! And of Show 2 that hope ... But then thatno release date is given for France, we were able to test one!
What can an Echo Show be used for? Vast subject to which we will try to answer in a succinct way (because we do not know much about Echo…). The Echo Show allows you to do as with theEcho Spot but bigger! That is to say home automation, video calls, cooking recipes with or without Thermomix,… But where size matters is that you can watch Prime Video on a screen of the correct size, clips , take advantage of visual skills in HD and large size ... And it looks like Skype is available! As well as YouTube tweaking !
Unboxing of Show 2!
Surely for the sake of economy, the Show 2 is delivered in the same blue box as the other products of the Echo range. But there she is bigger. A first surprise that gives you a smile is in the box, the Show 2 is packaged in a sort of black paper handbag. Could it be a product for girls? We are quite surprised at this very targeted choice for such a product. UnlessAmazon does not show his commitment to gender theory! And here too, we are quite surprised by this very poorly targeted choice…
We also find in the box the power cable, which is the same as for the 2nd generation Echo (surprising given the selling price (see our test of the Apple Home Pod)) and one Quick Start Guide. This guide is very brief and written too small on You T… on our copy. He has one small pyramid shape put on the side, with as a base (therefore in front of you) a lcd screen surrounded by plastic strapping. The back (so the pyramid) is made of fabric as you can find on the Echo 2 and Dot 3.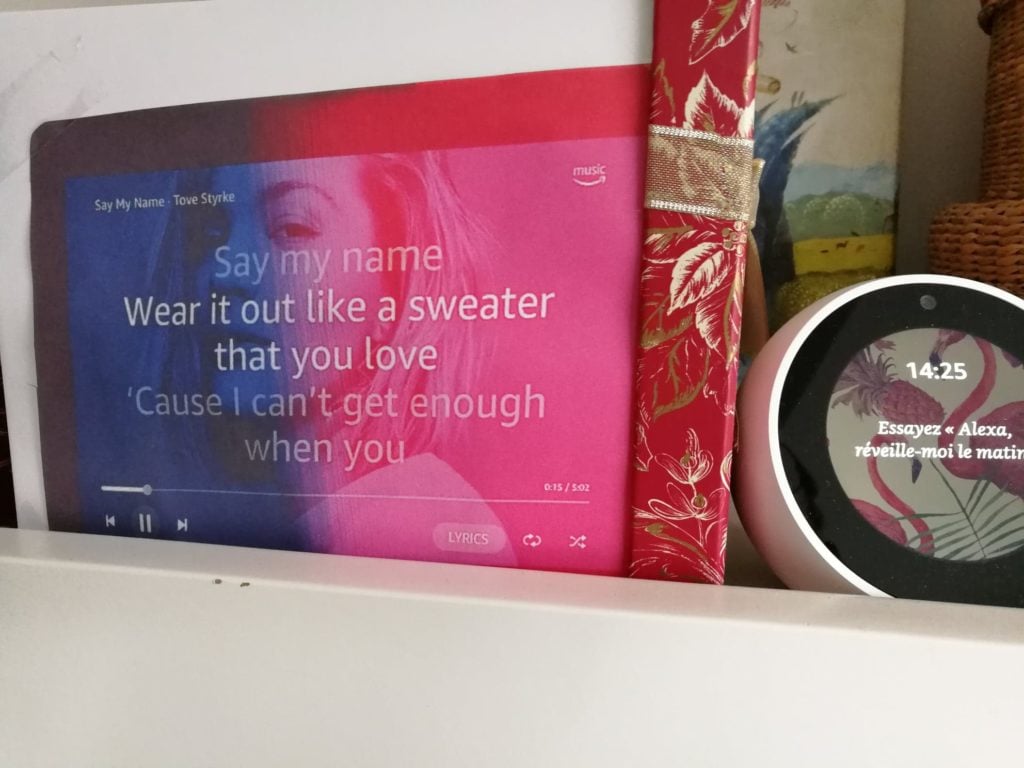 Little attention fromAmazon, when you plug in the Echo Show, a message wishes you hello… with your name! "Welcome Assholes" in our case… After checking Google trad, they must have entered the wrong names. But that still poses a question to us! This therefore means thatAmazon knows who they are sending the products to !? We put the Cnil on the spot. The Numéramous are also there to fight for your rights!
You must then connect it to the network after entering the time zone and the name that will be given to it. If you already have a network saved on your Echo devices, the Show will connect to it directly, without having to do anything. Otherwise, you will have to select it and do it by hand. But again, that means that Echo devices access the internet, unlike Apple's Home Pod, which is much less intrusive and competent… present! Here too, we put the Cnil on the spot.
You will find on the upper edge the same 3 buttons as on an Echo Spot : activate / deactivate the camera, increase the volume and decrease the volume.
Now let's take a look at this fabric that surrounds the Show. It comes in two colors: white or black or sand or charcoal. We sent a sample of our charcoal color to our accredited Uruguayan laboratory for GC (Gas Chromatography). And the result is final! No coal in it! We will try again with the sand color, but we are pretty sure of the results !! It would seem that, vulgarly, Amazon has opted for a fairly good quality synthetic coating.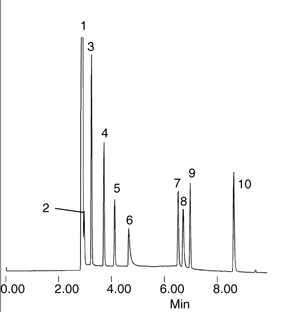 Echo Show 2 characteristic:
THEEcho Show 2 weighs almost 1,8 Kg (either that of an average farm guinea fowl or that of the same weight of feathers), where the Echo 2nd gen weighs 820 g… According to our adage that "When it's heavy, it's heavy", respect. But The HomePod weighs 2,5 kg, without a screen! So there is still work to be done. However, for Amazon, not bad.
The LCD touch screen (liquid crystal display for the uneducated) makes 10.1 '' (or "inches" for simpletons, or 25,6 cm) diagonal product for 1280 × 800 pixel resolution for videos in 720p HD (or 720 lines in progressive scan for the ignorant). With numbers like that, inches, HD's and p in all directions, it's inevitably super good!
In terms of size, it is 25cm wide, 17,5 high and 10,7 deep. The camera is located at the top, in the middle of the screen and at a 5 MP resolution. It's not terrible terrible anyway. There are 4 small microphones on the front, which are distributed on 2 sides of the camera.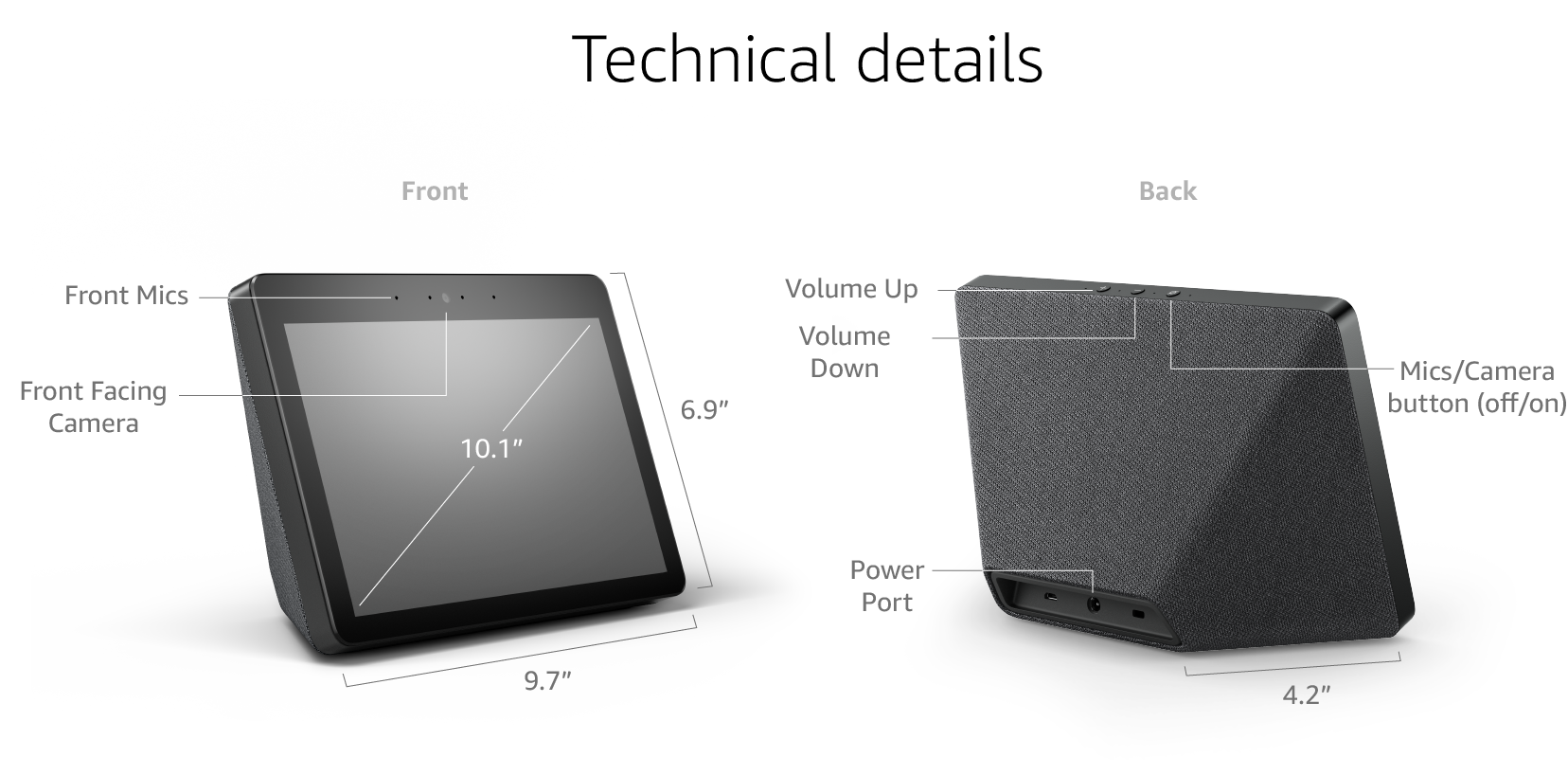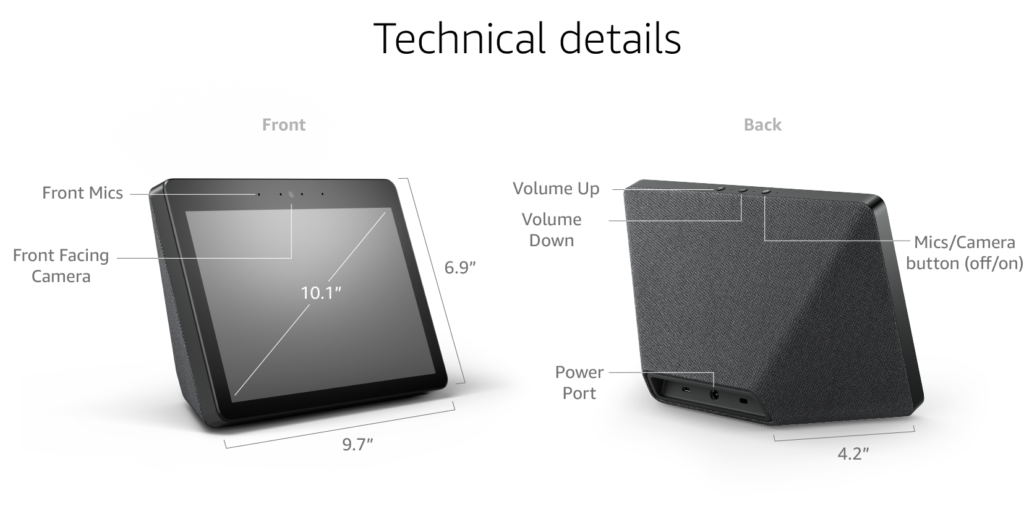 Sound level, here is what the specifications give us, which we hastened to check:
2 x 10W (2W for Spot echo) via 5cm neodymium speakers (a rare earth magnet for the uncultivated)
A passive radiator for bass !! A radiator in a personal assistant! ? Wow!
You understood ? Neither do we, but the cow, it does it all the same with names like that !! Regarding neodymium, make sure you are not allergic to kryptonite, it seems that it has the same effects.
So we tested with our state-of-the-art dedicated hardware and found a sound of 100 dB by turning the volume up! It's not bad, it corresponds to a rock concert! But be careful, looking closely, we see a stall just before the sound peak, which may go unnoticed for the boeotian but not for us! A little serious anyway… But hey, for the lambda péquin, it will be fine… We did not push the test any further when the police came knocking on the door for noise.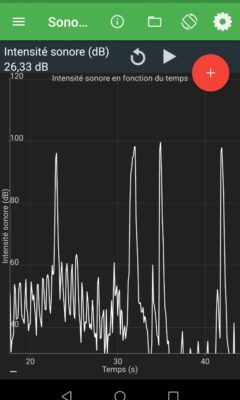 Returned from custody, we then sought to know the light intensity of Show 2. And there, watch out for the eyes! We climbed to nearly 25 lx the equivalent of a day in full sun! The Show brings the sun home! It is on the verge of dangerousness, be careful in spite of everything ...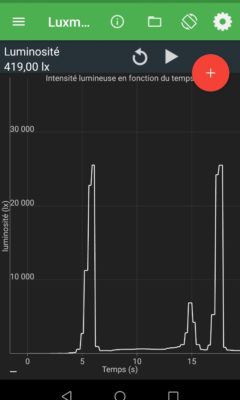 So in conclusion? Well, it hurts us a bit to say it but it's not bad… Surely a patent stolen from Apple… And the price of $ 230 is too low to be honest! We can't wait to receive it in real life… uh, a second.