LesAlexiens.fr very regularly offer tests, tutorials and various and varied articles, always of high quality (yes, no misplaced modesty), but also interviews in a somewhat spaced manner. We choose in this case to highlight a partner, for an skills developer Alexa ou A brand that we test regularly to help you discover it a little better. It is in this context that we interviewed the brand Earthsmart. This company was one of the first to trust us for product tests and is also very attentive to its customers. We therefore have a particular sensitivity concerning them, even if our tests remain objective in all cases.
But who is Zemismart ?
This is a specialist manufacturer in products intended for smart home, hence the pun with their slogan "Zemismart Home Automation System ".
Their range includes:
Lighting controllers: bulbs, banners, lamps, night lights ...,
Connected sockets,
Connected switches: lights, shutters and ceiling fan,
Switches for curtains: shutters, reels, privacy screens ...,
Security systems: detectors, camera,
Thermostats ...
Most operating in Wi-Fi and / or ZigBee. Moreover, their Zigbee products are in 3.0 and compatible with the bridge ofEcho Show 2 or the Echo Plus. Their Wi-Fi products work with Smart Life, so with Alexa as long as the type of product is well supported by the application Alexa (which means that all features may not be available with respect to the application Smart Life, but this is very rare). And for Broadlink fans, curtain switches and controllers are also compatible with this system.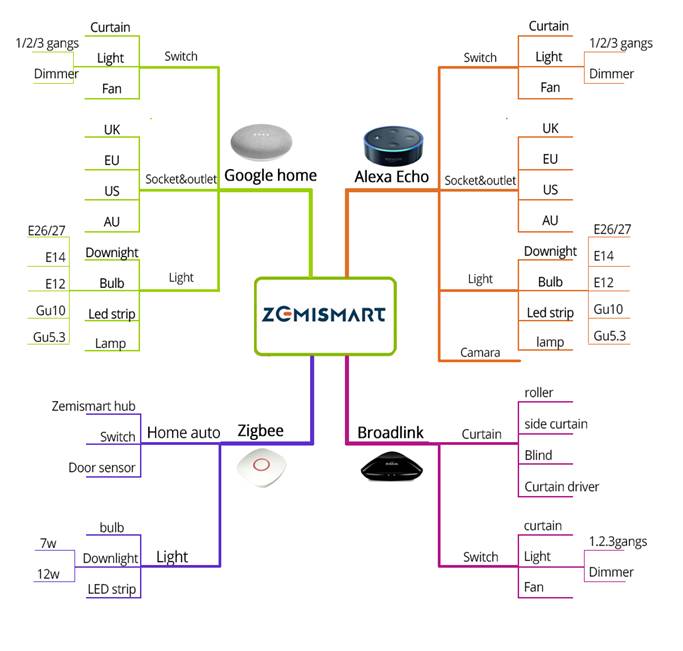 The prices are quite interesting and quality at the rendezvous as our various tests have shown.
You can have a view of their range on the site Earthsmart.com or their shop Amazon.
What if we want to know them better?
Hey yes, we also like to know the brands, especially when we appreciate them (the others, we forget them (well not quite…). So we contacted Sky Huang, from the brand development promotion department, with whom we have been in contact for several months.
Here is the summary of this interview:
Les Alexiens: Hi Sky, thank you for taking the time to answer us. Can you introduce us Earthsmart in a few words ?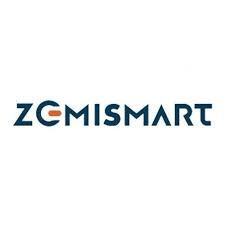 Sky: Hello Alexians, of course. "Wisdom makes it possible to create a better life" ("Wisdom creates a better life" in original version), here is the idea behind Earthsmart. Created in 2014, the company puts into practice a business philosophy based on the customer and also adheres to the following leitmotif: "Honesty, mutual benefit and win-win". For Zemismart, the basis is the technical development of products in order to reach a specific market. The organic growth of the company means that the variety of developments continuously widens. The main products produced are shutter switches, curtains, lighting, security systems and other smart home products.
Les Alexiens: Where is your company located? How many people work there?
Sky: The offices are in Shenzhen, China, and we employ approximately 1000 people.
Les Alexiens: Do you have your own factories?
Sky: Yes, we have our own factory, but also subcontractors.
Les Alexiens: How do you develop new products?
Sky: There are two ways to do this. In the first case, we start with an idea of ​​internal development on a type of product (curtain, switch, lighting, etc.) in connection with a management system (Zigbee, Wi-Fi Zwave, etc.). In the second case, we study customer ideas or requests and develop new products on these bases.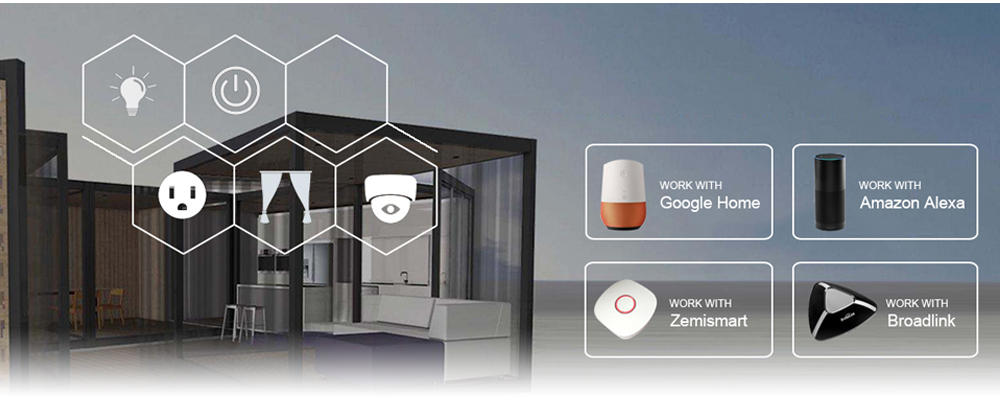 Les Alexiens: Do you have any certifications in place?
Sky: Yes of course. We have the right to affix the CE marking (the product therefore meets the directives that are applicable to it, editor's note), the RoHS certification (limitation of hazardous substances in electrical and electronic products, editor's note), the SAA marking (equivalent of the CE for Australia, editor's note) and the FCC marking (equivalent of CE for the USA, editor's note).
Les Alexiens: what are your strengths compared to other brands?
Sky: We are very strict about the quality of our products. We are lucky to have our own factory. In addition, each product is tested before release. And we accept any suggestion from our customers.
Les Alexiens: is the French market important for Zemismart ?
Sky: Yes very. If we are interested in sales figures, France is the second market for Zemismart.
The Alexians: By the way, is Zemismart is your only brand or do you have secondary brands?
Sky: Earthsmart is our main brand but derivative brands will soon appear.
Les Alexiens: Finally, do you have a few things to add for your French clients?
Sky: In French in the text: Hello Zemi's friendsmart. Thanks for your support, we will try our best to render every product and service.
Les Alexiens: thank you very much for taking the time to answer us
We can only agree with Zemismart : quality, customer focus and development. Our various tests do not contradict this vision. It is a brand that we must continue to follow closely because the pace of its developments in recent months is quite impressive. The fact that the French market is the second market for the brand seems to confirm the enthusiasm of Alexians for connected products.