A year after the release of the first connected Google Assistant alarm clock, the Lenovo Smart Clock Essential, A new smart allowing you to control your connected home with Google Home from his bedside. A model that goes straight to the point since it offers a simple display on a non-touch screen ... What reassure those concerned about confidentiality on the pillow?
Lenovo Smart Clock Essential: a smart alarm clock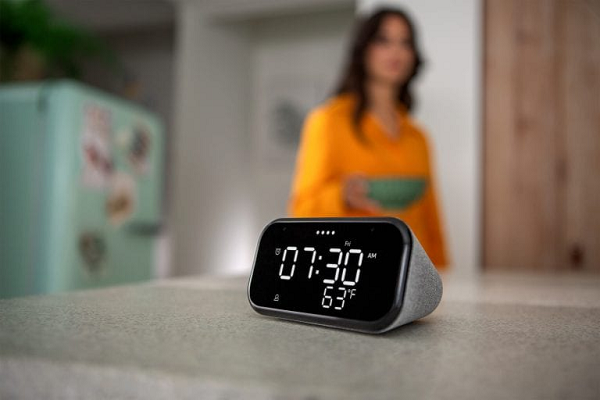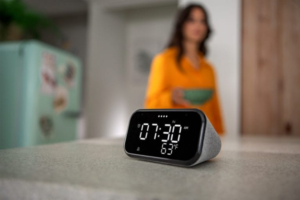 More compact than its predecessor (12,1 cm wide, 6,4 cm high and 8,3 cm deep), the Smart Clock Essential has a 4 inch screen intended to display the time, alarms and timers, as well as the weather and local temperature. That's all !
Well, almost, since he embarks all the same two microphones, for an 3W speaker with its buttons volume adjustment, as well as an activation button and a last one for the alarm.
There is also a button of mute microphones oddly placed on the back of the device alongside the power supply and a USB port apparently intended to recharge his smartphone. Informed eyes will also notice a translucent rear rim, the Lenovo alarm clock being indeed equipped with a LED lighting, an excellent idea that will allow you to briefly light up your bedside table without waking your spouse. This is clever!
Connectivity level, the big black point of the previous model, the Chinese manufacturer turned to a combo WiFi 5 / Bluetooth 5 and also allows the multi-room. A very good point. It remains to be seen whether it will be a Google Assistant connected alarm clock effective…
An affordable Google Assistant alarm clock
This is the challenge for Lenovo: to compete with the Google Nest Hub, more expensive and bulky, but offering many more features in a format that is nonetheless compact ... It must be said that, unlike its competitor Amazon, the range of the American giant is quite small and still offers some firms the possibility of offering devices that are a little out of the ordinary.
Will the users of the voice assistant be there? It is quite possible since
offered at 59.99 €, the Lenovo Smart Clock Essential
should be the subject of regular promotions and appeal to all those who do not necessarily want to add a connected screen to their bedside table but simply benefit from the
Google Assistant commands
to manage their home automation.