A year ago, the site LesAlexiens.fr was born and with him a great adventure was born. It is the meeting on a Facebook group de two beta testers who quickly became passionate about Alexa than the idea of ​​creating a site dedicated to the voice assistant ofAmazon germinated. Finding only websites on the French-speaking web that were content to take press releases or "test" product sheets, it seemed interesting to finally provide a user view of our voice assistant and the universe of compatible connected objects Alexa, with a different tone from that of professionals in High-Tech or home automation. A lighter tone, sometimes mocking it is true, but above all closer to the users ofAlexa.
A site specializing in Alexa and compatible home automation
Our site has grown a lot over the past year. Indeed, the small editorial staff of the Alexians published in this period of time more than 284 itemsIncluding 84 connected object tests ranging from Wi-Fi or Zigbee bulbs our compatible robot vacuum cleaners Alexa through the essentials appliances Amazon Echo, But also 61 skills tests Alexa or even 22 tutorials to better help you get started in the world of the connected home or get the most out of your voice assistant. But Alexians are not devoid of humor, you can also find on this site parody tests, mood tickets, comics, And much more…
LesAlexiens.fr today account for nearly 50.000 visitors per month (sources Google Analytics), with double-digit growth every month. Figures of which we are not a little proud that undoubtedly testify to growing interest in vocal assistantship. An interest that we see through the 519 comments left by our readers on the site and the many requests for help received by email. But, as we in the editorial staff know, this success is also yours, members of our Facebook community...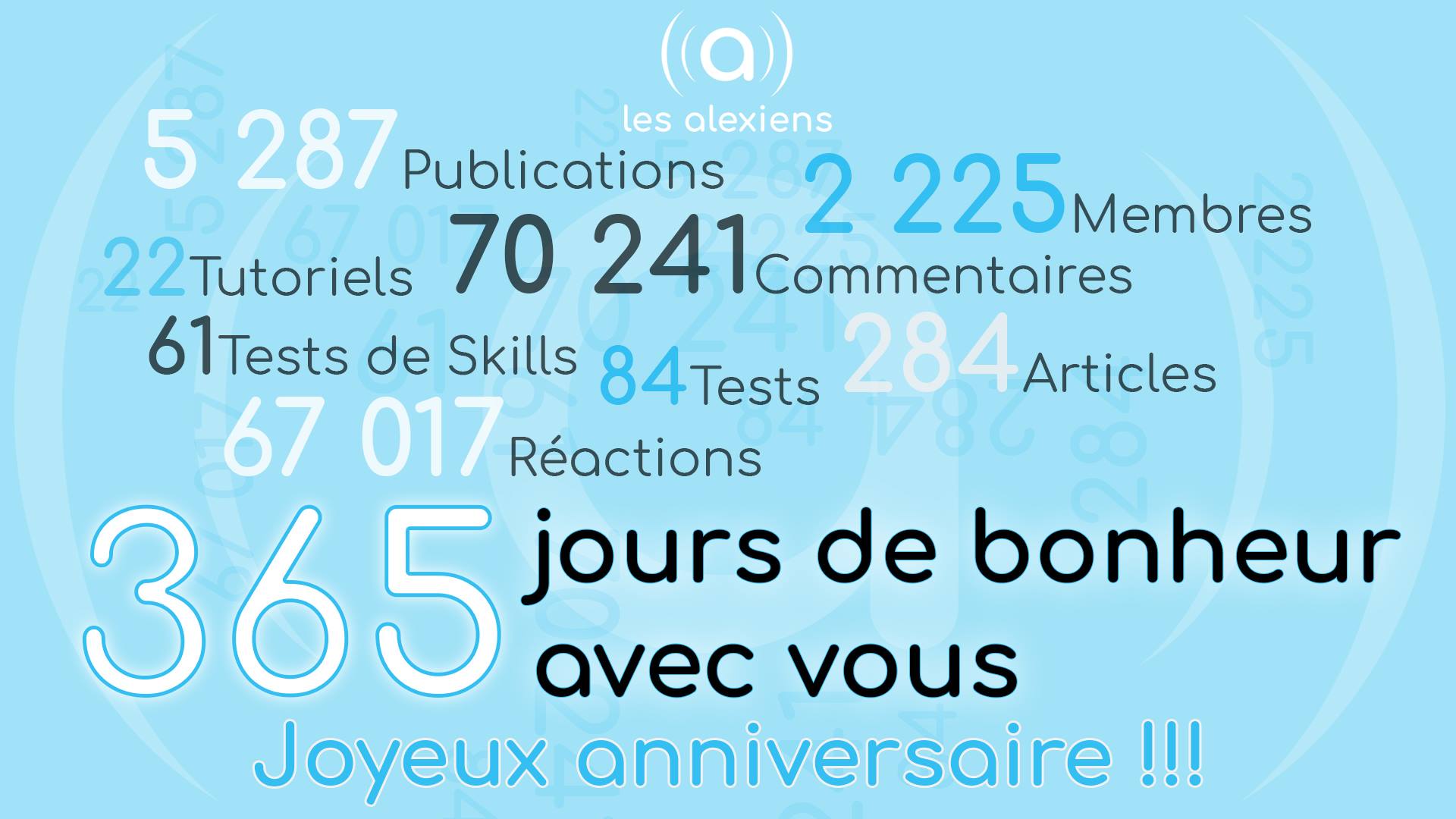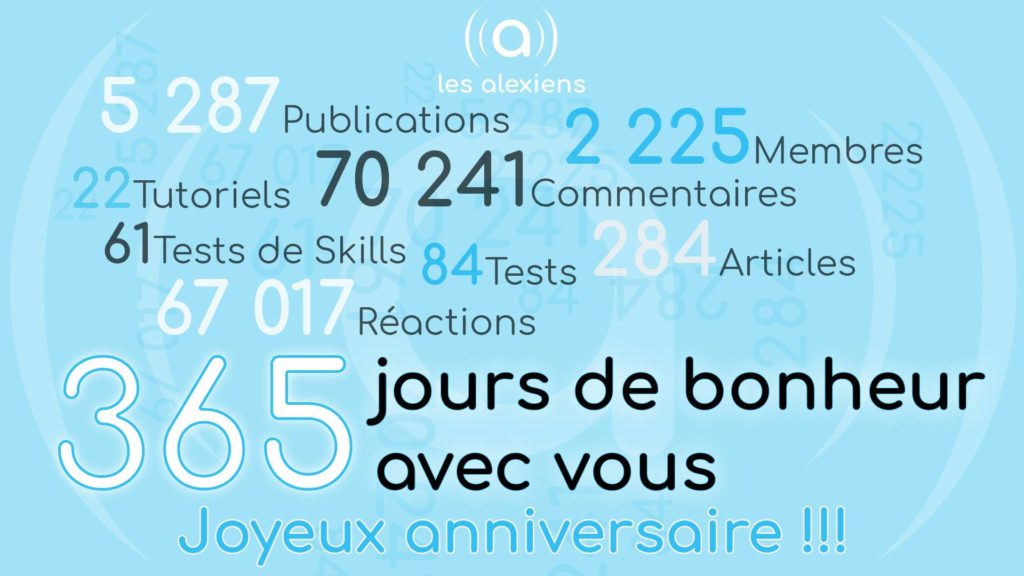 A community of usersAlexa formidable
More than a website of enthusiasts, Alexians are above all a community users of the first hour of the voice assistant ofAmazon. A group of fans ofAlexa sometimes technical discussions, sometimes lighter, more rarely stormy, but always cordial, passionate and often placed under the sign of humor.
Today strong of more than 2200 members on Facebook, our community unites in good humor and a spirit of mutual aid people of sometimes very different ages and backgrounds. Off-topic or not, our discussions are there always constructive and full of meaning. For all this, the Alexiens team thanks you from the bottom of their hearts. Si Alexa is our leitmotif, you are also the reason that drives us to spend so much time testing, writing and animating The Alexians.
The Alexiens team thanks you from the bottom of their hearts.
To thank you, this month we will be organizing a series of contests to celebrate our first anniversary allowing you to win a number of the products that we have presented throughout this first year. You will be able to try to win a Netatmo thermostat, for an Switch Bot pack, Konyks connected sockets, switches or alternatively smart bulbs. Everything being, of course, compatible with Alexa!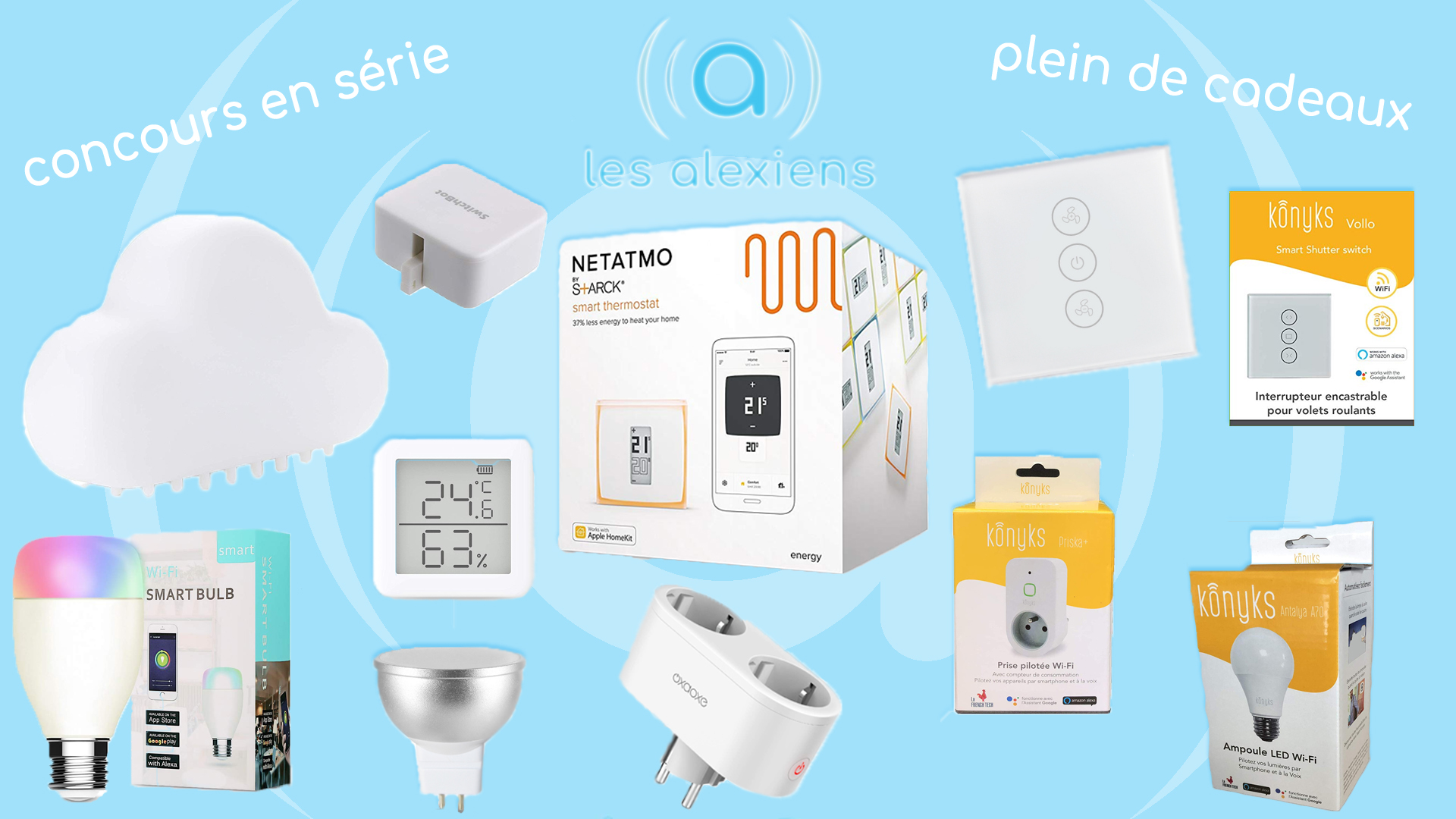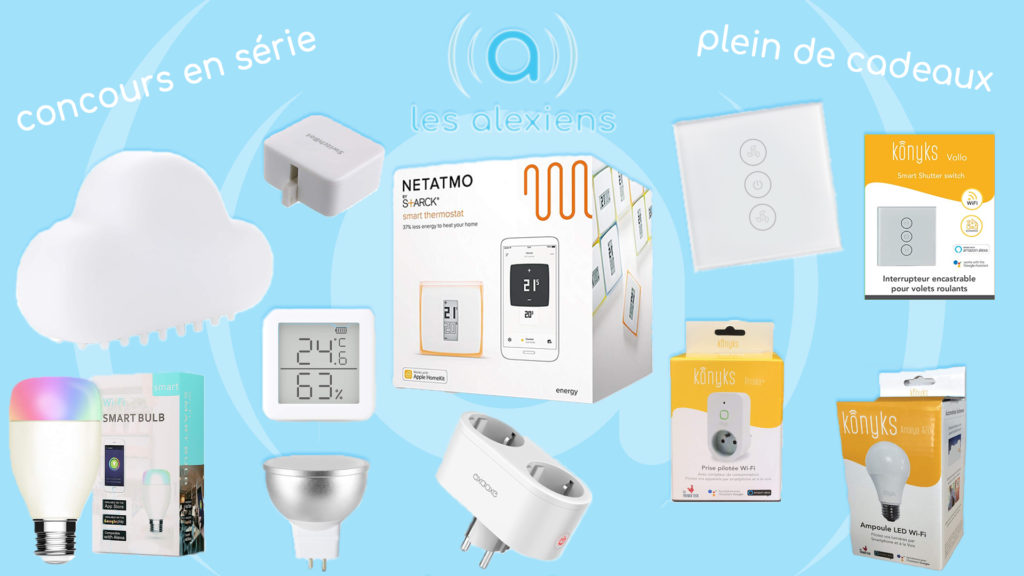 This event is also an opportunity for us to thank our partners, and in particular the first to trust us, Olivier Medam from the French startup Apynov who markets the Brand KONYKS for which we have a very special sympathy. Many others have followed since, but we would particularly like to thank the brand Earthsmart (which gave us a switch connected to our colors), Blink which allowed us to achieve a complete test of Blink XT wireless cameras much appreciated by our members, Ecovacs and his Deebots who are exceptional robots just like proscenic, netview whose compatible cameras Alexa are very successful in our community. We would also like to thank TECKIN, brand always listening to its users, but also BlitzWolf for his kindness and his availability, and obviously the teams ofAmazon who have shown their confidence in us and with whom we hope to continue working in synergy to grow the French version ofAlexa as well as our community which is fully devoted to him.
Obviously, we thank all the active, even very active members of our community. Out of modesty and fear of forgetting, we will pass the names here, but will not fail to thank you on our community which is above all yours!
Finally, we would like to thank our moderators and in particular Tcvava, who gives himself for Les Alexiens on a daily basis and like no one else, but also Romain who is currently working to make Alexiens an ever more beautiful site, Alexandre for the help he brings daily to the community and his crafts which inspire more than one, but also Victoria, Louis, Philippe and Xavier.
You are the very first Alexiens, you believed in our project, and we thank you for it.