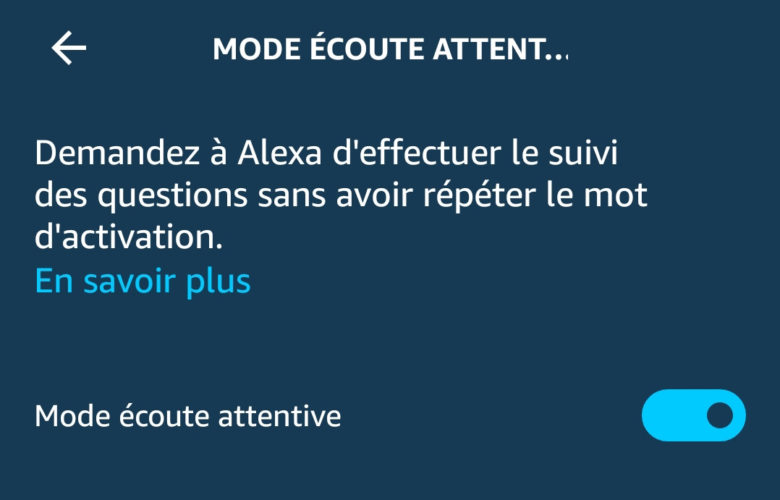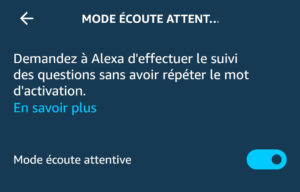 This is a feature all Alexians have been eagerly awaiting: attentive listening or follow mode. What does it consist on? How to activate it? For those who are not yet members of our Facebook group dedicated to Alexa, Here's the procedure to follow.
Listening attentively, késako?
This mode allows you to chain commands together and have them executed by Alexa without having to repeat the activation word or "wake word" you have chosen. This tracking mode is now available in French on most devices compatible with Alexa hands-free. This mode will The blue light on the Echo device will stay on for a few seconds, indicating thatAlexa is active and ready for your next request.
Activate attentive listening on Amazon Alexa
The parameter Attentive listening mode is device specific and is disabled by default.
To activate attentive listening mode, in your application Alexa :
Select the icon Appareils .
Select Threw out & Alexa.

Select your device.

Scroll to Attentive listening mode and use the switch to activate it.
Alexa does not remain active in the following situations:
Audio is playing: for example, the device is playing music.
You end the conversation with Alexa : for example, you can say "Stop", "Cancel", "Go to sleep" or "Thank you".
Alexa is not sure if you are talking to him: for example, it can detect that the speech was background noise or that the intention of the speech was unclear.
Note: WhenAlexa is active, your questions, requests and related information are handled in the Cloud. For more information, see FAQ Alexa and devices Alexa.