After the arrival, last week, of the functionality cast from Fire HD tablets, here is Molotov announces its availability on Amazon Echo Show ! Already offered on Google Nest and Nest Hub Max connected displays, the television streaming application continues to expand its offer by offering its service to users ofAlexa...
Amazon Echo Show: Molotov coming soon!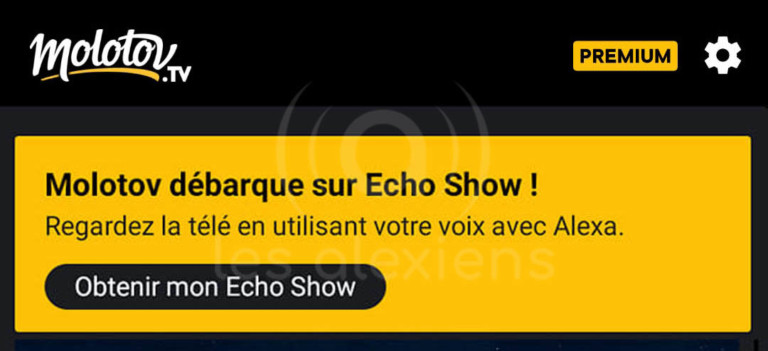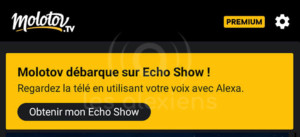 Thanks to the sagacity of a distinguished member of our community, whom we thank for its vigilance, yesterday we were able to discover a discreet announcement on the service's mobile application which has been trying for several years to reinvent the way we consume television: Molotov lands on Echo Show !
Concretely, this means that we will soon be able to fully benefit from all the free channels of French television on the connected screens Amazon Echo Show. Co-founded by Jean-David Blanc (Allociné), Pierre Lescure (ex-Canal +) and Jean-Marc Denoual (ex-TF1), Molotov.tv allows you to take advantage of 34 channels in its free version, and more than seventy in its extended version for less than 10 € per month.
« Alexa, put Molotov "
If the voice command Alexa is already well known to users of Fire TV Stick, it will now also be possible to ask our voice assistant about us display the television channel of our choice directly on the screen of a Amazon Echo Show. A Alexa Skill really eagerly awaited, like Netflix and YouTube which - we hope - should soon follow and make the « smart displays' byAmazon always more attractive and useful ...
« Alexa, put [string] ";

"Put on [channel] on Molotov";
" Reading " ;
" Pause " ;
"Stop".
104,99€
109,99€
In stock
August 15, 2022 4:39 a.m.
Not available
August 15, 2022 4:39 a.m.
Not available
August 15, 2022 4:39 a.m.