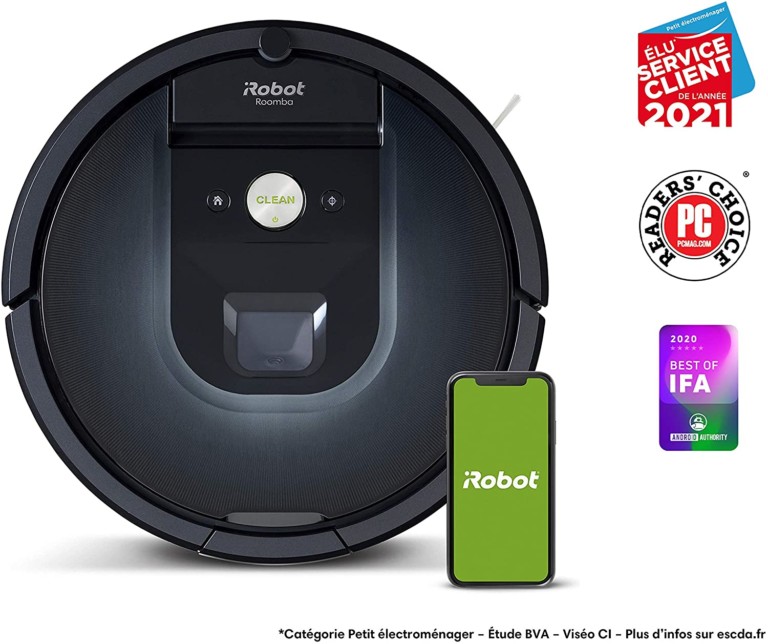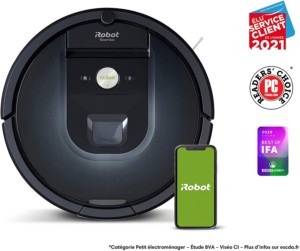 iRobot is the only brand able to claim more than 30 years of expertise and innovation in household robotics. With more than 30 million domestic robots sold worldwide and products as successful as the Roomba i7 + tested here that we had voted best robot vacuum cleaner on the market, there is no doubt that this Roomba 981 can only seduce you!
Indeed, it is neither more nor less than the same, relieved of the automatic emptying station, but just as effective let's be honest. In other words, you have here one of the best robot vacuum cleaners on the market. Indeed, thanks to its advanced mapping and intelligent navigation, the Roomba 981 is able to dislodge dirt as soon as it settles since a simple request to your voice assistant, whether it isAmazon Alexa ou Google Assistant, all you need to do is start a whole home, a group or even a single room.

Small dust? Big debris? No problem for this robot which sucks up anything thanks to a three-stage cleaning system implementing two powerful rubber brushes multi-surfaces particularly effective on animal hair. With an overpowered suction 10 times greater than the 600 series, it is a robot of quite exceptional efficiency!

Marketed at its release at the premium price of € 999, the vacuum cleaner
iRobot Roomba 981 is now available for € 429 on Amazon
. An exceptional promotion of
-57% on its recommended retail price
allowing you to realize
€ 570 savings
. In short, an opportunity to be seized!
iRobot Roomba 981, robot vacuum cleaner, ideal for carpets with high suction power, with Power boost, multi-room navigation, connected via WiFi and programmable via application
13 new from € 509,89
Refurbished from 333
Free Shipping
Functionalities
Dirt Gets Clean - The Roomba 981 robot vacuum removes stubborn dirt and stains in your home, vacuuming up debris using a premium three-step cleaning system with super-powerful suction 10 times higher *. * Compared to Roomba 600 series cleaning system
Dirt Detect technology allows the Roomba 981 robot vacuum to detect particularly dirty areas of your home for a more thorough cleaning
The 981 doesn't stop until your floors are clean. With state-of-the-art vSLAM navigation, the 98X maps your home to navigate in straight parallel lines, efficiently. When the battery is low, it recharges and picks up where it left off to make sure it gets the job done
Help you with suggestions - Our robots remember your cleaning preferences and provide you with personalized suggestions to automatically schedule cleaning sessions
Pick up where it left off - Our robots know when they need to recharge. They then resume work directly from where they left off