This Tuesday March 2, 2021, Realme virtually held its event "Innovation Camera 2021" to which we were invited. We have already presented some smartbrand phones like the Realm 7, Realme X3 SuperZoom and we will tell you about the Realme 7 Pro shortly. It is a brand dedicated above all to young people in order to allow them to offer themselves to an affordable price qualitative telephones with the best available technology.
Created in 2018, it is the brand of smartphone with the fastest 50 millions of users in over 61 countries, making it the one who knows fastest growing in the world. They are also the first, in 2019, to have released a laptop with a 64 MPX camera. Realme innovates both in hardware and software with their in-house video stabilization mode, starry fashion (to take a picture of the starry sky), ultra and pro nightscape fashions...
Realme: the new 8 series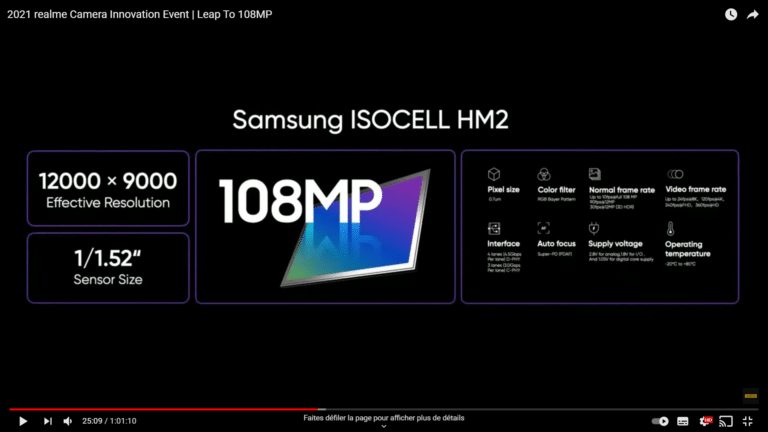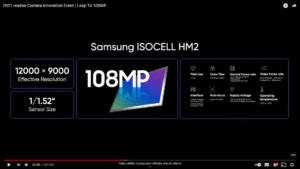 For 2021, Realme has planned another technological leap forward with its new 8 series and in particular the Realme 8 Pro who to become his new Flag Ship around mid-April. The latter will embark for the first time a 108 MPX sensor ! This is the model Samsung 108MP HM2 which will be used as the main camera, with 12000 9000 pixels x and a big 1 / 1,52 ″ sensor size. This size will ensure better image quality and excellent brightness, with accurate colors.
The HM2 has technologies like the 9-in-1 binning pixels, ISOCELL Plus et Smart-ISO, which allow it to take excellent images in low light conditions. Even if it's not the first smartphone to be equipped with this type of sensor, Realme has developed its own processing software to optimize it. It is also thanks to this that they talk about 9-in-1 binning. In fact, binning technology will make it possible, in summary, to merge pixels to make them grow to a larger size that it is normally possible to do so. 9 pixels of 0,7 µm will give a single one of nearly 2,4 µm. Thus, associated with ISOCELL and Smart ISO, the image will have more brightness, less noise...
Functionality innovations
As a Flag-Ship, the Realme 8 pro will be equipped with the latest features of the brand including the "In-sensor Zoom". It's a digital zoom x3 which will merge 8 shots in order to obtain an image of 12 MPX, and no longer 108, focusing on the zoomed part and thus gain in sharpness and brightness. The brand announces that this technology allows better image quality than optical zooms of the same power.
We will find the Starry fashion improved in the sense that it will now allow to make a timelapse. A world first. Starry sky enthusiasts will love it! The practice will consist of taking 30 photos in 6 minutes and then generate a 1 second video, so a video accelerated 480 times. Considering the duration of exposure, plan a tripod!
Le tilt shift, well known to people processing their photos on dedicated applications, will be available natively. This treatment consists of keeping only part of the photo (an area) in focus and blurring the rest, giving a miniature landscape aspect for example. Of course, the intensity and the depth of the field will be modifiable. A very nice optical illusion. This is yet another world first.
As said in the preamble, Realme targets young users. Thus, the portrait mode acquires new features via three filters: Neon Portrait, Dynamic Bokeh Portrait, and Color AI Portrait. The first is to exacerbate the colors of the background, the second is to radian blur the background for an impression of displacement and the last will keep only the main subject in color and pass the rest in B&W .
What good news for both Realme which relies heavily on innovation but also for the smartphone no particular in whom this height catch will surely generate a call for air. We will tell you more very soon!
Not available
July 4, 2022 21:18 a.m.
Not available
July 4, 2022 21:18 a.m.