Making our homes and neighborhoods safer is the mission of Ring ! And, to say the least, is that the company specializing in home security owned by Amazon It's not going dead hand with a flow of fairly impressive new features in recent months ... After the announcement still so fresh that we still have not had time to present our test of the Ring Alarm Outdoor Siren, here is a new outdoor camera named Ring Floodlight Cam Wired Pro !
Descendant of the very efficient and pleasant Floodlight Cam, this new version comes with once again with innovative features and a perfect integration into the ecosystem Alexa...
Ring Floodlight Cam Wired Pro: Same, Only Better?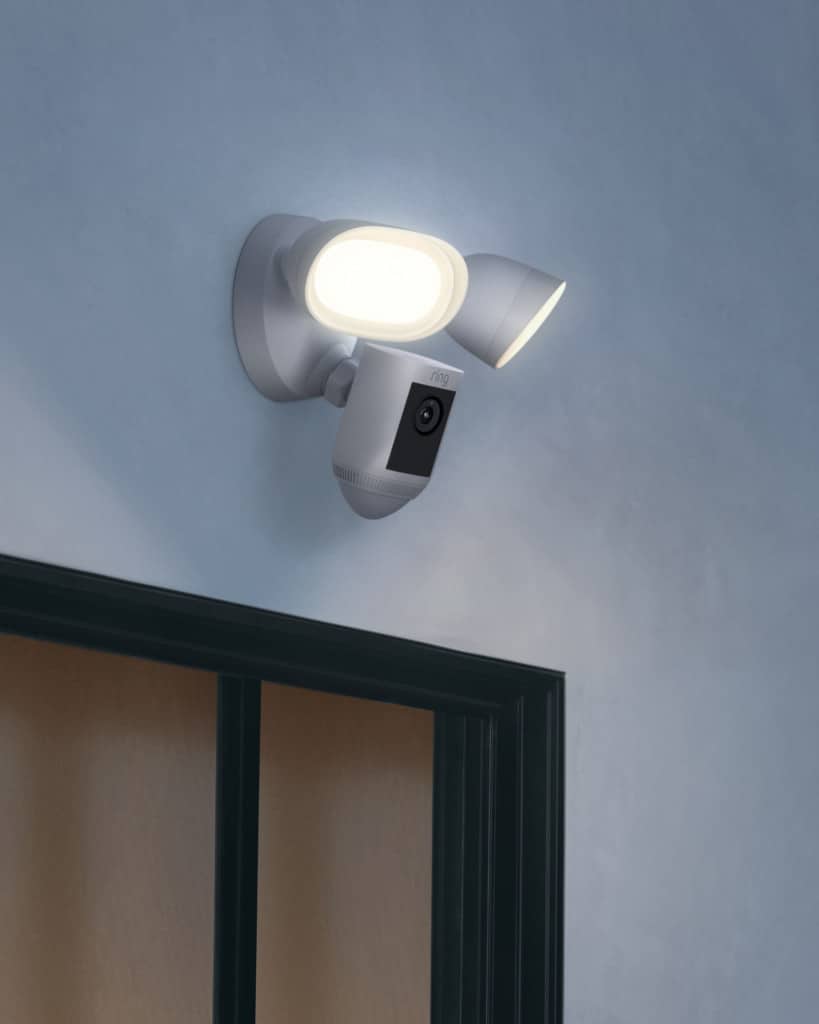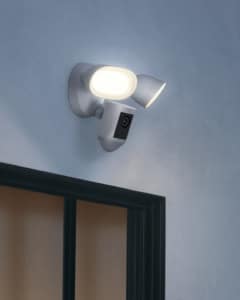 "Four years ago we reinvented the classic projector with our Ring Floodlight Cam. Now, we are adding advanced features with the Ring Floodlight Cam Wired Pro » explains Jamie Siminoff, Ring founder, before specifying that this new outdoor camera brings "Technologies of 3D motion detection and aerial view » product for "Better understanding of events and thus greater peace of mind".
Indeed, the Floodlight Cam Wired Pro certainly takes up the achievements of its popular predecessor with a 110 dB built-in siren and two projectors providing 2000 lumens in total, but above all brings it new features such as 3D motion detection, color night vision, the Audio + optimization which allows a clear and precise sound thanks to a "micro matrix", but also a aerial view whose concept we recently discovered on the Ring Video Doorbell Pro 2.
Made possible by 3D, the aerial view provides a aerial mapping of all movement detected in front of the camera, clearly showing the path that visitors have taken on your property using a visual representation of the route taken. A new and attractive feature that we can't wait to see in action ...
"Wired" but wirelessly connected via Wi-Fi, the new Floodlight can be connected to a continuous power supply, allowing you to always be able to view your images on your computer. smartphone and, of course, on your smart displays. Because, you did not doubt it, the Ring's outdoor camera is obviously perfectly compatible Alexa and will provide you with superb images on the all new Echo Show 10 which we will not be long to tell you about too… The brand therefore remains more than ever in line with its parent company and its innovations continue to go hand in hand with the ecosystem of the voice assistant and the excellent Ring Alarm V2 security system...
La Ring Floodlight Cam Wired Pro will soon be available for € 249 on Amazon. Fr, a price which may seem high but which, in view of the features offered, is more than competitive.
Not available
May 20, 2022 0:18 a.m.