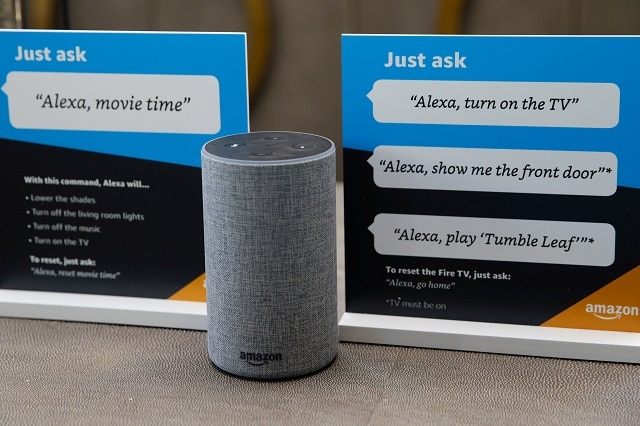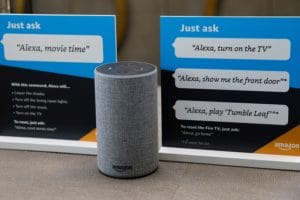 The subject to acquire or not a Smart TV often comes back to our sympathetic Facebook group… When some people talk about their purchases, other Alexians are often tempted to let themselves be seduced by a new one as well. connected and compatible TV Alexa sure. But which brand and which model to choose? What are the TV Skills Alexa available?
From Smart TV, there are quite a few, but at present not all TVs are compatible with our favorite voice assistant yet. The editorial staff of Alexiens takes stock and offers you below a list of brands that have already developed a skill on the store Amazon France. With, it is indeed possible and easy to control your TV without having to go through an external trick that fulfills the function as the become famous Broadlink RM Pro + or a streaming key such as Fire TV Stick 4K proposed by Amazon.
As a reminder, the installation of a Smart TV can be done in several ways:
- with an RJ45 cable (or 8P8C to be exact) connected by Ethernet to the box (the +: easy to install, the - constraint of limiting the distance between the two),
- in Wi-Fi : by indicating the Wi-Fi identifiers of the box (wep or wpa key): practical because no cable lying around. In this case, resort to the use of a Mesh Wi-Fi router may be necessary in order to benefit from a good 5 GHz signal (essential in 4K).
- with PLC boxes (power line carrier): one near the box and connected to RJ45 and the other to the TV power socket connected to its Ethernet port or to its decoder.
Skills TV Alexa available in France
Aya: Vestel group (brand available in But stores)
Samsung Smart TV: skill SmartThings finally available (from 2018)
LG SmarThinQ-Basic: South Korean brand (LG ThinQ AI TV from 2019)
Panasonic TV: Japanese brand (from 2018)
no mention of the range on the skill page but the list of models is available here and also corresponds to the 2018 range: https://av.jpn.support.panasonic.com/support/global/cs/tv/faq/vc/tv_model_list.html
Philips Smart TV: integrated application available on reception
Philips models Smart TVs that support this skill offer the client application " Amazon Alexa On the home screen.
Edenwood Tv: available in Electro Dépot stores (2018 range and beyond only)
Schaub Lorenz Tv: German brand owned by the ADEMA group (2018 range and beyond only)
TCL: Chinese brand
Finlux: Turkish group brand Vestel (2018 range and beyond only)
Telefunken EU: Turkish group brand Vestel (2018 range and beyond only)
Grundig Smart TV: brand of the Turkish group Arçelik AS
List of compatible models here: https://connect.arsmarttv.com/static/models/fr.html
Hitachi Tv: Japanese brand (2018 range and beyond only)
JVC TV: Japanese brand (2018 range and beyond only)
Toshiba: Japanese brand (2018 range and beyond only)
Loewe Tv: German brand (recent acquisition by Skytec)
Compatible models here: https://www.loewe.tv/fr/actualite-media/communique-de-presse
Hisense Smart Tv: Chinese brand
No mention on the skill page, but models Smart TV here: https://www.hisense.fr/liste-televiseurs?field_filtre_fonctionnalites_tid=33
Sony Bravia: Brand belonging to the Japanese group Sony (which explains why it is Sony's skill that can be used)
Supported Models: https://www.sony.fr/electronics/support/articles/00186768
Westwood TV: brand of the Turkish group Vestel (from 2018)
Technical TV: brand of the Turkish group Vestel (from 2018)
Felson TV: Vestel group (from 2018)
VSmart TV: a "Swiss Army Knife" skill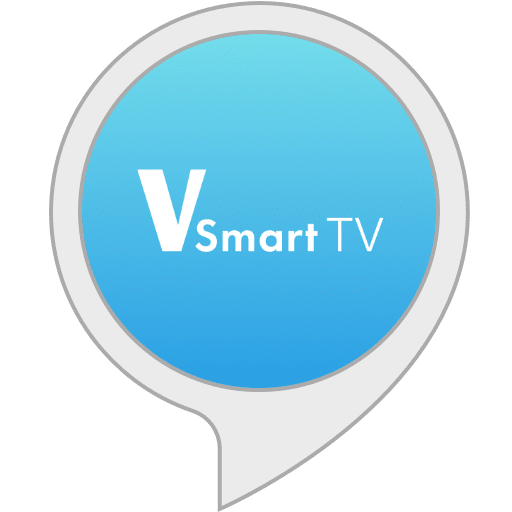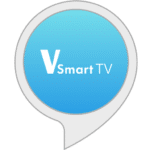 There is the skill VSmart TV for televisions with Alexa on-board and bearing the mention work with Alexa.
The latter is, once again, designed by Vestel. It is a bit the Smart Life of TV because many "sub-brands" have the possibility to operate with this skill.
Here is ! Now you can take your pick ...
Fire TV Stick: Easily connect your old TVs
Finally, if you don't want to change your TV or can't find the Skills TV Alexa you need, you can always turn to the Fire TV Stick (see test) and Fire TV Stick 4K (see test) byAmazon that allow you to connect any device with an HDMI socket. With these little streaming sticks, you can even create a Home Cinema with your devices Amazon Echo and control it with Alexa. They will allow you to watch Netflix, Prime Video, MyCanal, Apple TV, Molotov TV, and much more ...