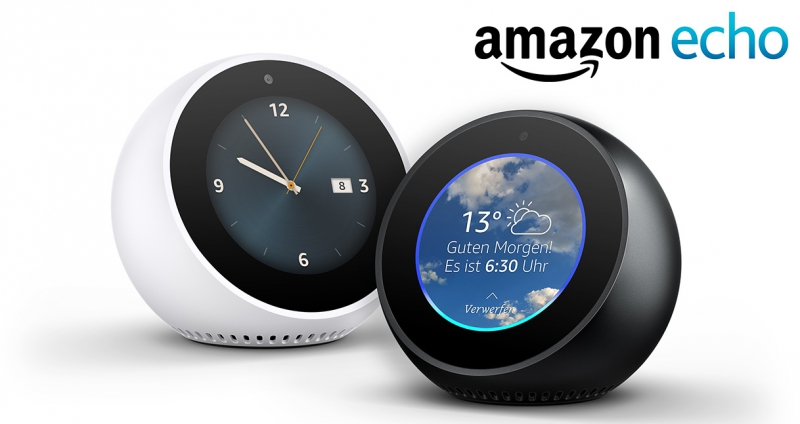 That's it, he is among us! Who is that? The famous Amazon Echo Spot, of course! Highly anticipated by the fan community ofAlexa and by customers of the Seattle giant, Echo Spot is gradually arriving at customers who pre-ordered it in June or last week during the very interesting Prime Day. But why so much enthusiasm for such a small device? What more can he bring than these Echo brothers and Echo Dot? This is what we will try to discover together before offering you the great test of Echo Spot and a getting started tutorial.
Echo Spot: a screen on a voice assistant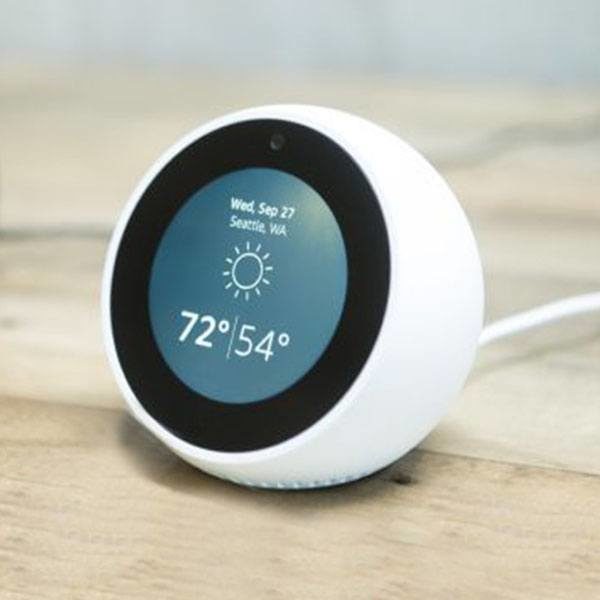 The least we can say is thatAmazon hit hard by presenting, in September 2017 in the United States, the last born of the Echo range. Echo Spot is indeed the first compact device to embed Alexa equipped with a screen. If it measures only 2.5 inches, it is nonetheless a real asset to use the artificial intelligence ofAmazon.
It will allow you, for example, to consult the weather forecast for the day or those to come, to read the lyrics of the songs played by Alexa, view the appointments in your calendar (Google, Microsoft Outlook and Office 365 or Apple iCloud), view videos in your daily flash, view reminders and timers or even the video stream of your blink cameras ou Arlo from Netgear, of your Ring connected doorbell or the Netatmo camera for example, but also and above all to make videoconferencing calls in a simple and fun way.
Itself equipped with a webcam, it fulfills this role perfectly and offers the communication functions ofAlexa a real plus as its use is fun. It could hardly be simpler indeed and we can easily imagine our children, even young ones, getting caught up in the game of calling their grandparents to whom we will undoubtedly have to offer this essential Echo Spot from the end of the year celebrations. .
Echo Spot: a clean design and a perfect finish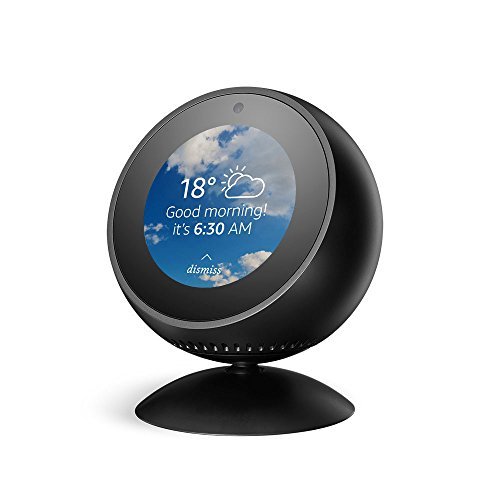 If there is one device in the Echo range that everyone agrees, or almost, it is it. Its sleek design and semi-spherical shape make it a magnificent object that will find its place in all interiors, whether contemporary or more classic, and in all rooms of the house. Available in white and black, you can also add a superb foot to it which makes its design even more attractive and gives it a little neo-retro touch of the most beautiful effect. Appreciable detail, Amazon even thought of matching the power cable of the device according to its color.
In writing, we have a little penchant forWhite echo spot whose color contrasts perfectly with its screen bordered in black.
The size of 2.5 inches or 64mm, as well as the viewing angle of the Echo Spot screen will lend themselves particularly to an installation on a desk, to always keep an eye on the time or its diary, or for the table night for which it seems to have been thought of. Watching the time, setting an alarm clock to music and checking your appointments when you get up have never been so easy.
But, as the advertisement suggestsAmazon dedicated to the Echo Spot, the latter can also be used in the kitchen to set or consult a timer, call relatives via Alexa when they have an Echo device or the app Alexa, check your shopping list or to-do list, or even prepare your recipe with the Marmiton skill.
Echo Spot already a victim of its own success
With two pre-order periods at -50%, Amazon once again attacked the market very strongly, securing apparently exceptional sales if we are to believe the rumors of the hallways. So much so that the American e-commerce giant has just experienced a new shortage of stock and will not be able to start delivering its customers again until July 27.
In the meantime, you can pick up these little wonders for € 129,99 on the websiteAmazon, but also at Boulanger, which distributes it in-store as it does for the rest of the range.