At Les Alexiens, we like to make tests of compatible connected objects Alexa and above all to compare. After having gone under the microscope of our Lab 'the famous Broadlink RM Pro + which allows, among other things, to control your TV by voice without having to search for the remote control, which is great, we found a device similar in appearance and for less: the universal infrared hub EACHEN, 14.69 € in promotion. This is indicated as running under theapplication Smart Life that many of us know and already own having connected objects outside the proprietary hub that are supported by this multifunction application. But what about its qualities and functionalities? Well that's what we'll see right now!
Eachen: small hub will become big?
Unboxing
We receive our infrared spherical remote control in a mini package. But we must admit that the device itself is very small and will not take up much space where you choose to install it since it only does 10 cm in diameter for 1 cm thick and displays a modest 61g weight on the scale.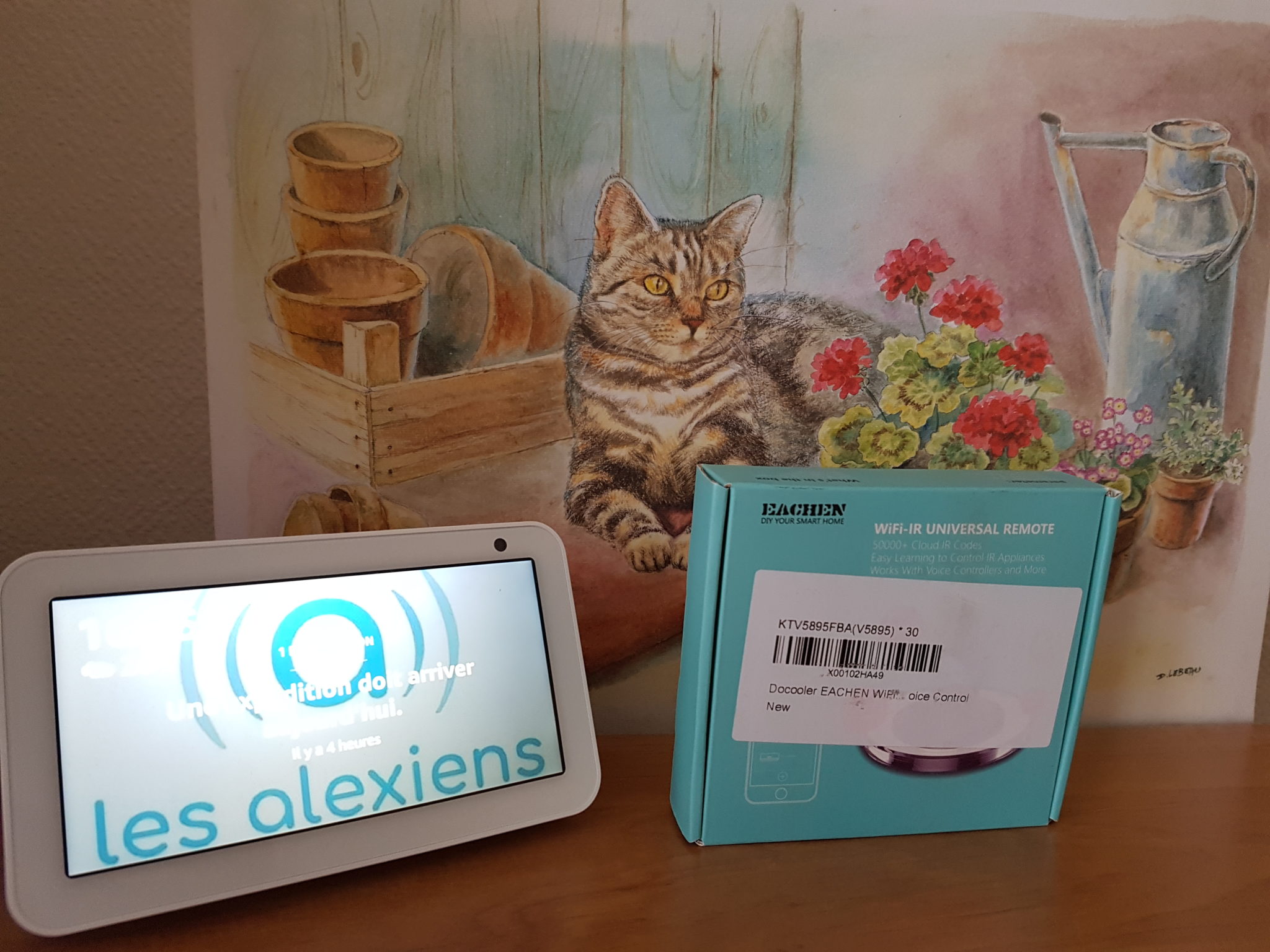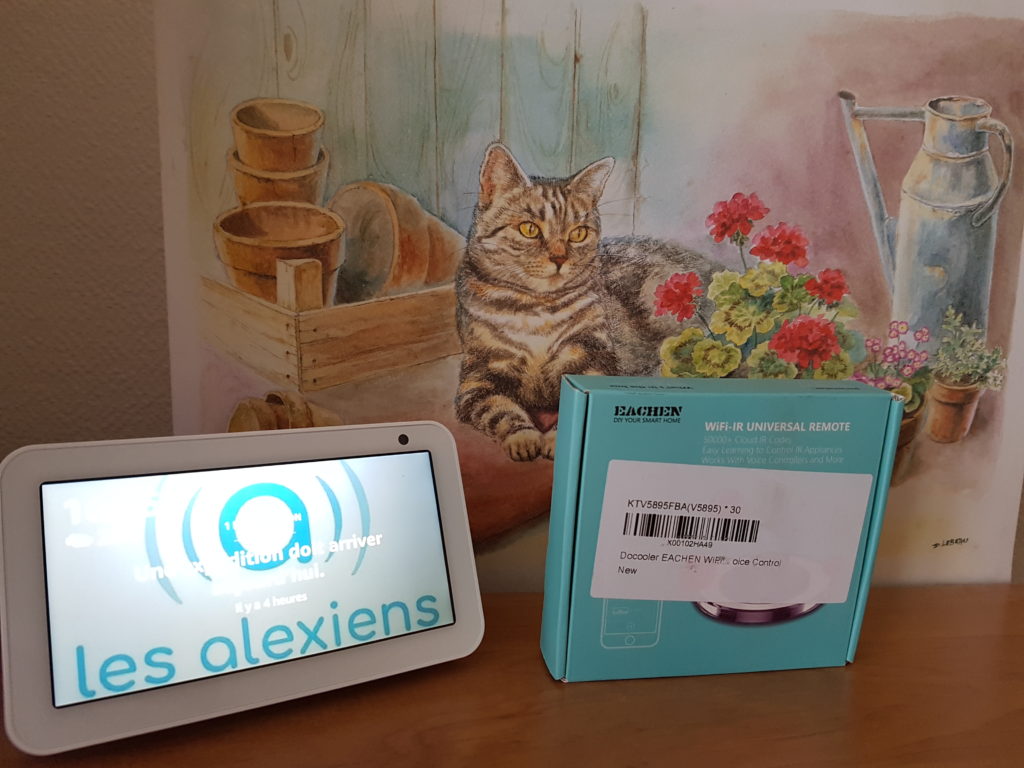 The packaging is in lagoon blue glossy cardboard from more pleasing to the eye, on the front face an image representing the Eachen hub is…. unfortunately covered with a huge label with the product reference stuck in the middle of the photo. A big mistake because it does not highlight the product at all. Too bad for our test!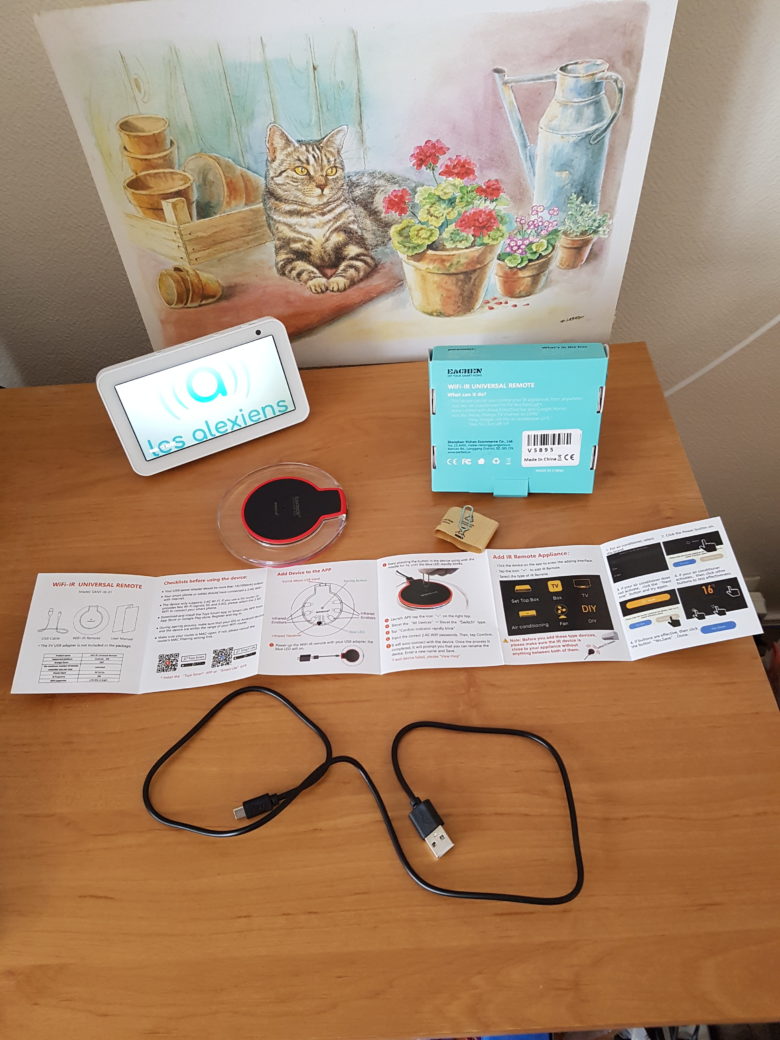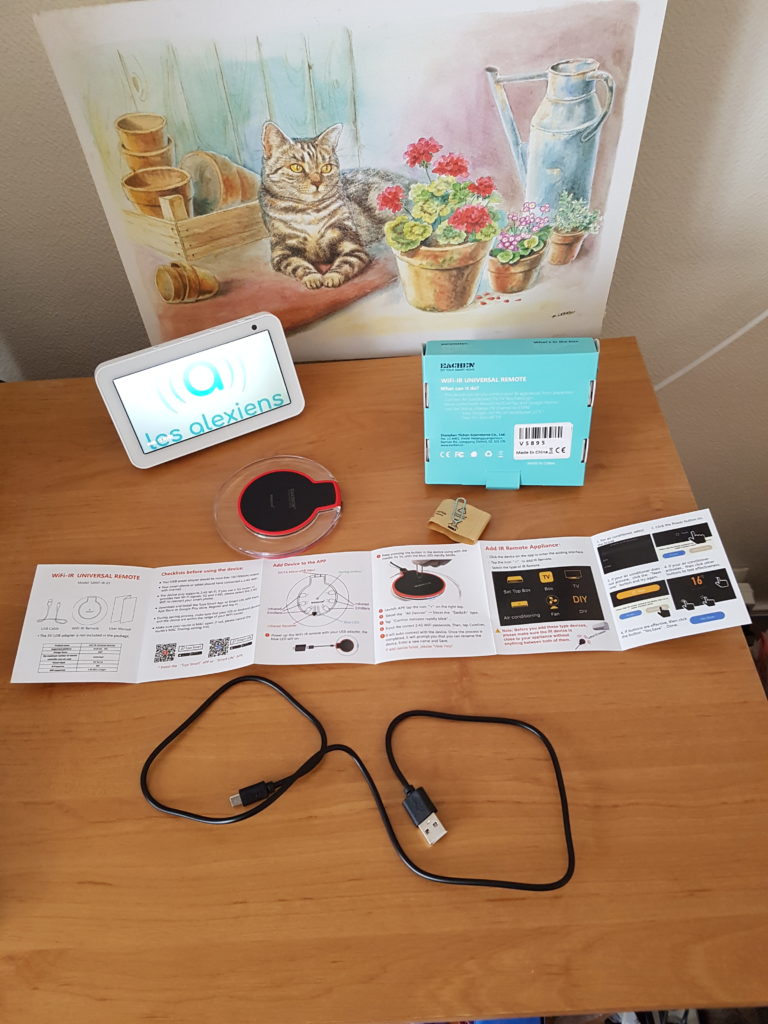 On the back of the box we find a new label, much more modest this time, indicating its origin: China. We also have some examples mentioned on what our Eacher hub with Alexa, Google Home or Siri, because this device is compatible with the three voice assistants. Moreover, the 3 three logos are listed on one side of our box. Finally, on the other side are indicated the parameters of the device and its reference: Eachen SANT-IR-01 as well as its content: the universal wifi remote control, micro-USB cable and User Manual.
Let's open our box and see if everything is there. Indeed we have everything that is mentioned on the box, but especially the infrared hub that we could almost take to practice the discus throw at the Olympic Games as it is so round! This one is composed ofAcrynolic Butadiene Styrene (three polystyrene derivatives), better known as ABS, plastic material which is translucent in the outer part of the disc while the center is slightly grainy and black material surrounded by a red band. On the back of our hub, five small pads are placed around the perimeter of the black part in order to stabilize it when it is placed, taking care to orient it towards your source to be piloted. We also find a 80 cm micro-USB cable to connect the device to a power supply (perhaps a little short, you will have to be careful to choose a good location). On the other hand, the5V USB adapter allowing a direct connection to a socket is not provided as indicated by the attached operating mode which is all in English. And we also find in addition to what is mentioned on the list a small key which will allow to make a reset of our device when needed.
Technical sheet :
Brand:
Eachen
Supply :
DC 5V / 1A
Product
IR Hub Infrared Universal Remote Control
Materials :
ABS plastic
IR frequency:
38 kHz
Coverage angle:
Eachen
Wi-Fi:
2.4 GHz / 802.11 b / g / n
Max remote controls:
unlimited
Application:
Tuya Smart / Smart Life
Compatibility:
Android / iOS
Installation of the EACHEN DECOOLER remote control
Our device operating under the famous application Smart Life that we have renamed the "Swiss Army Knife" of applications for connected objects of all kinds in order to control them, it will only be necessary to go there in order to install our new device. If you possibly use Smart Life for the first time, you will first need to follow our installation tutorial Smart Life / Tuya who will tell you everything.
There you have it Smart Life Installed? Everything is OK ? So, we continue our installation ...
Once connected to an electrical source, you will need to switch on your device. pairing mode. The small "key" provided will help you do this (otherwise a paper clip will do). Push the key into the hole for 5 seconds, and your device will start flashing, a sign that it is ready to be recognized by Smart Life.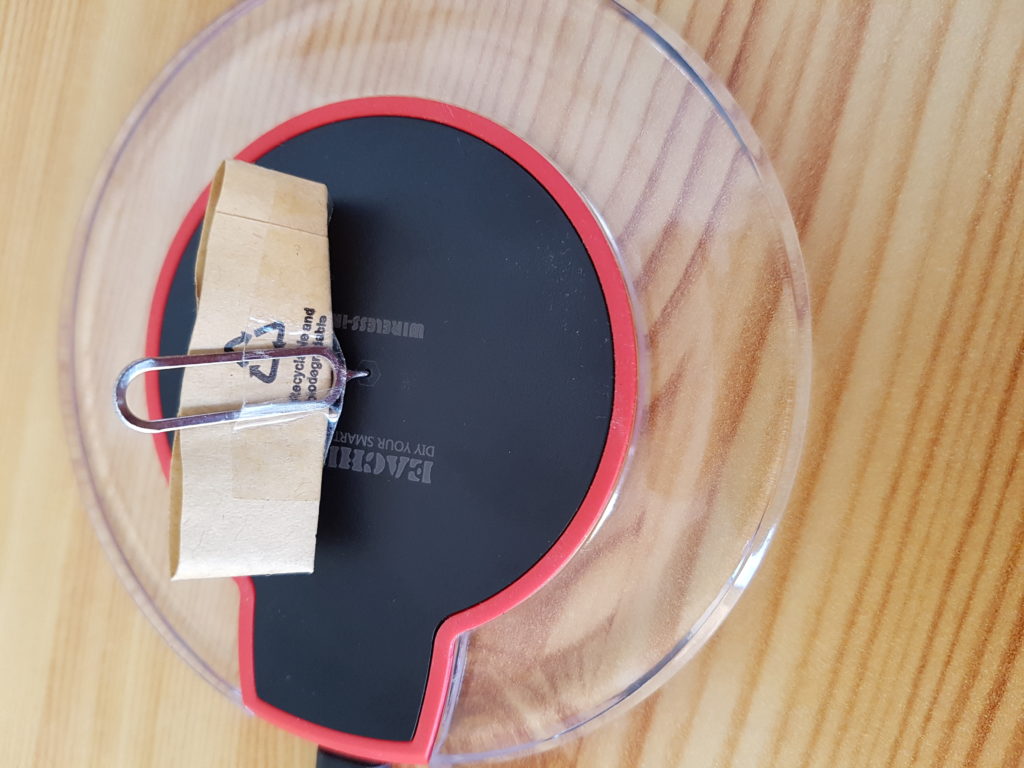 Dance Smart Life, once after clicking on the "+" at the top right, we will indicate what type of device we want to add to it, in this case, a IR device which is in the "Other" menu to the left. On the next page, we are asked if our new device is flashing well in order to start the process. After registering our password corresponding to our network 2.4 Ghz Wi-Fi, because our device like practically all of them only work on this band, the pairing is done. All that remains is to rename our device to make it easier to recognize.
Now let's see how to make this device recognize our remote control in order to be able to free ourselves from the object itself by controlling our TV by voice. because we decided to install our remote control on our 2nd tv, a Proline.
By clicking on theIR icon renamed room decoder, we will provide add the remote control by choosing the Television logo. There are 2 ways to recognize our box: either according to the brand of this one, or in mode DIY ("Do It Yourself", or "made by yourself") if it is not provided for in the models presented.
We start with the automatic mode ". The simplest, and we are looking in the list of brands Proline, and are pleasantly surprised to find it. Once our brand has been selected, on the next page a choice of remote control is displayed to recognize our box by the Eacher hub. And that's where the capsizing begins ... Only one choice possible (the number of remote control corresponding to the brand is displayed at the bottom right) and for us only 1/1 possible. Ok, maybe this is the right one? Let's try recognition! It is necessary put the 2 devices face to face et press 3 keys of the box to see if a recognition is done…. Nay! Nothing happens despite many attempts. And no possibility of choosing another remote control.
Never mind, there is a mode DIY (slide the page of the choice of type of device to configure, it is hidden below). Once DIY chosen, we select Television, then again the brand of our TV and on the next page a new recognition opportunity appears.
There it is necessary press the key for a few seconds that one wishes to learn about his first, then release. A new screen is displayed and invites you to press the corresponding key on the remote control. A brief press is enough for the acquisition to take place and for the function to be recognized and even a name proposed (modifiable if we wish). After having repeated the operations several times, all you have to do is save by clicking at the top right on " Done". Our second television set appears under the name TV2 and the learned functions are visible when we click on Eacher on the home page then on TV2 (for us), then on "Edit" at the top right and finally on "Edit copy button".
We can now create scenarios in Smart Life who will go up in Alexa.
These are the different functions possible with the EACHEN infrared hub and recognized remote controls. In manual, all work ... Phew, but what interests us is with Alexa ! Can we do these manipulations in vocal?
Let's go for a walk in the app Alexa to see how it transposed. Our scenario Screen and our TV2 device appear well, it will only be enough create two routines with Alexa to be able to turn the screen on and off.
Here is! Now, all that remains is to create all the scenarios that we will need (channels, sound, etc.) to bring them up in Alexa and thus be able to activate the voice… Ah yes but no! Not as simple as it seems in fact… Because our TV requires a little long press on the channel which one requests… and our Eacher universal hub does not know how to handle this. This is a pity. It will however be possible to manage a channel change one by one, as well as to raise or lower the sound. It's already that! Note that this device seems to be primarily sold to control air conditioning which, for the most part, works in IR. A feature that we were unable to test, but which can also be more than interesting.
In conclusion,
this small EACHEN IR / Wi-Fi remote control box does not take up any space
, and fills
the same functions as the famous Broadlink RM Mini
, but under Smart Life and
cheaper
. If you already have devices under this app, this can be interesting because all your devices will be grouped into a single app. But as
The Alexians
have already said previously put everything under the device Smart Life can overload your Wi-Fi. The failure to take into account the individual management of our television channels for which you need to press a little longer than normal cannot be entirely attributed to it, even if the 'one would hope that the mere fact that it is programming could compensate, as is the case with Broadlink.
Docooler EACHEN WiFi-IR Remote Control Universal Infrared Hub
NS. 20 €
Most
Extreme compactness
Compatibility Alexa via Tuya / Smart Life
Undeniable price / quality ratio
The lessers
Learning DIY a little laborious
No possibility to change channel directly
Partial compatibility with voice assistants