For users ofAlexa, the choice of a clock radio must necessarily be Echo Show 5. For those of Google Home, the choice is a little wider and, between the Lenovo Smart Clock and the Nest Hub, the Xiaomi Mi Smart Clock has good arguments for it, in particular that of the price, as always with the Chinese brand. Announced in January and available on Chinese platforms, the device is finally available in France at the price of 59.99 €.
Xiaomi Mi Smart Clock: above all an alarm clock
Presenting a 3,97 inch touch screen with a resolution limited to 800 480 pixels x, Xiaomi Mi Smart Clock is nothing more or less than a discreet alarm clock allowing to display the time using 10 models of dials, but also the weather forecast, a calendar or even personal photos (or not).
With its intelligent alarm mode, the Mi Smart Clock is also reminiscent of the connected screens ofAmazon since he is also capable ofgradually increase its brightness as well as the sound of its alarm for a gentle awakening. It therefore goes a little less far than the new one NestHub 2 on this point, which can now analyze your sleep, but it is also much less intrusive.
Like the enclosure Xiaomi Mi Smart Speaker, this connected alarm clock fits perfectly into the ecosystem Google Home, allowing you to control your home automation by voice from your bedside. Best of all, it also incorporates a chromecast. Convenient !
Xiaomi Mi price and specifications Smart Clock
Already available for a while for purchase on Chinese platforms, the Xiaomi Mi Smart Clock has just been confirmed for sale in stores in France and is already in some e-merchants at a rate of 59.99 €. It is a little more expensive than on sites such as AliExpress, of course, but you have for you a legal guarantee of 2 years (in particular).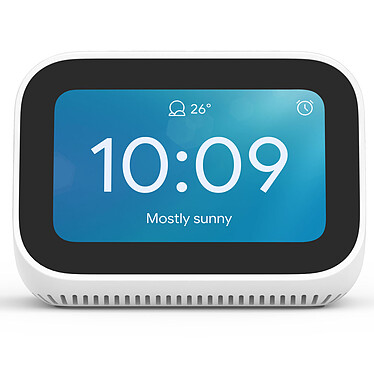 Brand: Xiaomi
Model: Mi Smart Clock
Dimensions: 113 mm x 68 mm x 81,5 mm
Weight: 272g
Screen: 3.97 inches
Resolution: 800 × 480
Microphone: x2
Loud speaker : 1,5 inch
Connectivity: 2.4 GHz WiFi, Bluetooth 5.0, micro-USB
Supply : 5V / 2A