That's it, the pre-orders ofEcho Show 5 are being delivered. Some lucky ones have even received it, our Facebook group starting to overwhelm with photos! As you know, the Alexians were impatiently waiting for it. Not as much as its illustrious elder, who had unleashed passions for nearly six months, but enough for us to show it to you from every angle.
The editorial staff having had the chance to discover it in preview during its presentation to the press, we have had plenty of time to take it in hand over the past few days, in order to better tell you about it today. Without further ado, here are our first impressions of this new device integrating Alexa, and let's see if, as the name suggests, Echo Show 5 is the worthy little brother of the very successful Echo Show 2...
Edit 26/05/2022: only the 2022 version is now available. Relatively similar to the first generation, the second offers a new camera with a resolution of 2 Mpx and a better image quality as we explain in a new test:
Echo Show 5: small but strong
Unboxing
The new opus of the Echo range is presented, like its congeners, in a box containing the color code of the devices Amazon integrating the voice assistant Alexa. All dressed in blue, the packaging is as always of quality, and we promise a device as attractive on paper as it is on visuals which are affixed to it.
At the opening, we discover our first Echo Show 5 in a white livery Of the nicest effect. The finishes are up to the rest of the range, they do not suffer from the slightest defect, users ofAlexa and owners of Echo Show 2 will not be lost: Echo Show 5 has all of its predecessor, but in a much smaller format.
Measuring 14,8 x 8,6 x 7,3 cm, his screen of 5.5 inches (140 mm diagonal) with a resolution of 960 x 480 px does indeed make it good more compact and discreet, perfect for your bedside table for example. Some may prefer to put it on their desk, or in the kitchen. Echo Show 5 is a versatile device, everyone is free to place it wherever they want.
On the upper side, we discover the three classic buttons: two allowing to decrease or increase the volume, the third of mute microphones and camera. A fourth button also makes its appearance, and the least we can say is that it was expected: it isa camera cover.
Yes, as we told you in our first article on Echo Show 5, Amazon took into account the feedback from its customers and responded to their concern for confidentiality allowing them to hide the camera when they don't need it. An initiative that we would like to salute, proof that "customer obsession" is not an empty word at the world number 1 in e-commerce.
Last but not least, on the back of the device, we find not one, but two power ports : one "classic", the other in micro-USB format, allowing you to use the15W power supply supplied, or another in micro-USB format of the same power. What interest? Amazon probably thought of the nomadic users ofAlexa. In fact, many of them no longer know how to do without it even on vacation, some of them even taking it on board their motorhomes! This is a concrete example pending further information on this subject.
But back to our sheep, or more precisely to the back of the device. Echo Show 5 responds to a new deficiency of its big brother: it has, like the other devices in the range of a audio output in 3.5 mm jack format. Many will appreciate the possibility of being able to connect it to their Hi-Fi installation, a simple way of keeping quality equipment while bringing it into the voice assistantship area.
Besides, what about its sound qualities? Well, they are, so to speak, bluffing! The sound of this beautiful Echo Show 5 has nothing to envy to Echo Spot, and even undermines EchoDot 3 in our opinion. A richer bass sound thanks to a passive bass radiator. Some are sure to point out that it may be a bit too focused on the thing, but it is clear that users like the bass that is present. And, for those who mind, the equalizer is still there and will allow you to adjust the sound as you see fit.
Other fault resolved by Amazon : the strong reflectance of Echo Show 2 is here much less marked. Certainly, as on almost any screen, reflections appear in bright light, but nothing annoying this time. The PLS panel offers an excellent viewing angle (normal, this is the main quality of this type of slab) and the colorimetry appears to be more than honorable and widely in the sector average arising from smart .
In short, it's all good! Amazon seems to have responded to most of the faults observed on previous models ... The Alexians are now firmly awaiting their successors.
Information
Let's take a closer look the technical sheet of this Amazon Echo show 5.
Dimensions
148 x 86 x 73 mm
Weight
410 grams
Screen
5.5 ″ touch screen
Resolution
960 x 480
Camera
1 Mpx, 720p video, integrated camera cover
Wi-Fi connectivity
802.11a / b / g / n / ac dual-band Wi-Fi
Bluetooth connectivity
A2DP, AVRCP
Audio
integrated 4mm full range 42W speaker with 3.5mm stereo audio output
Echo Show 5 in practice: new features for Alexa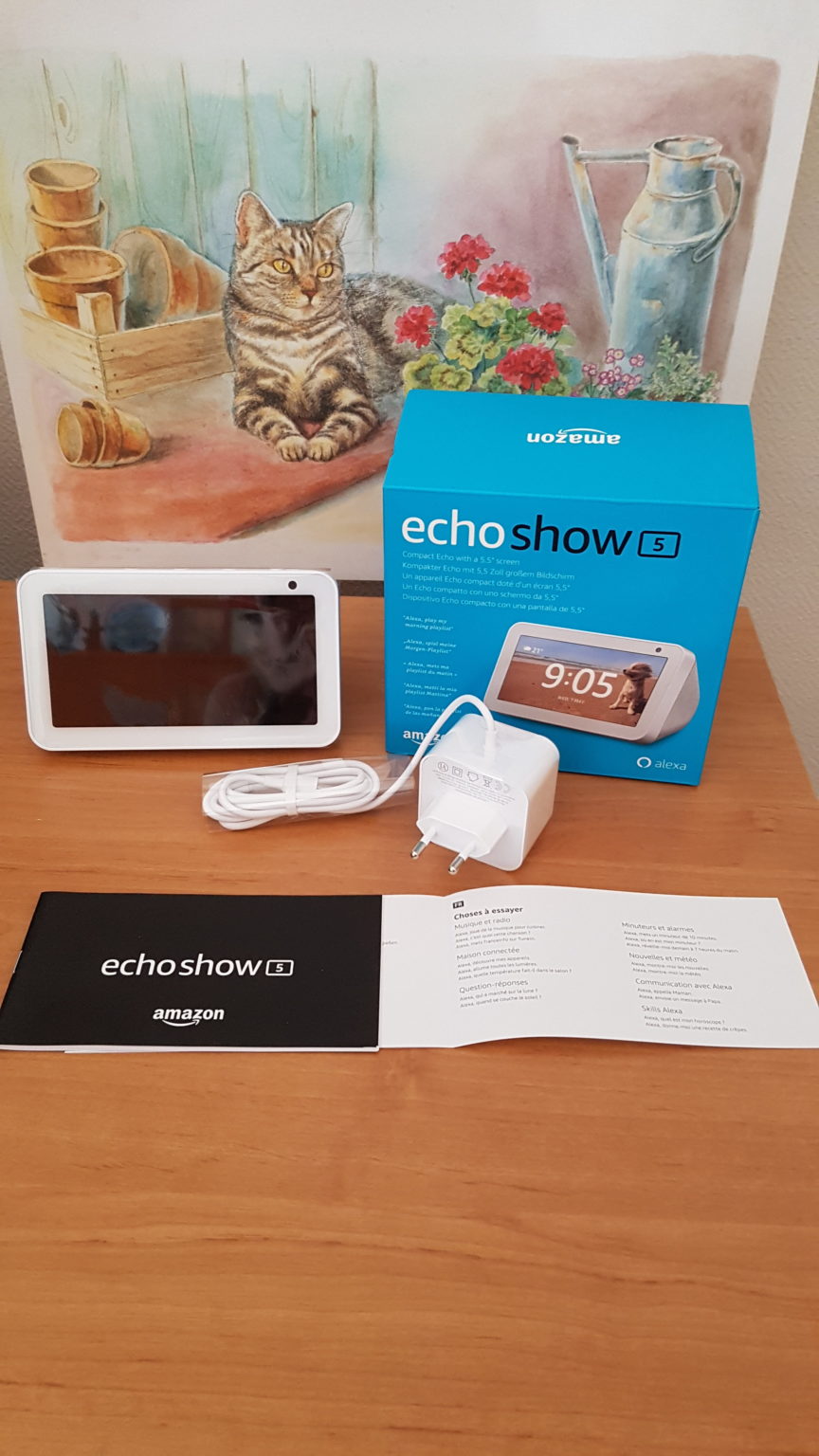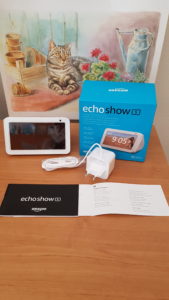 Amazon, you know, never stops develop your voice assistant. If some grumpy people will object, wrongly, that it does not evolve, it is because their ignorance of the development of such a product is matched only by their bad faith. Yes, Alexa has evolved significantly in one year, and new features accompanying the release of Echo Show 5 are once again here to prove it to us.
But, before discussing this subject, let's move on to the installation itself of our device which, you will see, turns out to be once again a real child's play: a procedure always so simple and fast to carry out. Note, however, that unlike Echo Show 2, the device was not already pre-registered and associated with our accounts. Amazon.fr at the time of delivery. Rest assured, however, the installation should not take more than 5 minutes.
Echo Show 5 installation
Place the Echo Show 5 at the location of your choice.
Connect the AC adapter on'Echo Show 5 and on an electrical outlet.
follow the instructions appearing on the screen and Choose your language, connect the device to a wireless network, Sign into your account Amazon, and read the Terms of Service.
Make sure your device software is up to date by swiping down on the screen and going to Parameters > Device options > Check for updates. If an update is available, just tap to install it. Do not hesitate to do it immediately, this new opus of the Echo range accompanied by particularly interesting novelties.
NEW ARRIVALS Alexa
If the adoption of Echo Show 2 does not seem to have been as wide as we had expected, most likely due to a high price, we stick to our positions to the use of this Echo Show 5 : display devices, or smart displays, are on track to replace our now "traditional" connected speakers with voice assistant. If the Echo devices were the first to be equipped with screens with the first generation of Echo Show and the Echo Spot which may well bow out, the competition seems to take the same path and bet on screens, at the like Google and its Nest, or Lenovo and its smart displays. Again, for Amazon the goal is twofold: to satisfy the thirst for consumption of images of its users, and to lead them little by little to voice commerce with Alexa.
Video, a major new use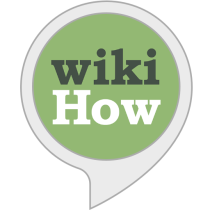 Who says screen, obviously says video ... As we mentioned following the presentation ofAmazon, multimodal or visual skills are logically on the way to becoming the norm. Echo Show 5 is therefore an opportunity to present several major updates of skills for display devices : BFMTV, LCI and France Info. Many others will follow, rest assured.
Still in the video department, the integration in progress wikiHow will allow you to access very soon video tutorials with a simple voice command. You will discover how to play chess, crack a coconut or cook green beans, and much more ...
Automation
This is a major grievance that was brought to Echo Show 2: the a little too simplistic management of the "connected home" part. the new dashboard available on all Echo Show devices will now give you even more control over your home automation equipment.
No need to pull the top flap anymore, a simple swipe of the screen starting from the right edge and swiping to the left now takes you to the screen "Connected home". You can also view the flow of a camera monitoring, access recently used equipment, and manage device groups. All while navigating with your fingertips and without having to disturb Alexa! Awesome, isn't it?
Echo Show 5 additionally offers two-way communication functionality with video doorbells by Ring. Thus, after having configured your Ring Video Doorbell 2, you will have the opportunity to see and interact with the person ringing at your door or spotted using the motion detector. A feature that should arrive soon at other manufacturers of connected doorphones, and we hope soon at Blink.
Here are some sample instructions:
« Alexaanswer the door "
« Alexa, Turn it on bedroom lamp»
« Alexa, show me the front door camera »
Policy
In addition to a camera cover, Amazon endowed Alexa new features that make it easier for users to erase their voice recordings across all of their compatible devices. Alexa. To do this, you will only have to go to Parameters > Policy Alexa > View your voice command history (not yet available). Then you just have to say « Alexa, erase everything I said today ", and the corresponding records will be deleted.
Very soon, customers will also be able to delete their last request with the order. « Alexa, erase what I just said ". New Alexa Privacy Hub will provide centralized information on Alexa and privacy: videos explaining howAlexa, information on privacy control features, easy access to privacy settings, and answers to frequently asked questions.
Custom and predefined routines
We mentioned it yesterday in our columns, from new pre-configured routines are arriving but are still secret… Unfortunately, they literally disappeared during our test! We were nevertheless able to see a "good night" routine. Case to follow!
Alexa Sunrise
A new feature, called Alexa Sunrise and activated by default, is now triggered when an alarm clock is set between 4 a.m. and 9 a.m.: 15 minutes before it rings, the screen gradually lights up until it is turned off. A nice option which confirms to us, if need be, that the preferred terrain of your Echo Show 5 may well be your bedside table. Some may prefer to keep their Echo Spot, a device probably doomed to become a collector and which risks never knowing a successor.
In conclusion, we will not go four ways: Amazon once again struck very hard by proposing,
at the reasonable price of 89 €
, one of the best smart market display.
Its reduced size and its successful design allow it to blend seamlessly into our interiors, while offering us advanced features that we could qualify as "second generation" as the use of a voice assistant is revolutionized by the support offered by a screen. A particularly valuable help when it comes to managing your connected objects thanks to the new "connected home" screen which we find very convincing. We can not wait to see it arrive on Echo Show 2.
Her sound qualities are quite honorable, not to say surprising if we take into account the reduced size of the device. Screen side, there too Amazon reworked his copy well. A subject on which we will come back in more detail in a future article.
Finally, and we can only congratulate the teams ofAmazon to be also attentive to the wishes of their customers: Echo Show 5 fully plays the confidentiality card with, on the one hand, a integrated camera cover which disables the 1Mpix camera, and on the other hand new features implemented in Alexa allowing us tovoice erase recordings.
In short, you will understand, it's all good! The Alexians are once again won over and warmly recommend theAmazon Echo show 5.
Not available
August 11, 2022 22:08 a.m.