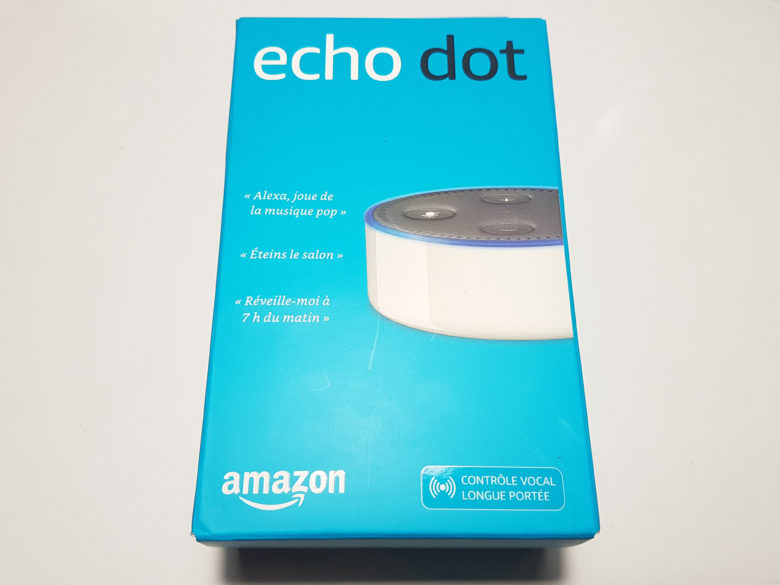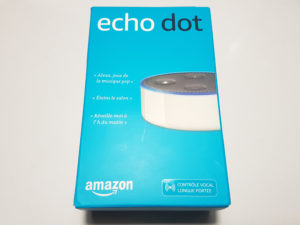 Okay then to follow up on our error of not having tested theSecond generation echo, we are looking to be forgiven with the test of his little brother, the Echo Dot!
But we are not going to talk about that of 3rd generation, barely available and still not very present in households. We are going to focus on the little brother of the Echo, so the big brother of the Dot 3rd gen… Are we not clear? But yes, the second generation Echo Dot! And not 2nd generation because that would mean that there are only two generations, but we have at least 3. Yes… the Alexians are cultivated.
Please note, Echo Dot 2 is an old version, no longer sold. We invite you to discover our
Echo Dot 4 test
, the very last speaker Alexa.
Amazon Echo Dot 2rd generation : a miniature echo?
Our Echo Dot is delivered in its small blue box which is now the hallmark of the devices in the range. And what do we find there? Well a little device barely bigger than a hockey puck, either 8,5 cm in diameter and 3 cm in height. More of 160 grams, it's not huge… Barely the weight of a connected bulb. There is also a power cord with an adapter. At first glance, it is indeed quite small, light and pretty with its brilliant color (black or white, as desired).
The configuration is done the same way as the Echo on your network 2,4 or 5 GHz Wi-Fi (See our tutorial if you have any problems).
The operation of our Dot remains exactly the same as that of its big brother. And his alarm clock is the same: Alexa speaks to us, she explains to us what she can do for us… So finally, you are going to ask us what are the differences with the Echo? We get there, but know that in principle, you can do exactly the same things.
At the level of its internal organs, Amazon Echo Dot has 7 microphones 16 mm. Six in the periphery and 1 in the center, and the sound which diffuses by small openings in the lower part (but only one real exit). So you tell yourself that sound level, it's not going to be the best of the best. And you are right, this is its weak point. Hence the fact that a version 3 with boosted speakers was released. But on the other hand, Echo Dot also has a 3,5mm jack to connect it to a more powerful device. And from there, Echo or Dot, if you go through an external speaker to get good sound, no difference. You can also pair it by Bluetooth with a Bose speaker or other for example.
On the top, it is exactly like its big brother: surrounded by a moving ring, you will find 4 buttons: volume +, volume -, mute (to mute the microphone and also the listening) and the action button (to talk to Alexa without activating it by voice).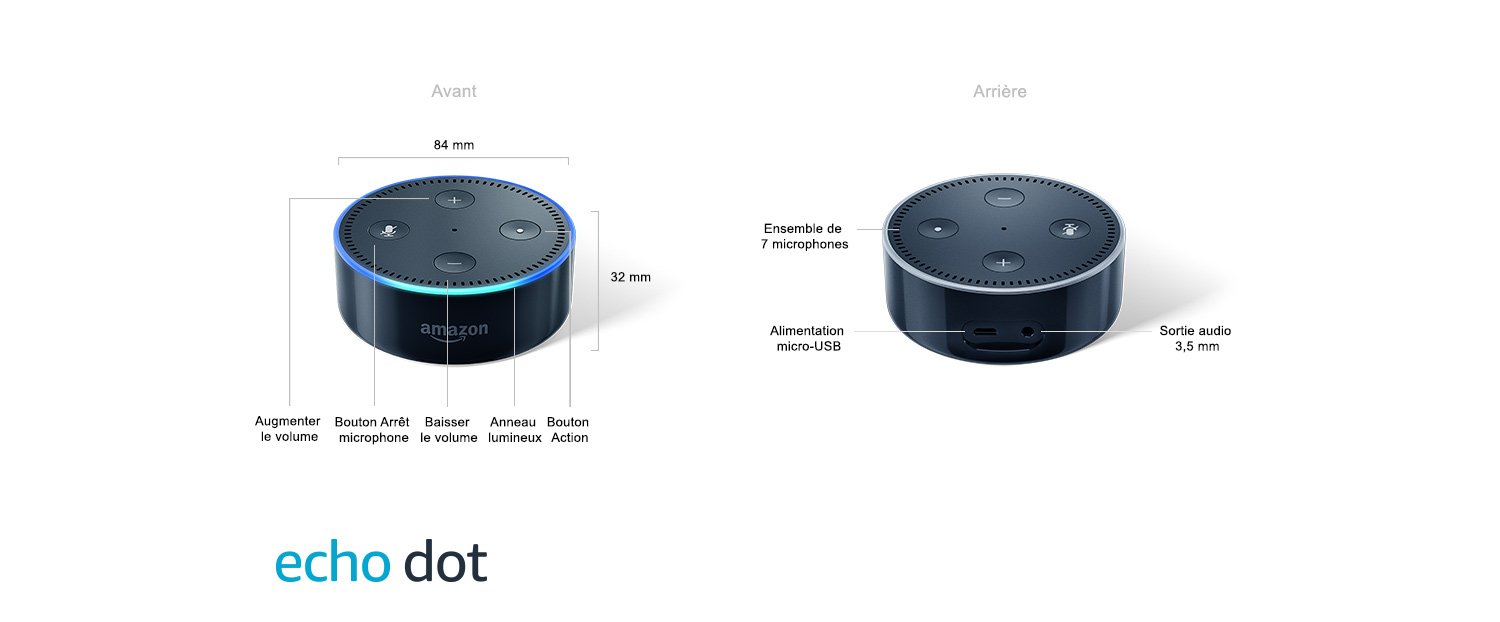 Amazon Echo Dot: In the end, what for? Why him ?
To be clear and quick, you can do the same as with Echo. Exactly the same ...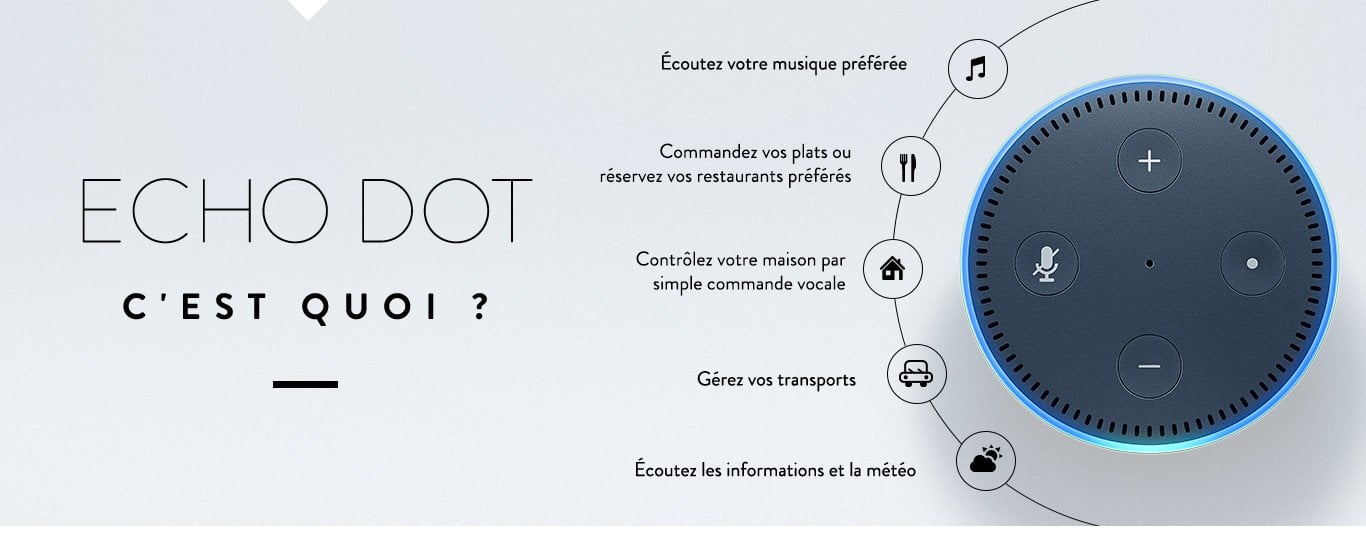 Here is a non-exhaustive list:
Daily help: Alexa will give you the weather forecast, traffic, the latest news, will also tell jokes, anecdotes, do internet research, program alarm clocks, alarms, timers ...
Launch Skills.
Listen to music.
Help you manage your connected home.
Alexa reads you too your Kindle audiobooks ou Audible, native.
Make calls between echoes or to an application Alexa.
...
THEEcho Dot will rather serve you as an auxiliary to your Echo for your connected home. Where your Echo can't hear you, an Echo Dot is going to be a very good relay : in a hallway, a guest room, a storeroom… It will allow you to turn on the lights, the sockets… everywhere in the house. On the other hand, as seen above, for the music part, the sound will not be terrible. But to listen to the radio, the news, in the shower, it's okay. And with a jack or Bluetooth speaker, it's perfect!
And switch to an Echo Dot 3? The interest will be real if you are looking for better sound for a device in a bedroom for example or a small room, without pairing to an external speaker.
37,99€
49,99€
In stock
August 15, 2022 15:08 a.m.
39,99€
59,99€
In stock
August 15, 2022 15:08 a.m.
Not available
August 15, 2022 15:08 a.m.