Echo Dot (3rd generation), Connected speaker with Alexa, Anthracite fabric
Price as of: August 11, 2022 17 h 10 min
It has not escaped you, the Echo family has newcomers : the Echo plus, the Sub… and the 3rd generation Echo Dot. We have chosen to present this small speaker to you because with Black Friday and the offers ofAmazon, there is a good chance that it will end up in more and more French-speaking homes.
The Alexians, always ready to help you and bend over backwards for you, got hold of this little device and are testing it for you! We will also insist a lot on the differences with its big brother, the second generation Dot.
Amazon Echo Dot 3rd generation: What's in the can?
The latest addition to the Dot range is delivered as usual in its BBB (Belle Boite Bleue). But much bigger than that of the Dot 2, which is not justified by the connections and the flyers included which have not really changed in terms of size. So that already means that there will be change on the Dot itself.
What do we find in this BBB? A Dot 3 of course! But still ? A superb Dot 3!
What is obvious is already his makeover. This new version is really beautiful. It looks a lot like the second generation Echo with its covering in sand, anthracite or heather gray fabrics. It also has a much softer appearance than its big brother, with round and generous curves, almost feminine (if we should give the Dot a gender, we will say that it is the little sister). Another visible change is the size. This new Dot is wider and taller than the previous one. Much bigger even in fact.
The old device was barely bigger than a hockey puck, 8,5cm in diameter and 3cm in height and just over 160g. The youngest does meanwhile 99 mm diameter et 43 mm height for weight of 300 g ! We will say that the third generation has been boosted with new technology! Another small novelty: the connection. While the Dot 2 had a micro USB port, this one has a port identical to that of the Echo, a DC connector. We finally arrive at a certain homogeneity.
The configuration is done the same way as the Echo on your network 2,4 or 5 GHz Wi-Fi. Its commissioning is very simple with the application Alexa. It is very close to that of the dot 2 or the Echo 2. With the small subtlety that it is necessary to choose the Echo 3 in the list of devices and that theit can be configured by bluetooth if desired, initially because Wi-Fi remains mandatory for normal use.
The operation of our Dot remains exactly the same as that of its big brother. And his alarm clock is the same: Alexa speaks to us, she explains to us what she can do for us… But before setting up, she speaks to you in English, German, French…
At the level of its internal organs, the Dot 3 has a single 41mm speaker and no longer a 16mm tweeter like before. And that announces better sound. The Dot 3 also has a 3,5 mm jack to connect it to a more powerful device, like all the other Echos. On the top, it is exactly like its big brother but in addition rounded: surrounded by a moving ring, you will find 4 buttons: volume +, volume -, mute (to mute the microphone and also the listening) and the action button (to talk to Alexa without activating it by voice).
Amazon Echo Dot 3: Better or the same?
To be clear and quick, you can do the same as with the Echo Dot 2, but with much better sound !
Indeed, in addition to its great design, this is its new asset: a real sound. One 41mm speaker, it's better than the Spot which had a fairly acceptable sound given its size. Well there, we are between the Spot and the Echo. As much to say to you that this type of device, it is very interesting
ssant. The sound is much more powerful, it saturates much less thoroughly and is much deeper. This is normal, we have a real speaker and no longer tweeting tweeters.
We made you two comparison videos to get an idea. The two Dots being fully adjusted.
Ah ... and for people who have not read the old tests, here is what can be done with a Dot, non-exhaustive list:
- Daily help: Alexa will give you the weather forecast, traffic, the latest news, will also tell jokes, anecdotes, do internet research, program alarm clocks, alarms, timers ...
- Launch Skills.
- Listen to music.
- Help you manage your connected home.
- Alexa also plays your kindle or audible audiobook, natively.
- Make calls between echoes or to an application Alexa.
- ...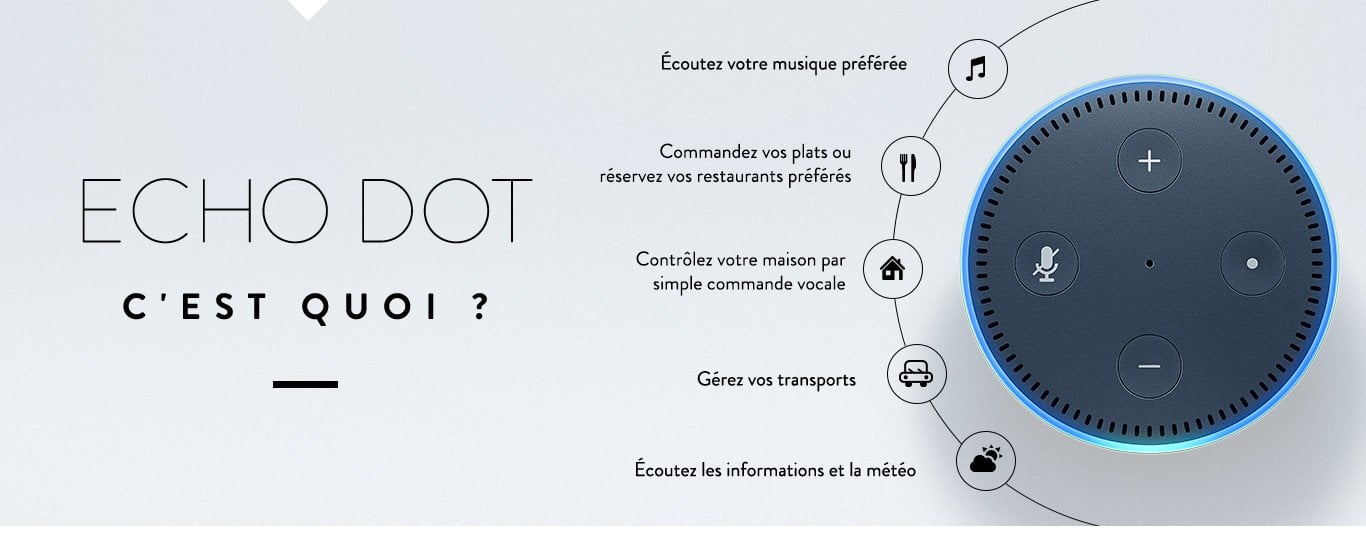 It is therefore perfect for a bedroom, a bathroom, a small room where a powerful sound is not of much interest but where you still want to listen to a clear and friendly sound.
In summary, this 3rd generation Echo Dot is a real success and a more than affordable price because less than 30 € during Back Friday.
37,99€
49,99€
In stock
August 11, 2022 17:10 a.m.
Not available
August 11, 2022 17:10 a.m.