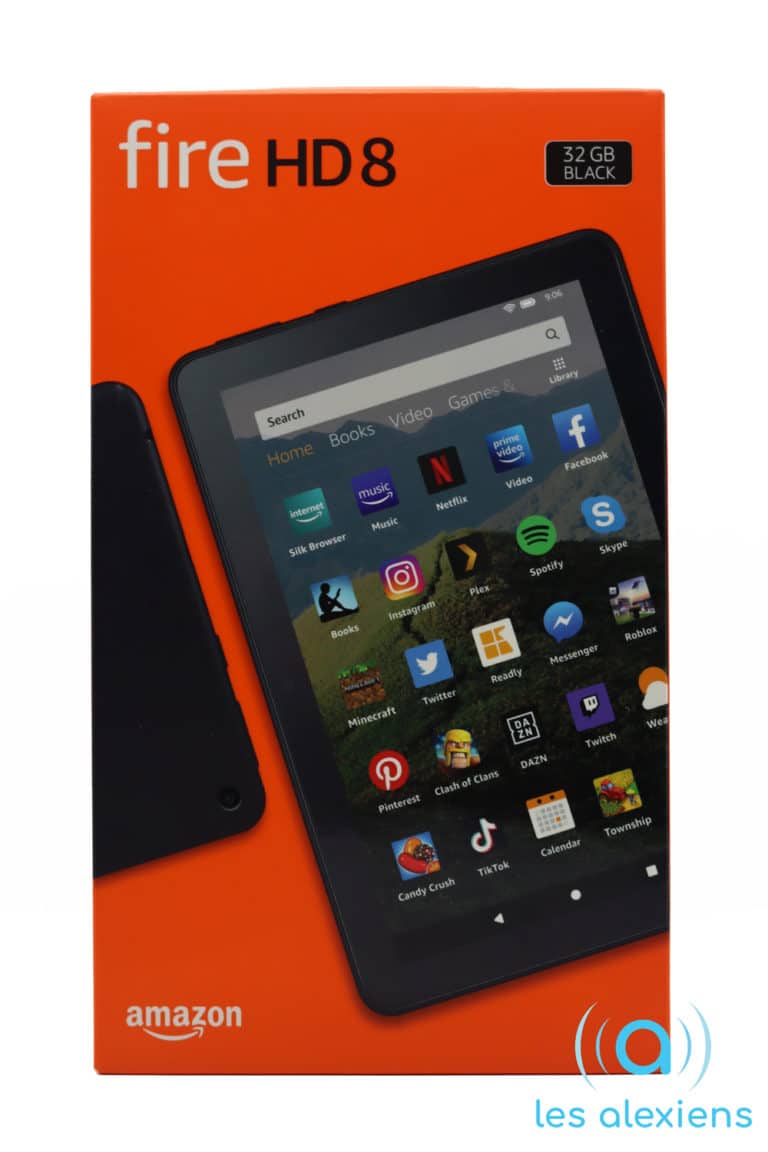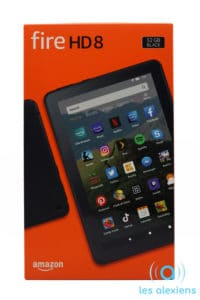 This is a great first for Les Alexiens, the first time that we have tested a tablet in our lab 'usually dedicated to automation ! If we have chosen to go out of our specialty today, it is because it is not just any tablet, but a model that should soon be compatible Alexa : the new Amazon Fire HD 8 (2020).
This tenth generation of Amazon Fire, formerly known as Kindle Fire, has several benefits for customers ofAmazon that we are going to detail and, in particular, the perfect integration of the services of the brand with the smile. Of Prime Video à Amazon Music Unlimited, through Kindle, Amazon Photos or application Alexa, this inexpensive touchscreen tablet has many arguments on paper.
Available from 99 € on Amazon. Fr in 32 GB version, the new Fire HD 8 may indeed be of interest to more than one home voice assistant user soon. Let's see what this tablet offers and, above all, what it can bring us from a very "Alexian" point of view ...
99,99€
In stock
August 12, 2022 9:45 a.m.
Updated: August 12, 2022 9:45 a.m.
Amazon Fire HD 8 (2020): a nice little tablet
Unboxing and presentation
As always at Amazon, the packaging does not suffer from the slightest defect. Nicely presented in a qualitative orange packaging, the tablet is perfectly protected and is revealed a little in the same way as the Echo smart speakers.
Amazon sells us his product well, promising a HD display (1280 x 800 pixels) 8 inch burst animated by a 2.0 GHz quad-core processor with 2 GB of RAM and 32 GB internal storage (also available in 64 GB version) expandable up to 1 TB via a micro-SD card (not supplied). The brand specifies that this brand new hardware makes its tablet 30% faster than before, which is frankly not a shame if you have already had the Fire 7 in your hands for example ...
"[…] This brand new hardware makes his tablet 30% faster than before […]" The Alexians
Good news, the tablet is now presented horizontally, the portrait format of the previous version never having really inspired us, probably wrongly because it actually turns out to be practical in some cases given the size of the object. Measuring 13,7 x 20,2 cm for only 9.7 mm d'épaisseur, the new Fire HD 8 displays a featherweight of only 335 grams. It is therefore easy to handle with one hand. A real plus.
His screen of 1280 800 pixels x offers a resolution of 189 pp, which is not really transcendent, but sufficient to use applications, read books or consult web pages. Far from being borderless, he keeps busy 67% of the surface total of the tablet. It may not seem like much, but in reality it is just as good because, once again, it allows you to hold the tablet with one hand without touching the screen.
A small 2 Megapixel f / 2.2 camera takes place at the top center. It should be enough to do some video if you are in a bright enough room.
The rear has a rather basic plastic surface but decorated with the logo Amazon. You will see it in the images, this plastic not really high-end has the disadvantage of being sensitive to fingerprints, it's a bit of a shame, but let's not forget that we are on a product offered at 99 € and not on a iPad Mini at € 459. The finishes are nevertheless quite qualitative and the assembly seems solid to say the least. Amazon states that we have successfully subjected his device to more than 50 tests for drops and other everyday accidents, and for having inadvertently dropped it, we want to believe them.
La main camera also offers 2 Megapixels, always f / 2.2. Again, it's a bit weak, don't think about taking good pictures with the Fire HD 8. Devoid of flash, the lens provides very average and very "noisy" images. In short, do not expect much from this point of view, but let's be clear: the photo is not the vocation of a tablet anyway!
For the rest, the connection is complete, nothing is missing:
un USB-C port for quick recharging and transfers,
a take 3.5 mm mini-jack for an audio output,
un micro-SD slot accepting cards up to 1TB,
two buttons volume,
a button on / off / standby.
As with any self-respecting touchscreen tablet, two speakers take place on the upper edge in a landscape position. Although a little circumspect about the certification Dolby Atmos, we must recognize that it does bring a small spatialization of the sound. We are of course very far from what a real Home Cinema system offers or the excellent Echo Studio connected speaker, but the sound is very correct as long as we do not put it to the bottom where we detected a slight saturation. To headphones, via the socket 3.5 mm mini-jack, however, we have not suffered any and the output gain is quite satisfactory (we used a Bose QC35 II for the experiment).
Technical specifications
Brand
Amazon
Model
Fire HD 8 (2020)
Processor
Quad-core 2,0 GHz
Memo
2 GB of RAM
Warehousing
32 or 64 GB expandable up to 1 TB
Screen
8 inches, 1280 x 800 pixels (189 pp)
Operating system
Fire OS 7.3
Dimensions
202 x 137 x 97 mm
Weight
335 grams
Cameras
2 x 2 Mpix f / 2.2
Food
USB-C
Autonomy
up to 12 hours
Loading time
NS. 5 hours
Audio
2 x speaker and 3.5 mm mini-jack output
Fire HD 8: find the whole universe Amazon in a practical format
Let's see what this tablet gives in practice ...
Getting to know Fire OS
Switching on the tablet Amazon Fire HD 8 version 2020 is pretty fast. A good point. After connecting it to Wi-Fi and entering your credentials Amazon, you just have to play with it, it's real plug and play. Nothing to say, the user experience is excellent.
Fire OS, here in version 7.3.1.4, present at first glance a fairly familiar interface. Based on Android, the operating system ofAmazon offers a completely classic home screen with application icons and a search bar at the top, but the first scans propel us directly into the universe of the e-commerce giant with categorical tabs.
"Everything is perfectly integrated and fluid, the navigation is well thought out and natural, this Fire OS 7 is frankly very pleasant to use. " The Alexians
We find in fact all the services Amazon : The Kindle digital books, the videos on Prime Video, the famous Amazon Appstore to add games and applications, Amazon Music for music streaming… And of course the e-commerce platform Amazon.Fr !
Everything is perfectly integrated and fluid, the navigation is well thought out and natural, this Fire OS 7 is frankly very pleasant to use. If the idea of ​​adding the PlayStore did not escape us, we preferred to leave it like this while waiting for the next arrival ofAlexa !
Because, yes, if there is something that is still missing, it is the voice assistant Amazon Alexa. Already available in other countries on this same model, in Germany in particular, its arrival seems more than imminent as we mentioned last week on the occasion of our first tests which revealed to us warning signs in the future. Show mode Alexa for Fire HD.
Accompanied by "Cards Alexa "And a process called" Mode Switch ", there is no doubt thatAmazon will soon be rolling out the most anticipated update of the year on Fire OS and therefore, most likely, offering the version Fire HD 8 Plus which will also bring a little more power to this tablet, but above all a dock allowing it to be used as a Echo Show 8 !
"[…] Warning signs in Show mode Alexa for Fire HD… " The Alexians
To tell the truth, this mode could well make the tablet Amazon Fire HD 8 an essential item for all users ofAlexa as it would respond, therefore, to the only criticisms that we have to do with the restricted version of Fire OS present on the Echo Show which, for its part, does not yet offer any third-party application. We are thinking in particular of the essential Netflix, Molotov.tv and YouTube which, on the other hand, are available on Fire HD (not in the official version for YouTube on the other hand, but we will talk about them in future articles).
An Appstore in progress
A bit like Huawei, which cannot offer the Google Play Store on its new devices, Amazon has made the choice - voluntary this time - to propose his own fork and not to install the Android application library. A choice that may seem questionable, but basically almost everything is there. Almost, yes, because Fire OS still lacks quite a few applications to make it the best entry-level tablet.
Nevertheless, the applications present will very probably be sufficient to satisfy the vast majority of users, since we find in particular:
Video: Prime Video, Netflix, Disney +, Plex ...
Music: Amazon Music, Spotify, TuneIn, Radio.fr, BBC Player, Podcast Addict…
Communivation / Social networks: Skype, Facebook, Instagram, Pinterest, TikTok, Twitch ...
TV: Molotov, TV Flash TNT, Arte, France 24…
Utilities: Skype, OneDrive, Outlook, NordVPN,
Other apps: Amazon Silk, Amazon Photos, Amazon Games, Kindle ...
This list is obviously not at all exhaustive and subject to change. We regret, moreover, the rather incomprehensible absence of a Ring application. Indeed, if even the companies belonging to Amazon do not bother to offer a Fire version of their Android applications, it is difficult to see how the competition could mobilize ... Conversely, the application Blink is available, that's it already!
Amazon offers two pricing for its tablets: with or without special offers.
Understand: with or without advertising. But, contrary to what we feared, these screens are absolutely nothing invasive. Moreover, we have only been confronted with it once in a week to inform us of the existence of
Amazon Coins
that allow you to make purchases of apps or In-App items. It is not very bad then. In short, we think the game is worth the candle, because
these special offers will save you 15 €
and therefore to obtain this Fire HD 8 for only 99 €.
Cast: Alexa and Fire TV perfectly integrated
Here too, the tablet ofAmazon makes perfect sense if you have a apparatus Fire TV. Whether it is the Basic version, Fire TV Stick 4K or the eagerly awaited Fire TV Cube, the small and practical Amazon Fire HD 8 becomes an ideal remote screen to search for content while keeping an eye on your TV or listening to your music on your speakers Amazon Echo.
As an example, we will cite its use with Prime Video. In addition to browsing the service catalog, you can check out the IMDb service - which is owned by Amazon, control playback on your Fire TV, view X-Rays while continuing to watch the movie. In short, you have a great remote control in your hands! We just regret that the Fire TV application is still so hungry ...
Another example : Amazon Music. You can comfortably browse the huge music streaming library ofAmazon, search for an album, start playback on your Echo Studio or on a group of speakers.
Our opinion on the tablet Amazon Fire HD 8
In summary, the new Amazon Fire HD 8 of 2020 is a great surprise. Indeed, this is a rather convincing product and practical on a daily basis. Its ergonomics are good, its light weight and its compactness make it easy and pleasant to handle, even with one hand.
Rather powerful, although we have at times observed some slowness, it is more than enough to comfortably use Fire OS. An operating system that we found well thought out and pleasant to use, even if it does not yet offer enough applications for our tastes. However, the essentials are there and it is always possible to install another application store there if you really want to ...
Do not expect anything from her in photos, that is clearly not her strong point, its cameras will only be used for video. It is not exceptional in video playback either because of an average panel and a screen with significant reflections, but is this really the vocation of an 8-inch screen? Conversely, it is rather surprising in terms of sound and its mini-jack output allows you to comfortably listen to music without distortion.
But all this must be put into perspective. Indeed, at this price, difficult to ask for more. Moreover, the offer in this price bracket is practically non-existent and, frankly, you will not find better to our knowledge. Obviously, as good Alexians, we are impatiently awaiting the update allowing to finally use the Show mode because it will undoubtedly be a considerable contribution that will really give all its interest to this very practical little tablet by transforming it. into a much more versatile device than a Echo Show !
Offered from
€ 99.99 in 32 GB version
et
€ 129.99 in 64 GB version
(with special offers),
the Fire HD 8 presents an undeniable quality / price ratio
and will delight all those who want an extra small connected screen to, for example, pass the time in public transport or surf the web while watching TV. Users ofAlexa They will soon find another sizeable interest: benefiting from a sort of mobile, autonomous and versatile Echo Show. We can't wait to see it!
99,99€
In stock
August 12, 2022 9:45 a.m.
129,99€
In stock
Refurbished from 1
August 12, 2022 9:45 a.m.
Amazon Fire HD 8 (2020) - Touchscreen tablet with Alexa
from 99 €
Most
Quality of finishes and assembly
Well thought-out and really nice interface for customers Amazon Premium
Good battery life with USB-C
Show mode with Alexa Coming soon !
An undeniable quality / price ratio
The lessers
Disappointing photo quality
Very shiny panel and generating a lot of reflections
L'Amazon Appstore is not yet rich enough