We mentioned it just a week ago: Echo Show 8 is now available in France ! Present with our cousins ​​across the Atlantic for a few months, you have been able to admire it all week in the'unboxing of our house caribou - who, in the absence of Show 7, fell in love with this model in December in order to warm up their feet better during the long winter evenings - and you are probably asked an existential question ...
Should I still crack and offer myself this new wonder?
If you are already widely equipped with Echo Show 5, Echo Show 2 or even Echo Spot, there is indeed something to wonder about ... Fortunately, always anxious to guide you as best as possible in your purchases ofdevices connected to Alexa, The Alexians were able to obtain a loan from Amazon a copy of the new born of the Echo family in order to present it to you, as usual, in all its aspects!
Echo Show 8: an attractive design and a beautiful 8-inch screen
Unboxing and presentation
Yes, you have already been able to see a unboxingAmazon Echo show 8, but as reckless fans of the products Alexa, we never taste our pleasure and will therefore quickly repeat the exercise. After the anthracite version, here is the one dressed in "sand fabric"!
Echo Show 8 "sand" is presented in the same packaging as its anthracite counterpart, except that the product visual is the appropriate color, of course.
The side faces teach us that the8 inch screen is of type HD, that its camera has a cover in order to reassure us as to the confidentiality of the device, that it is equipped with speakers - in the plural, so he has at least two! - with a 3.5mm audio output which, however, does not seem to switch as an entry, which we can of course use at will of the essential Bluetooth and buttons that we all know by heart ...
Whatever its price, unpack a device Amazon is always a pleasure, it is worth pointing out. Echo Show 8 is like its predecessors perfectly protected and presented in a cardboard case. We find, in a dedicated location, the traditional Getting Started Guide et Legal notice. Unsurprisingly, a 30W power adapter is at the bottom of the box. This is the same as the one delivered with Echo Show 2.
Once out of its case, we discover a device whose curves are reminiscent of Echo Show 5. In fact, it is exactly the same design, but larger of course since it offers this time a 8 inch screen an 203 mm diagonal. At first glance, this format seems more than wise ...
[…] A device whose curves are reminiscent of Echo Show 5. The Alexians
On the upper side, three central buttons allow you toadjust volume and cut off listening toAlexa. A fourth, positioned further to the right, allows mute the camera and, let us repeat, from hide the objective ! Once closed, fear not, Alexa is totally blind and you will have no fear of finding intimate videos on the Internet. Benjamin, if you can hear us ...
Besides, speaking of listening, four microphones are also part of the game, guaranteeing you the possibility of placing long-range orders at Alexa… Effective, but themselves also deactivatable at will, they promise us to have an assistant who obeys the finger, the eye and the voice!
[…] a Alexa who obeys the finger, the eye and the voice! The Alexians
At the rear, we find a connector identical to that of the 5 ″ model with a power port, for an micro-USB port and 3.5 mm mini-jack audio output. If the usefulness of the first is in no doubt, it would seem that the second is only intended for the technical maintenance of the device. Unless it can be used for the network connection? This remains to be confirmed.
La audio output, on a 3.5 mm mini-jack, is fairly standard but cannot be used in input mode. Some may find it a shame, but basically it would not be of great interest to us.
Under the device, we find a non-slip rubber surface. Leaving the logo ofAmazon, it has an orifice intended to receive an accessory which may prove useful ...
Un magnetic support ! Sold separately at a rate of 24.99 €, all you have to do is put Echo Show 8 on it for it to attach to it and become orientable as desired. Like on previous models, sure, but it's a cool accessory, right?
Not available
August 12, 2022 2:27 a.m.
Not available
August 12, 2022 2:27 a.m.
Lower than Echo Show 2, Echo Show 8 is 13.5cm high by 20cm wide. It is noticeably also deep with 9,9 cm against 10,7 cm, but has softer edges. All in roundness, its affiliation to the third generation Amazon Echo do not leave the slightest doubt!
All in roundness, its affiliation to the third generation Amazon Echo do not leave the slightest doubt! The Alexians
And to satisfy your curiosity, here are some pictures of the three devices Echo Show 2/5/8 side by side. The differences in sizes are significant and well thought out, in our opinion, each device easily finding its place in a room of the house.
[…] The uses that come to mind seem broader to us than for the previous opus. The Alexians
Si Echo Show 5 is clearly made to sit on a bedside table, Echo Show 2 will find its place more readily on the kitchen counter and Echo Show 8 on a desk. Although, for the latter, the uses that come to mind seem broader than for the previous opus. Would this be the ideal format for " smart display "? This is what we will see after an ever so careful examination of the technical sheet!
Technical specifications
Dimensions
200.4 x 135.9 x 99.1 mm
Weight
1,037 kg
Processor
MediaTek MT 8163
Screen
8 ″ HD LCD touchscreen
Resolution
1280 x 800
Camera
1 Mpx with integrated camera cover
Wi-Fi connectivity
802.11a / b / g / n / ac dual-band Wi-Fi
Bluetooth connectivity
A2DP, AVRCP
Audio
2 x 10W 52mm speakers with stereo audio output on 3.5mm jack
Power cable
1.80 m
Echo Show 8: the best connected display for Alexa
Although we do not have figures to support our claims, we have been able to observe on the most beautiful and active of the Francophone communities dedicated to Alexa that theAmazon Echo Show 2 might not have achieved the success it deserved due to the relatively high price tag. Offered at 229.99 € excluding promo, more than the top of the range Echo Studio, it is indeed a rather expensive product and Amazon seems to have fully taken the measure by offering this time a screen connected to the comfortable size and only 129.99 €. Because yes, you will be able to see it, the 8 inches of this new smart can hardly leave indifferent ...
A superb screen with ideal dimensions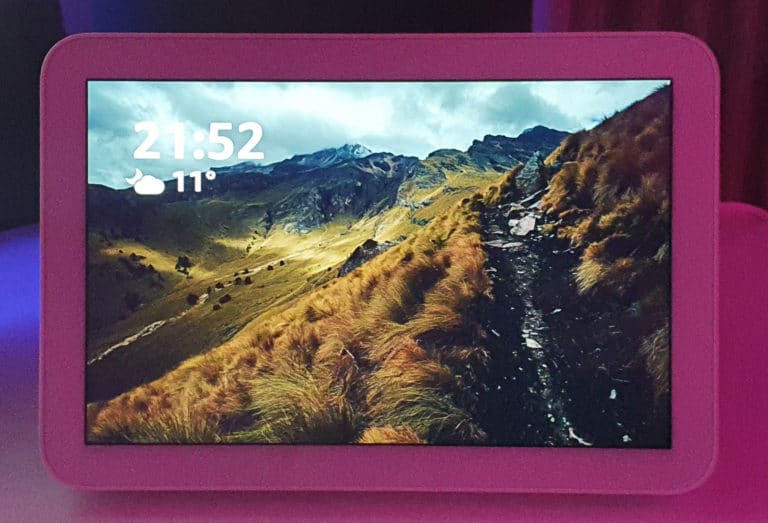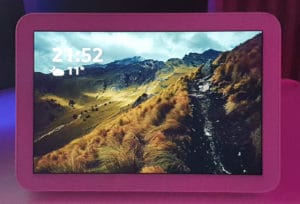 Fans in front of the eternal of our Echo Show 2 and from their 10.1 inch screens, we were expecting 8 inches around the corner! And, it is clear that it is magnificent.
A resolution of 1280 x 800 pixels, the LCD panel of the new Echo Show 8 offers the same pixel density as its illustrious elder… On a smaller surface!
Its colors are bright and shimmering, its controlled colorimetry and its well detailed image. The only criticism we could make concerns its plastic feel, like that of Echo Show 5, much less pleasant than the glass of Echo Show 2. It follows a slight lack of responsiveness, but we will put it down because an update that occurred during the writing of this article seems to have already improved this point.
In short, Amazon gives us an excellent copy here and offers to our sense a quality / utility ratioé remarkable. Yes, of course, they could have put an even better screen there, but is it really useful for the use Echo Show 8 is intended for? Clearly, no, we are not asking for more, especially since a more beautiful slab would necessarily have inflated the price ...
Its colors are bright and shimmering, its colorimetry mastered and its image well detailed. The Alexians
Honorable audio performance
Boarding two 2-inch speakers, Echo Show 8 presents an audio signature very different from Show 5 and 2. Much more focused on the mediums, which is not a shame, it doesn't exaggerate the bass and treble like Echo Show 2.
[…] The sound is overall good and probably the most flattering of the Echo Show […]The Alexians
With a 3.5 mm mini-jack audio output, it can be plugged into a larger system if necessary and, why not, serve as a control screen for a good old Hi-Fi amplifier. Only regret, Echo Show 8 does not always offer no line input and therefore relies on a Bluetooth connection A2DP (Advanced Audi Distribution Profile) and A (audio / video remote control profile). Not exactly annoying in itself, but some are sure to regret it.
In the end, the sound is overall quality and probably the most flattering of the Echo Show, if not the most pleasant. We like to listen to it without even using the equalizer.
Multimodal skills and videos
Who says screen, obviously says images and videos! Multimodal or visual skills take on their full meaning on Echo Show 8 !
For example, you can play Akinator, which guesses which celebrity you are thinking of, or say: « Alexa, opens France Info » to watch and listen to the news live. You can launch custom songs in "My musical garden" with Universal Music or say: « Alexa, what is the TV program tonight? " to access Télé Loisirs. And, if you run out of ideas, we have obviously already concocted an article for you with the best skills for Echo Show.
The radio is not left out with the direct filmed of RTL, Europe 1, RMC or Sud Radio. Many video podcasts are also available, and you can even use YouTube through browsers. Amazon Silk ou Mozilla Firefox.
ask to Alexa series on Prime Video, songs on your preferred streaming service, radios on TuneIn, podcasts or even to read audiobooks about Audible.
Still in the video department, the integration in progress wikiHow already provides access to video tutorials with a simple voice command. Find out how to play chess, crack a coconut, cook green beans, and more ...
Efficient home automation management
Because, yes, Alexa can much more for you. As evidenced by our many tests of compatible connected objects Alexa and Echo, there are now a plethora of devices compatible with our favorite voice assistant. And thanks to Echo Show 8, you can control everything easily: taken, smart bulbs, CCCTV bitters, robot vacuum cleaners… This is the big advantage of devices with screens and the 8-inch format lends itself particularly well to this in our opinion. From there to saying that this is the ideal format, there is only one step that we will take without difficulty: Echo Show 8 is the most convenient of the three.
From there to saying that this is the ideal format, there is only one step that we will take without difficulty: Echo Show 8 is the most practical of the three. The Alexians
Our opinion on Echo Show 8
With this brand new Echo Show 8, many users ofAlexa will finally be able to afford the pleasure that a connected screen provides on a daily basis. Video skills, home automation control, entertainment and web browsing are much more comfortable there than on Echo Show 5. Its screen is also the most beautiful of the range since it offers a magnificent HD resolution with shimmering colors and allows you to watch comfortably videos. The sound part has also been particularly neat and we like to listen to all kinds of music or radio. Finally, Echo Show 8 obviously allows you to control your home automation with your finger, eye and voice. Marketed at reasonable price of 129.99 €, Echo Show 8 should easily find a place in many homes. You will understand, we warmly recommend it!
Amazon Echo show 8
129.99€
Most
An ideal 8-inch format
Impeccable screen and image quality
A balanced and rather powerful sound
Voice and touch control
Web browsers: Silk and Firefox
The lessers
No ZigBee hub
No line input
The "Connected Home" screen still lacks speed ...