Update of 15/07/2020: note modified following 9 months of use.
- Alexa…what time is it ?
- It's 18:30 p.m.!
Well, it's time to start preparing dinner ... Like everyone else, we often cook in the evening and generally find a source of occupation to be patient. For example, coming to participate in a discussion on our Facebook community. Time can therefore pass very quickly and, in the end, this often leads to a questionable result: either the preparation is overcooked or it is burnt outright. Even thinking that we are going to watch the cooking, we easily let ourselves be absorbed by the conversation to forget the rest ...
Fortunately we now have Echo Wall Clock, an accessory that works in Bluetooth and is compatible with all devices Echo (but, be careful, not with a Fire TV Stick) which can provide us with significant help.
26,99€
In stock
August 11, 2022 5:01 a.m.
Not available
August 11, 2022 5:01 a.m.
Echo Wall Clock: a clock connected to Alexa !
Unboxing and presentation
Delivered in an all black square box and only mentioning " Amazon »Tone on tone on the cover, Echo Wall Clock is well wedged in a blue cardboard niche dedicated to devices from the now large Echo family.
Echo Wall Clock displays its roundness on a smooth black background while its hands, numbers, back and edges are all in white contrast. The status and notification diode is positioned above the number 6.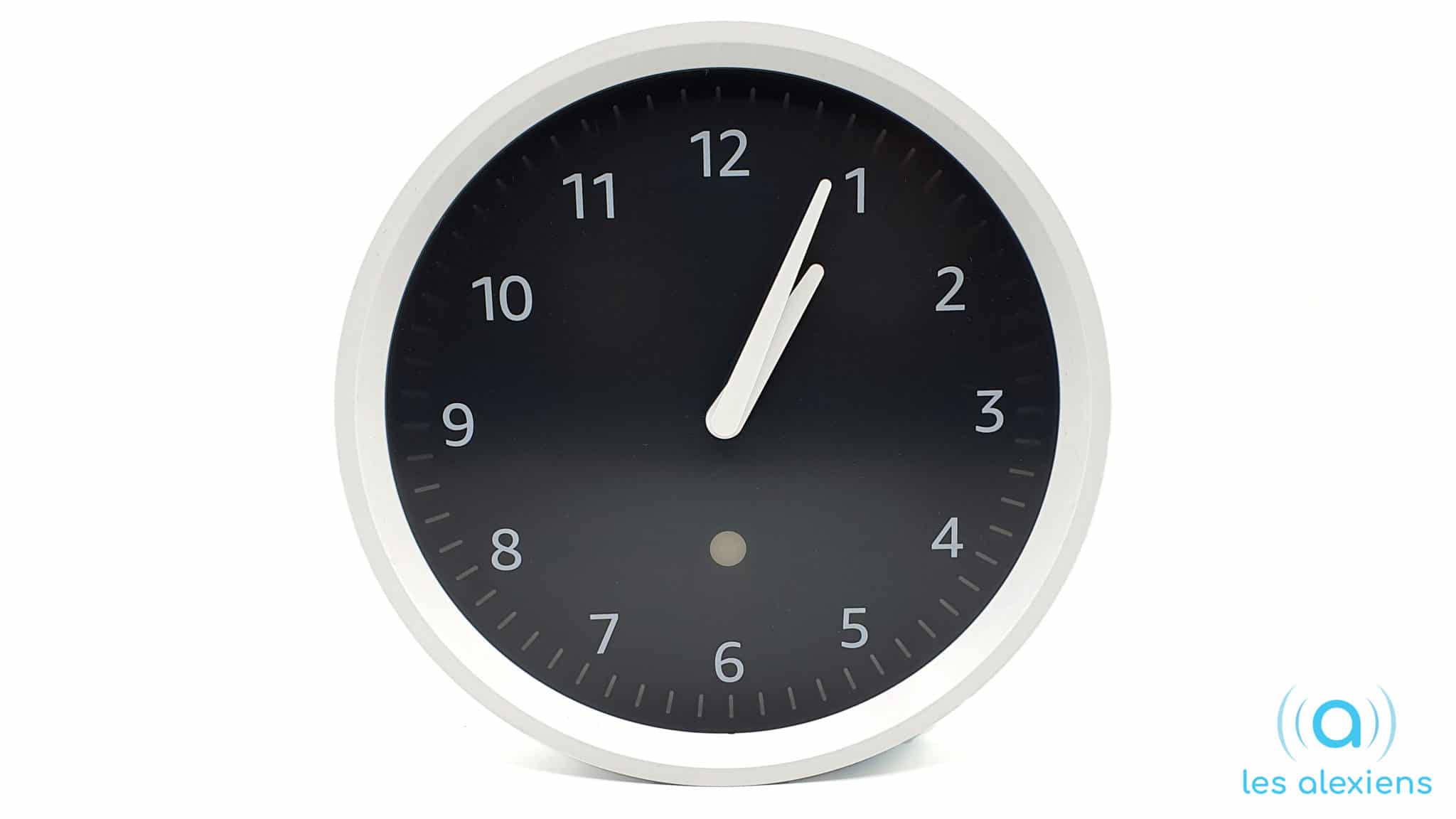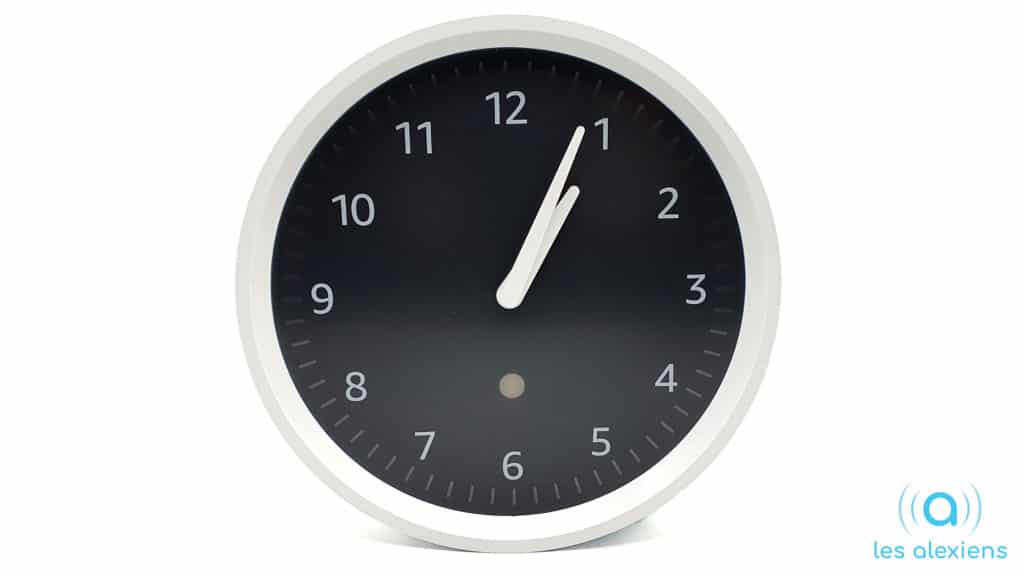 It comes with the four AA batteries necessary for its operation, but also with a plug and a screw to fix it. On the back, we therefore find the box to house the batteries, and positioned, next to the cover blue pairing button. Finally, the small instruction booklet for installation accompanies the set.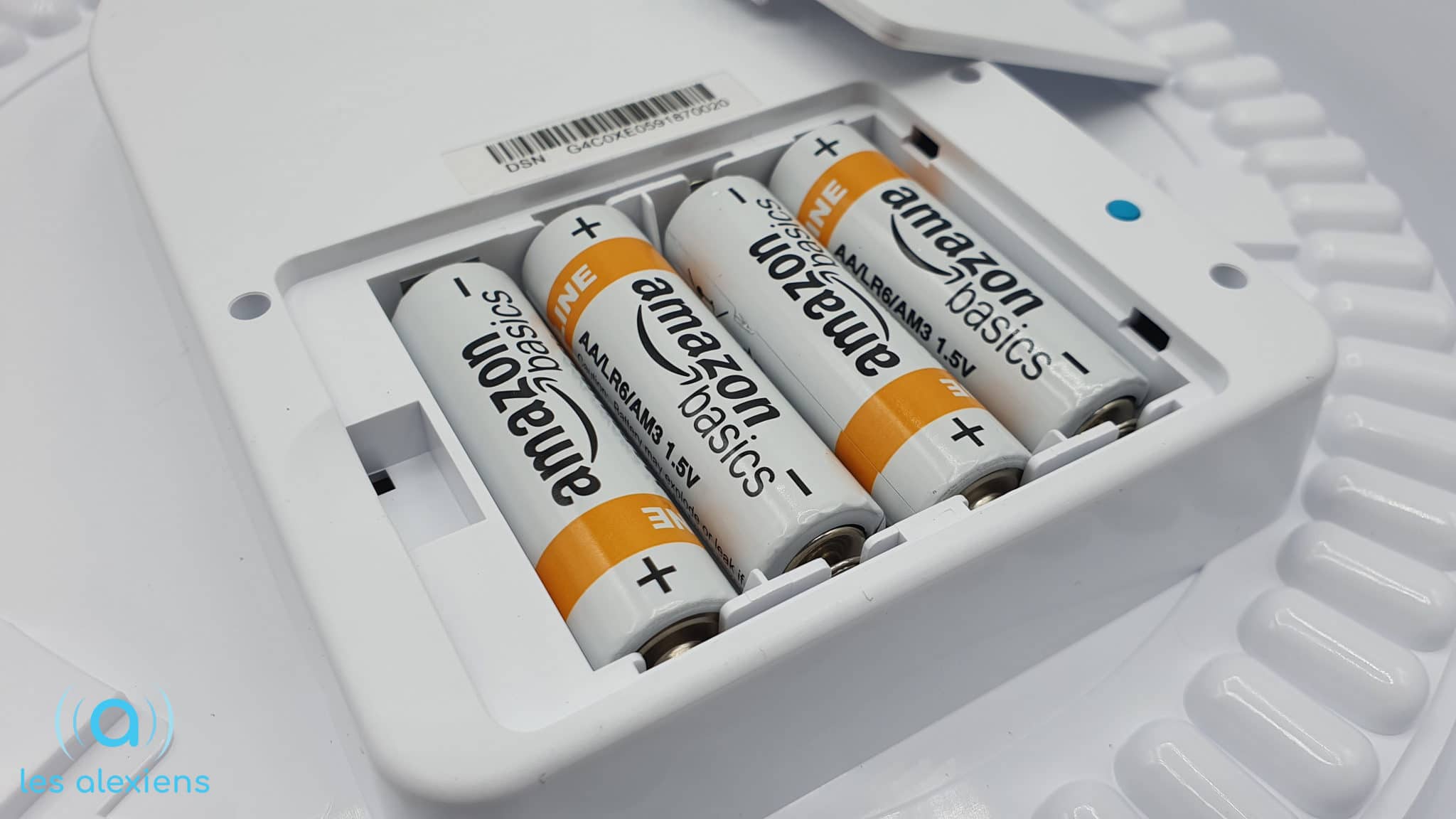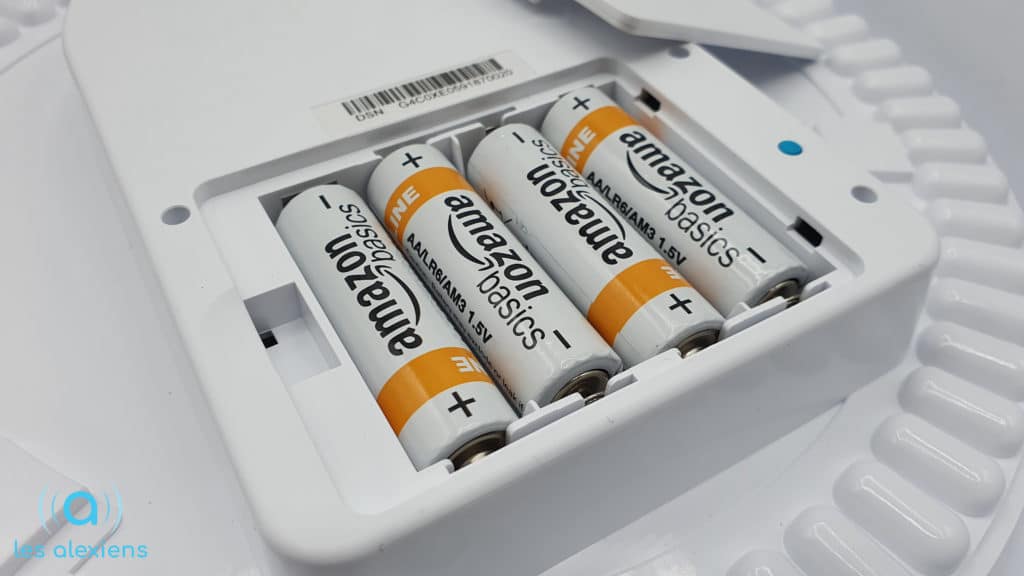 With a dimension of 25 centimeters in diameter for a weight of 380 grams, Echo Wall Clock is made of plastic. Of a frankly mediocre quality, it is neither frankly ugly, nor frankly beautiful ... Hopefully it will be practical!
That clock out that we already had for you presented in November 2019 is ideal to complete a device Amazon Echo not provided with screen like echo 3. Indeed, where a "simple" Echo can only tell you the effective end of the timer, Echo Wall Clock will also display the timers thanks to its LEDs. Sixty in number, these represent the countdown of the remaining seconds. But not that ... Before seeing this in more detail, let's see now his identity card.
Technical specifications
Dimensions:
254 x 254 x 41 mm
Weight:
380 grams.
Connectivity:
Bluetooth version 4.2
Echo Wall Clock: configuration with Alexa
Once the batteries are in place, a first observation: she is silent. No ticking will disturb our ears. For pair the clock with the Echo device to which it will be paired via Bluetooth, simply place it in a radius of 9 meters of it and say: « Alexa configure my Echo Wall Clock » and D'press the blue button on the back of the clock to start the operation.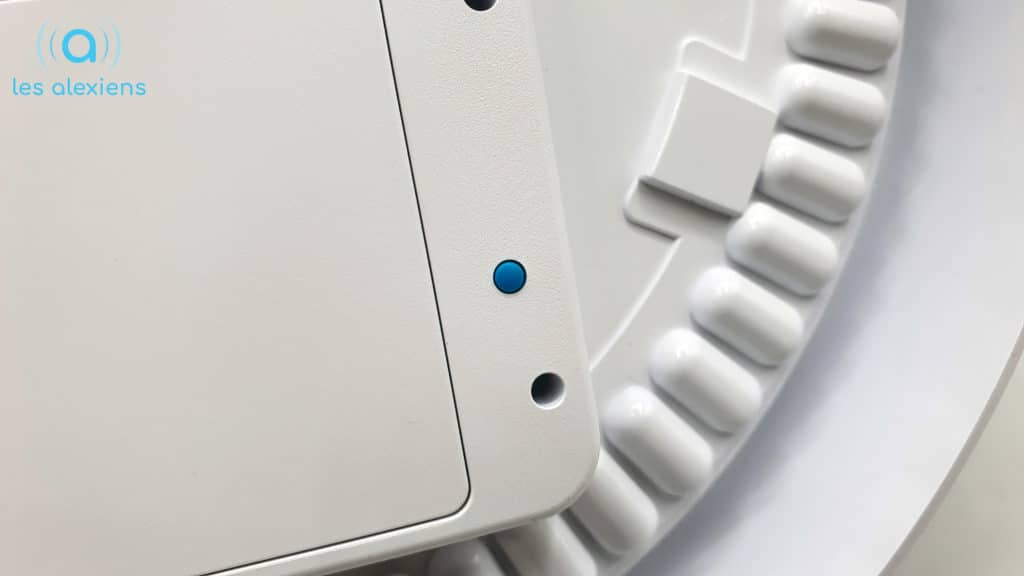 The device dedicated for pairing displays the procedure (here a Echo Show 5). Paired Echo Wall Clock with an Echo Show thus makes it possible to multiply the places where the timer is displayed and to be sure to always have an eye on the countdown.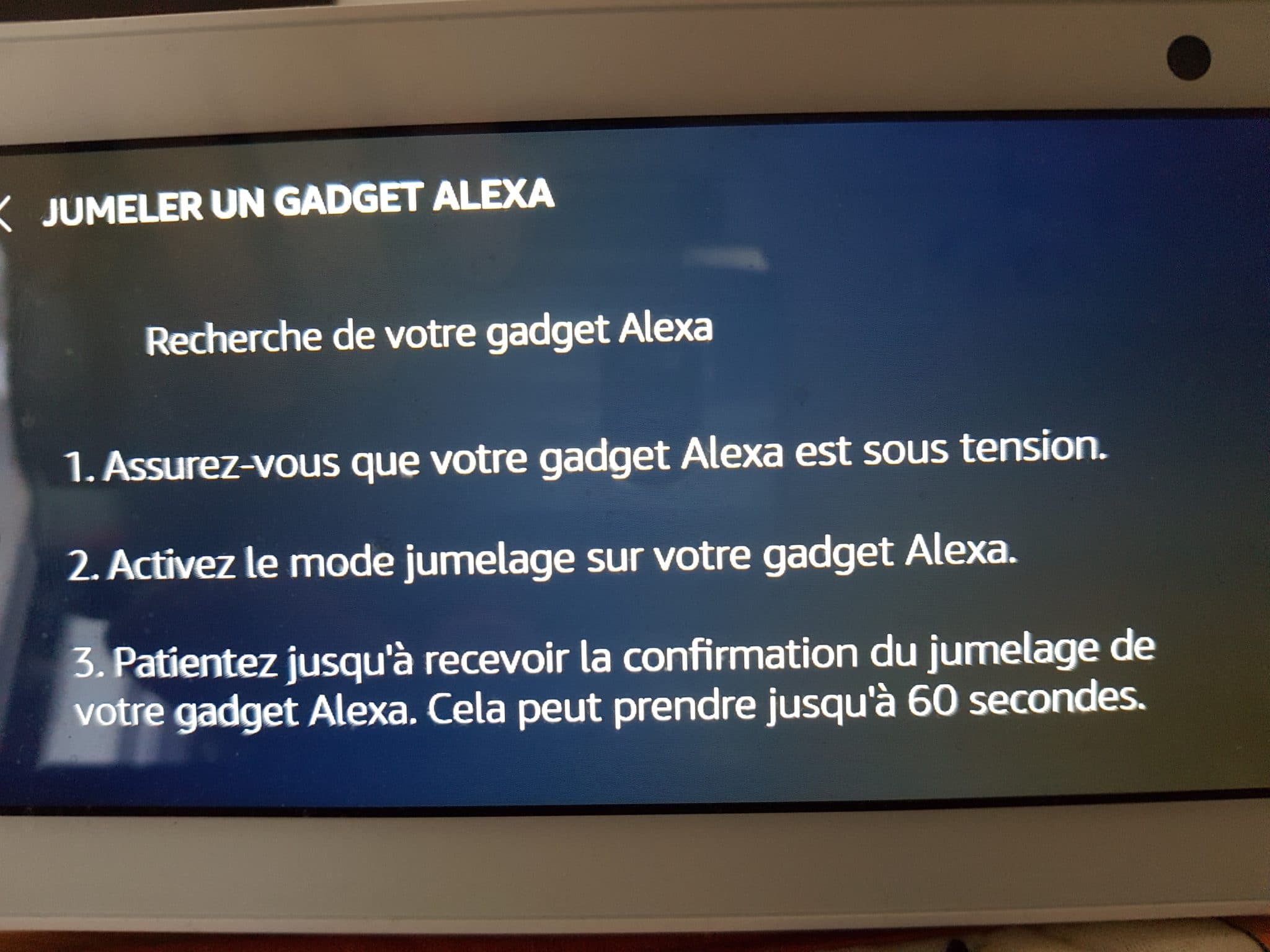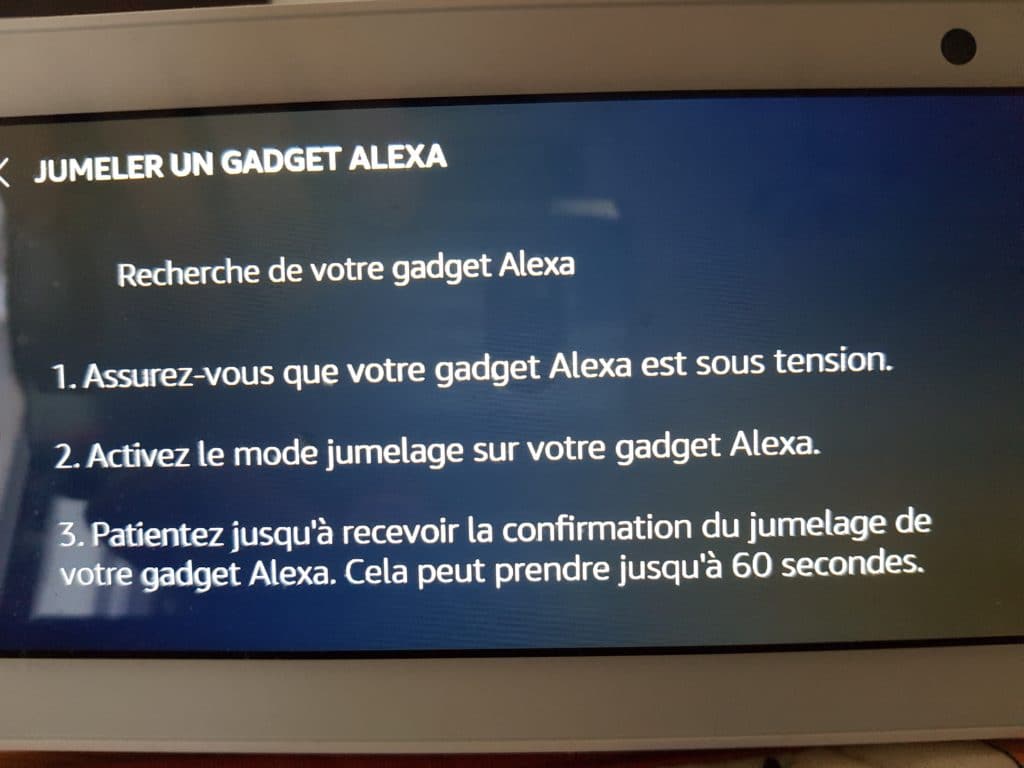 Pairing starts with the LED that turns orange like the ring on an Echo Dot or the scroll bar on the Echo Show.
When the pairing is done, our Echo Show displays the operation complete and our clock starts to synchronize to set the time.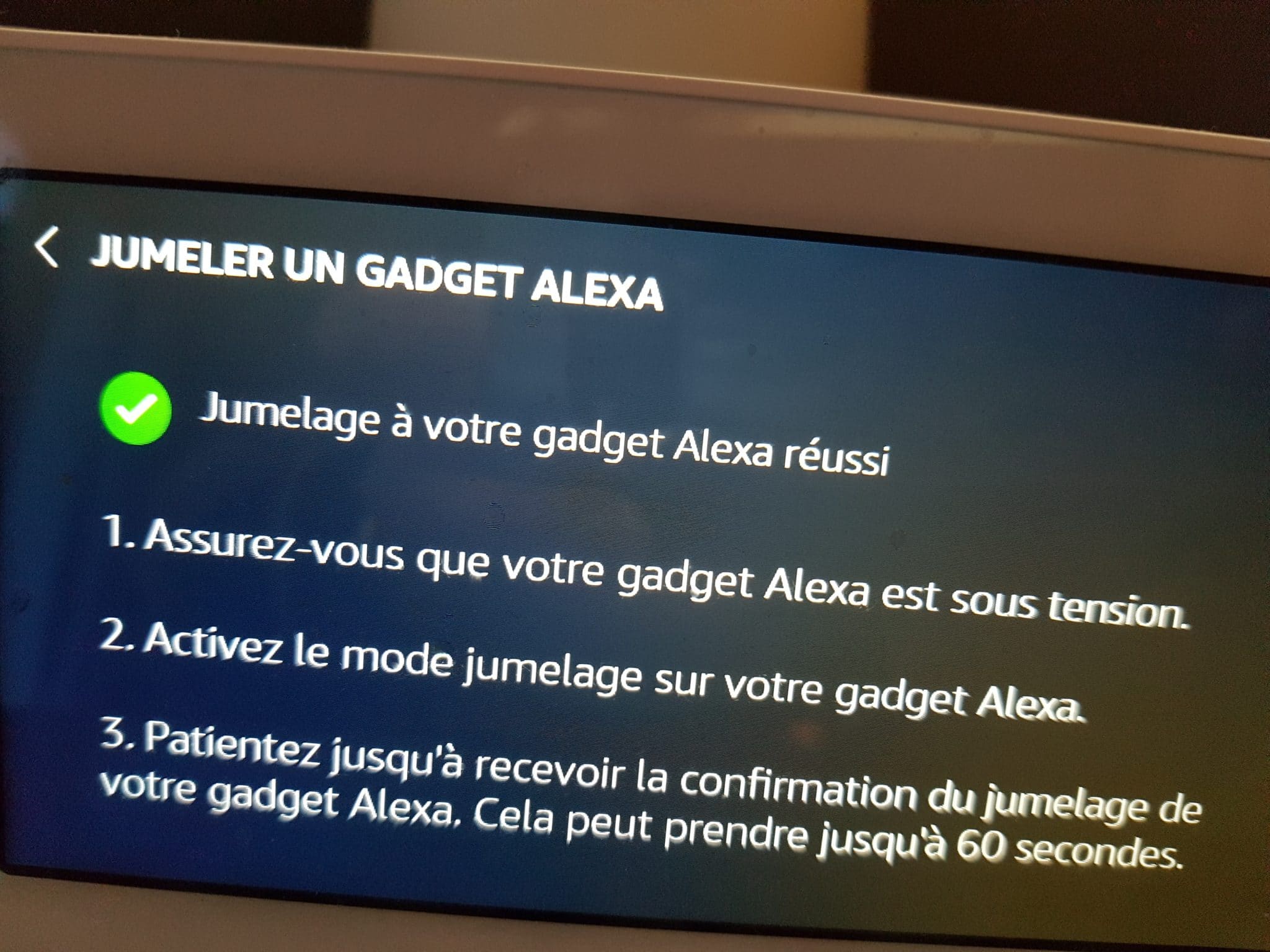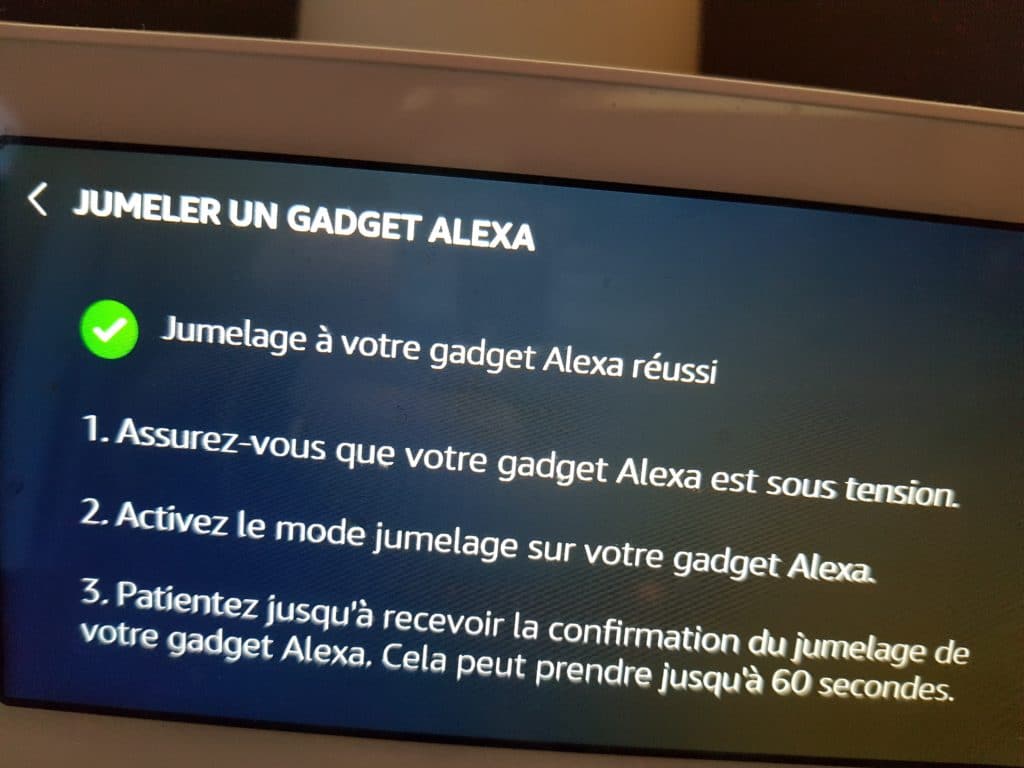 Be careful, choose carefully on which device the pairing must be carried out because it will be with the settings requested on this device that the clock will display the corresponding timer (s). A tip, if several devices are within the 9m zone to pick up the Bluetooth connection, the best before starting the pairing is to mute the microphones of the other devices.
Once the installation is complete, all you have to do is test!
Using the Echo Wall Clock:
Ask Alexa a timer is good, but being able to consult the remaining time from a distance is better! And what could be easier to consult a timer than to look at your clock? You just have to look up to see how many minutes or seconds are left. For our test, we programmed two timers with Alexa...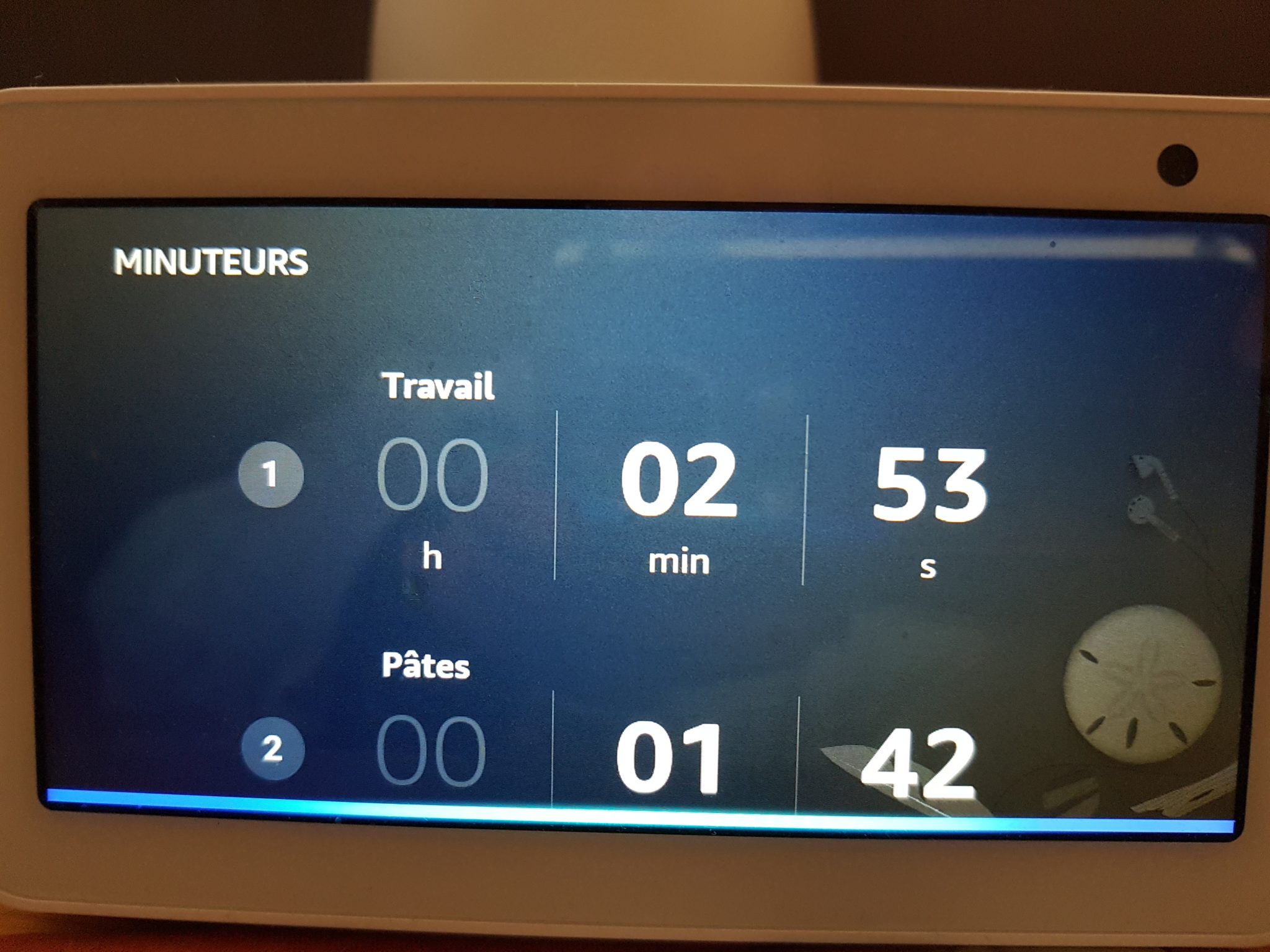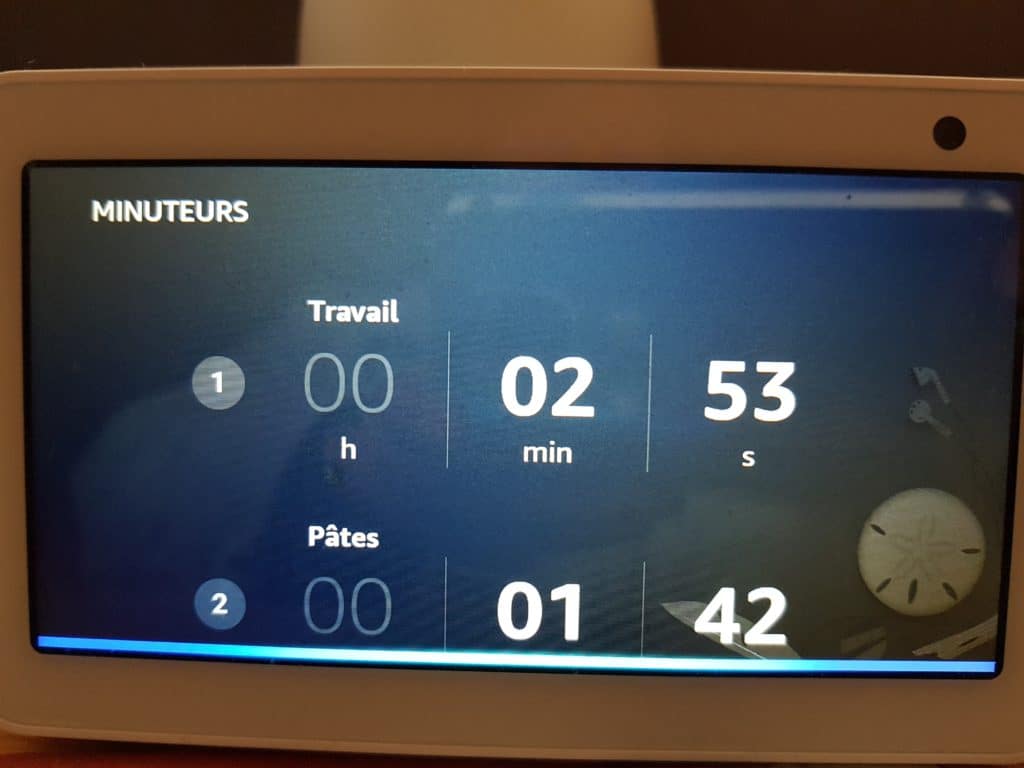 On our Echo Wall Clock, this results in the first two LEDs illuminated intensely. When the first of the timers enters its last minute, the 60 LEDs light up but less strongly than those indicating the timer of each one and mark the final countdown. The timer remains active for the second timing and the same procedure is started for the last minute. Thus a 10 min programming will see an intense LED displayed on the 2 symbolizing about ten minutes then for the last 60 seconds all the LEDs will be displayed to disappear over the remaining time. We tested up to three simultaneous programming without any problem.
Our Echo Wall Clock is also able to notify us of notifications.
But that's not all. Our clock is also able to inform us of notifications. Thus the reception of a message, for example, will make the diode flash in yellow. It will be the same for notificationsAmazon Shopping, if of course you have enabled this setting.
Note, finally, that Echo Wall Clock do not go back in Alexa not strictly speaking a device Alexa but works in pairing but note that you are required to apparatus Amazon Echo.
26,99€
In stock
August 11, 2022 5:01 a.m.
Not available
August 11, 2022 5:01 a.m.
In conclusion, Echo Wall Clock is a clock with an ordinary design, unfortunately of rather average quality, but which is nevertheless very quiet. It is also very practical on a daily basis because it can do much more than tell the time, displaying the timers of the Echo device to which it is attached and other notifications. Alexa. A 29.99 €, Amazon Frankly could have done better in terms of quality or perhaps marketed it at half the price, it must be avowed, but it remains a nice product. In short, it is good, but not great. Useless, but essential for all Alexians! Be careful, plan on accumulators or you won't end up ruining yourself in batteries ...
.
Amazon Echo Wall Clock - Compatible pendulum clock Alexa
29.99€