No, unfortunately we will not present to you today the new Echo Buds designed by Amazon in partnership with Bose, but one of the sound specialist's bestsellers: the Bose QuietComfort 35 II. A high-end, circum-aural audio headset that is, of course, fully compatible Alexa thanks to its button dedicated to voice assistants.
Bose QuietComfort 35 II: headphones Alexa with a pleasant design
Unboxing and presentation
The reputation of Bose is well established and the brand is no exception to the rule by delivering its Hi-Fi headphones in neat packaging. Sober, its gray cardboard presents on the front a visual of the product, the famous logo of the brand and the reference of the product. It's simple, efficient, clean.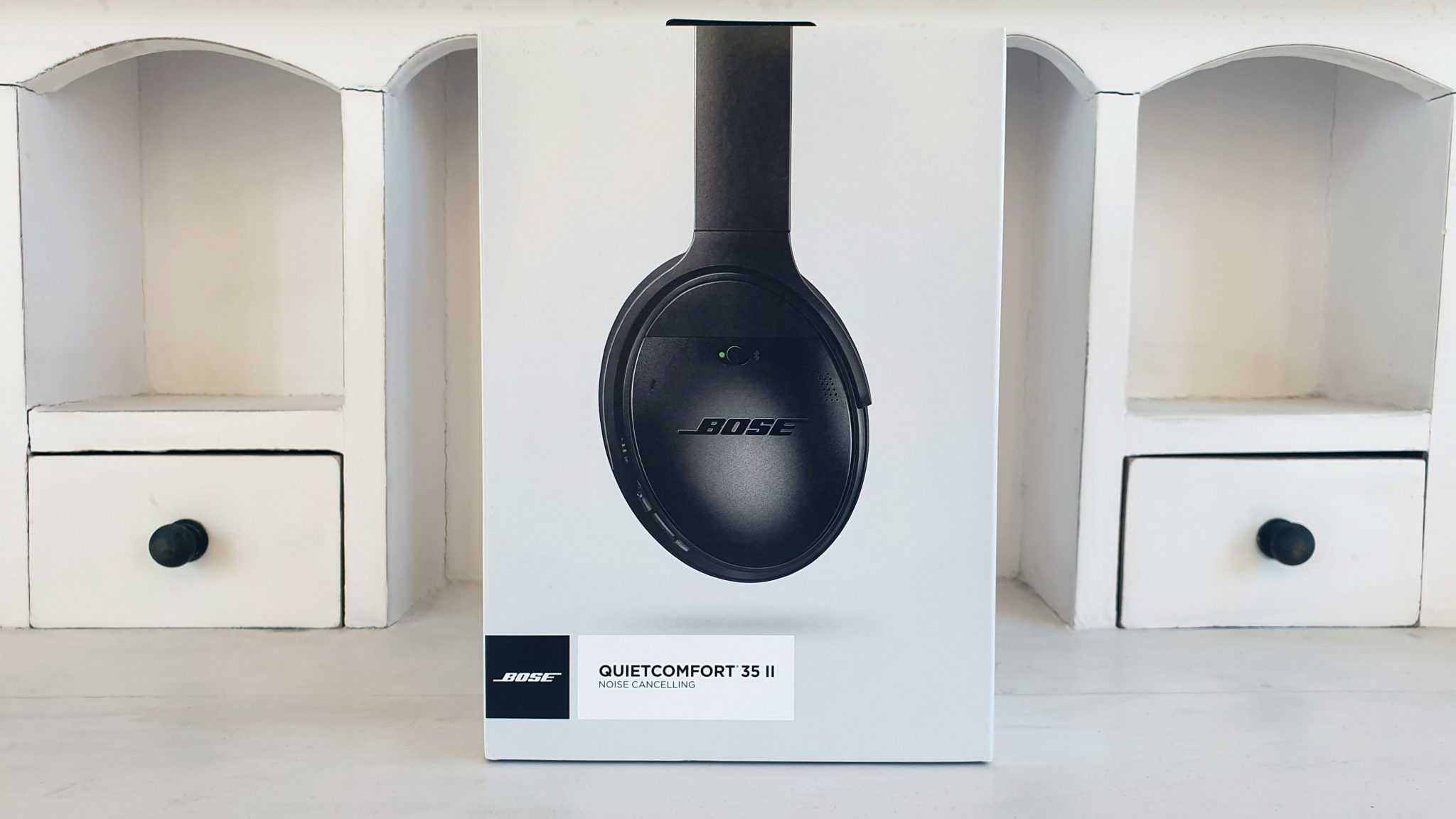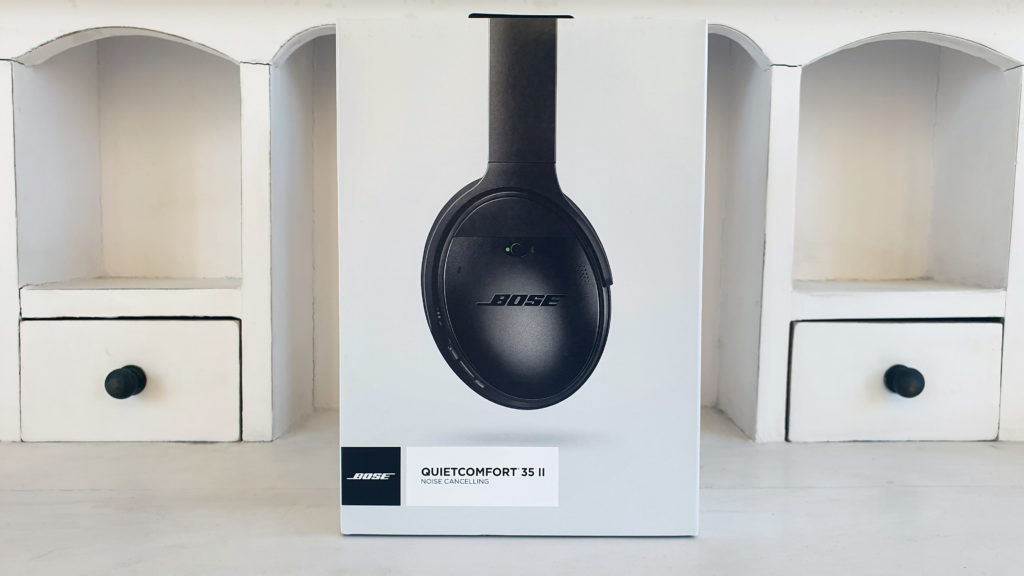 At the back, Bose remains in line, but still displays the logos Bluetooth, Android, iPhone / iPad / iPod (hey, does it still exist?), But also Google Assistant and above all Amazon Alexa. Some information comes to decorate the whole and Bose promises us exceptional sound, wireless, with a noise reduction ultra efficient, a microphone system also equipped with noise reduction for clear calls, additional features thanks to the app Bose Connect, a product optimized for Alexa byAmazon and the Google Assistant, and up to 20 hours of battery life per charge and 40 hours wired. An entire program!
Inside, we discover a storage case closed by a zipper in which hides, we hope, the famous Bose headphones ... This one has a mesh at the back allows you to store accessories or possibly put documents there, such as the instructions if you are ever afraid of forgetting how to use this little gem.
The open storage cover, we find, fortunately the QC 35 II, folded very compactly. Bose has provided a second storage space to store the few accessories provided, but what is most striking is that the case that will allow us to transport it safely only measures 15 21 cm x cm and does that 5 cm thick.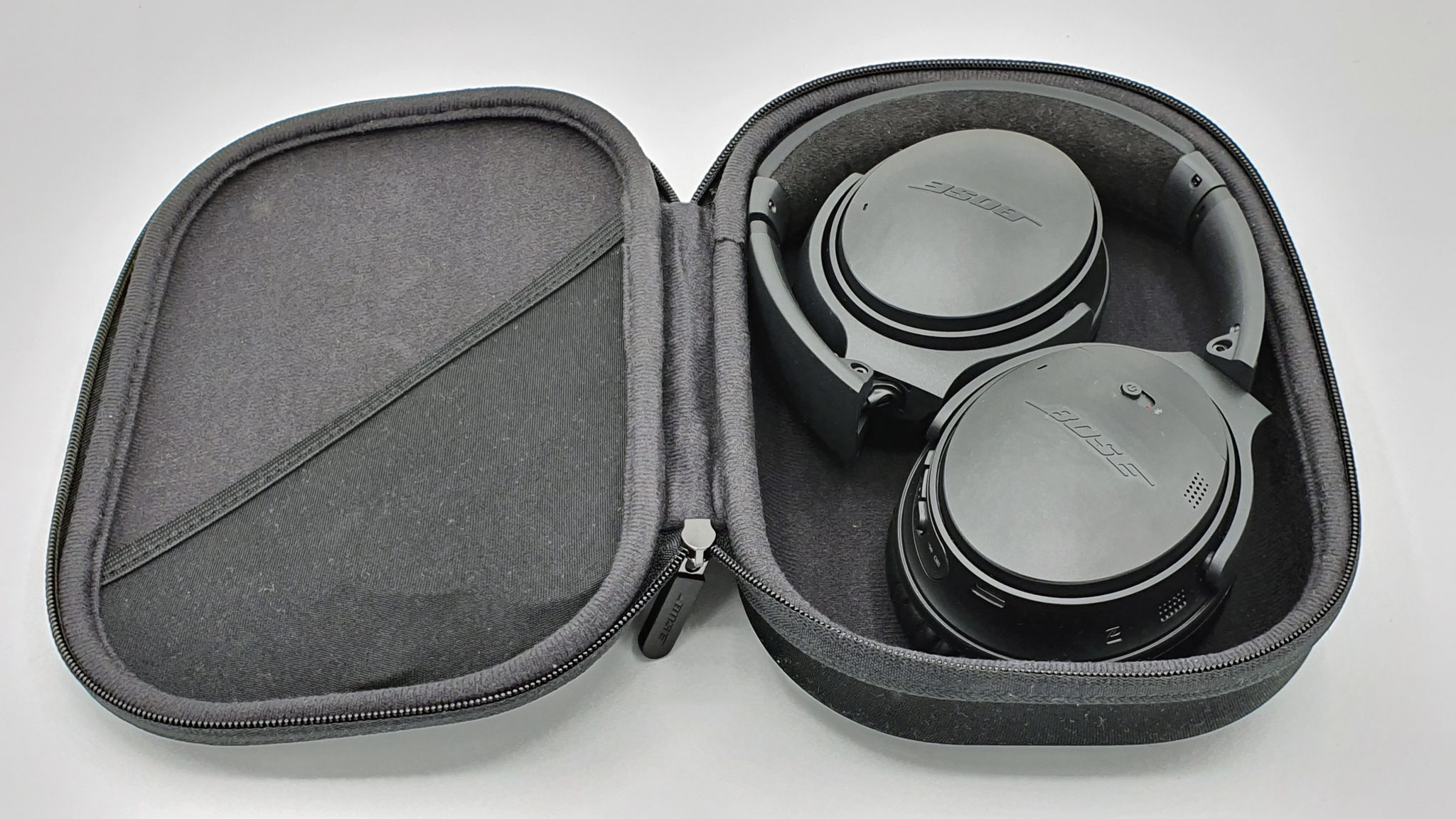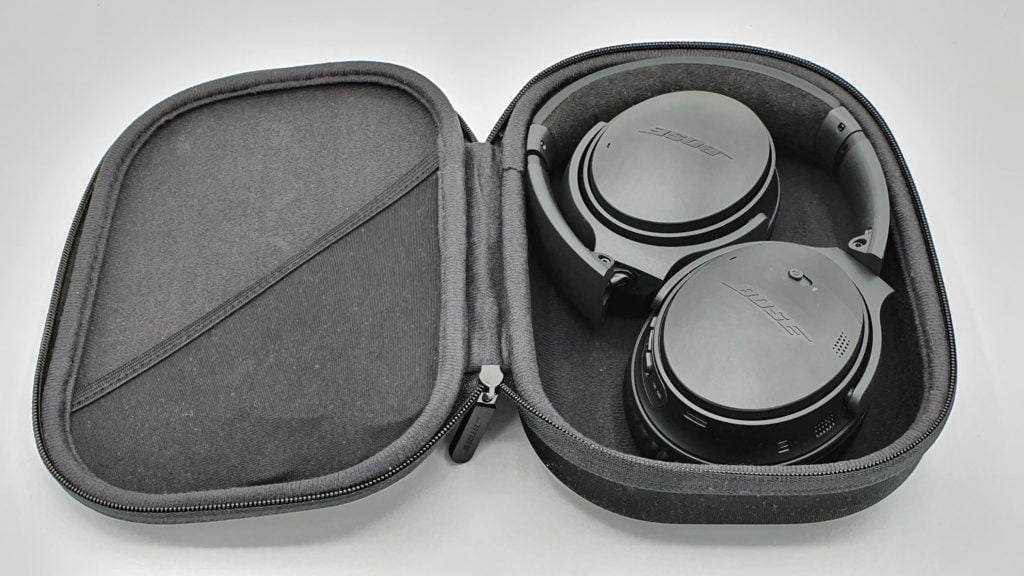 Indeed, the Bose QC35 II can be folded in several ways to be transportable very easily. Quality hinges offer multiple positions and will suit a DJ as well as a traveler wishing a headset that does not take up too much space in his cabin baggage. The Bose quality is there, the design although classic is pleasant, and the helmet very light since it weighs only 240 grams. It will therefore not be tiring to wear a priori, this is a good point.
The pads are as soft as you want and comfortably enclose the ear. It is indeed a closed-back, circum-aural headphones which therefore includes the ears to perfectly isolate itself from the outside. In addition, it is quite reasonable in size and you will not feel like you are walking around with a pair of speakers in your ears since it only measures 18cm (H) x 17cm (W) x 8,1cm (D). You can hardly do less for a helmet of this type.
The interior is covered with elegant striped black fabric where two large R and L indicate the direction of wearing the helmet. Well, you still have to blame it to put it upside down, as this helmet has a natural ergonomics, but you never know ...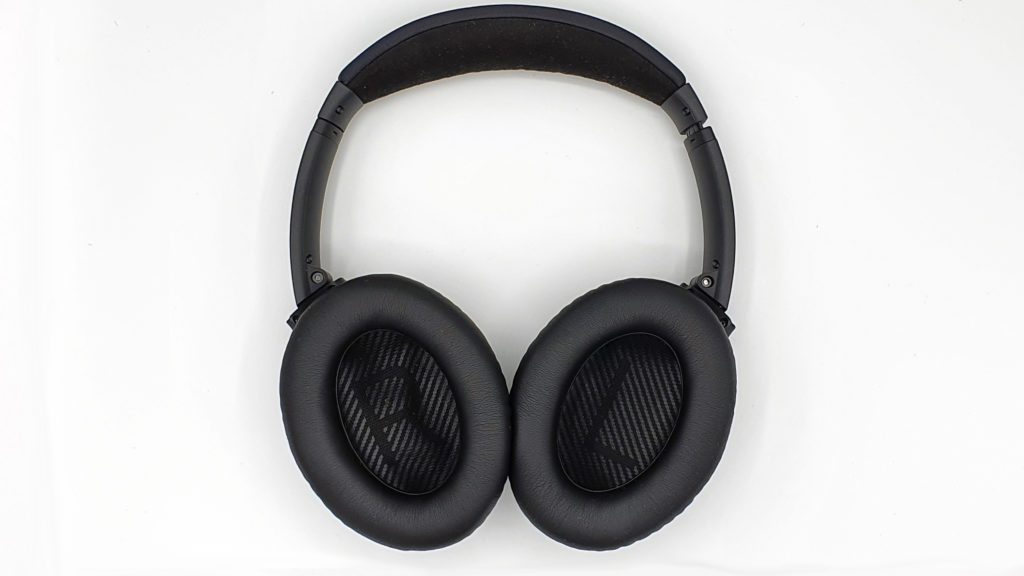 Connections such as buttons do not suffer from the slightest play and they fall in a really natural way under the thumbs when worn. On the right you find the bluetooh power and pairing button on the outside and around the volume + / volume - / action buttons (play, pause, take a call, etc.). The ergonomics are definitely very well thought out and we have never groped to find them.
The assembly is also of quality, we expected no less from Bose, and the QuietComfort 35 II is very comfortable to wear. It is also a beautiful product with quality plastics and exemplary finishes. The brand logo is nicely printed in relief in the mass, tone on tone, making it very discreet and not at all have you seen me.
Two microphones are placed on the right earpiece, one on the edge to capture the sound of the voice, the other facing outward to capture ambient noises. You will also notice the presence of the logo NFC (Near Field Communication) which allows a Bluetooth connection to be established by simply putting the two devices in contact. This can come in handy.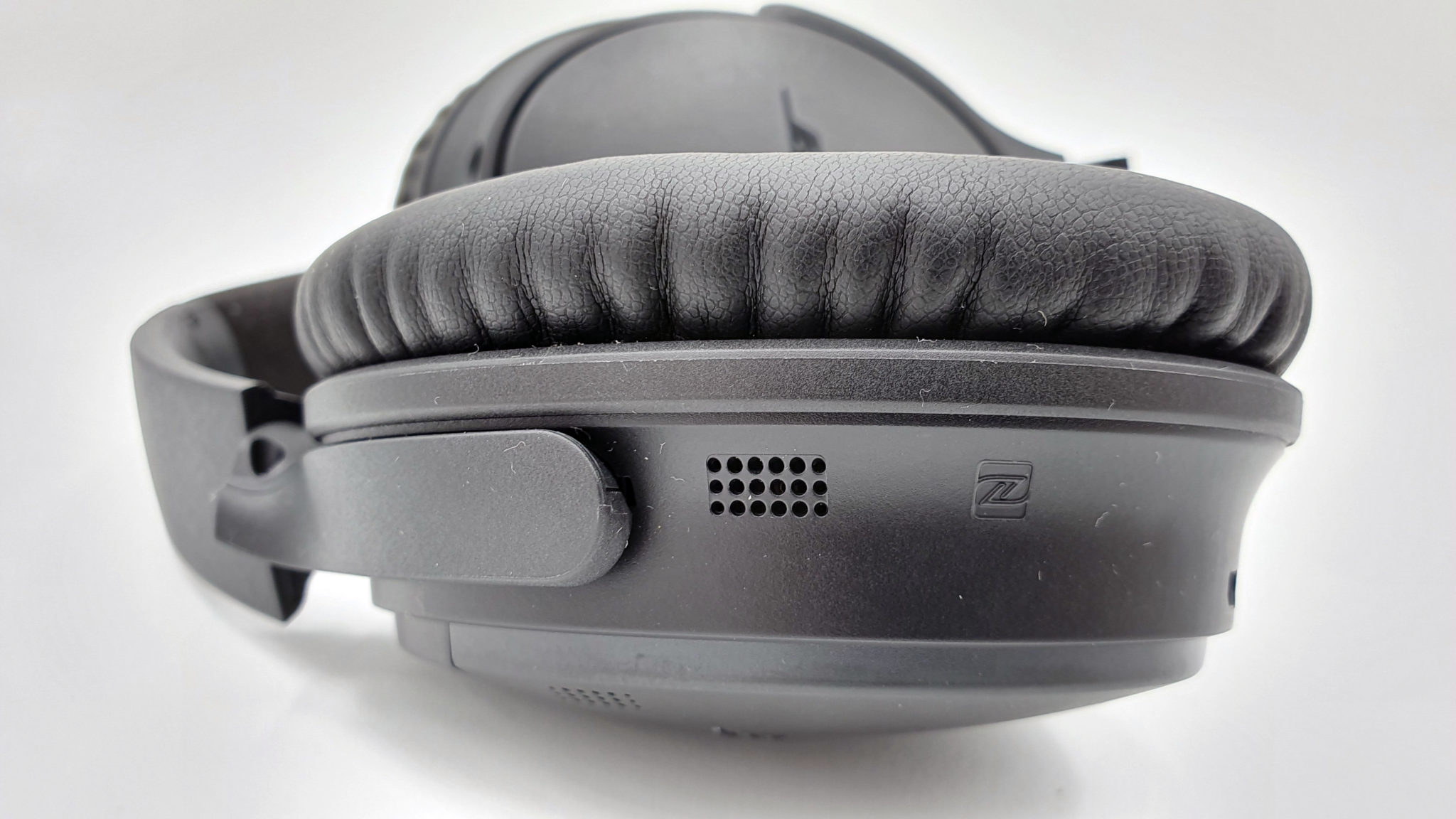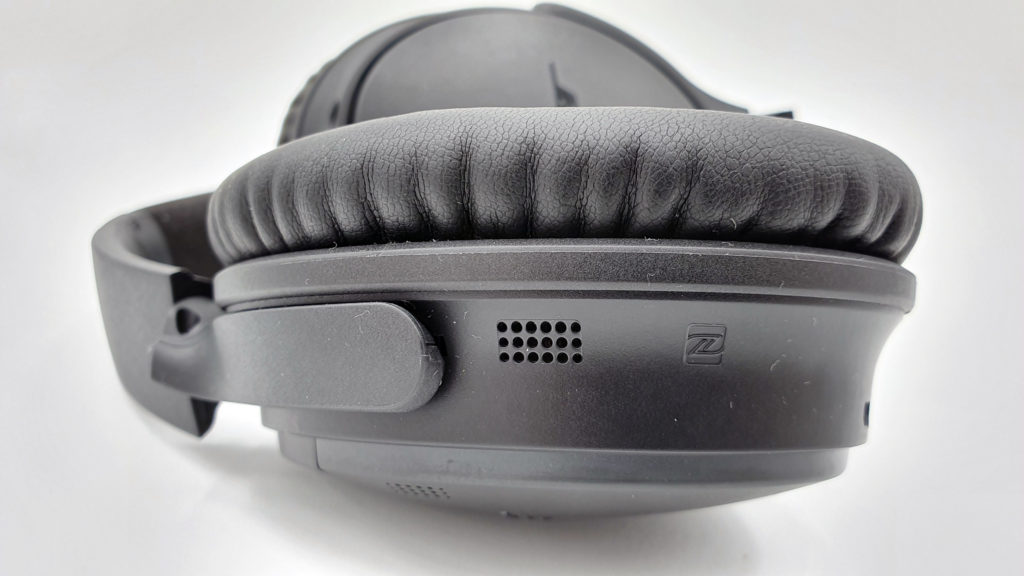 The headphones are supplied with only two accessories: a USB A to micro-USB A cable with an impressive length of 30.5 cm including connectors and a 2.5 mm to 3.5 mm jack cable equally impressive with its 120 cm. Certainly, a helmet of this type is intended to be mobile, but we would still have appreciated having a little more length… Hopefully Bose has not cut back on the quality as well as on the cabling!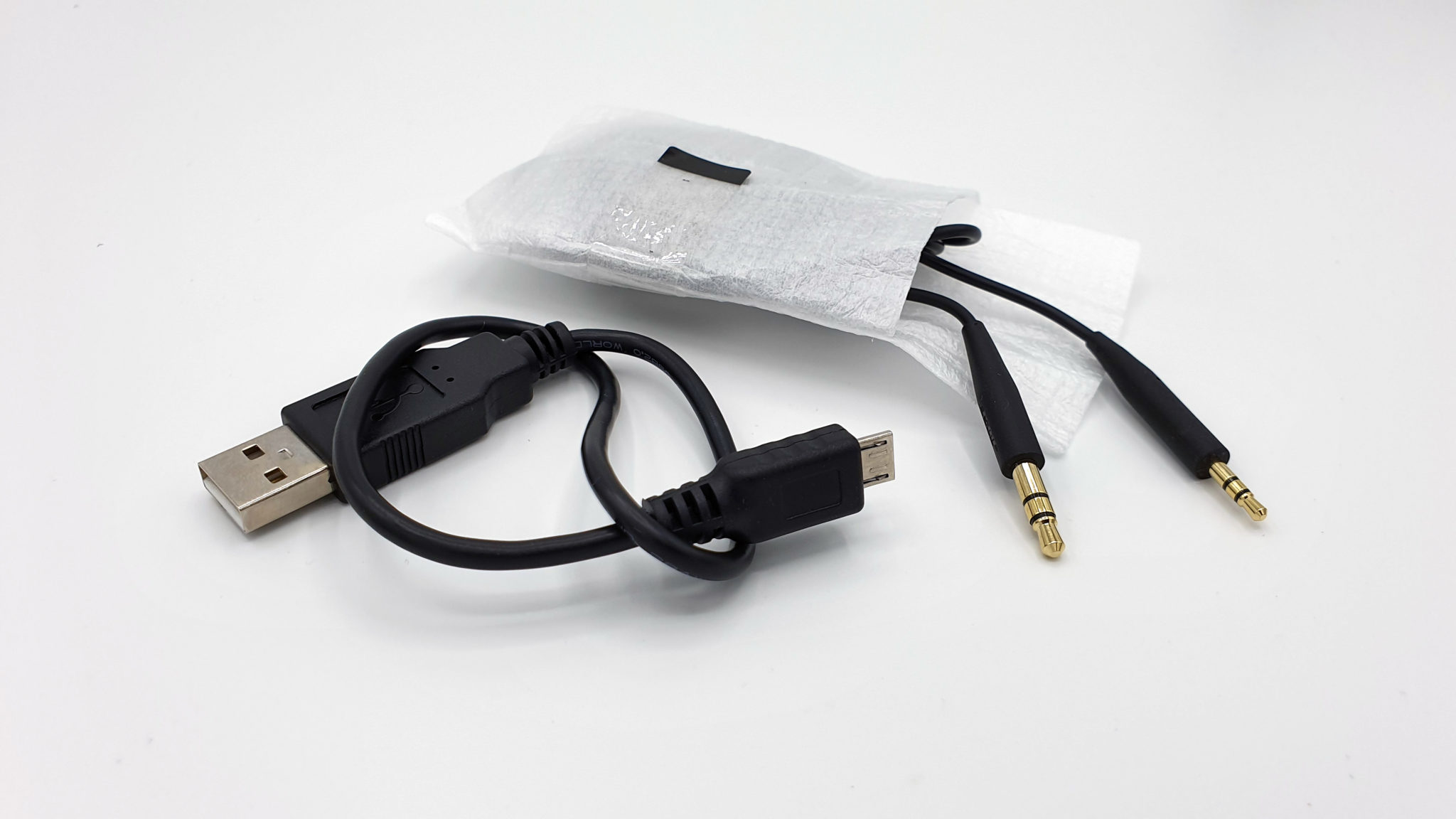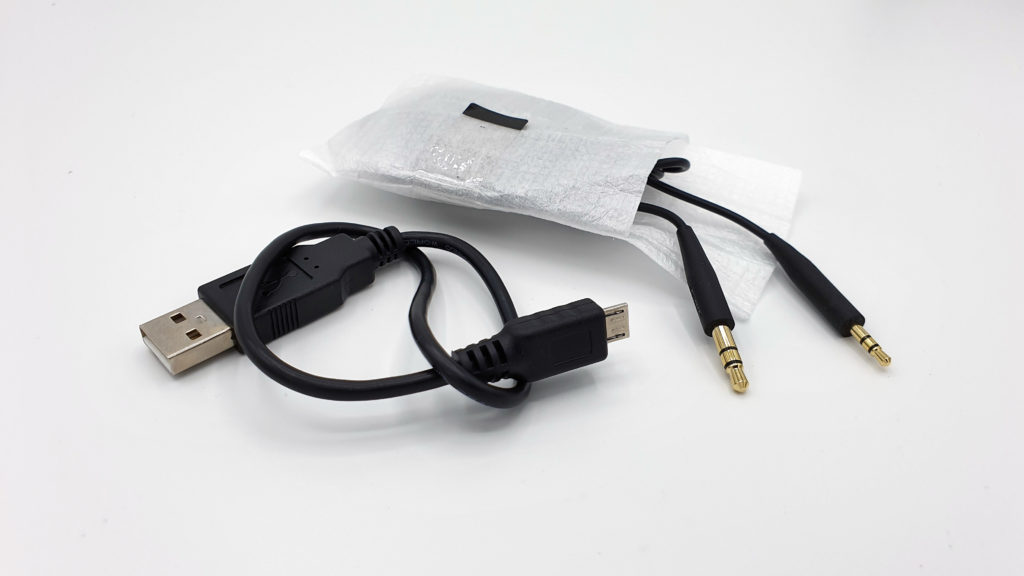 But before checking this point, let's take a look at its technical sheet.
Technical specifications
Brand
Angry
Model
QuietComfort 35 II
Type
Closed over-ear headphones
Connectivity
Bluetooth, NFC and 2.5 mm jack
Bluetooth
4.2 HFPs
Weight
240 grams
Accessories
storage bag, 2.5 mm to 3.5 mm jack cable (120 cm) and micro-USB to USB-A cable (30.5 cm)
Bose QC35 II: sound quality and ease of use with Alexa
Installation with Bose Connect
Like most connected objects, the Bose QC35II has its own application to take full advantage of its features. In this case, it is Bose Connect, available on iOS et Android.
The app allows you to:
Connect multiple mobile devices and switch between them with a simple gesture
Configure the Action key with Alexa or Google Assistant
Personalize your helmet by giving it a name,
Select the language of the voice guide or deactivate the voice guide messages, change the ambient noise reduction mode or set the sleep timer.
Access the product help pages.
Download and install updates.
Installing the Bose QC35 II headphones
Configure a voice assistant on Bose QC35 II:
Click on "Carry out the adjustment",
Accept the opening of theapplication Alexa,
Select " Carry on ",
Accept thebackground use of the application Alexa,
Choose your helmet Bose QC35 II.
Accept the different permissions.
That's all! You can now talk to Alexa, launch skills, take advantage of your
Subscription Amazon Music
, trigger
routines Alexa easily
, send messages or even make drop-in calls by simply pressing the button on the back of the left earpiece.
Our opinion on the Bose QuietComfort 35 II
Although all tastes are in nature, the Bose QC35 II is a very nice headphone for us. It features a classic, elegant and compact design that will suit everyone. Its very soft ear cups make it particularly comfortable. The headband is quickly forgotten and the helmet can be worn for hours without discomfort.
Autonomy level, no complaints, since it offers the 20 hours of use in Bluetooth with active noise reduction promised by Bose (more than 21 hours with reduction to the maximum, 24 hours without, but the autonomy clearly varies according to the quality of the Bluetooth connection ...), and more than 40 hours wired (with just noise reduction activated). Obviously, you can also use it once its battery is discharged without having to use active noise reduction. The Bose QC35 II therefore offers a good autonomy capable of satisfying mobile users. Its full recharge takes almost two hours, but you can benefit from several autonomy by recharging it for 15 minutes.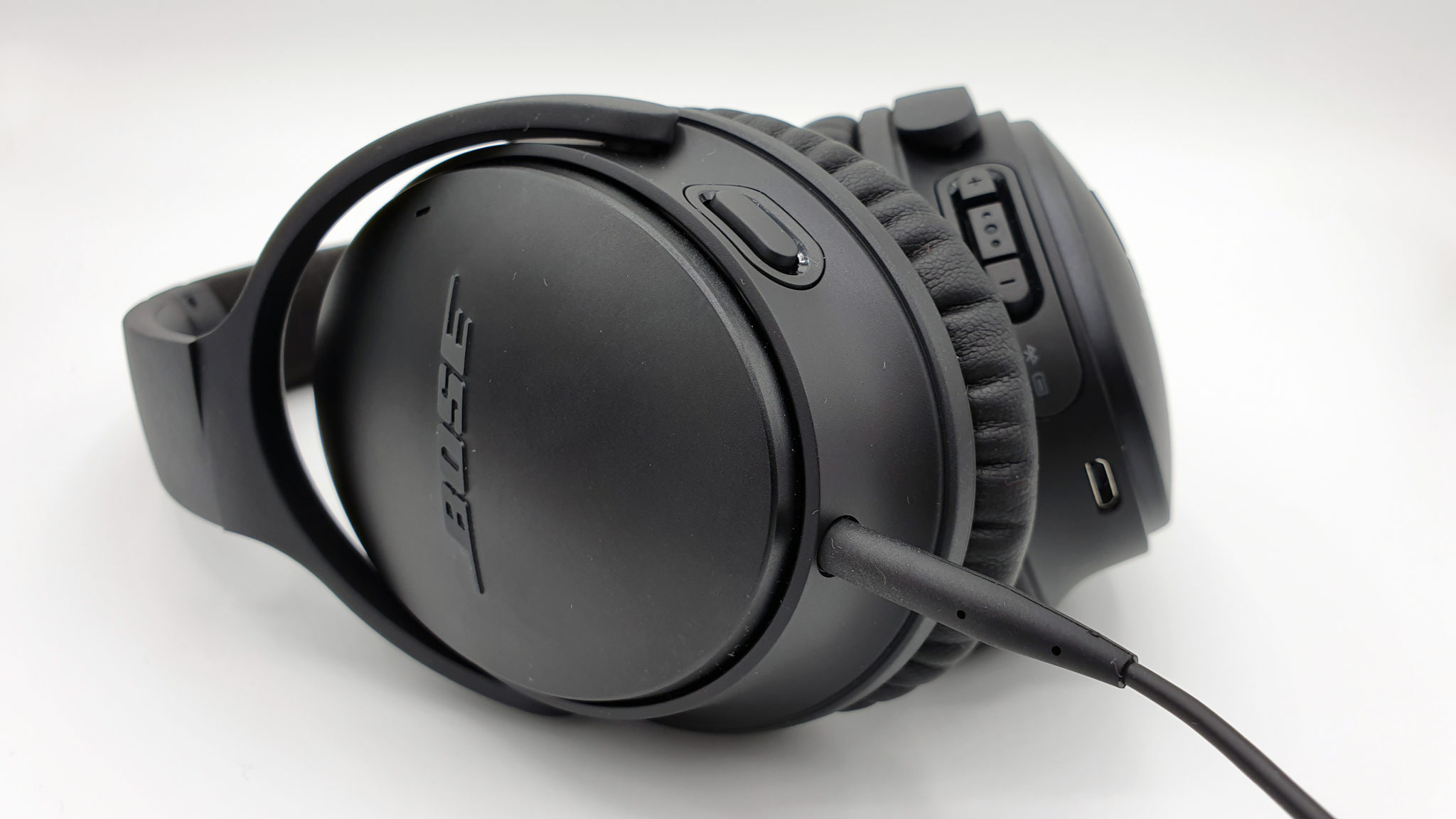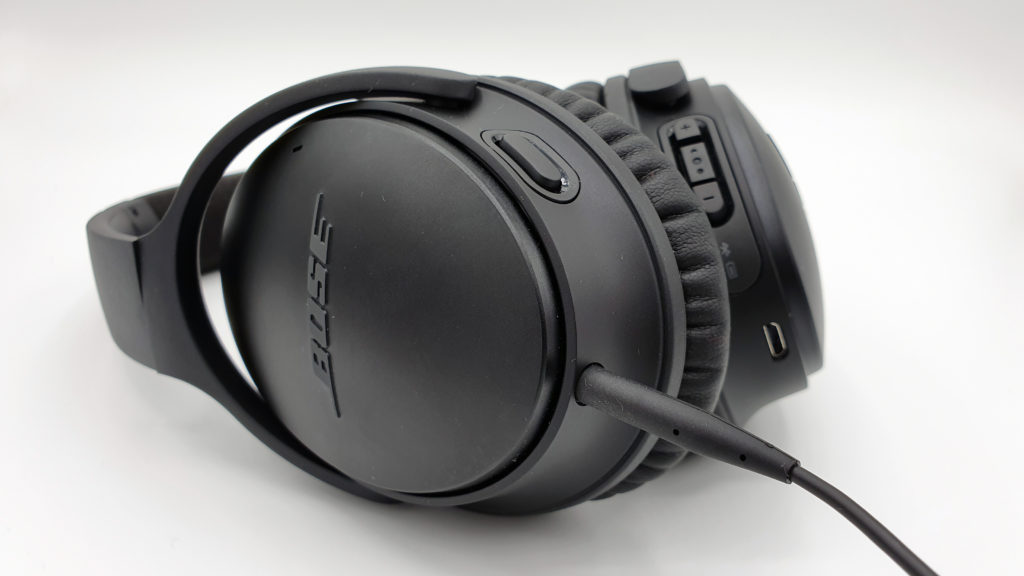 Regarding the sound quality, Bose makes a great copy and does not disappoint. The brand's sound signature is there, very homogeneous and faithful, although we can note a slight accentuation of the bass and sometimes a small drop in the midrange, especially on classical music. A very demanding music, it must be admitted, where the mids are sometimes a little crushed by the bass, as is most of the time the case with headphones with active noise reduction. Nothing dramatic though, the general balance is excellent on most musical styles. The QC35 II is notably much more at ease on jazz, blues, folk or even rock where it excels, with a very clear rendering of voices, dynamic and well-balanced bass, balanced mids and precise highs. . Even at full volume, the Bose QuietComfort 35 II never saturates, does not distort sounds in Bluetooth and its sound insulation is simply excellent.
Regarding the sound quality, Bose makes an excellent copy and does not disappoint. The Alexians
Indeed, you will not have to worry about disturbing your neighbors with a frenzied rock, nor to be it by the ambient noise on a very calm music so much. its active noise reduction is effective. Its passive isolation excels in the mids and treble, a little less in the bass, but the active reduction will overcome it without difficulty if necessary. In short, the Bose QuietComfort 35 II is a perfect ally of public transport or noisy workspaces.. Be careful, however, if you use it while walking in town, because wearing such a headset can be dangerous as it isolates from ambient noise. We advise you to deactivate the active reduction in this case, because even to the sound of your favorite music, it would be unfortunate to be hit by a bus or any other vehicle.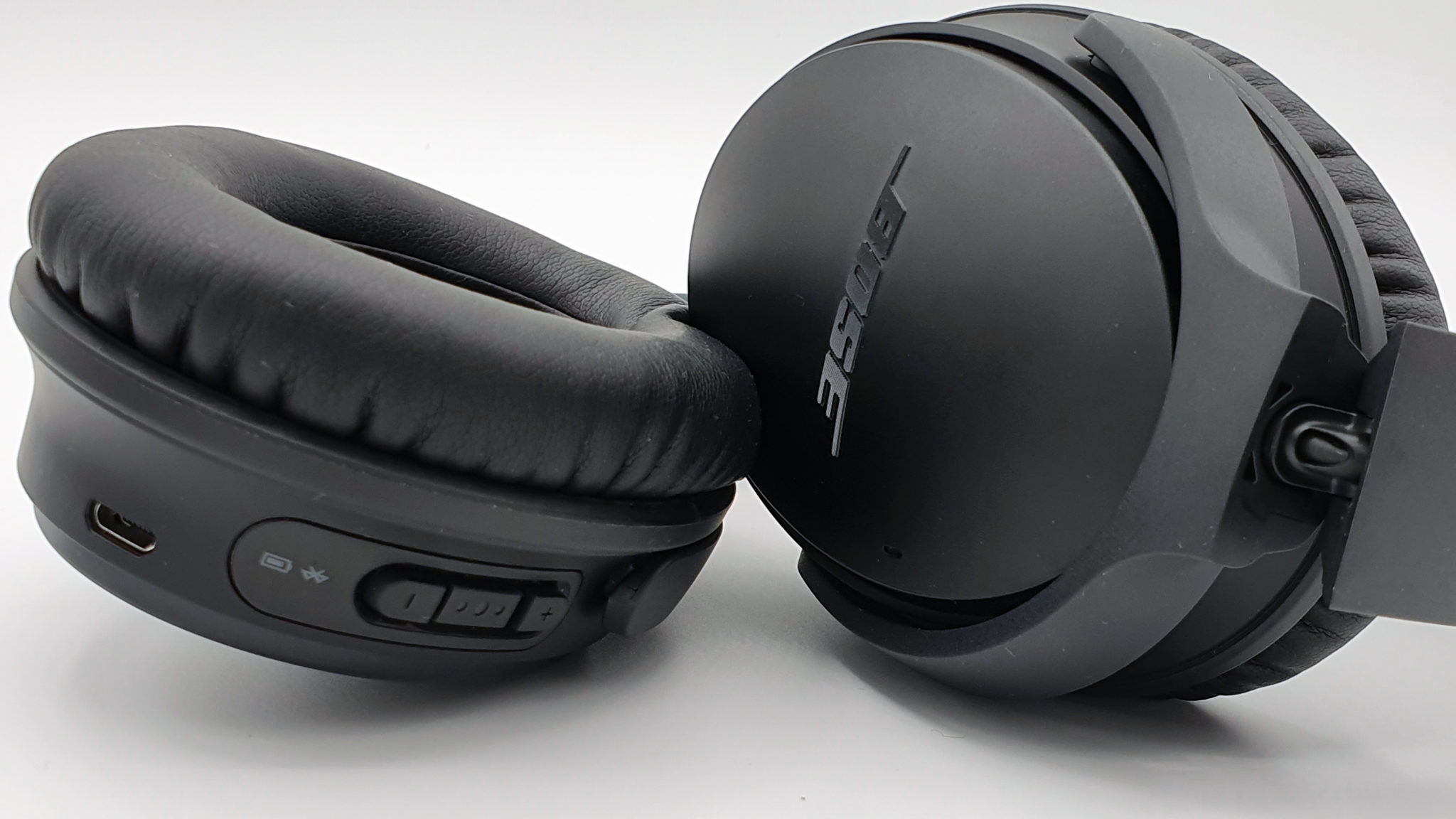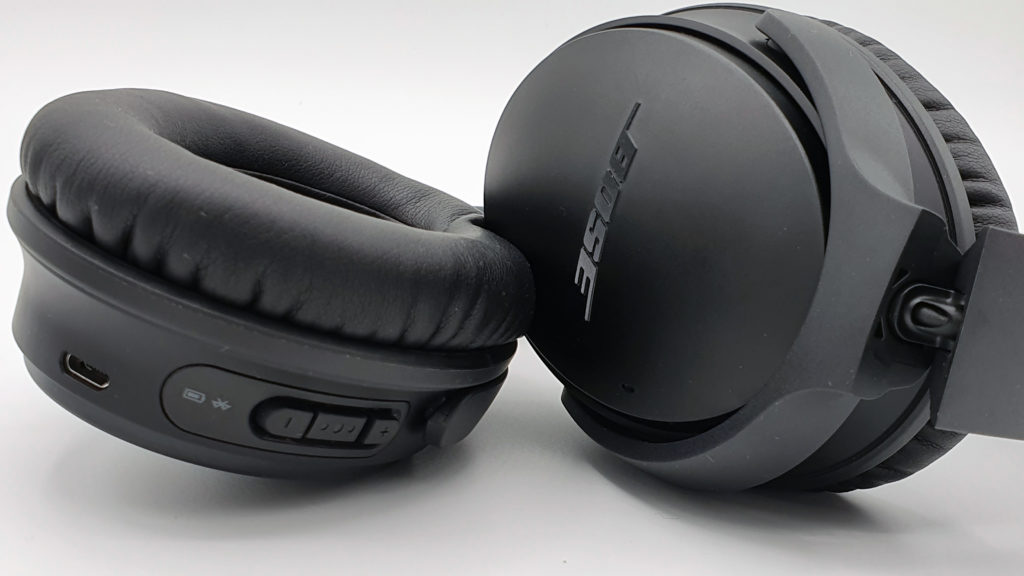 As for calls, it is also very pleasant to use. You will hear your interlocutor perfectly whatever the conditions, and the latter should logically understand you just as well unless you are in the middle of the wind or in a particularly noisy environment. Tested on the seafront with a fairly sustained offshore wind, our correspondent heard us a priori not very loud, but this is a somewhat special case.
The Bose QC35 II headphones fully deserve its logo " Alexa integrated "as its integration is perfect. The Alexians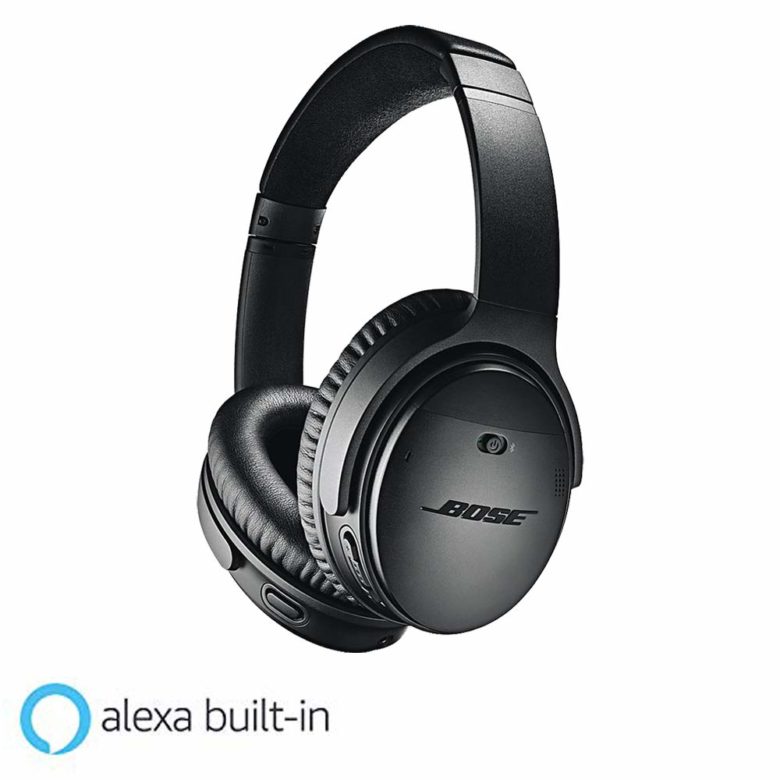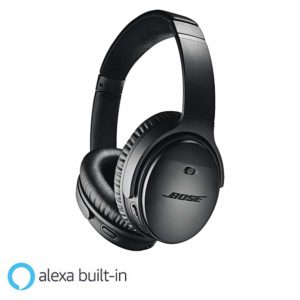 Alexa is frankly very responsive and pleasant to use, the Bose QC35 II headphones therefore fully deserve their logo " Alexa integrated "as its integration is perfect.
However, if we have not noticed during communications, a Bluetooth latency sometimes appears in video playback and the Bose QuietComfort 35 is not always ideal for following a series or a movie. At a test on Fire TV Stick 4K, for example, it had an unfortunate tendency to pick up and generate a little latency. Does this come from the power of the latter's Bluetooth, interference from its remote control or other devices? It is quite possible because we did not observe this on a Echo Show 2 for example… It is therefore better to avoid straying too far from the broadcast source, otherwise a delay between sound and image may occur. If this can be resolved by playing on the Bluetooth button, it is still a bit of a pain. And don't count on its cable, which is much too short, unless you buy a longer one (we opted for a 3 meter jack cable)… If you want to use it for watching TV, we therefore advise you to invest in a powerful Bluetooth transmitter.
In conclusion, although perfectible,
the Bose QuietComfort 35 II headphones are more than convincing
. It easily holds its rank of
high-end helmet
and offers a
remarkable ease of use
. Although its audio response is very slightly focused on the bass, it is nonetheless a very satisfying headphone for music lovers of all stripes and it particularly excels on rock. Users ofAlexa will appreciate the
flawless responsiveness
of their voice assistant and the possibility of being able to use it as a
Echo device
to listen to their favorite music. A bit expensive, since that sold
279 € on Amazon. Fr
, it is nevertheless well worth the expense especially as its worthy competitors are now more expensive ...
168,89€
379,95€
In stock
Refurbished from 4
August 13, 2022 14:50 a.m.
209,00€
379,95€
In stock
Refurbished from 6
August 13, 2022 14:50 a.m.
Not available
August 13, 2022 14:50 a.m.
Bose QuietComfort QC 35 II
NS. 279 €
Most
Pleasant design and appreciable compactness
Really very comfortable
Efficient active noise reduction
Faithful and balanced audio
Significant autonomy
The lessers
Sometimes a little latency in Bluetooth
Cable too thin and short
2.5 mm jack connector on the headphones
Voice of assistant Bose absolutely horrible (but who cares a little)