It's been over a week since summer has gone, despite us signing the arrival of the first chills, and for the unlucky ones, the first frosts. If the Indian summer, or the summer of Saint-Martin, still allows us to live beautiful, soft and sunny days, the rigors of winter should unfortunately soon be felt, and with them, the traditional recovery. route of our heating installations thanks to our… connected thermostats!
Since the beginning of the year, Alexa settles down in our cottages and gradually invites us to automate our homes. And the heating will not escape it. This is why Les Alexiens decided to look into the hot topic of connected thermostats and present you several solutions that can make your life easier and, above all, save you money. Switching off the heating when it is no longer useful, adjusting the temperature by one degree, or even creating scenarios has never been easier! You just have to ask Alexa which today is able to communicate with many devices. Let's take stock of a few references that we have selected for this first file.
Sowee: station connected with Alexa integrated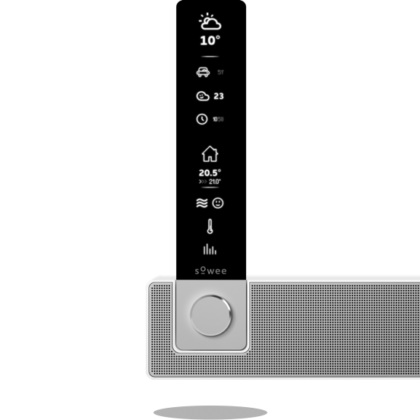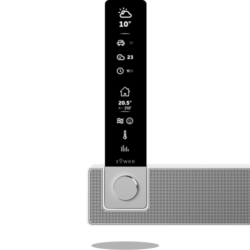 This is probably the most complete equipment, on paper, of our selection: the Sowee connected station, an EDF subsidiary, presents itself as a real control center for your energy consumption (electricity and gas). Because, yes, this station allows you to manage your consumption of gas AND electricity thanks to an intelligent system of sensors to be placed directly on your meter. In theory, anyway.
Only integrated station / thermostat Amazon Alexa, it promises a sound part developed by the famous French company of Cabasse sound system. Sadly, it looks like she doesn't live up to her promises. Our attempt to test the Sowee station with Demooz ended in a bitter failure, we cannot recommend it enough with regard to user feedback, the majority of them having encountered difficulties with this product obviously still unsuccessful. last year.
In short, made in France with Alexa! Cocoricoooooooooo! Or not. Hopefully Sowee will review his copy and that we can revise our judgment soon. Because, for the moment, these stations are not good connected thermostats.
This station will allow you to:
Control your heating "Simply", as you wish with your finger or your voice, thanks to a thermostat and a heating schedule,

Control your heating, to the nearest euro, by simulating your gas budget for the month based on your heating temperatures,

Measuring air quality in your home thanks to a diagnosis of your CO2 and humidity levels, in the form of information, advice, alerts in numbers and smileys,

Keep a direct eye on your gas and electricity consumption (when it works).
A disappointing product in its second generation, with a poor sound quality, and microphones that struggle to hear the controls Alexa. Since many users have trouble with it, we recommend that you exercise the utmost caution, or even avoid it altogether. Requires a Sowee subscription to benefit from consumption monitoring.
Price: 379 € approximately (rental possible with Sowee subscription)
Compatibility: iOS, Android and full integration ofAmazon Alexa
Skill Alexa : Sowee on Amazon. Fr
343,41€
In stock
2 new from € 342,94
August 13, 2022 14:51 a.m.
Tado ° V3 + thermostat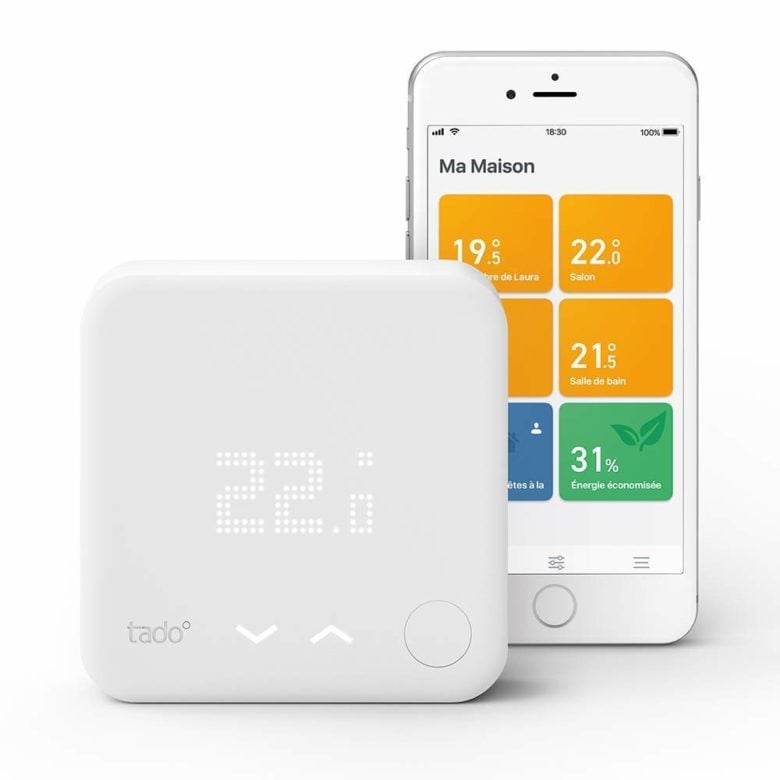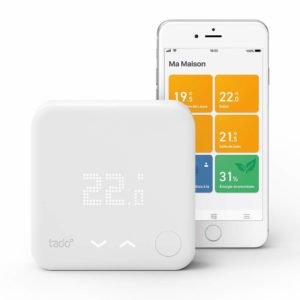 Room thermostat Very popular with Alexians, the Tado ° V3 + allows you to control your heating from anywhere with a very well designed application. Thanks to geolocation (subscription required at € 2.99 / month), its system for detecting open windows and its adaptation to the local weather, tado ° makes it possible to maintain a climate that is both healthy (recommendations on the freshness and quality of the 'air) and always at the right temperature.
Perfectly integrated with many home automation solutions, the connected Tado ° thermostat can be controlled by voice with Amazon Alexa, Apple HomeKit, Google Assistant and IFTTT. Benefiting from a wide compatibility with 95% of central heating systems, it allows you to fully automate your heating and also offers thermostatic heads to finely control the temperature of each room.
Deutsche Qualität has struck again and this thermostat has gradually established itself as one of the best solutions on the connected thermostats market! If you need a lot of thermostatic heads, this is the best value for money.
Price: 95 € approximately
Compatibility: iOS and Android, Amazon Alexa, Google Assistant, HomeKit, IFTTT ...
Skill Alexa : Tado thermostat on Amazon. Fr
115,76€
139,99€
In stock
2 new from € 115,66
August 13, 2022 14:51 a.m.
177,00€
In stock
5 new from € 177,00
August 13, 2022 14:51 a.m.
Thermostat Tado ° Air conditioning V3 +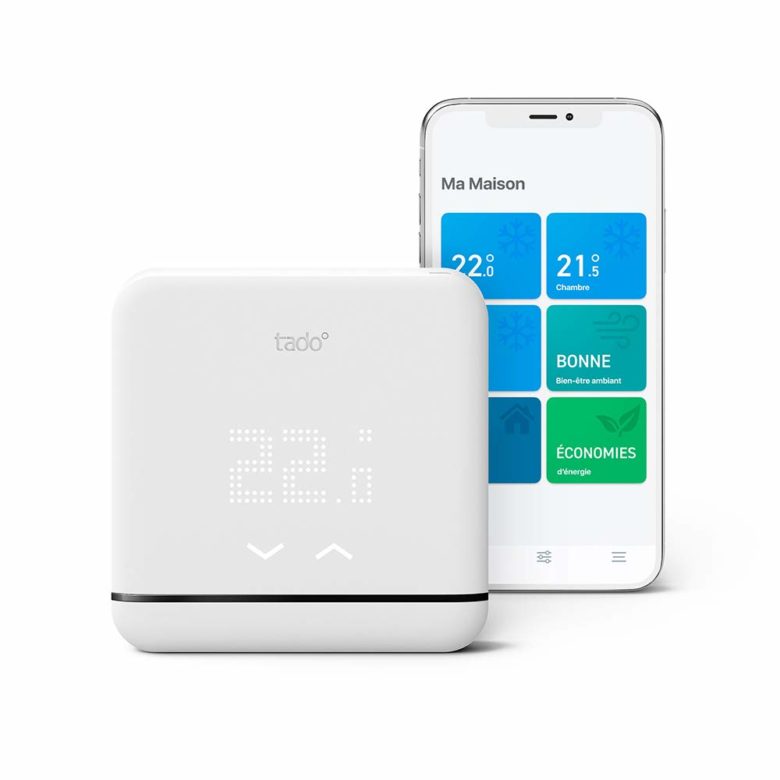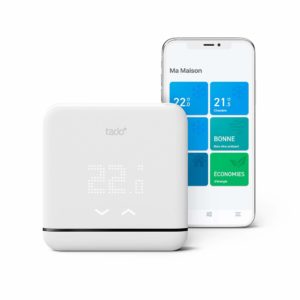 Tado ° also offers a connected and intelligent control thermostat for air conditioning. A real climate assistant, it guarantees total comfort thanks to an intuitive application for smartphones and many home automation integrations allowing you to control your air conditioner from anywhere. Enjoy, summer and winter, the ideal room temperature at all times: a living room refreshed in advance when you come home and at the ideal temperature in your room for a good night's sleep. Or only when someone is at home, because Tado ° uses geolocation.
This thermostat is compatible with air conditioners that have an infrared remote control with display and works with Amazon Alexa, but also the Google Assistant, Apple HomeKit and IFTTT. No additional wiring is needed, it can be mounted on a wall or placed on a table.
Smart air conditioning control V3 + Tado ° : takes care of your comfort at home while helping you reduce your energy bill.
Control your air conditioner wherever you are with the Tado app° on your phone and get a clear overview of your indoor climate history and savings.
Reduce your energy consumption, save money and enjoy the ideal room temperature at any time with the help of intelligent skills: geolocation, open window detection and weather adaptation.
Auto-assist: for even more convenience, you can automate the location and detection of an open window (available in the app, for € 2 / month or € 99 / year, you can cancel at any time).
Tado ° is compatible with air conditioners equipped with an infrared remote control with display and works with Amazon Alexa, Apple homekit, google assistant and IFTTT.
Wireless connection: via home Wi-Fi with any 2.4GHz, 802.11b / g / n router
German quality and an ideal product for owners of reversible air conditioning systems!
Price: 95 € approximately
Compatibility: iOS and Android, Amazon Alexa, Google Assistant, HomeKit, IFTTT ...
Skill Alexa : Tado thermostat on Amazon. Fr
99,00€
109,99€
In stock
5 new from € 90,00
August 13, 2022 14:51 a.m.
Nest Learning Thermostat
Second and third generation Nest Learning are among the best smart thermostats on the market and this is the very first device that we have tried this year. You can find the Nest thermostat test, but also a 2nd gen Nest Learning full setup tutorial.
Compatible with gas or electrical installations, this thermostat stands out for its design, its adaptability and its ease of use. If it obviously tells you the temperature of your home, it can also measure humidity and detect movement as well as ambient light. Capable of learning and self-regulation, it records the changes you make to temperature during the day and then analyzes them at the end of the day in order to memorize your preferences and habits.
Finally, a skill allows you to control the thermostat by voice by asking for example Alexa :
- " Alexa, set the temperature in the dining room to 22 degrees. "
- " Alexa, raise the temperature of the parental room by 4 degrees. "
- " Alexa, lower the temperature in the living room. "
- " Alexa, what is the temperature in the room? "
- " Alexa, what is the temperature of the corridor? "
You can still find on the web the 2nd generation Nest thermostat at around € 130. An excellent deal knowing that it remains quite efficient and compatible with Alexa.
If you can still get the 2nd generation thermostat at a low price, the NestLearning 3 offers a screen wider and better visibility. Thanks to the new functionality Farsight, its screen turns on automatically when the user enters the room, to display the temperature or time. the number of sensors has been increased, to allow the thermostat to learn even better the habits of the users and the properties of the home.
239,00€
In stock
5 new from € 239,00
August 13, 2022 14:51 a.m.
249,00€
In stock
7 new from € 249,00
August 13, 2022 14:51 a.m.
Netatmo Thermostat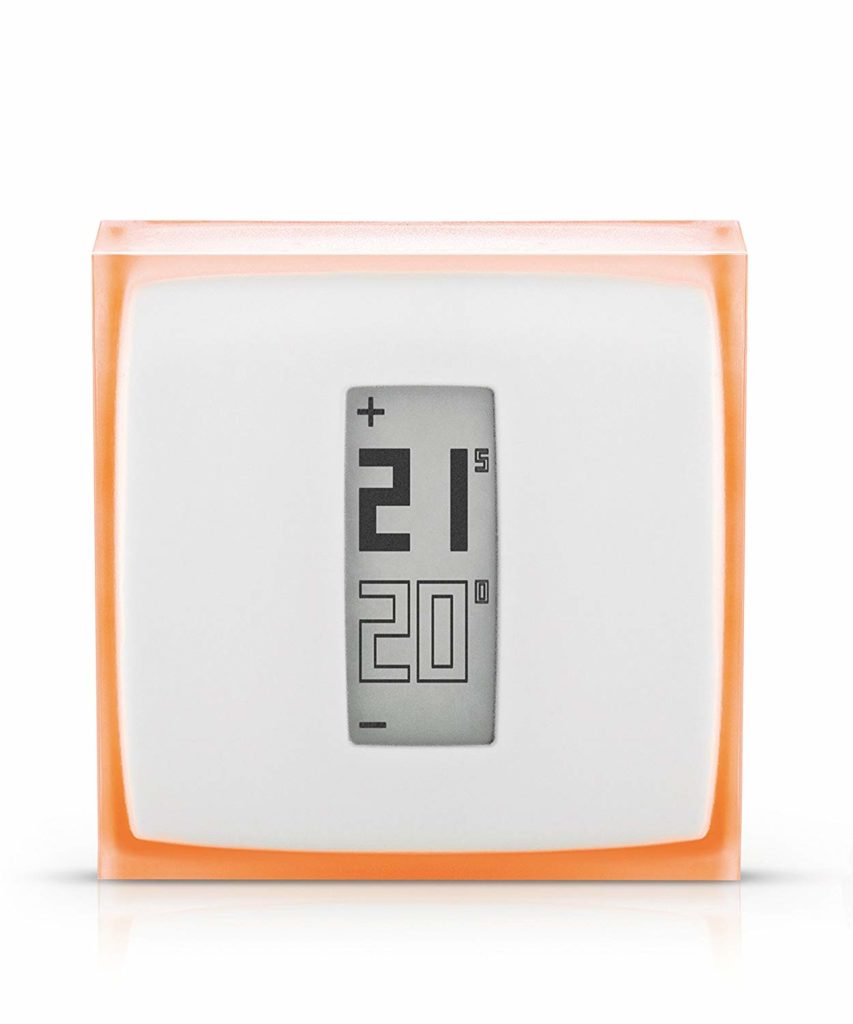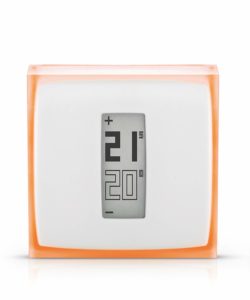 Second French solution of our selection, the Netatmo thermostat has established itself, in recent years, as a more than serious competitor in Google Nest presented above.
Designed in France and designed by the famous Philippe Stark, this connected thermostat has made the reputation of the startup Netatmo and has, in a few years, established itself as a leader in the very closed market of smart thermostats.
In addition to being pleasing to the eye, this connected thermostat is totally compatible with Alexa and also offers a dedicated skill.
Here again, you have the choice between a thermostat for gas installation or a model for electric thanks to thermostatic heads.
In the meantime, here are his main characteristics :
Remote control of your heating from your smartphone, tablet, computer or directly on the Thermostat,
Voice control your Netatmo Connected Thermostat with Siri on iPhone / iPad, Google Assistant on Google Home, or Amazon Alexa on Amazon Echo,
Smart heating : with the Auto-Adapt function of the Netatmo Thermostat, the insulation of your home and the outside temperature are taken into account to optimize comfort and consumption,
Easy installation: install yourself as a replacement for a wireless or wired thermostat,
Control room by room your heating by adding connected valves or additional Netatmo thermostatic heads for radiators to your installation,
Wide compatibility : gas, oil, wood and heat pumps boilers.
A connected and intelligent thermostat that has won over Les Alexiens! Its neat design, its ease of installation and its functionalities make it recommended to all users and in particular to those already equipped with the Netatmo weather station which works together with it!
Find our complete test of the Netatmo connected thermostat.
79,00€
In stock
August 13, 2022 14:51 a.m.
158,92€
179,99€
In stock
9 new from € 158,92
Refurbished from 31
August 13, 2022 14:51 a.m.
169,00€
199,99€
In stock
Refurbished from 4
August 13, 2022 14:51 a.m.
Qivivo thermostat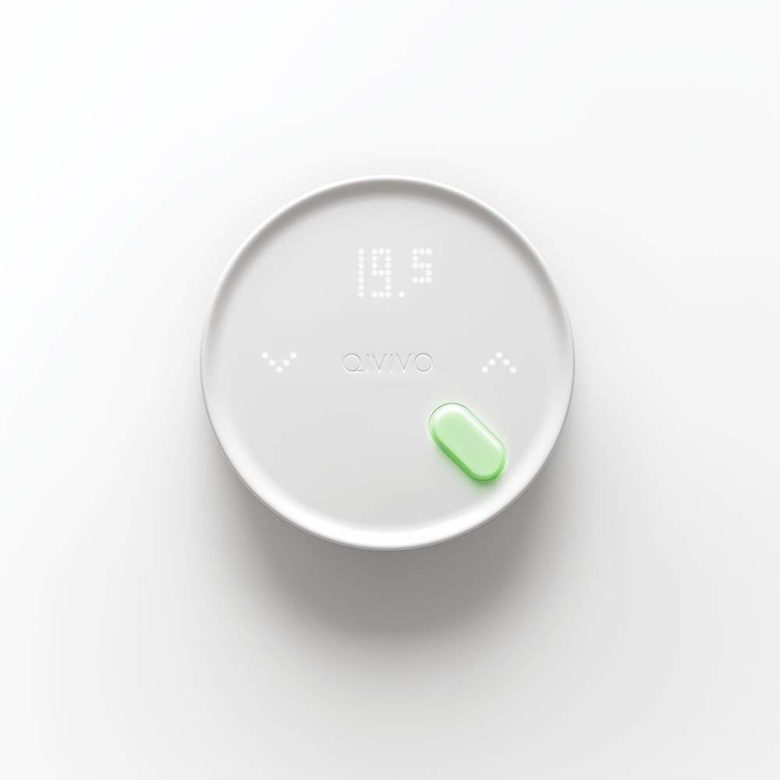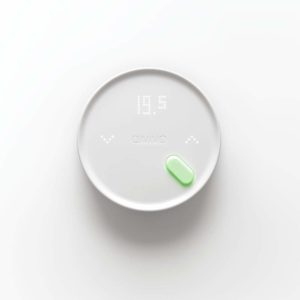 Well no you are not dreaming, but here again a product "made in France"... To believe that the French Tech and connected heating are one!
This solution for installation of Electric heating allows the control by zone, or multizone, allowing management of several temperature zones with a single thermostat. You can thus have different temperatures in some rooms.
With its Android or iOS app, you can easily create and manage your programs simply, but also directly on the website of the brand, as proposed by Netatmo.
An attractive product, due to its design, its price and his characteristics that is here :
Electric heating (pilot wire),

Easy programming : create in a few clicks a program for your home, or room by room (additional module to buy),
Savings and ecology : more efficient thanks to its presence sensor, save on your heating bill,
Compatible with most systems electric pilot wire heating,
Discreet and assertive design : it blends into your interior on a daily basis and wakes up with a simple touch,
Made in France, data stored in France; friendly mail, chat and telephone support.
An interesting solution for electric heating. If we have not yet had the opportunity to test it, we hope to present it to you soon in a more in-depth test.
Price: 149.90€
Compatibility:
Skill Alexa : not available
Heatzy Pilot Thermostat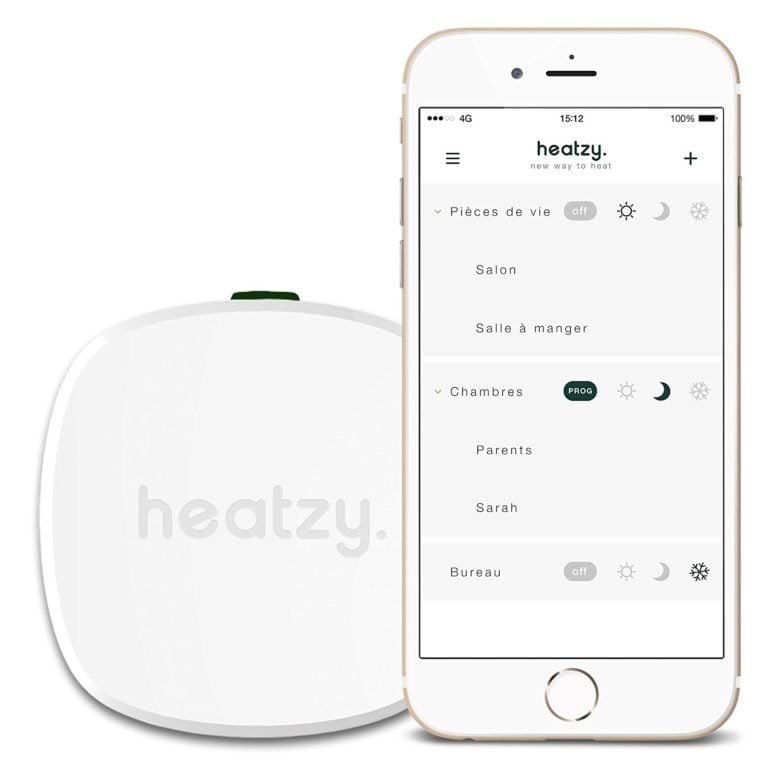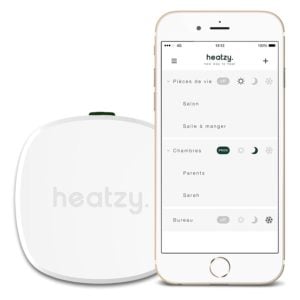 Decidedly, the French are obviously as cautious as they are eager to control their energy consumption! Heatzy, another French startup, she also understood it well. So here is another thermostat connected for electric heating with pilot wire. Its characteristics and design are all the more pleasant as it displays the lowest price of our selection. It is even, by far, the cheapest of all. And, this is the good news of the day, it is finally compatible with Amazon Alexa.
Allows you to manage your pilot wire electric heaters,
Ideal for controlling each of your parts independently of each other,

Remotely controllable from smartphone,

Avoid unnecessary overheating and saves energy,
Ieasy and detailed installation.
Recommended if you have few electric heaters (1 to 3 maximum). Attention, the functionalities are basic: pilot of 3 modes.
45,90€
49,00€
In stock
4 new from € 45,90
August 13, 2022 14:51 a.m.
Heatzy Flam thermostat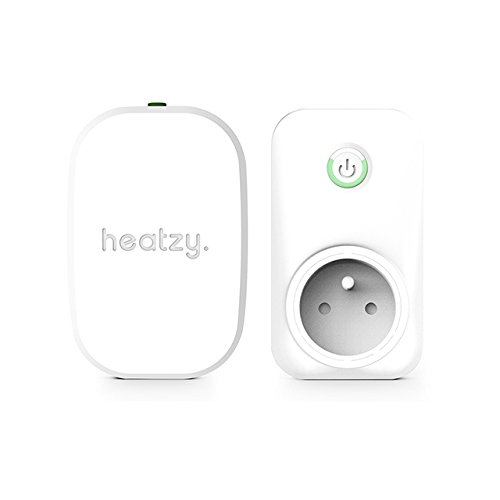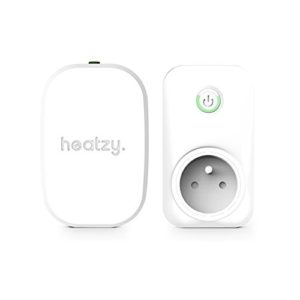 This is the gas version of the connected thermostats presented above. Still from the French Tech Heatzy startup, this thermostat is intended for natural gas boilers. Heatzy is now compatible with Amazon Alexa.
A bit basic, it consists of a temperature module and a simple connected socket which allows to cut or turn on the power supply. If your boiler is more recent, we advise you to turn to the solutions presented above, which are much more complete, but it may be suitable for you if you have an old boiler that does not have a connection for a room thermostat. It's increasingly rare, but it still exists!
In the meantime, here are the main characteristics:
Supply : 230V mains
Connectivity: WiFi
Compatibility: Android, iOS
Material: plastic
Type of heating : boiler
Be careful, it seems that Heatzy no longer maintains the product in its catalog.
Price: About 29 €
Compatibility: iOS, Android ... and soon Alexa?
Skill Alexa : available Amazon. Fr