Connected switches and Alexians, it's a love story. Not really with wall switches because of the famous 3rd wire, but especially with roller shutter switches which have it, the 3rd wire! So we decided to put our hands in the wires in order to test our first connector of this type! You will also find a tutorial for the installation in a following article (which can be used for other switches for shutters).
Our choice fell on the TEEKAR WF-CS01, EU model, CE and FCC (US) standards. Why ? Because on paper, it seems excellent value for money: around 20 €, closing / opening / pause modes, works with Smart life, touch and design… Let's see if this is really the case.
TEEKAR WF-CS01: clean and stylish
Our "WiFi Curtain Switch" is delivered in a rather sad cardboard box, without any illustration, without pretension of any kind. It's brown, it's small and it's ugly… Well… We will think that it is a deliberate choice not to put money in a box that will go to recycling anyway. But it is true that, as consumers, we are always a little conditioned by the packaging. But do not let ourselves be influenced ...
What do we find in it: the switch, two screws and a quick installation guide in English and German. It is quite succinct on the physical installation of the switch and further details the Wi-Fi installation. But the main thing is there: the connection diagram. However, a more extensive guide would be welcome.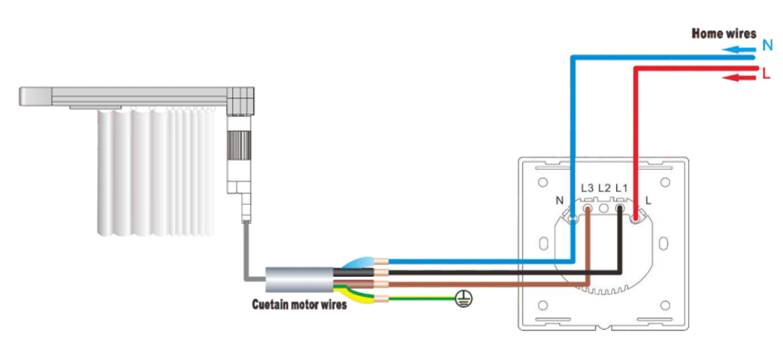 Design level, we are on a beautiful product. The front of the switch is in 4mm tempered glass with a white background (the black version would also exist), three touch buttons (not really, we'll see later) and that's it. It's refined, it's sober, it's really pretty. The three buttons are open / pause / close the curtains. The dimensions are fairly standard for the front (8,6 cm per side) and a depth of 2,5 cm for the transplanting system. Once set up and well glued to the wall, count a small centimeter of thickness.
Le thread transplanting system is quite standard size and fits without no problem to placo boxes on the French market. There are also, once the front has been removed, two holes on the sides of the internal face allowing it to be screwed into the flush-mounting box without any problem.
Let's talk about technical characteristics : it works on 100-240V at 50/60 Hz, so no problem. Rated power of 600 W, A 10, maximum power of 2400W and standby power consumption of 0,5W. At the connection level 2.4 GHz Wi-Fi only, IEEE 802.11 b / g / n. So in principle, it is suitable for most installations.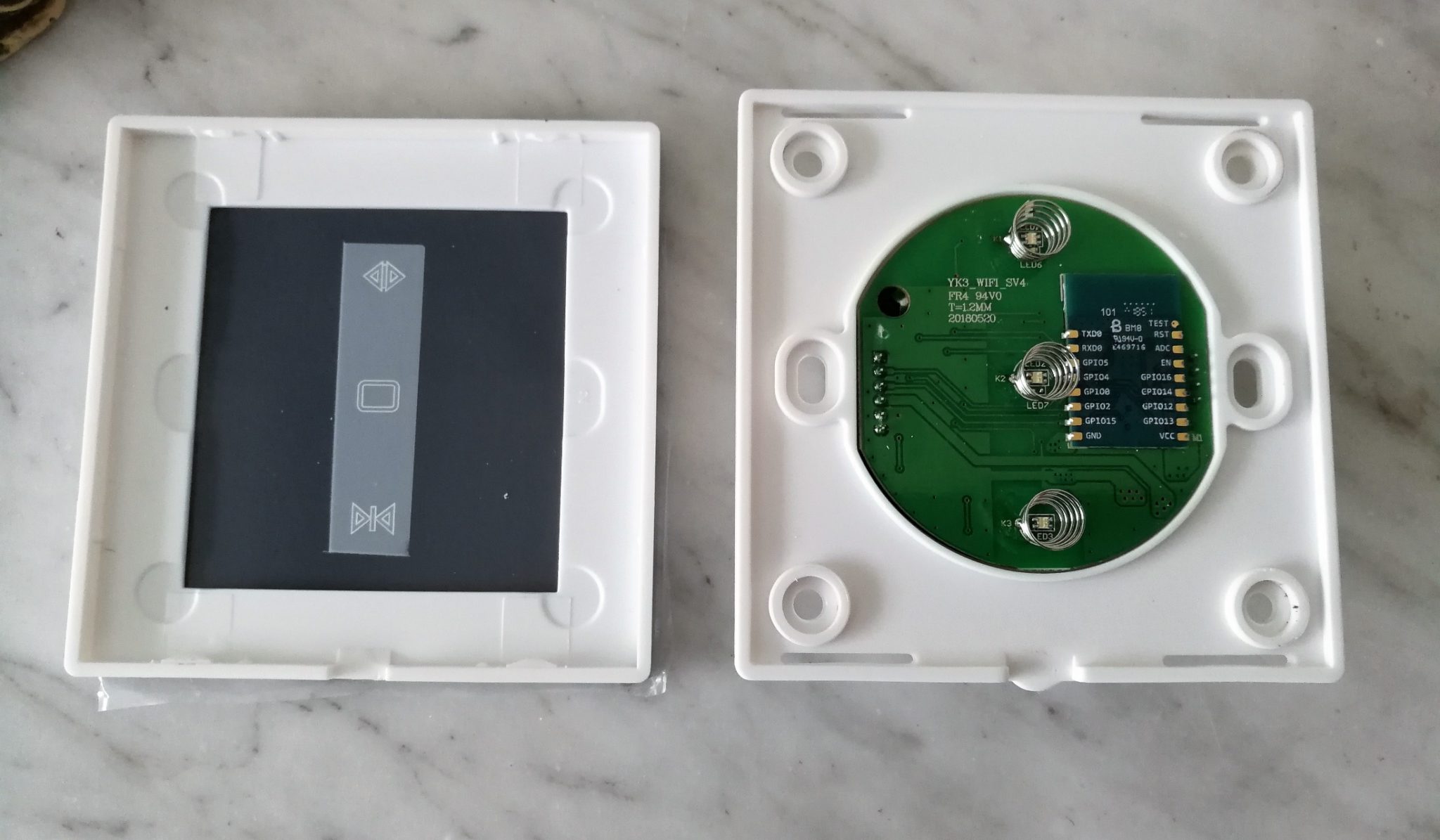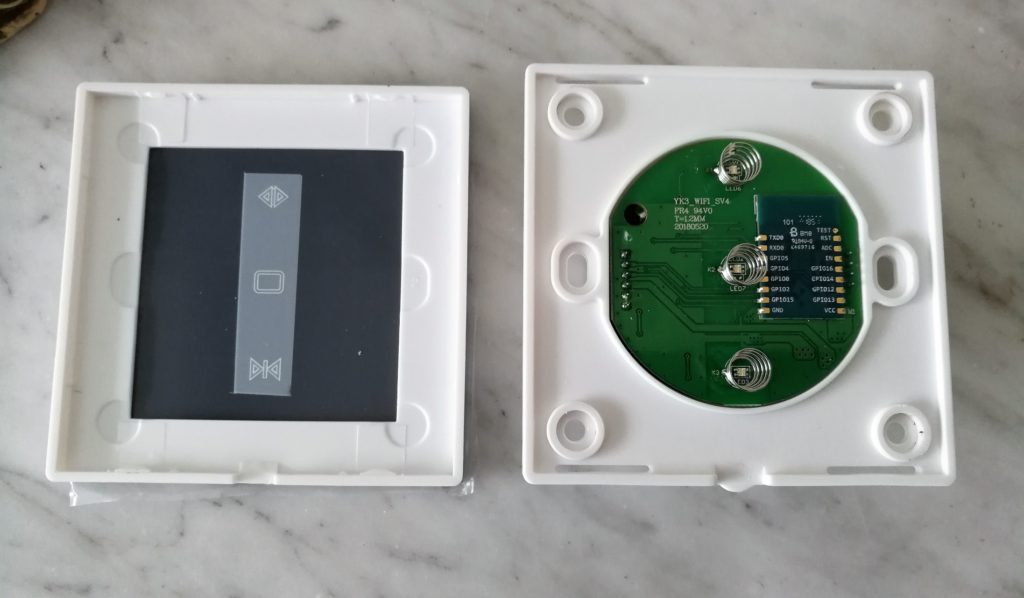 Regarding the installation, we refer you to our tutorial but know that this is done quite easily once you have found the arrival of cables for your roller shutter and the arrival of your own wires. A neutral is necessary but if you have roller shutters, this is the case. At the beginning of the article, we told you that we are not on touch buttons. By removing the glass front, the mechanism reveals its secrets: three small springs will make contact to engage the mechanism. By pressing on the front, we will press on the springs and therefore activate the raising or lowering of the shutter. It may also explain the problems that users encounter with this type of system. If the front panel is not properly placed (too deep, for example), there may be permanent or random contact with one of the springs and therefore cause the shutter to open or close unexpectedly.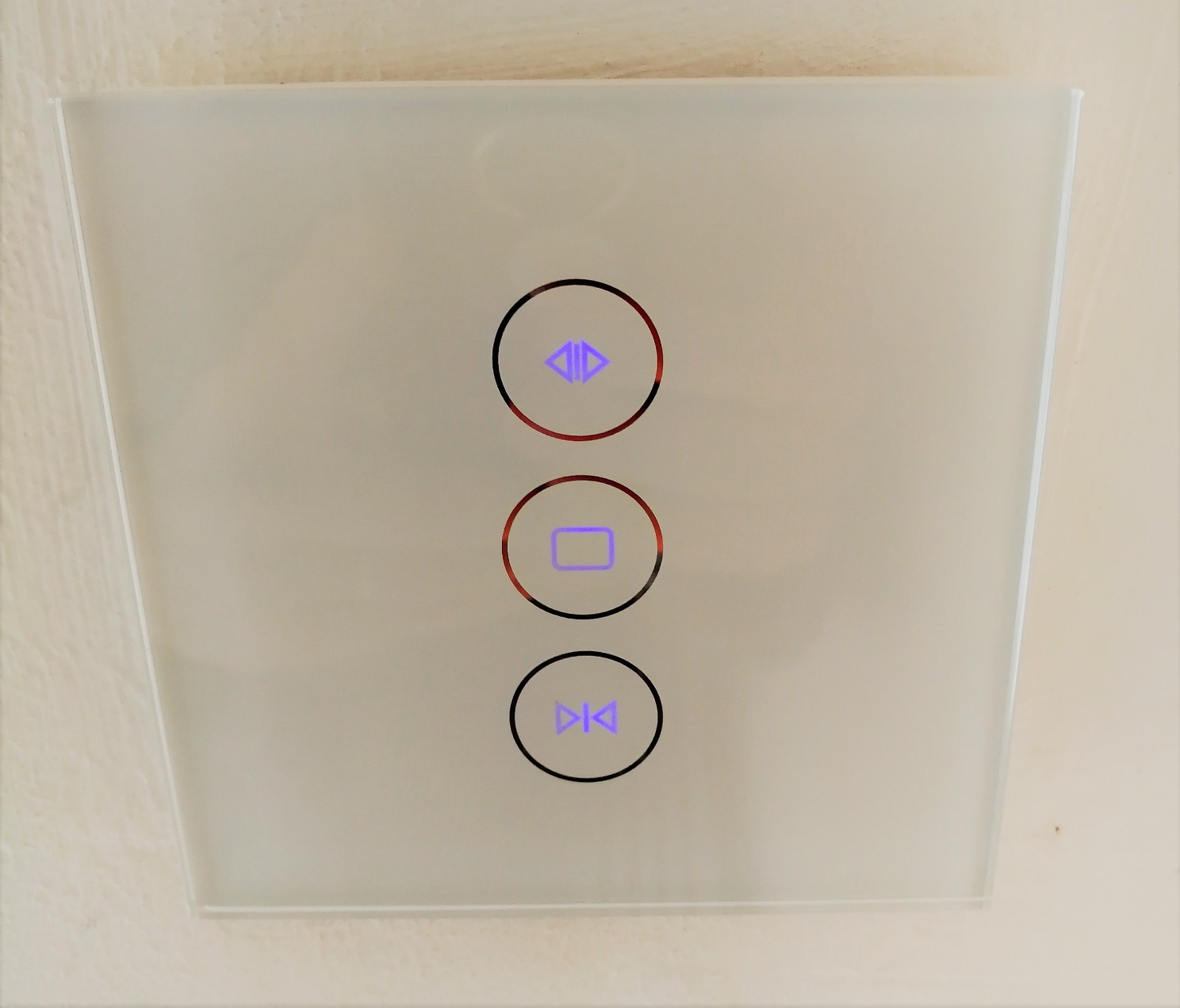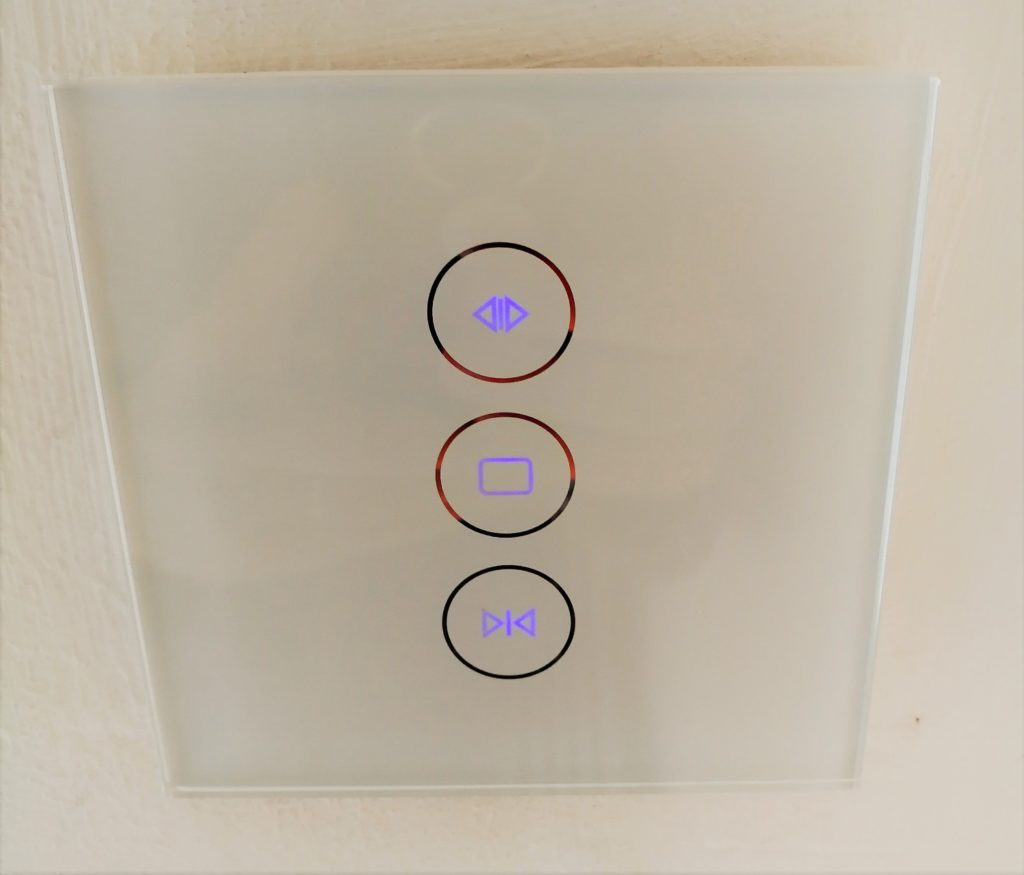 TEEKAR WF-CS01: Smart Life can do better
Teekar decided to trust the app Smart Life, the Swiss Army knife of applications for connected devices. So no difficulty installing it because it is done like a plug. As soon as it is powered on, the switch is in pairing mode. But if necessary, it is also possible to make it enter pairing mode by pressing for 20 seconds on the "open" button. Activation of the Skill Smart Life is of course necessary.
The manufacturer requests that the switch be recognized as a standard wall switch and not a curtain switch (under Zigbee only on Smart Life), and from this arises the subtleties:
In native mode, to open or close the shutter, you have to say on or off. Not very practical, eh? It will therefore be necessary to create routines under Alexa to use a more intuitive vocabulary (see the tutorial for the routines).
At present, it is not possible, under Smart Life, to control the "pause" function during descent or ascent (the middle button). This will require going through a scenario under Smart Life and then put it in a routine under Alexa (see tutorial).
You also can't turn off the blue light on the switch, which can be annoying when it's in a room.
Apart from that, once the routines and scenarios have been created, controlling your shutters by voice is very easy. It is even possible to create a scenario so that the shutters close at the time of sunset or that they open at the time of its rising, without any intervention on your part (among the Alexians, it is is that we prefer each other).
In the end, this connected switch for roller shutters is a very good product: economical (you can find it for less than 20 € on promotion), easy to install and design. The imperfections he suffers from are more from Smart Life which is not yet quite suitable for this type of object. But with a little hacking, he does very well!