Connected Switches seem to be the preserve of Sonoff and to a lesser extent meross. They are very good products but have two drawbacks for some users: they are connected to Wi-Fi autonomously (and thus can have an impact on the saturation of the network not to mention server problems) and they have no dimmer function for a good number of them. The Alexiens have managed to find you a Switch that will meet the expectations of the most demanding users: the 3A Zemi switchsmart ZigBee Smart Light Dimmer! A switch operating with a ZigBee bridge (Hue, dedicated bridge or even an Echo Plus or a Show 2…) and in addition with a dimmer (Dimmer for friends).
Hey yes, Zemismart surprised us again with this new product which unfortunately is only available on the brand's website Earthsmart.com, at the price of 35,90 € excluding promotion but quite regularly for less than 22 €. This is an exclusive to the Alexiens!
The 3A / Zemi switchsmart ZigBee is generally sold under the 3A brand, but it is indeed a product of our partner.
23,00€
In stock
August 13, 2022 13:49 a.m.
COUNTRYSMART ZigBee Smart Light Dimmer: a Switch that imposes it
Our switch 3A / Zemismart comes in the brand's own basic packaging: bare cardboard with a label but relatively strong. We have learned with this manufacturer not to formalize ourselves on the packaging which is not their priority. But as long as the products are of good quality, what is the problem? It is better that than the other way around.
We find the switch, a small bag with a screw and a quick installation guide in English and German. The latter is very basic in the sense that it doesn't really explain the meaning of the LED colors or the function. reset, that would have been a plus. On the other hand, it is very well done for the methods of pairing with a Echo Plus (or show 2), A bridge Philips Hue, a Hub Osram Lightify or the bridge Nude Home Bridge.
By taking in hand the switch, you quickly realize that it is a beautiful baby: it is relatively imposing! Count 11cm long, 4 wide and 2,6 thick and over 25g on the scale. In comparison with the Meross and the Sonoff, it is between 1,5 and 2 cm more in length than the latter and 0,2 to 0,6 cm more in thickness but is slightly less wide (approximately 0,5 cm of less. Be careful to measure the place where you want to put it. especially since the design is not extra because, remember, this type of product is made to be hidden in a ceiling or placo. This imposing size can be attributed to the dimmer function that other switches of this type do not embed.
Unlike its competitors who have at one end the arrival and at the other the output of the electrical connection, there, Zemismart chose to put everything at the same end with only 3 studs: the two neutrals together and a stud for each phase. Considering the length of the product, this can be an advantage. The switch has an LED at the opposite end giving its connection status as well as a physical switch which will serve you in the event of a Wi-Fi failure, for example. The arrival of the wires will be hidden with a small plate to be screwed. Also note the existence of a hole in the wiring system in case you want to fix your switch to the wall or ceiling.
Now let's look at the characteristics of the beast. They are quite standard and in the market average: 100 - 250 V, 50/60 Hz, functioning between -20 and 60 ° C, which for an interior should be sufficient, max 80% humidity. However, no announced amperage but directly the number of maximum Watts supported: 300. If you put it on a ceiling light or a row of spotlights, take a good look at the power of your different bulbs and add them. We also know its consumption which is 1,5 W / H max. We are not going to insist too much on dBm (decibel compared to milliwatt) which represents a power measurement used for radio networks among others. And, an important feature, it is FBee® Inside, i.e. works in ZigBee 3.0, the latest version of the protocol. So big highlight, no overloading your Wi-Fi network. And of course, it's a dimmer! However, be careful, if you want to use it fully, your bulbs must be dimmable as it does not work with standard bulbs.
Switch 3A / ZEMISMART ZigBee Smart Light Dimmer: Installation and pairing
This switch will be placed in a ceiling light, behind a partition, a false ceiling… In our case, we have decided to put it in a ceiling light supplying 3 GU10s. Its large size does not prevent it from fitting in, which is a good surprise. The connections are quite simple but turn off the power supply before messing around.
So, clearly identify your neutral and your circuit phase, and the same for the rest of your connection (in our case, the phase and neutral of the ceiling light). The two N's go in the same plot et the phases in L1 and L. It is not more complicated. You may need to put in subcultures to close your circuit.
If the color codes of your wires look more like an artistic frenzy than an electrician's job, get yourself a tester or take a good look at your initial installation (photo in support).
Pairing with Alexa is done as simply as possible. You can do this in voice mode by asking it to search for new devices, but we are going to introduce you to the app mode.
Start by pressing the most at the top right in smart home and follow the guide.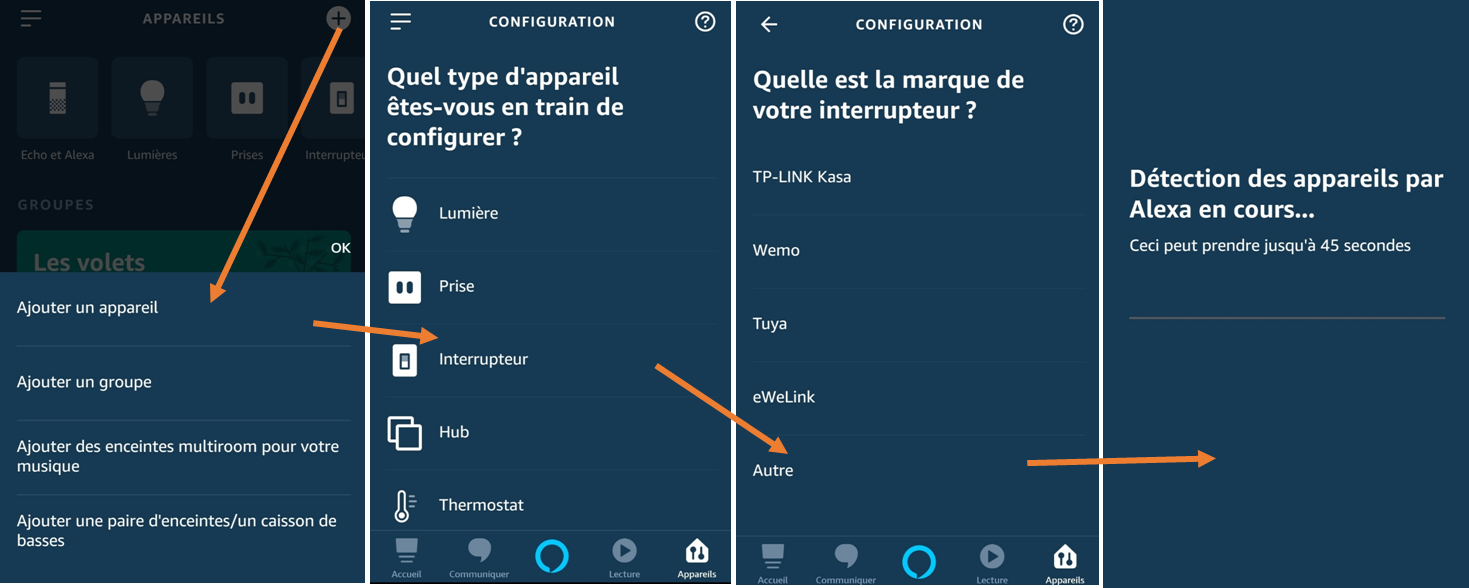 Alexa will look for the new elements by itself and then you get to this step: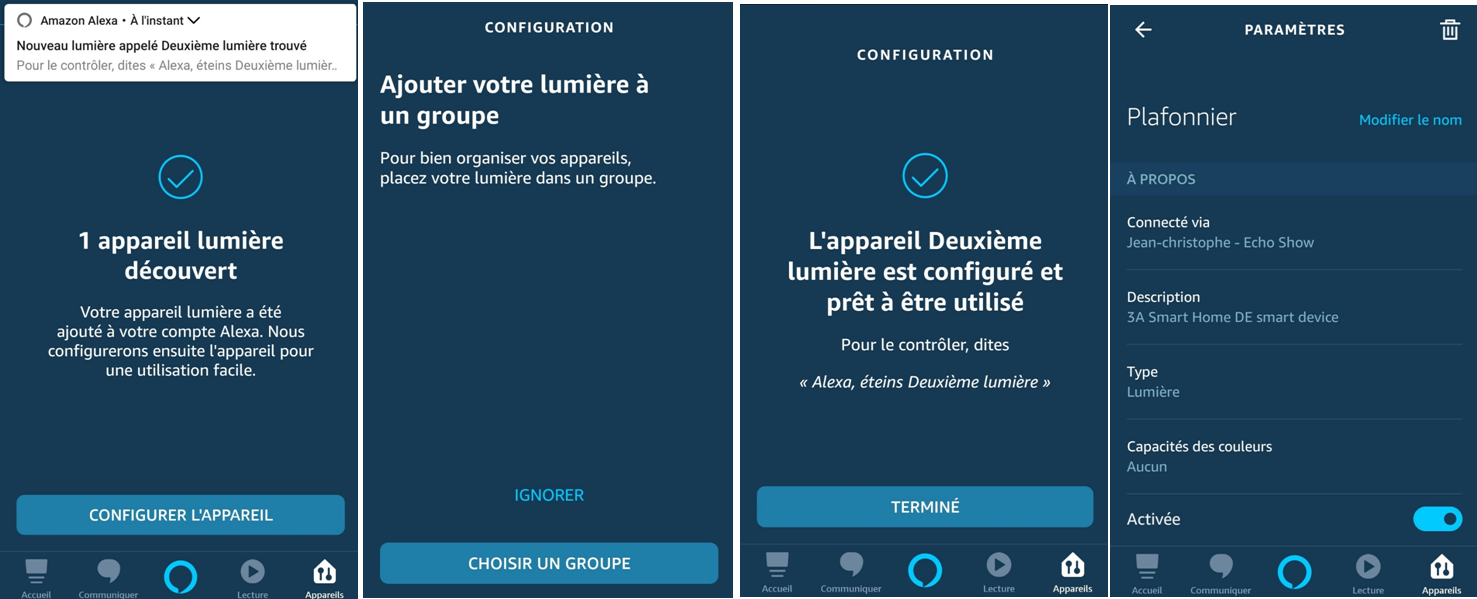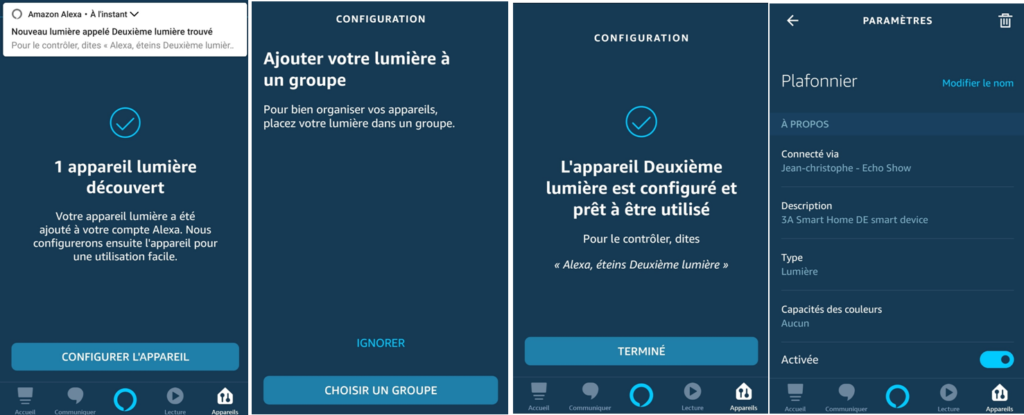 You are free to give it the name you want in order to use it easily. You can see that its control is the same as for dimmable bulb, with the possibility of choosing the light intensity. Choose your bulbs carefully to avoid crackling from them at low intensities.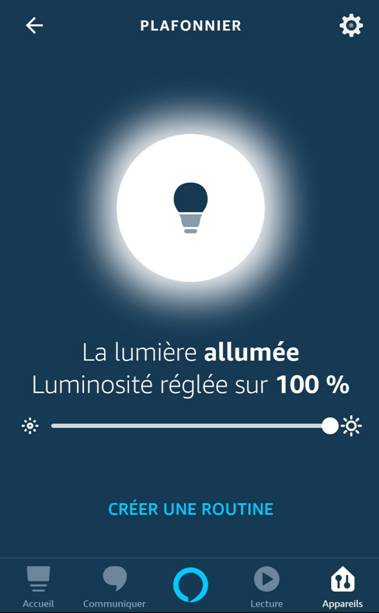 Operation via the ZigBee bridge allows good reactivity of the switch. You can see how it works on the video below (the slightly slow response time is because the Echo Show is on the other side of the house and understanding at this distance is a bit more difficult).
This 3A ZigBee switch is another great surprise from Zemismart : a dimmable ZigBee switch, easy to install and reactivatef. Its negative point remains its size, but also the fact that it is not easy to find at the moment. Another strong point of this switch is also that if you turn off your wall switch while the switch is in the Off position, when it is powered up again, it will automatically switch to the On position, so your lights will turn on. This is not currently possible with a Meross but possible with a Sonoff provided you go to the settings.
3A by ZEMISMART ZigBee Smart Light Dimmer
35.90 € (excluding promotion)