We recently introduced you to the brand netview and especially his little one OrbCam 720p which blew us away with its almost unbeatable quality / price ratio and the configuration possibilities it offers with Alexa… As is often the case, we therefore wanted to put the brand to the test again by testing other products in its range, and it is today the Netvue Vigil 1080p camera which caught our attention. Why? Because netview has already demonstrated its expertise in home video protection. After testing an indoor camera, we therefore set our sights on the outdoor camera, which in addition to offering the same AWS cloud and skill Alexa successful, promises us to monitor the exteriors of our homes thanks to an IP66 weatherproof model ...
46,99€
79,99€
In stock
August 12, 2022 20:52 a.m.
47,99€
In stock
2 new from € 47,99
August 12, 2022 20:52 a.m.
Netvue Vigil 1080p: an all-terrain vision
Unboxing
Netvue Technologies Co. did it right. We are even faced with packaging that is even more pleasant than that of the Netvue Orb Cam 720p. In the brand's colors, the packaging of this Netvue Vigil exudes quality and immediately makes you want to go further… Video Full HD 1080p, viewing angle of 100°sealing IP66, night vision, two-way audio, motion detection and cloud recording: we find the brand's standards… And much more!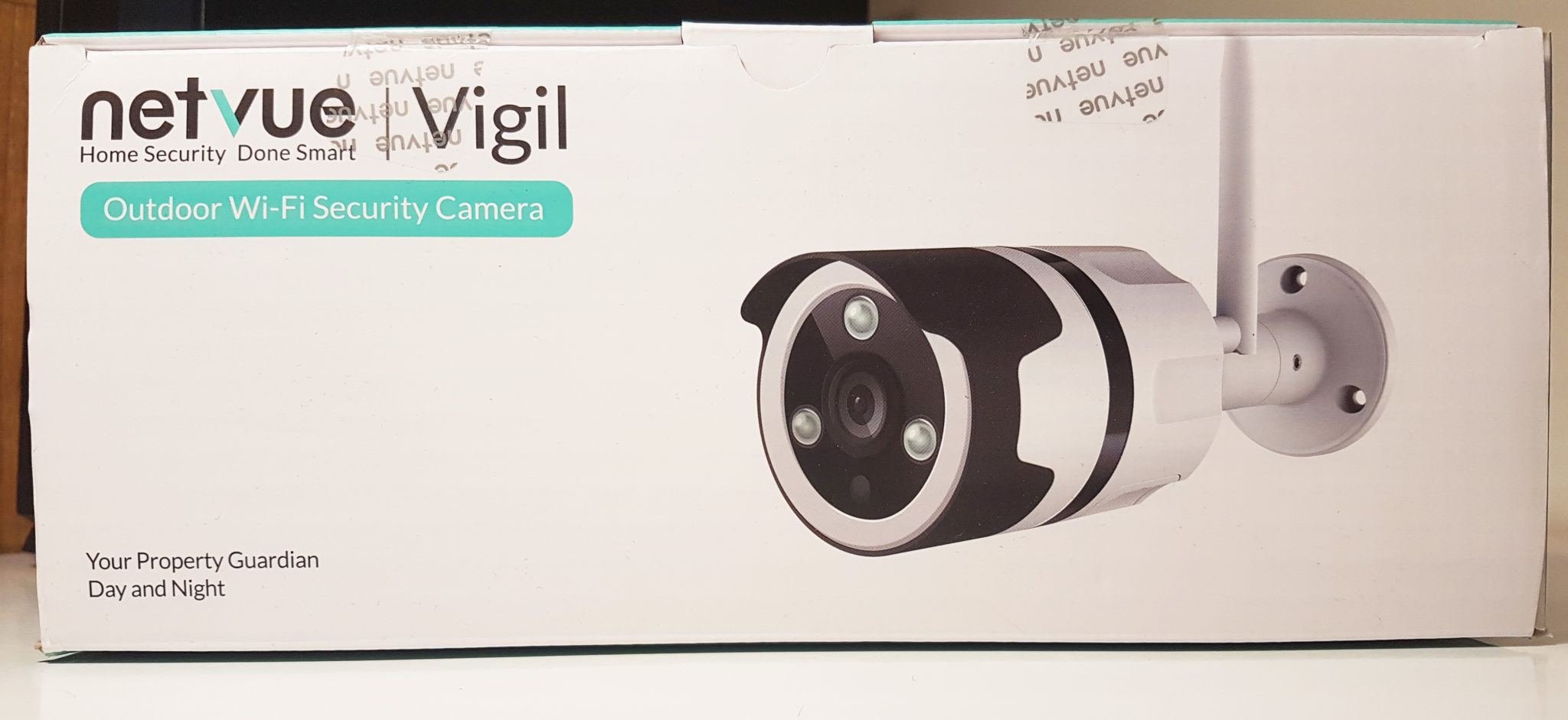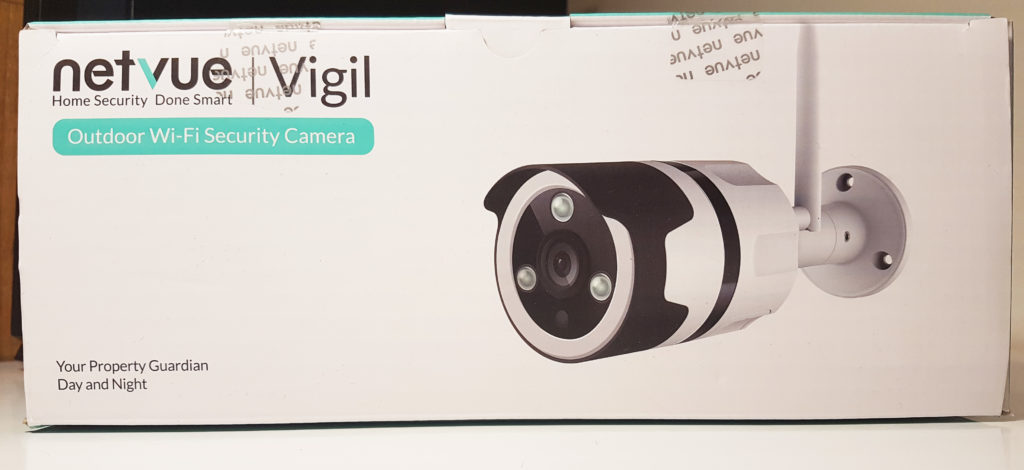 At the opening, we discover a camera that exudes quality. Relatively compact, the Netvue Vigil measures 6.7cm x 19.4cm and still weighs 360 grams. You immediately feel the solidity of the device. Dressed in white and a few touches of black, it does not hide its function: monitor and warn whatever the weather! Made of aluminum with a PP plastic lens hood, its finishes are qualitative, which gives us hope for good durability.
Once again, the Chinese firm has planned everything and the Vigil camera is supplied with all the necessary accessories… And even more! Indeed, in addition to its pre-assembled fixing system and its power supply unit 5V / 2000mA 100 / 240V compatible, you will find everything you need for its installation: screws and plugs (x3), drilling jig (an idea that costs nothing but makes your life easier!), but also a drill with the right dimensions. In short, all that's missing is the drill! A detail for any self-respecting Alexien.
But, before we get out of our drill, what do we learn by reading the spec sheet of this very alluring camera?
Technical specifications
Dimensions: 6.7cm x 19.5cm,
Full HD 1080p video: 1920 x 1080p at 30 frames / second,
Angle of vision : 90 ° horizontally and 110 ° vertically (fixed adjustments to be made),
IR night vision (850nm) and motion detection,
Two-way audio,
Log in 802.11 b / g / n 2.4 GHz Wi-Fi (antenna supplied),
Location micro-SD,
Waterproof connections with RJ45 port,
Security: 256-bit AES encryption with TLS / SSL
Compatible with Alexa thanks to the Netvue skill.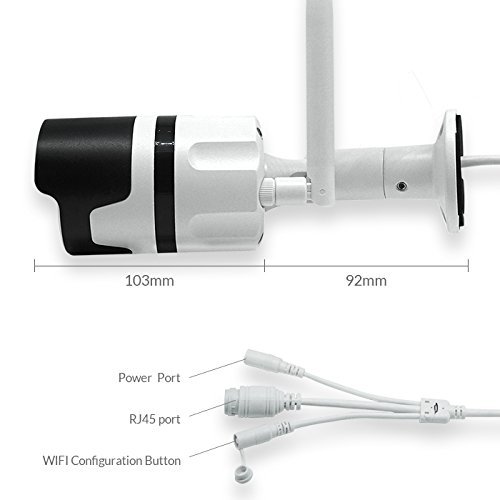 Installation of the Netvue Vigil 1080p
Have you already installed a Netvue Orb Cam? Well, imagine that it will be even easier! Otherwise, check out our 720p Orb Cam installation tutorial, the procedure is in all points identical to that of his little sister. In other words, no difficulty to predict!
The installation procedure is relatively simple:
Create an account,
Click on "add a device",
Select the Netvue Orb Cam,
Enter your Wi-Fi password (don't forget to connect your smartphone to the 2.4 GHz network of your router or box),
The application will generate a QR Code that you will need to place in front of the camera lens.
And that's it, it's already over and you just have to activate the skill in your application Alexa or Amazon.com.
Have we lost you?
Don't panic, we've got you covered an installation tutorial… The procedure is practically identical to that of the Netvue Orb Cam 720p, except that you will not have to make it read a QR Code (the most tedious step).

Netvue Vigil: sheltered from bad weather
An IP66 Wi-Fi outdoor camera
The Netvue Vigil is therefore an "all weather" camera thanks to its rating. IP66 protection, i.e. totally protected against dust and against jets of water from all directions with the lance (nozzle of 6,3 mm, distance 2,5 m to 3 m, flow rate 12,5 l / min ± 5%). In short, it is designed to be installed outdoors and will have nothing to fear from rain, even heavy.
Netvue has also planned a connection that is also waterproof, with an insulating system with small joints. Note that, if it has a beautiful antenna allowing it to perfectly capture Wi-Fi even from the outside (we tested it on the 2.4 GHz of a Tenda Nova MW6 mesh Wi-Fi system), the manufacturer had the excellent idea of ​​adding a RJ45 connector for those who would have difficulty with their home Wi-Fi. This can also make it possible to double the connection and to protect oneself from a possible wave jammer. Smart! The brand indeed recommends a connection of at least 1 Mbit / s and even recommends 2 Mbit / s, which is perfectly logical given the resolution of 1080p.
For those who dread an internet shutdown or don't want to spend $ 20 a year in the cloud, Netvue has even planned a micro-SD slot itself well sealed and judiciously placed under the camera with its microphone.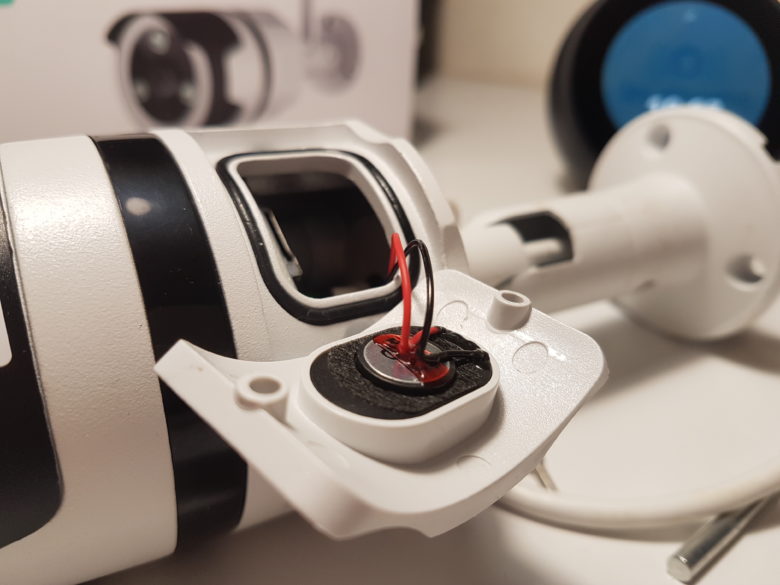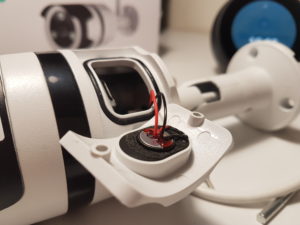 A powerful camera
As we told you about it during the Orb Cam 720p test, Netvue offers a clean and well thought out application, and offer a truly responsive cloud to really inexpensive paid options. The Vigil camera is no exception to the rule and reacts just as quickly as the other models of the brand. Finely configurable motion detection, 10-second clips and photos are once again in the game.
This model, unlike the previous one, this time offers a 1080p image and the least we can say is that it is immediately felt in the image. No lag to report, the transmission is still as fluid, and the image is obviously much brighter and the precision of setting. You will easily read the numbers on a license plate or recognize faces much more easily. A great asset in the world of video surveillance where the images, it must be admitted, are often of poor quality.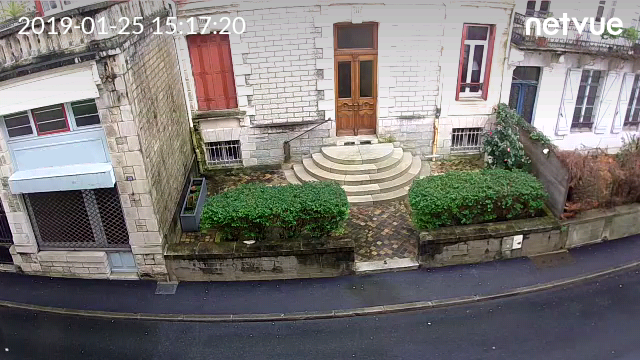 Netvue Vigil: an eye on the outside for Alexa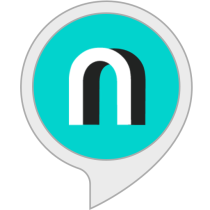 Of course, this Wi-Fi surveillance camera is also fully compatible with Alexa. Netvue is also, for us, the brand which to date has achieved the best skill Alexa on the FR skill store. Where other brands are content to broadcast the images directly to us, the Chinese firm has carried out a much more extensive integration allowing us to create quite interesting routines.
In addition to being able to view your camera on the screen of your Echo Spot or your hypothetical Echo Show 2, you will be able to arm and disarm the camera by voice. Better yet, you can integrate it into routines and use its motion detection capabilities. Alexa can then behave a perfect watchman, or rather his watchdog.
We invite you to consult on this subject our tutorial and the previous test which offer you some ideas for routines.
In short, Les Alexiens have once again been won over by a Netvue product. Quality of finish, user-friendly application, ultra-responsive cloud and low price make this Netvue Vigil camera an ally of choice for monitoring your home. Perfectly compatible with our favorite voice assistant, it is therefore a wise choice to equip yourself with an excellent quality / price ratio.
46,99€
79,99€
In stock
August 12, 2022 20:52 a.m.
47,99€
In stock
2 new from € 47,99
August 12, 2022 20:52 a.m.
Netvue Vigil - Compatible 1080p IP Camera Alexa
NS. 60 €
Most
Installation simple
Powerful application and cloud
IP66 and RJ45 waterproof camera
1080p picture quality
Integration with Alexa
The lessers
Wired camera
Not very discreet
Cloud a little expensive: each camera requires a subscription