The connected sockets among the Alexians, we know very well, very well even: singles, doubles, multiple sockets, those with consumption monitoring, those with light ... But the outdoor sockets it's new ! The advantage of this type of product is to be able to control your electrical devices without having to go out into your garden: automatic watering, an above-ground swimming pool filter, lampposts, a garland ... So they must be able to resist dust, rain and water.
For this first, we present to you the double socket ALBOHES PS-1606, CE and RoHS standards. It is a product sold for a little more than 20 € which has the advantage of having 2 independent sockets and IP 43 .
So for info, the IP (protection index) is composed of 2 digits, the first going from 0 to 6 (representing protection against solids) and the second from 0 to 8 (representing protection against liquids). An IP 64 means protection against the intrusion of dust and against splashing (8 corresponds to total immersion). An IP 43 relates to protection against foreign bodies of more than 1 mm and against rainwater. So the minimum minimorum for the exterior.
Not available
August 13, 2022 0:52 a.m.
ALBOHES PS-1606 - outdoor connected double socket: surprise socket!
Our plug is packaged in a fairly simple brown cardboard : illustration of the grip and characteristics at the bottom of the cardboard medium thick but strong enough… No bad surprises when unpacking. Apart from the concept of Wi-Fi on the display, the fact that it works with Smart-Life and so Alexa does not appear anywhere. There is also no notion of the socket IP (nor in the technical documentation). This value is simply provided on the site Amazon in the product description and is therefore to be taken at face value ...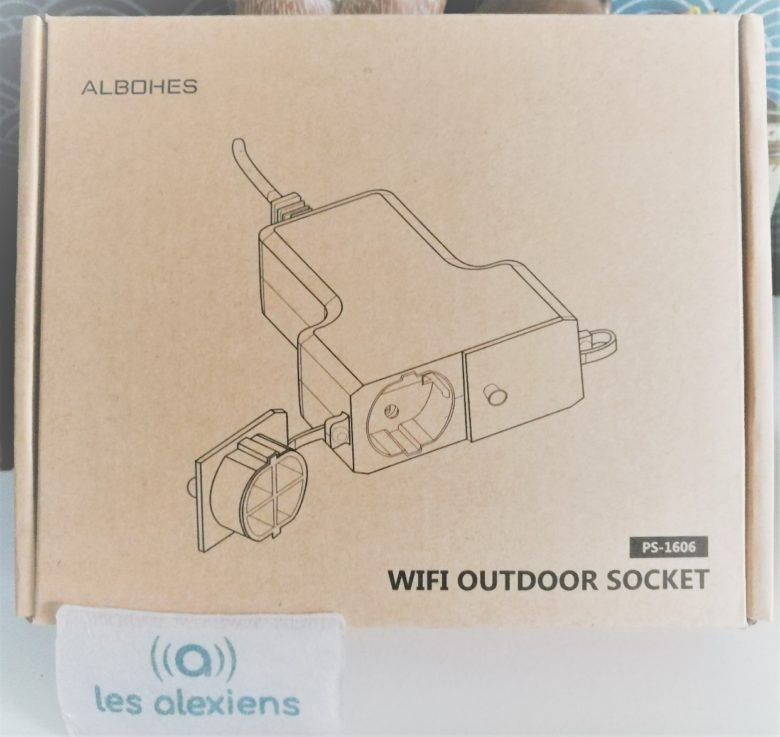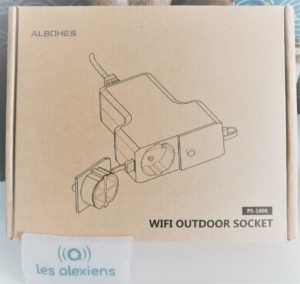 There we find the plug and a user manual. This manual is in 5 languages ​​including French (more or less). On the other hand, a beautiful shell slips in: you are asked to download ewelinka while the QR-Code is that of Smart Life, just like the illustrations. In principle, we prefer, given the recurring problems with the first application. This dumpling exists everywhere except in the English language version. The guide is actually just an explanation of how to pair via Smart Life.
The take as such is really pretty. It has a tapered shape, very smooth and without roughness, without visible junction, or prominent button. This is the condition sine qua for outdoor use. The two sockets are protected by silicone caps closing everything quite satisfactorily. The plastic is shiny, very thick and strong. The power cord is available in 2 lengths: 20 or 50 cm. Each outlet is independent and can be activated via a touch button. This prevents water and dust from entering the outdoors but also has a disadvantage that you will see later. You can see that we are on female sockets of Schuko type, so adapted to French devices no problem. It is the same for the male plug with a stud for the earth.
At the level of technical characteristics : it works on 90-240V and support a max amperage of 16 A be more than 3500 W. Be careful though to check that the device you want to control is not too powerful, and this is even more true if you connect two. Log in 2.4 GHz Wi-Fi only. It is also written protected against fire and overvoltage (4000 V max), but again, we believe what is on the site, because nothing appears in the documentation. Regarding the dimensions, we are on a rather impressive take: 13 cm long without the cable, 12 cm wide et 4,4 cm thick for a weight of almost 400 grams.
ALBOHES PS-1606 outdoor socket: installation via Smart Life
Contrary to what is noted in the guide in French, it is with theapplication Smart Life, the Swiss Army knife of applications for connected devices, that our ALBOHES will work. From there, if you are used to this application, the installation will be done very easily. Don't forget to activate the Skill Alexa to be able to use it with your Echoes.
Once plugged in, press one of the two power buttons for a few seconds. A green LED will flash, between the two voltage lights of each of the outlets. This means you have entered pairing mode.
In the app, tap the little plus at the top right to add a device and select "socket", select your Wi-Fi (and GPS if necessary) and let it search. Once the take is found, you can rename it. This will be its generic name.
By selecting the socket under Smart Life, you will see that you can drive the two sub-outlets individually and rename them as you like. By going to the function "Schedule" you will open an option allowing you to program a switching on or off of the outlet when you wish. The functions are therefore those totally classic taken under Smart Life.
Alexa will automatically discover the global take, but the sub-takes may not be. In this case, start a search for new devices via Alexa and they will go up. From there, do a few tests to make sure everything is working properly and then we can go outside and play (we recommend that you set the plug inside and then move it to make it easier).
ALBOHES Double Outdoor connected socket: a well thought out socket?
We have tested this outlet in fairly "extreme" conditions to ensure that it works properly in an ordinary garden. First of all, it is possible to fix this socket on a wall but we did not choose this to put it in a worst-case scenario.
Also, it was placed directly on a sandy soil, in the heat. We took advantage of the heatwave and two consecutive days at 40 and 41 ° C to test it. In fact, it happens that with heat, the contactors expand and that the outlets go out on their own. Hence this test. And good surprise, she held on without failing… at the beginning. Indeed, after a few days of use, as soon as the outside temperatures rise, it becomes impossible to maintain a Wi-Fi connection. Smart Life (but still in Alexa). Once cooled, the pairing goes smoothly and the plug works again until the next temperature spike. So it's quite frustrating for an outside outlet ...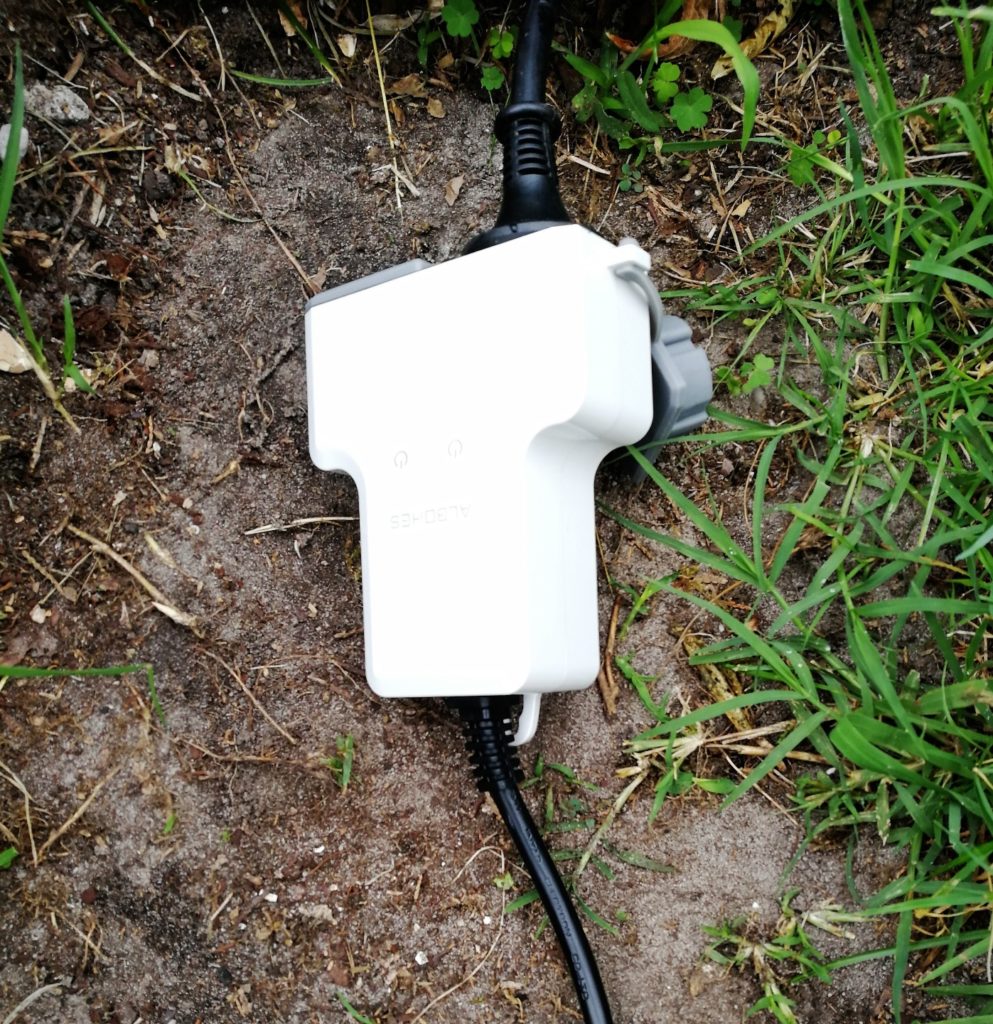 But if the plug is designed for the outside as it is mentioned on the packaging, although the IP 43 does not appear anywhere, it is bound to get wet at one point or another. The IP 43 protects it against rain, but not regular watering. It is quite limited for a catch of this type. But we decided to make him take a little shower during a watering of flowers that goes wrong. And there, pouf! It goes out ... However, it has not tripped because of water infiltration but for the sake of design.
Do you remember the tactile buttons? They are pretty but the problem is that if a big drop falls on it, they activate or deactivate, as if we were pressing on it. And that is badly thought out… the solution would be to put it on the ground with the buttons on the underside but again, be careful not to move it too much. Putting it on a wall actually seems more suitable (that's also how it is presented), but that limits the possibilities a little if you are a little short on cable or within range of Wi-Fi ...
In conclusion, this connected double-socket is a good product if it is used under optimal conditions, that is to say hung on a wall and in all cases with the sockets down, because it offers the minimum minimorum in terms of exterior protection. The stated values ​​are also unverifiable on the technical documents. On the other hand, the piloting of the two taken individually is very appreciable, as well as the aspect of this catch. It is also easy to pair, of good quality and works well.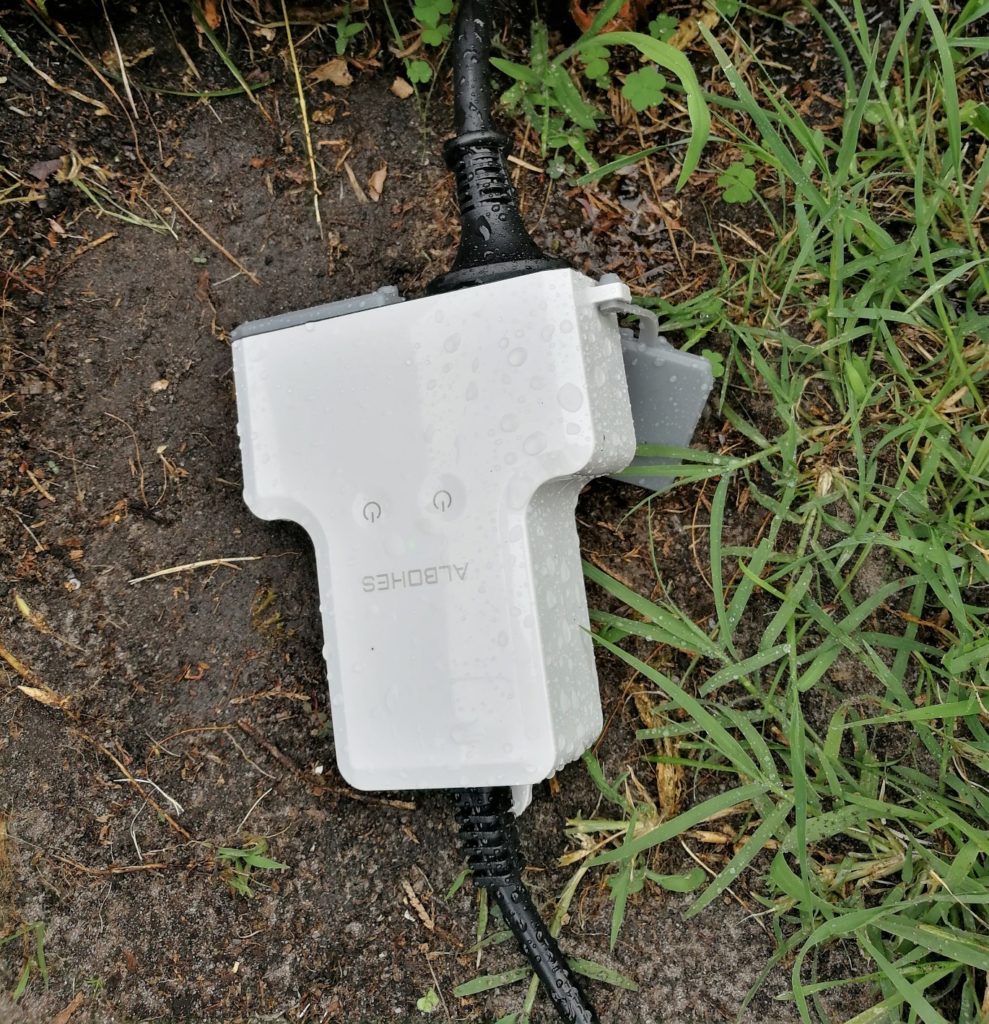 In conclusion, this connected double-socket is a good product if it is used in optimal conditions, that is to say avoiding the sun, hanging on a wall and in any case with the sockets facing downwards, because it offers the minimum minimorum in terms of exterior protection. So in fact, it is better outside but protected. The stated values ​​are also unverifiable on the technical documents. On the other hand, the piloting of the two taken individually is very appreciable, as well as the aspect of this catch. The fact that it falters as soon as the temperature rises is a real problem. It is not really conclusive. The tested module may have been defective, but the use lasted long enough for the problems to occur after a few days, in real condition. It is therefore more reliability that must be questioned.
Not available
August 13, 2022 0:52 a.m.
ALBOHES Double Outdoor Smart Plug PS-1606
20.99€
Most
Quick setup
Design
Individually controllable sockets
The lessers
Minimum protection requiring a fairly restrictive use for a garden
Too sensitive buttons
Specifications advertised online unverifiable and shells in installation guide
Unreliable over time